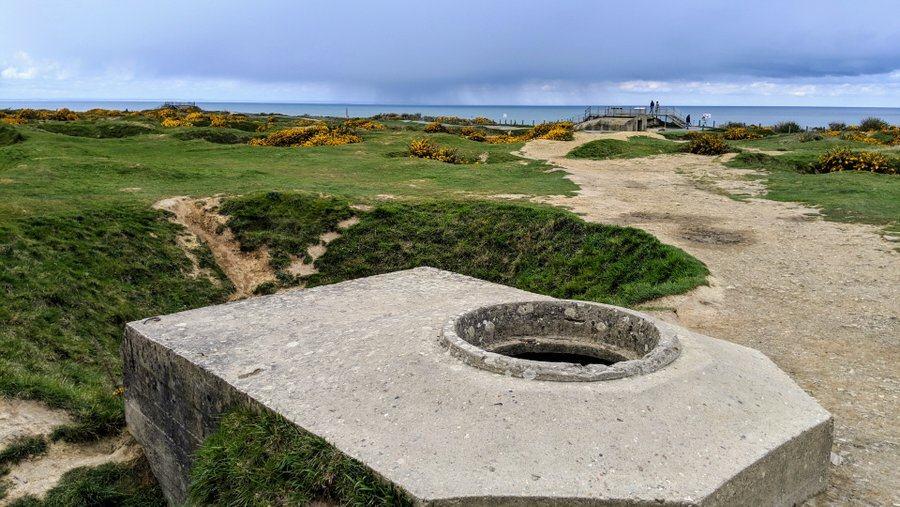 The massive events of June 1944 certainly left their mark on the coast and hinterland of Normandy, and as a result there's plenty to see in around the D-Day landing beaches.
Museums, memorials, bunkers and cemeteries are densely packed into 75 kilometres (47 miles) of coastline, so you could base yourself in one place (say Bayeux, in the middle) and then explore from there. But even if you based yourself at either end of the beaches (Caen or Sainte Mere Eglise) you can still reach the other end, explore a bit and get back for supper.
Getting around Normandy
If you are touring independently (the option is to go with a battlefield tour group) then you really need to have your own car or hire one. You are really going to struggle to get around on public transport.
Getting to Normandy
If you have your own car, then the process is simple. Use the Brittany Ferries * Portsmouth – Caen service. It takes half a day (5 hrs 45 mins) and docks in Ouistreham (Sword Beach), just outside Caen. (And it's Portsmouth! You could overdose on military museums by spending a day in Portsmouth at the Historic Naval Dockyard before boarding the ferry!) The ferry has good restaurants and bars etc and a cinema to kill some time in, but my tip is to book a cabin. That gives you your own ensuite private space to lie down and have a sleep.
If you're planning to hire a car in Normandy you could go as a foot passenger (you can still book a cabin). Or you might make your way to Caen – the largest city in the area – by train or by air.
Train – From London by Eurostar to Paris, then RER/Intercite, can take between 5 – 10 hours.  (SNCF)
Plane – Flybe  have been operating year round direct flights from London Southend airport to Caen since June 2014. They now fly four times weekly on Sundays, Mondays, Thursdays and Fridays. Flybe will will rebrand in 2020 as Virgin Connect.
Accommodation
There are two ways to approach this; you can stay a night or two in a number of different hotels or B&Bs in different parts of Normandy as you explore OR you can stay in one place somewhere central. I'm a fan of both approaches but my preference is to stay in one spot and come back to it each night, which makes self-catering in a Gite or holiday park very attractive and economical.
On our most recent trip to Normandy, my partner (MaryAnnesFrance.com) and I stayed for a week in a Pierre & Vacances holiday village in Courseulles-sur-Mer (Juno Beach), which is perfectly placed for visiting all the Overlord sites, museums and memorials in the Calvados region of Normandy, although the upper reaches of the Cotentin peninsula are a little further away but can still be reached on a day visit.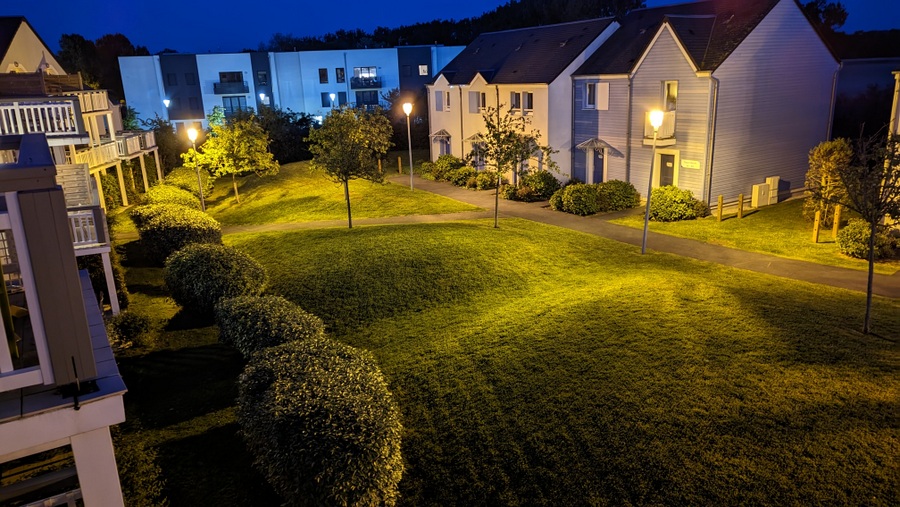 Pierre & Vacance's Le Chant des Oiseaux residence was built only recently and offers self-catering apartments and houses in a quiet location within a 5-10 minute walk of the town and beach. Our apartment had everything we needed: bed linen, towels, a fully equipped kitchen including a coffee machine, fridge/freezer, microwave, cooker (no oven) and dishwasher. There's Wi-Fi, housekeeping on departure, and a welcome cleaning kit. All you need to do is a big shop (try the local Carrefour Drive ), and maybe bring some tea bags, coffee filters (6 person) & a few dishwasher tabs from home.
The Le Chant des Oiseaux residence facilities include a year-round indoor heated swimming pool, paddling pool for children and solarium with deckchairs, playground and a children's area in the reception lounge. The on-site restaurant offers meal delivery, and the residence offers a bread and pastries service for the morning – order your Pain au Chocolat & baguette in the evening, pick it up from reception in the morning. What's not to like? They also have a bike hire service and a launderette, so there's no need to wash your smalls in the sink!
The reception staff were bi-lingual and really helpful. For example they'll make table booking for you at local restaurants. I gave them a very exceptional, for me, 5-star rating on Google Maps.
Declaration: We were hosted by Pierre & Vacances for that week, but were so impressed we are paying for a short return visit in a few weeks.
A seven-night stay at Residence Le Chant des Oiseaux is priced from £543 for a one-bedroom apartment sleeping up to five people with terrace or balcony on a self-catered basis. The total price includes accommodation and all taxes and charges, except tourist tax: €1.50 per person per day. Free for under 18s. Payable on site.
Elsewhere…
Caen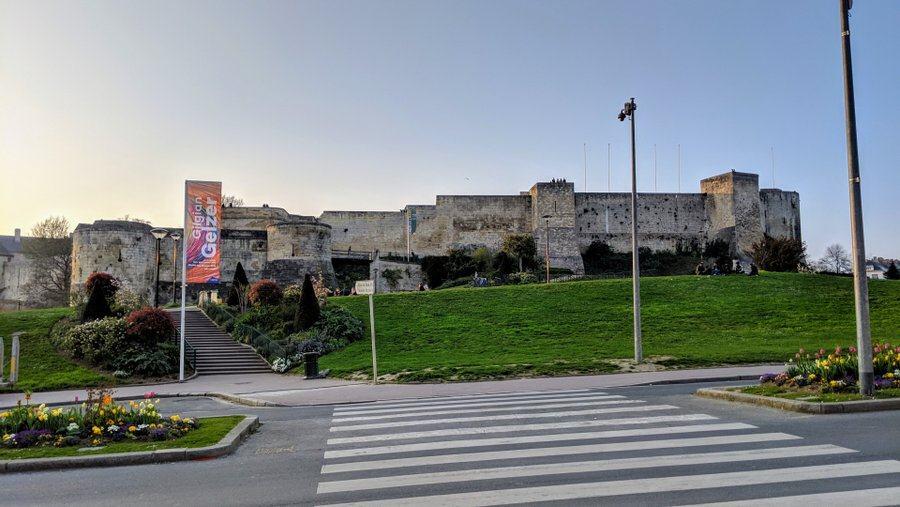 Caen is an obvious place to stay at the start or end of a trip. Truthfully, it was pretty much flattened in 1944, so it is not the pretty medieval city it perhaps once was, but there is an old quarter and a splendid castle.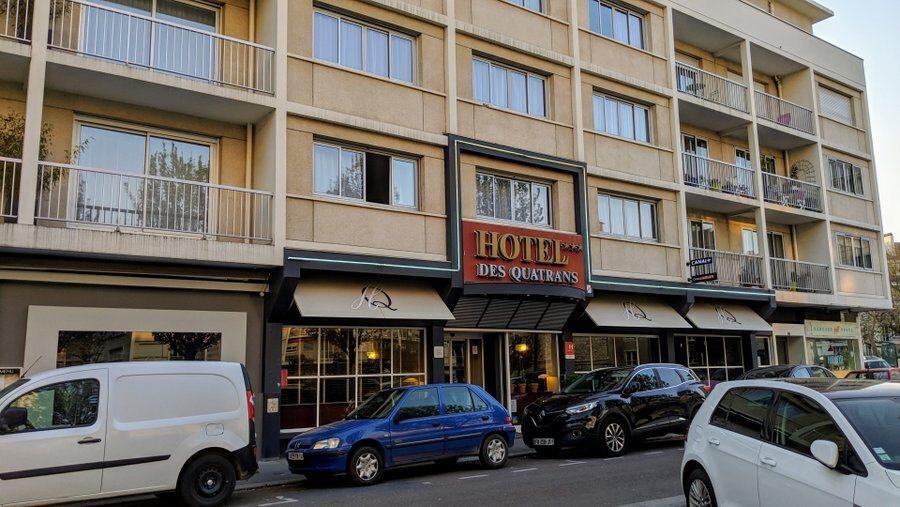 The Hôtel des Quatrans * (17 rue Gémare – 14000 Caen – France +33 (0)2 31 86 25 57 ) is not the most picturesque hotel in town but it has good modern rooms, happy staff, is located within walking distance of the town centre, has car parks outside and is good value.
If you go out to eat in the evening, head for the quaint cobbled streets around Rue du Vaugueux near the castle, which are packed with little restaurants. We loved Le Clou de Giroffe * which had a €20 menu for 3 courses and some great wine, but it has mixed reviews on Google Maps and there are plenty of other choices.
Other places to stay across Normandy
Bayeux
Bayeux – home to the famous tapestry – is located pretty centrally in Normandy, if you want to stay in one place while you are touring.
The narrow streets of medieval Bayeux are not easy to navigate or park in, so the Hôtel-Restaurant Reine Mathilde * (23, Rue Larcher – 14400 Bayeux +33(0)231920813) with car parks immediately behind, is an attractive option. As the name suggests, it is both a hotel and a restaurant, so there's no shame in just wanting to 'eat in' when you get back from a heavy day's touring.
If you are happy to overnight in more than one location then there are two options I'd suggest…
Le Manoir de la Rivière ** (14230 Gefosse-Fontenay. Tel: 33 (0)2 31 22 64 35) is located inland from the western end of Omaha Beach, near Pointe du Hoc and close to Maisy Battery and La Cambe German cemetery. It's a large Huguenot manor house dating back to the early 17th century and now a B&B (Chambres d'hôtes de caractère, Table d'hôtes et Gites) run by Gerard et Isabelle Leharivel. Isabelle specialises in producing a sumptious breakfast and will also cook a delicious supper if you ask in advance.
La Ferme de la Ranconniere * (Route de Creully Arromanches, 14480 Crepon. Tel: 02 31 22 21 73) is a former fortified farm in Crepon, now a privately run upmarket hotel with magnificent rooms and cuisine.
And a couple of other places that my partner recommends are..
The Château de Quinéville on the Cotentin Peninsula near Utah Beach hosted Rommel, Goering and Goebbels on inspection tours of the Atlantic Wall. It was bombed during the D-Day landings and restored in the 1970s. It is now Dutch-owned and run.
The Château Vouilly a guest house 11 kms inland from Pointe du Hoc with its own claim on WW2 history. This was the home of the American press corps during the Battle of Normandy (). So the likes of Robert Capa, Ernest Hemingway, Walter Cronkite, Ernie Pyle, Andy Roony and 50 other war correspondents all stayed here between 10 June – 10 August, and were briefed at daily press conferences in what is now the breakfast room, by Gen. Omar Bradley or his deputy Colonel Dickson.
---
Declaration:  A single * means my stay/visit was complementary or paid for by the local tourist office. A double ** means I stayed there but paid for it myself. Anything without a * or ** I know about but haven't experienced personally.