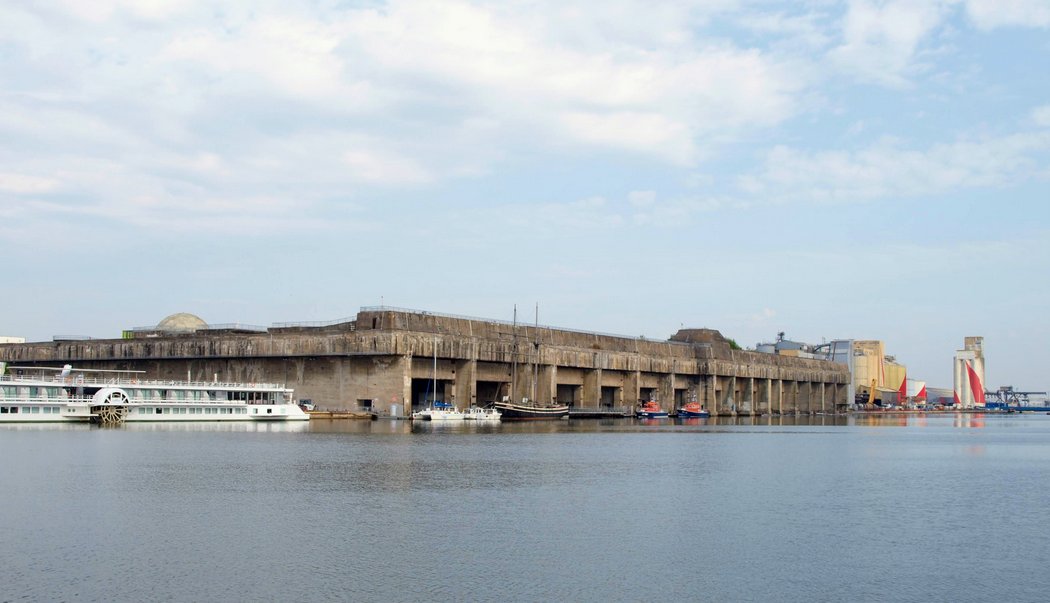 Saint-Nazaire is an extraordinary city and well worth a visit because there is so much to see and do.
Other Saint-Nazaire Posts
That said, it's not the prettiest city. It reminded me very much of Plymouth in my home county of Devon. Both were important industrial and military ports during World War II and so both were bombed to bits. Saint-Nazaire was flattened by 53 bombing raids during the war, and in the post-war period, just like Plymouth, a lot of not terribly attractive concrete buildings went up.
The Allies did miss some parts, such as the small area of traditional houses with a couple of grand residences tucked away behind the promenade at the Plage du Petit Traict (beach).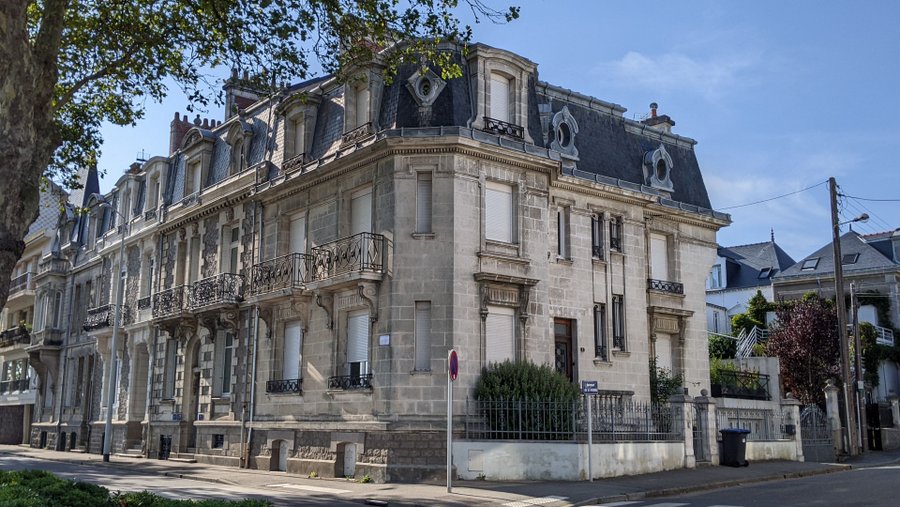 The port is on the north side of the Loire Estuary, and as soon as you leave the port area and head down the estuary towards the ocean there are miles of sandy beaches and cliff top coastal paths… but we'll come to that.
The main reason for all this attention from Allied bombers, besides the enormous dock facilities, was the German U-Boat pens. These days they prefer not to mention 'U-boats'. They call it the "submarine base". Its 14 grey concrete pens are now used for a number of purposes, and it's the central point for tourists to gather because the Saint-Nazaire Tourist Office is here, together with a ticket office and a bistro/café.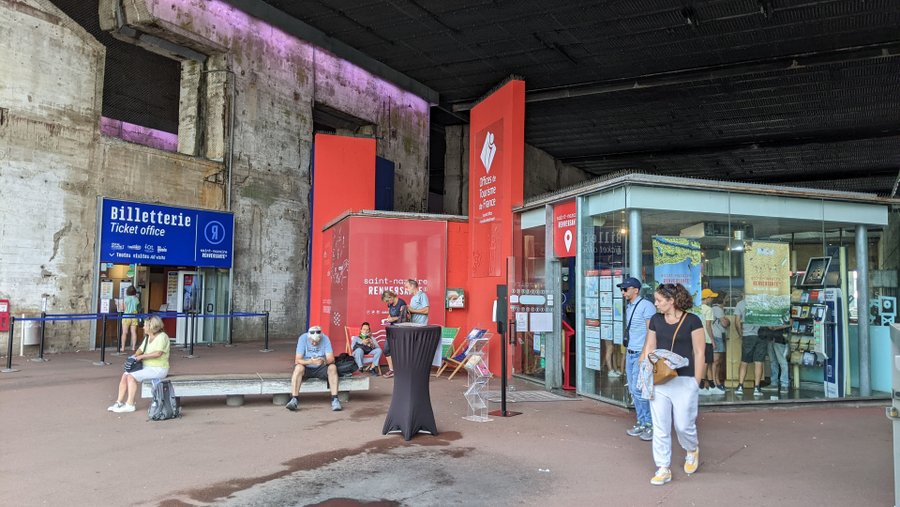 The ticket office sells tickets to all the main attractions and tours, including the Airbus factory tour, the Chantiers de l'Atlantique shipyard tour (the coaches for both depart from here) and the Escal d'Atlantic experience which is in the next two pens.
Where to stay
The Originals City Hôtel de l'Europe – The Originals is a hotel chain of mostly 3-star hotels. We've stayed in two and enjoyed both. Modern rooms, excellent breakfasts and really good staff (mostly English-speaking). This one in Saint-Nazaire is conveniently right next to a large public car park. See if you can get a room on the first floor, this one doesn't have a lift. Getting heavy bags up to the third floor was a struggle!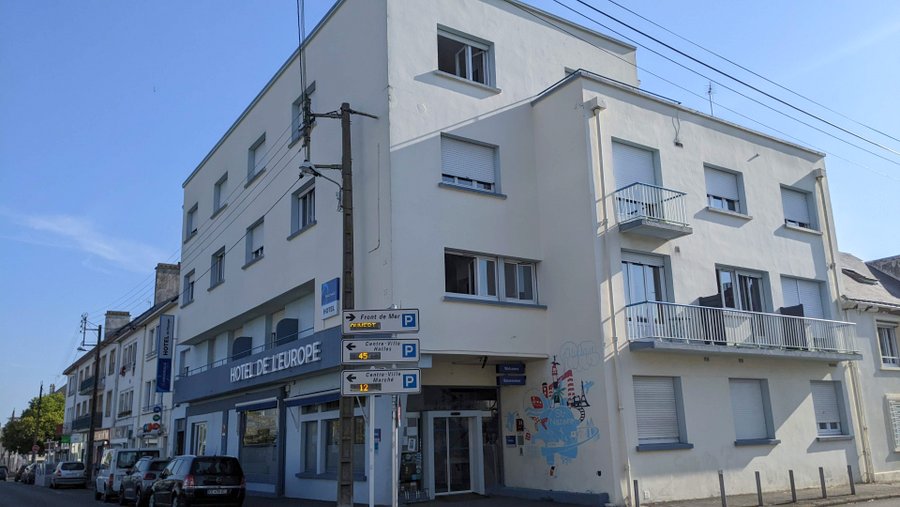 La Tête sur l'Oreiller. A quirky B&B in the centre of town (5-min walk from the submarine base) run by Agnès who is great fun and enthusiastic. She has 5 large en-suite rooms including one family room. There is a small amount of parking available, and it is all hidden behind a pair of large green doors at 17 Avenue du Général de Gaulle which is one of the main streets in the centre of town. No website. Email: latetesuloreiller.44@gmail.com
Other options…
Places to eat/drink
When we drove into Saint-Nazaire on a Monday night, there was hardly anything open. Fortunately we stumbled on Basilic & Co a pizza takeaway & restaurant chain (49 pizzerias across France), which was really welcoming and had a great selection of pizzas & pasta dishes based on food regions (terroirs) including one for us called Brexiteuse! It's on the same street as La Tête sur l'Oreiller (above).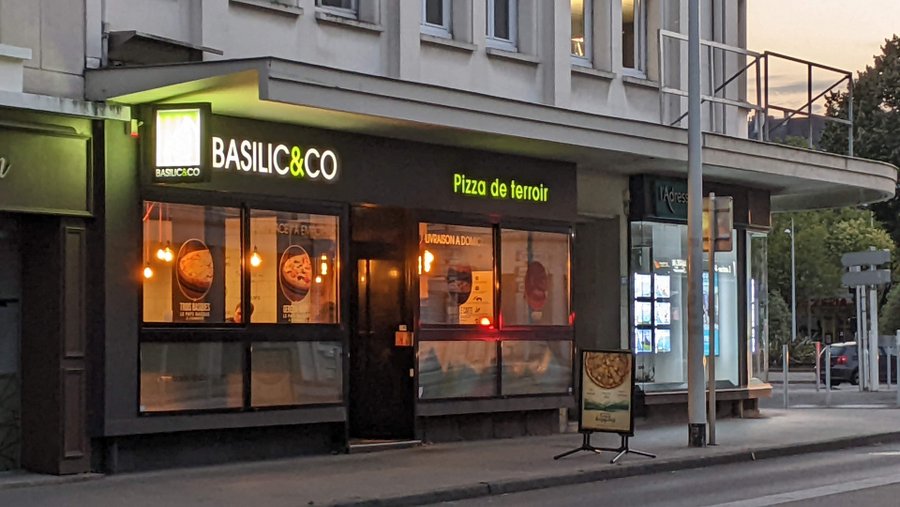 Just 500m from the submarine base, by the old lock and La Capitainerie du Port, is Place du Commando, a park area with food outlets and picnic seating. There's a good selection of food here plus two restaurants.
La Fabrik snackbar (no website) which specialises in beef & chicken dishes with salad, plus chocolate coated waffles and ice cream.
We tried the glamorous La Plage restaurant which has an excellent range of seafood dishes, pasta and meat. If it's warm you can eat out on one of its two terraces overlooking the yacht harbour and beach.
If you don't want to eat 'French' exclusively, then about 500m from the submarine base but across the lock, there's a good Indian restaurant, Le Maharajah. We had lunch here and it was excellent.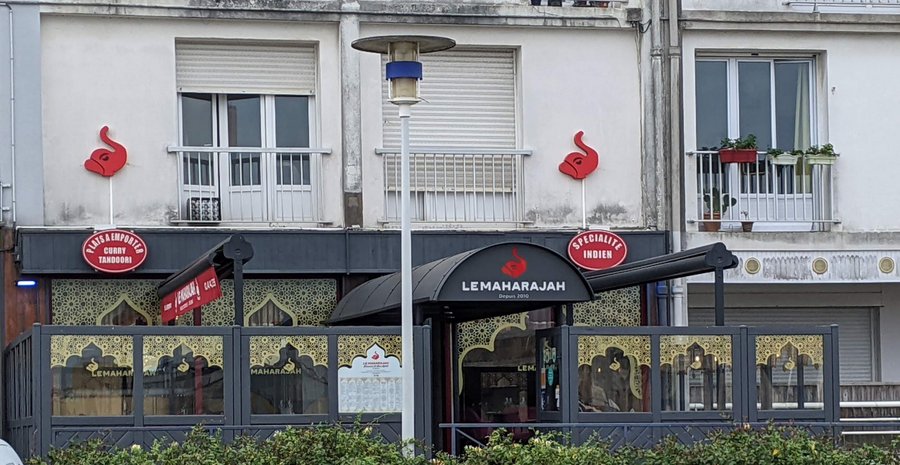 Our favourite eatery is a little way out of town. A 15-20 minute walk along the promenade from Place du Commando, brings you around the next headland to Plage de Villès and Le Papillon (no website), a small beach bar run by Igor & Melissa who spent 10 years working in hospitality in London. This was their first year and the lease on the temporary site (a shipping container with a sun terrace) runs only for 6-months, so they will be closed for winter and back at the start of the summer season.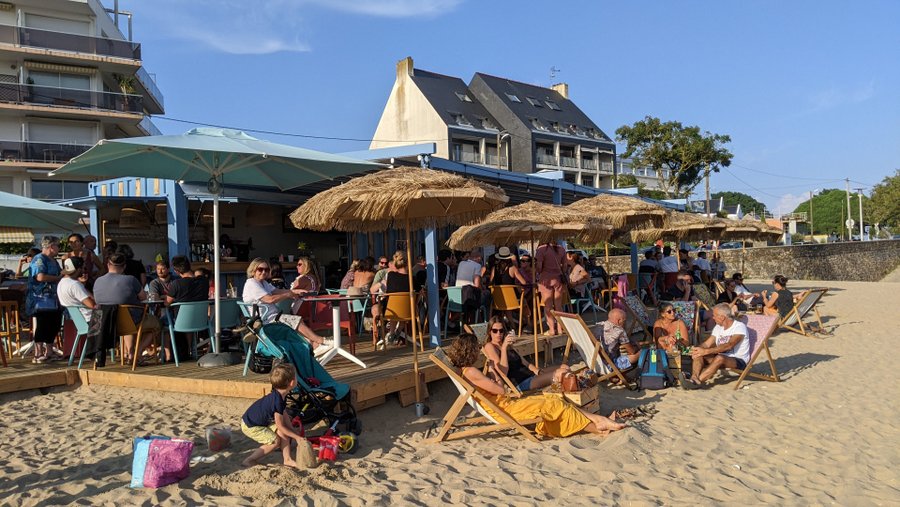 Other things to do (besides the sites/tours I've covered)
Take a walk along the promenade to Les Pêcheries. These are small, picturesque fishing huts on stilts with nets that lower into the water. They have been a classic sight around the coast in this region since the end of the 19th century, and you can find a group of them by the promenade about 10-minutes walk from Place du Commando. You can just watch the hut owners fishing for small plaice and other varieties, but you can also rent them to fish yourself or just have a picnic out on the water. Up to 4 people can even stay in one overnight in Saint Malo de Guersdac. Check with the tourist office.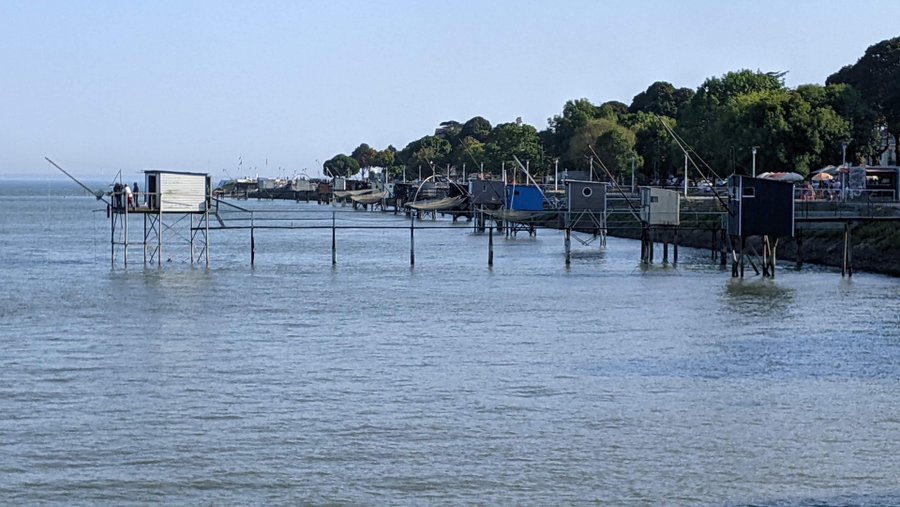 If you have a car, drive over the spectacular St. Nazaire Bridge to Saint-Brevin-les-Pins on the opposite bank of the Loire (take the first exit after the bridge).
At low tide Le Serpent d'Océan is exposed on the beach. It's an artwork by artist Huang Yong Ping – the skeleton of a giant sea serpent.
St Marc-sur-Mer
This little seaside resort village, just over 7 km along the coast from the submarine base, is considered a suburb of Saint-Nazaire. It is inextricably linked to the legendary French film actor/director, Jacques Tati and his most famous character, Monsieur Hulot. That's because his charming comedy film, 'Les Vacances de M. Hulot' (Monsieur Hulot's Holiday) was shot on the beach and in the hotel here. Essentially, M. Hulot is a 1950s B/W French version of Mr Bean!
Where to Stay in St Marc-sur-Mer
The ideal place to stay is the famous Hôtel de la Plage, M. Hulot's hotel. It's a 3-star Best Western now and it still has perfect views of the beach and the statue of M. Hulot himself.
Where to eat/drink in St Marc-sur-Mer
We ate at Le Centre, a café restaurant on the village main street. It specialises in Asian cuisine (delicious!) and hosts concerts on Friday evenings year round.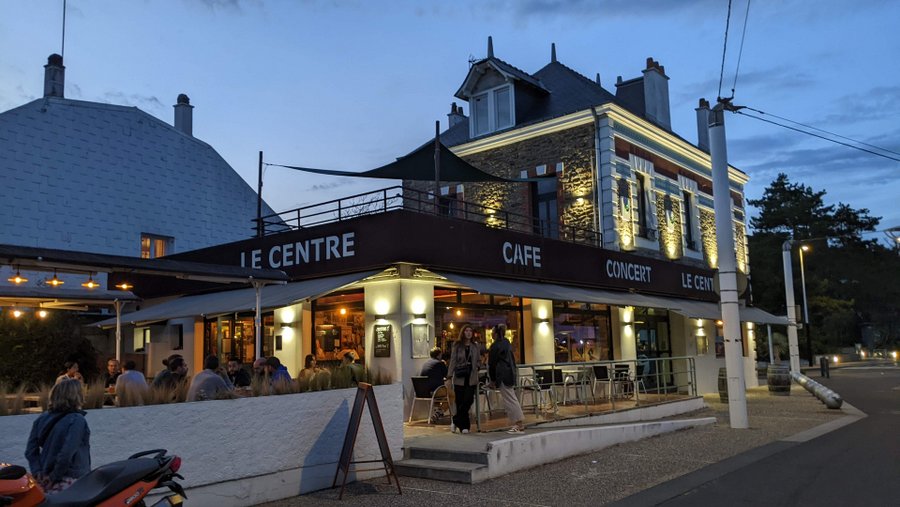 Being a resort, there are plenty of other restaurants, bars and cafés to choose from. Eg…
Things to do in St Marc-sur-Mer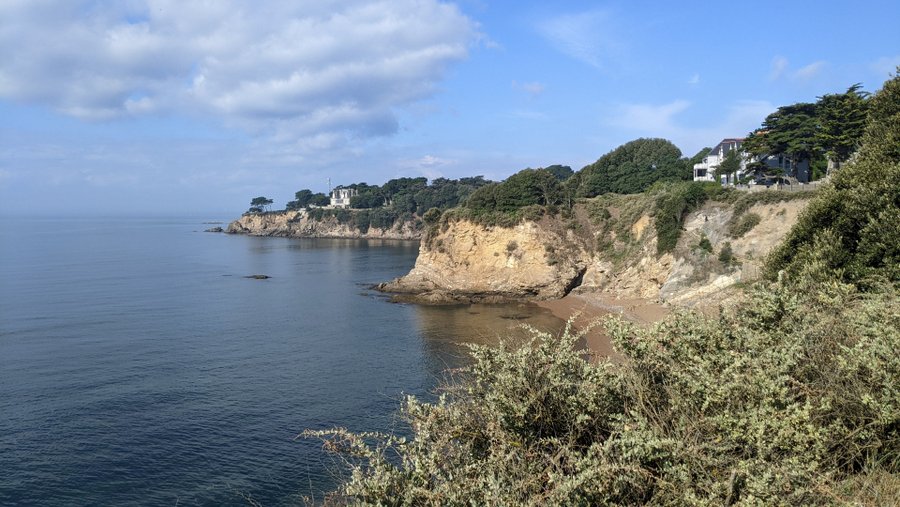 Two in particular: Relax and spend a day on the lovely beach OR take the coastal walk along the cliffs, passing some magnificent holiday homes on the way, OR both – take your beach things with you on the coastal walk and take the steps down to one of the secluded beaches/coves along the way.
---
Declaration: I was on a self-driving press trip as a guest of the Saint-Nazaire tourist office.  Apart from the Hotel de l'Europe & meal at Basilic&Co on the first night, the tourist office covered all meals, accommodation and entry fees.