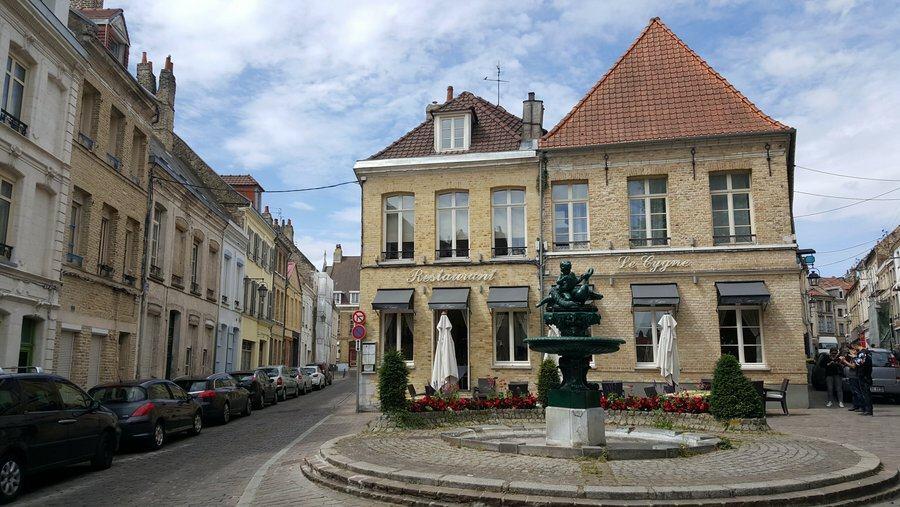 Visiting Saint Omer and surrounding sites like the Blockhaus at Eperlecques and La Coupole is easiest by car, and a self-drive trip is made simple thanks to its proximity to the ferries and tunnel at Calais – it takes 45 mins to drive to St. Omer.
Getting there
I went on Le Shuttle via Eurotunnel*, something I'm astonished to admit, I've never done before! I've been through the tunnel often enough on Eurostar trains from London, but never by car on the shuttle.
Other options include…
| | |
| --- | --- |
| P&O Ferries | Dover – Calais |
| DFDS | Dover – Calais |
| DFDS | Dover – Dunkirk (Just as near, but with an added chance to see the dramatic beach and visit the Operation Dynamo museum.) |
Accommodation
I stayed at Najeti Hôtel Château Tilques*, a popular 4-star hotel just outside Saint-Omer, especially with motoring Brits and motorists with glamourous cars. You'll often see classic cars, super cars or cool touring motorbikes here.
The hotel and gardens look the part, very elegant, lots of artworks (sculptures) and a grand driveway. The the facilities are good; a huge indoor pool, tennis court, etc. However some of the rooms in the annexes are getting a little dated now (the grand rooms in the main house, on the other hand, are meant to be old & opulent!), and compared to the past (I've stayed here before), the hotel feels under-staffed.
Other accommodation includes…
Other Attractions/Experiences
Driving a classic vehicle
If you fancy exploring the area in something a little 'retro' rather than your standard 'Avis/Hertz' rental, Bruno Delforge at Les Belles Échappées in the Ferme de l'abbaye (Abbey farm), Clairmarais, has a small fleet of VW Combi minibuses, Fiat 500s and Renault 2CVs for hire.
For me, the blue VW Combi*. Great fun, but with seven adults in it, no power steering and an independently minded gearbox, hard work!
Exploring the marshes
Just outside St. Omer are the Audomarois wetlands, a National Nature Reserve of 3730 hectares. They are the only remaining cultivated wetlands in France. Some 40+ market gardening families, produce a range of produce (especially cauliflowers) on some 440 hectares of land.
You can explore* the waterways by boat, and O'Marais by ISNOR have a base in the middle of the wetlands where you can dine on o'Marais cuisine, and take boat rides or bicycles to explore the area.
---
* Declaration: My most recent trip to St. Omer was hosted/paid for by St. Omer Tourism, including transport and accommodation. As normal, I say what I think, so I hope any negative comments are taken as constructive criticism.