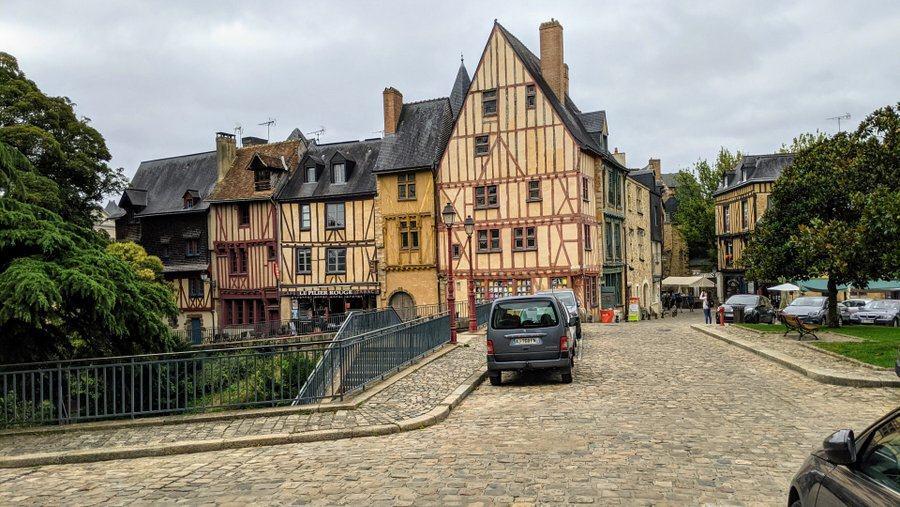 Everybody knows Le Mans for one thing – the 24hr endurance race. So most are surprised (me included) when they discover Le Mans is an extraordinary historic city with 20 hectares of cobbled streets and medieval buildings in the old town (Cité Plantagenêt), surrounded by Roman walls!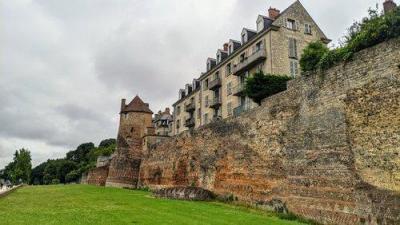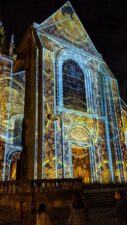 The old town sits on a hill by the river Sarthe with the cathedral at its highest point. The cathedral – one of France's largest – is where Geoffrey Plantagenet, Count of Anjou and Maine, married Matilda, widow of the German Emperor & granddaughter of William the Conqueror, in 1128 – a real power match! Geoffrey is buried in the cathedral.
During the summer months the cathedral is illuminated by the kind of Son et Lumieres displays the French are so good at (eg Chartres or Le Puy en Velay) during the summer months.
Getting there
By Air: is not really a runner. Le Mans-Arnage airport (LME) is a small airport next to the 24hr circuit that takes only private/business flights. Search for scheduled services and they'll try to sell you an air/rail combo ticket through Paris. The good news is that…
By Rail: If you get yourself to Paris then Le Mans is just 54 mins away by TGV.
By Road: There are good coach services from Paris. Try BlaBlaCar Bus (formerly Ouibus), or Flixbus will take you all the way from London Victoria.
But the best way is self drive. That way you can cross the channel to Caen (Le Havre & St Malo are a little further away) and drive down the autoroute (2 hours).
Accommodation
Near the station:
Ibis Le Mans Centre Gare Nord Hotel. Modern hotel with quirky automobile-centric design features. Love the Fiat 500 in the lobby! Rooms from around £65 a night.
Outside the city:
La Groirie, 72650 Trangé, Pays de la Loire. A 4-star chateau hotel 10 minutes from Le Mans. Rooms from £163 a night.
In the centre:
Maison Saint-Pierre Chambres d'Hôtes
25 Rue de Chanoines, 72000 Le Mans. This is where I stayed in Le Mans and you couldn't get more central – it's about 20 metres from the front door of the cathedral! It's small (max 7 guests) but has magnificent views over the River Sarthe and the rest of the city to the NW. Mme Chantal Le Priol speaks some English and will prepare you a sumptuous breakfast in the morning. Rooms around €90. Not on the Interwebs I'm afraid, to book you'll have to phone (+33 (0)6 84 61 17 31) or email (stpierre.lemans@orange.fr).
Tip: The old city is not car-friendly and is very parking-unfriendly! So if you are staying in the Cité Plantagenêt you might just drop your bags at your accommodation and then park in the large FREE car parks down along the river bank. Or you could arrange for a taxi to meet you in the car park and take you to your accommodation.
Eating Out
We tried three places while we were in Le Mans…
La Ciboulette Traditional French restaurant in the old city, offering excellent cooking and good prices.
Liberta Not your usual Italian pasta & pizza emporium, they have some amazing dishes I'd never heard of before. Fast, friendly service in a busy restaurant. Liberta is one of the shops and restaurants now occupying a former 17th century convent which became a prison until 2010. It is handily just on the edge of the old city (walkable), so if you don't fancy Italian, there are other choices.
La Rotisserie A little 'off the beaten track' out near the 24hr Circuit, but this place has a buzz about it and is obviously liked by the locals, which is always a good sign. (And there's a large window into the kitchen, which is another good sign!) The focus is on roast meats but they also have a number of fish dishes.
Other Attractions/Experiences
Well, of course, once a year there's the massive 24 Hours of Le Mans event, but if you don't happen to be there on the weekend, there's the Museum of the 24 Hours of Le Mans.
The Tessé Museum in Le Mans has a collection of ancient Egyptian artefacts based on objects brought back by Édouard de Montulé from Egypt in 1822. Since then the collection has expanded and two decades ago the museum used a basement space to reconstruct the tombs of Queen Nefertari, and the governor of Thebes, Sennefer. They have just been renovated and, by all accounts, are worth seeing.
The Abbaye Royale de l'Epau on the outskirts of Le Mans. I'll admit I found this place a little dull but if you or a partner have a broader interest in history, it was a Cistercian abbey founded in 1229. It was severely beaten up during the French Revolution. Now it is a display & events site. When we visited there was an impressive art gallery display, and a really interesting rolling video about art restoration. You'll have to check what is happening there during your visit.
Useful links
Information about Le Mans and the surrounding district: www.paysdumans.fr
Information about the nearby Vallée du Loir: vallee-du-loir.com