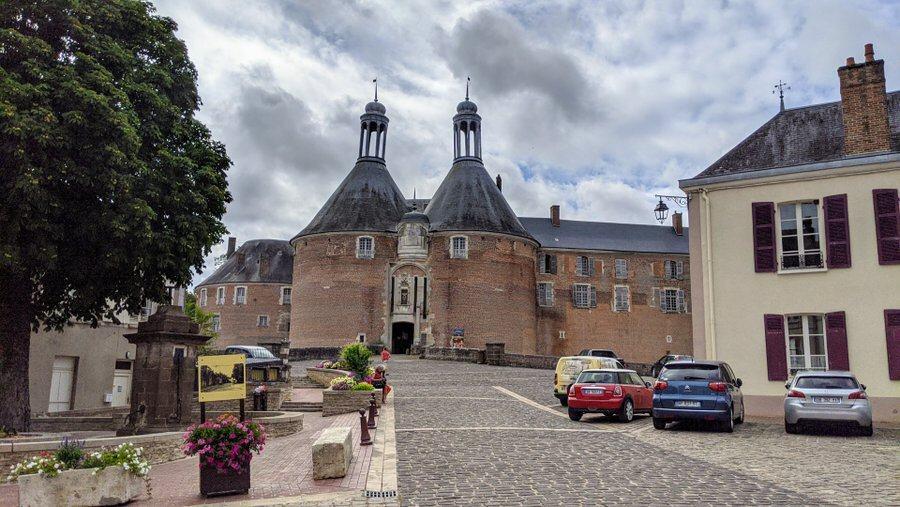 Guédelon is right on the border between two departments, Yonne & Nievre in the Bourgogne-Franche-Comté region.
Getting there
Guédelon itself is around 2 hrs 30-45 mins drive southeast of Paris. The A6 autoroute passes to the east towards Auxerre, but the A77 splits off from the A6 just after Nemours and passes slightly closer to the west of Guédelon, so this is the quickest route, though it does of course require tolls.
Accommodation
We stayed overnight at the Hôtel Les Grands Chenes*, a 3-star rural hotel with a swimming pool just outside Saint Fargeau. In addition to the suites in the main building, they have a number of maisonnettes ideal for families. We had an elegant ground floor room in the main building with french windows that looked out over the front lawn and opened out onto a terrace. The hotel has a large lawn with a swimming pool, and room to play volleyball, badminton, or football.
The hotel is owned by a French/English couple, Alain & Rachael Savouré, which makes life easier if you struggle with french!
Declaration: We were guests of Yonne Tourism.
Coronavirus: Masks needed in the indoor public spaces except when sat down for breakfast. Breakfast dishes brought to your table. (Check latest rules)
Other accommodation includes…
| | |
| --- | --- |
| Ecolodge Beauregard | If you are planning to stay longer than just one night in the area, and especially if you have the family with you, then you might like to try some glamping style accommodation close by Guedelon. |
| Logis Hostellerie Blanche de Castille | A simple Logis in Bléneau about 25 km from Guédelon. |
| L'Auberge de Treigny | A youth hostel (you're as young as you feel) with 33 individual beds divided into 5 mixed rooms, a fully equipped kitchen, a large common room and a garden, in the former village school & town hall at Treigny. |
| Le Domaine Du Bouloy | Luxurious wedding/events venue with self-catering gites and chambres d'hotel. |
| Hôtel La Buissonnière | A small 2-star country hotel with a simple restaurant serving local produce. 33 kms from Guédelon. |
Eating out
Hôtel Les Grands Chenes is more of a B&B than a hotel in that they don't offer lunch or dinner. For those you'll need to find a nearby restaurant you can drive to. There are several in Saint Fargeau, a 5 minute drive away.
We ate at the Restaurant de l'Ancienne Gare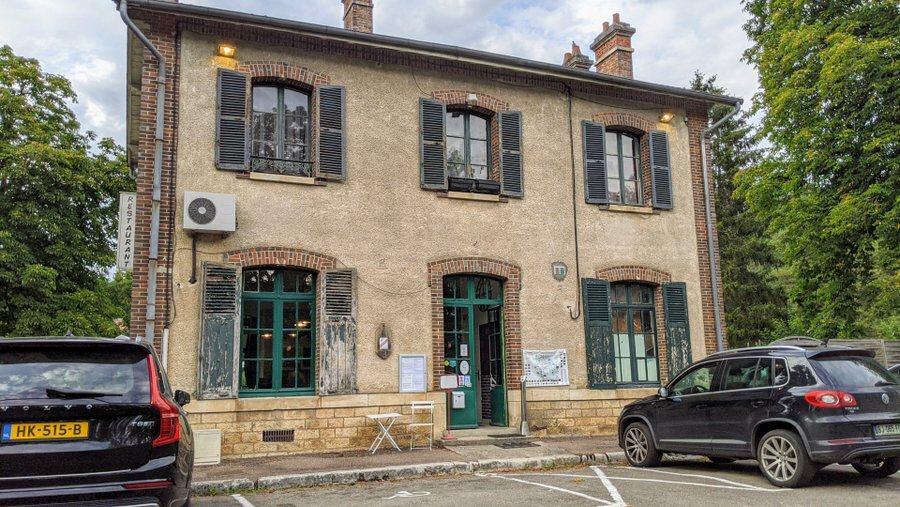 The Restaurant de l'Ancienne Gare is exactly what is says it is; the old railway station. The outside dining terrace is where the platform and tracks used to be. The chef changes the menu monthly and is both skilled and adventurous. The waiting staff are enthusiastic & efficient.
Declaration: None needed. We paid for ourselves.
Coronavirus: Masks needed to enter but not once sat down. (Check latest rules)
Other Attractions/Experiences
The 17th-century, Renaissance Château de Saint-Fargeau. You can do self-guided tours of the private apartments and the extraordinary roof spaces including the toy attic with its collection of toys and model railway, and the steam locomotives outside. Every Fri & Sat night in July & Aug there is a candlelit historic re-enactment at the château with hundreds of costumed actors.
Musée de la Résistance-Groupe Bayard is a small museum in the historic town of Joigny. It's a memorial museum dedicated to the local resistance group.
---