On a coastline dotted with D-Day museums, it's easy to assume that the America Gold Beach Museum in Ver-sur-Mer, Normandy, is dedicated to the events on June 6 1944… but it isn't, exclusively.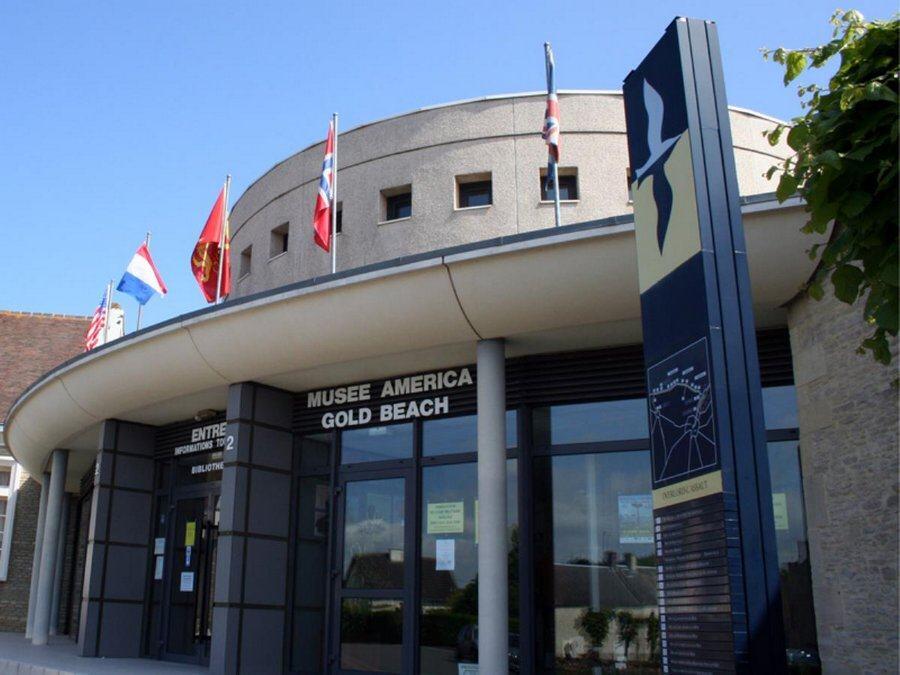 Musée America Gold Beach reminds us that before the British Army's XXX Corps landed on Gold Beach, other pioneers had landed here and that the town did have a history before World War Two!
While the second part of the museum covers D-Day, the first part is dedicated to the extraordinary long distance aviators who pioneered the world's airmail routes, and in particular four American airmen who crash landed in their aircraft named 'America' – hence the museum name – on Gold Beach before it became Gold Beach.
The Airmail Aviators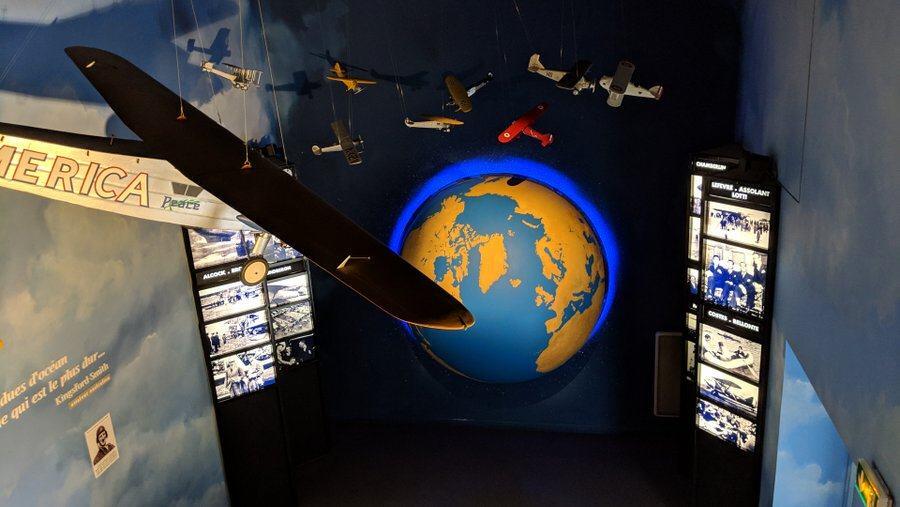 On 29th June 1927 Commander Richard E. Byrd (Yes, that Byrd, the polar explorer/aviator) set off from New York in America, their Fokker C2 Trimotor, with three crew and a sack of mail, headed non-stop over the Atlantic, for Paris*. They arrived over Paris on the 30th but thick fog prevented them from landing. They headed back to the coast where they knew conditions were better and crash landed in the early hours of 1st July just off the beach at Ver-sur-Mer.
Apart from one broken collarbone, the crew were unscathed – just a little scruffy and waterlogged.
"We started knocking on doors in the tiny village in the middle of the night," Byrd later recalled**. "We looked like bums. Our high school French was lousy. The residents wouldn't believe we had just dropped in from America. They closed doors in our faces. Finally, we convinced the lighthouse keeper that we had just come from New York. He convinced the mayor, and at long last we were welcomed to France."
The next day attempts were made to retrieve the plane but it broke up and much of it was later removed by locals for souvenirs. They did retrieve the mail, thus making this the first postal delivery by plane between the United States and France. The four aviators were put up in the town and feted as heroes before leaving for Paris and eventually returning to the USA by ship.
Some of the letters (I'm not clear if they are the real thing or reproductions. I suspect the latter.) are on display with the mail sack. I particularly like the handwritten one from 'Jules'*** at the French Embassy in Washington to his Dad in Paris (in French, obs!)
Dear Dad,

I'm entrusting a few short words to the aviator Byrd, which if by chance they reach you, will somehow be unique, since they will have crossed the Atlantic in a few hours thanks to this first postal exploit.

With much fondness,

Jules
21 June 1927
The museum has several artifacts from 'America' and many interesting photographs and documents relating to Byrd and his crew, and other pioneering aviators.
Gold Beach on D-Day
The second half of the museum is dedicated to the events on 6th June 1944.
Again there are some really well thought out displays and exhibits. There's no room for any large artifacts such as tanks, guns or other large pieces of military hardware, so they focus on photograph & document displays, and model dioramas – they have some really good models!
Gold Beach was where Montgomery's XXX (Thirty) Corps came ashore, spearheaded by the 50th (Northumbrian) Infantry Division and RN 47 Commando, who secured the beach by noon.
The displays use annotated photographs, maps and models to explain events in detail.
For example, this is a copy of the 'Gold Area' defence map used by Sub-Lieutenant E. Tiplady RN, commanding Landing Craft Support (Large) 259, with the target area trace overlay added. You can see the specific target areas with codenames, in this case furniture themed! Chair, Table, Rug, Picture, Cupboard, etc.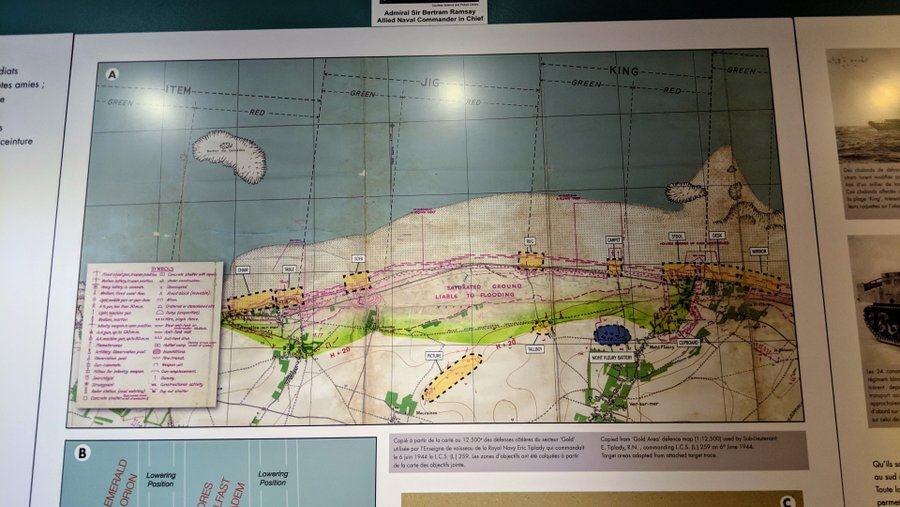 From the surrounding photos, we can see that Tiplady's LCS(l) 259 worked its way close inshore to fire its machine guns and 6-pounder anti-tank gun at pillboxes in target area 'Stool'.
Meanwhile, the tank landing craft that had been adapted to fire rockets, fired them at 'Table', and the 24 'Sexton' Self-Propelled guns of the 89th Field Regiment, Royal Artillery (See feature image above), who had been practising firing from moving landing craft in the build up to D-Day, targeted 'Stool', and then switched to 'Cupboard'.
I particularly liked the photos and the model of the Advanced Landing Ground (ALG) B3, built in just three days 3 km outside Vers-sur-Mer at Sainte-Croix-sur-Mer.
Pretty much as soon as B3 was operational it became a hive of activity. In addition to its role as a base for RAF 144 and 146 Wing there were lots of aircraft dropping in for refueling/rearming or other purposes…
On 10th June a Hurricane of the Air Despatch Service (ADS) was the very first aircraft to deliver mail to the forces in France. See? Airmail pioneering again!
On 15 June, Gen. Eisenhower flew in on board a B-17 bomber with a large escort of P-47 Thunderbolts to visit Gen. Montgomery.
And on 23 July, the Winston Churchill paid a morale boosting visit to the troops in the area. The Prime Minister was flown to B3 by Air Vice Marshal Harry Broadhurst in his captured German Fieseler Storch (excellent STOL aircraft), which he had painted bright yellow with 'invasion stripes' on the wings' to avoid being shot down by friendly fire. It helped also that they were escorted by the Spitfires Mk IXs of flying ace Wing Commander "Johnny" Johnson's RCAF 144 Wing who were based at B3!
B3 was only operational for three months. By the beginning of September the Allies had moved on.
---
* Byrd and crew were planning to make a bid for the Orteig Prize for making the first nonstop flight between the United States and France. Unfortunately they crashed while practising take-offs and while repairing the aircraft a certain Charles A. Lindbergh won the prize! It's a bit like poor Hubert Latham – nobody remembers who came second or third!
** In a Virginia newspaper in 1952. *** I can't find out who 'Jules' was. I don't believe he was the French Ambassador, who at that time was Paul Louis Charles Claudel. Anyone know the answer?
Declaration: I was on a self-driving press trip as a guest of the Normandie and Calvados tourist offices. This museum wasn't on the itinerary and I honestly can't remember if I paid or got in for free with my Press card. I think I paid.
Feature Image: Model of a 'Sexton' Self-Propelled 25-pounder gun with the 86th Field Regiment, Royal Artillery, towing its ammunition sledge behind.
Further Reading

…