West of Pointe du Hoc on the Calvados coast, Maisy Battery is a WW2 German coastal defence gun battery which housed 350 men in the run up to D-Day and had howitzers trained on both Omaha Beach to the east and Utah to the west. Begun in 1940, it is set back a mile from the coast behind a small promontory, invisible from both the beach and the coast road. But for 60 years, the site lay hidden beneath thick soil and vegetation.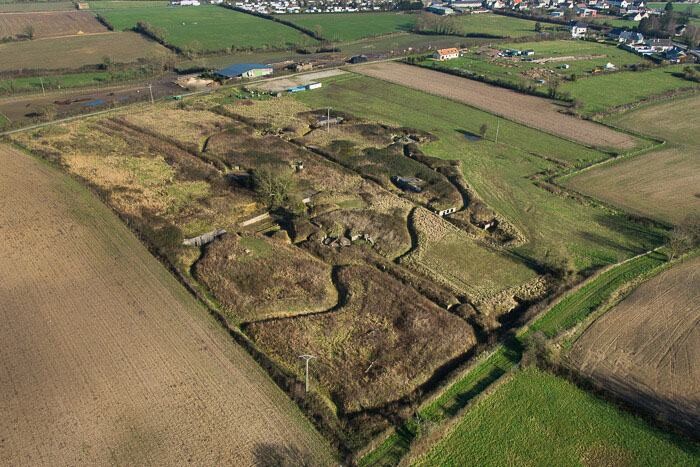 So why is Maisy so important?
In 2004, British military historian Gary Sterne acquired a map showing an 'Area of High Resistance' to the west of Grandcamp-Maisy. As a dealer in World War II memorabilia, he already owned a holiday property in the area, so Gary began to look more closely and discovered what appeared to be the tops of submerged concrete buildings. Buying a small rough field from a local farmer, he began digging and found the first trench in a maze which he now knows to cover some 144 acres.
And as trenches and buildings slowly saw the light of day, so too did the extraordinary story of Maisy Battery and its role in the American assault on Omaha Beach. On June 6th 1944, the US 2nd Rangers scaled the cliffs at nearby Pointe du Hoc, only to find no guns. But Gary now has evidence that the target was always Maisy, eventually taken three days later by the 5th Rangers.
So why was Maisy covered over after Operation Overlord and barely mentioned in the history books or public records? The full story – with evidence from the US Army archives – is the subject of his new book Cover-up at Pointe du Hoc, which will be available in two volumes this autumn via the Maisy Battery website, prior to being launched worldwide in book shops in 2019.¹
What's there to see now?
Today visitors can follow 2.5 km of deep trenches and step inside buildings as varied as ammunition stores and personnel accommodation, a commandant's office and radio room. No guns were found at Maisy but Gary has sourced genuine German howitzers elsewhere and installed them to show how things were as the soldiers stationed here awaited attack.
Visitors can follow numbered panels with explanations in English and French, but for the full story, I'd recommend booking a tour with Gary or his son Daniel who jointly man Maisy. The trench network has been widened slightly and made safe, but in no way 'Disneyfied' like some other D-Day sites. It is suitably surfaced for buggies and wheelchairs and only a few of the German buildings with step access are not suitable for wheeled transport.
How is Maisy presented?
Maisy Battery is all very low tech. No tablets, audio guides or interactive displays. No fancy signage. Just basic information about what you are looking at. But this is what makes it unique. Walk through the network of trenches and step down into a personnel bunker or ammo store, and you don't need much imagination to hear the sound of guns pounding and men shouting orders. And of course you can take as many photos as you like.
The site is accessed down a country lane and there's a large car park with ticket office and shop housed in a portable building, beside an eco-friendly toilet. Enthusiasts can buy a wealth of genuine World War II memorabilia, all sourced in Normandy, but none of it was found at Maisy – artefacts found on site or acquired locally that relate to the battery will eventually form part of a Maisy Battery museum.
Many school parties visit Maisy from Britain, organised through a specialist educational travel company, but this isn't a site that pulls in the casual passer-by. The combination of being privately financed, set back from the road, and hidden underground mean that Maisy Battery is a low profile remembrance attraction. But whether you are a military history buff or simply appreciate a 'real' historical site, plus a good detective story, you'll find something here to grip your imagination.
Declaration: Gillian was on a visit to the D-Day landing beaches on a trip hosted by Calvados Tourism. Her visit to Maisy Battery was free.
Images: Gillian Thornton
---
¹ Gary has written three books now.
The first was The Cover-Up at Omaha Beach

. It covered the discovery of Maisy Battery and poses questions about the US Rangers at Pointe du Hoc and Omaha Beach.
The second is Vol 1 – Allied Intelligence and the Cover-Up at Pointe du Hoc

. It follows the 2nd and 5th Rangers as they arrive in England and begin training, and the orders given to the Rangers, along with dozens of aerial reconnaissance photographs of Omaha Beach, Pointe et Raz de la Percée, Pointe du Hoc and Maisy. Many of the documents are still marked TOP SECRET and were only recently released after nearly 70 years.
The third is Vol 2 – D-Day Cover-Up at Pointe du Hoc

. It covers mysteries such as, why a battalion commander was removed whilst onboard ship prior to the landings, and why the individual Rangers were not briefed on all of their D-Day objectives. It also includes all of the original After Action Reports for the units surrounding and supporting the Rangers.
Factbox
Website:
www.maisybattery.com
Getting there:
Maisy Battery is located at 7 Route de Perruques, Grandcamp-Maisy, 14550, Calvados, France. The site can be difficult to spot so see the detailed access details on the website.
Entry Price:
Individuals
Adult
€7,20
Child (6-18)
€4,80
Concessions
€6,00
Dogs welcome.
Opening Hours:
Maisy Battery is open from 1st April 1st to 1st October.
Visits may be possible at other times of year – email info@maisybattery.com or phone 00 44 7411 932 197. For guided visits, email Dan@maisybattery.com or phone the number above.
| | |
| --- | --- |
| April, May, September | 10am to 4pm |
| June, July, August | 10am to 6pm |