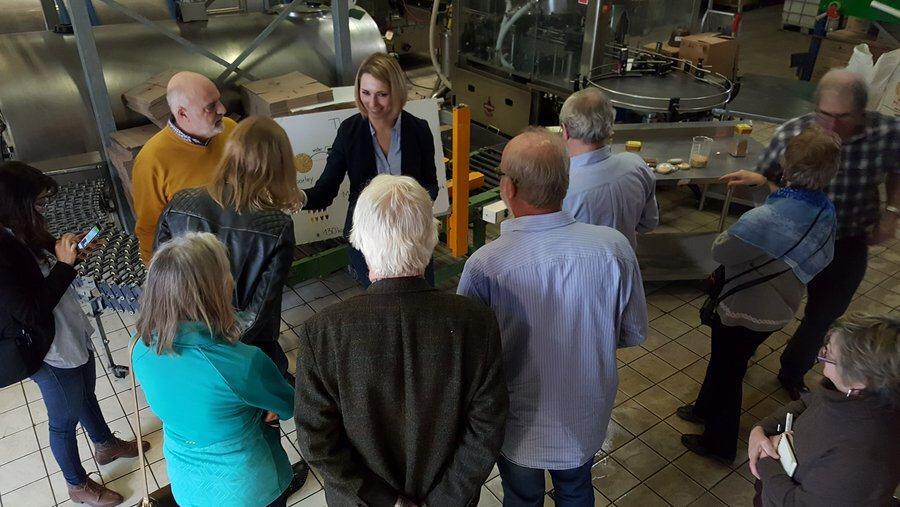 This is a list of industrial and commercial companies with brand museums, visitor centres or factory tours open to the public (that I'm aware of).
These places tend to come and go fairly quickly, depending on their role within the brand's core business. Eg, motor vehicle factory tours are likely to be suspended when new products or models are introduced; brand museums can be moved or closed when brands get bought or HQs & factories move. I try to keep up, but there's regular 'churn' on this list!
Airbus
Toulouse & St. Nazaire, France
Airbus aircraft are built in factories all over Europe but in France there are two that can be visited – in St. Nazaire and Toulouse. Tours of the St Nazaire facilities can be organised by St. Nazaire Tourism.

In Toulouse, a local company, Manatour operate a tour of the Airbus A380 super jumbo assembly plant.

Airstream
Jackson Center, Ohio, USA
A chance to see the style icon of the caravan world in production. Daily tours Mon – Fri.
Amazon UK
Various, UK
You can book to tour any one of eight Amazon Fulfillment Centres in England & Scotland.
Anheuser-Busch
Various, USA
The Budweiser brewer has complimentary tours at five of its 12 U.S. Breweries.
Aston Martin
Oxfordshire, UK
The Aston Martin brand museum is located in a restored 15th century barn about 30mins outside Oxford. See my review.
Audi
Online
Not a physical tour, but Audi have just (Feb 2020) launched an interactive streamed factory tour programme. You can join scheduled 20 min tours with a tour guide to different factories building different vehicles, and ask questions as if you were there.
BMW Motorcycles
Berlin
Daily tours of the BMW motorcycle factory, Monday – Friday.
Boeing
Seattle
Boeing offer the hugely popular tour of their Everett assembly plant (the largest building in the world by volume) where they assemble Boeing 747, 767, 777 and 787 airliners. They also have an Aerospace History exhibit in St. Louis.
British Airways
Harmondsworth, UK
The British Airways Heritage Collection preserves the records and artefacts of British Airways, its predecessor companies BOAC, BEA, BSAA and the pre-war Imperial Airways. It is housed at BA's headquarters close to Heathrow Airport. It comprises a comprehensive document & photo archive of BA's history plus aircraft models, memorabilia, uniforms and other artefacts. It is open to the public but you have to book an appointment to visit.
Bushmills
County Antrim, N. Ireland
The Old Bushmills Distillery is open to visitors 7 days a week, who get a guided tour of the 400-yr-old distillery, a sample of their whiskey, and a chance to buy some.
Cadbury World
Birmingham
Visitor centre for chocolate-lovers.
Carlsberg Brewery
Copenhagen
Carlsberg are redeveloping their visitor centre and brewery tour. They expect to re-open it in 2020..
Chantiers Atlantique
St. Nazaire, France
STX Europe (formerly STX Europe, formerly Aker Yards) in St Nazaire is a massive shipyard where they build cruise ships. Past liners include Normandie (1935), France (1962), and Queen Mary II for Cunard. Tours organised through St. Nazaire Tourism.
Chevrolet Corvette
Bowling Green, Kentucky
There's a Corvette Museum AND a factory tour at the nearby General Motors Corvette assembly plant. Note: There's a new Corvette on the way and they have announced the factory tours will be stopped between 16 June 2017 & Jan 2019 while they 'tool up' for it.
Cornings Museum of Glass
New York State
Cornings are probably best known in the UK for glass cookware. The Corning Museum of Glass traces the 3500 year-old history of glass and glass blowing through its thousands of exhibits (from ancient glass beads to fibre-optics), interactive displays and factory floor glass blowing demonstrations.
Crayola Factory
Easton, Pennsylvania
Not really the factory where the actual crayons get made in their billions, but a family visitor centre where the process is explained with lots of hands-on opportunities for kids.
Christian Dior museum
Normandy, France
The museum in Granville, Normandy, is housed in Christian Dior's childhood home overlooking the sea and features 60 years of the Dior fashion house.
Dartington Crystal
Great Torrington, North Devon
Watch the glassblowers in action at the visitors centre.
Ducati
Bologna
Ducati offer free guided tours of their museum and factory lasting approx 1 hour and 15 minutes to groups who have booked in advance. 
Fendt Tractors
Marktoberdorf, Germany
Fendt do have a brand museum and they do operate factory tours, although "participation in a factory tour is primarily limited to customers and active farmers", but there's always a chance! Fendt have nine manufacturing plants around Europe. The brand museum and tours are at their main production plant at Marktoberdorf in Bavaria, but some of the other plants, like Breganze, appear to offer tours to end users or "enthusiasts" organised through dealers.
Ferrari Museums
Maranello & Modena, Italy
The Galleria Ferrari was opened in 1992 next to the Ferrari factory in Maranello near Moderna. It contains cars and engines from 55 years of Ferrari history starting with the very first car to have the prancing horse logo. Many of Ferraris most famous Formula One cars are in the collection. They also operate factory and test track tours, that need to be pre-booked, and there are strict rules about photography! Meanwhile, the Enzo Ferrari Museum opened March 2014 on the site of the house where driver/car-maker, Enzo Ferrari was born in 1898. The original dwelling has been preserved together with the workshop and it has been merged with the futuristic new gallery (5,000 sq m / €18m) exhibiting the history of Enzo Ferrari and Italian racing car design in Modena.
Ferrari World
Abu Dhabi
A Ferrari theme park that opened in 2010 with a range of displays and driving experiences, plus the world's fastest roller coaster reaching speeds of 125mph (200kph). More info
Ford
Michigan, USA
There are several Ford experiences: The Henry Ford Museum is his collection of Americana. There are tours of the assembly line at the Ford Rouge plant (Very popular. 150,000+ visitors in 2019) And there is Greenfield village… Henry Ford's birthplace which he saved from destruction when a new road was built through the location by moving it to a new site and preserving the original buildings!
Greyhound Bus Museum
Minnesota, USA
Now, almost a century after the iconic Greyhound bus company was founded in the depth of rural America, the (British-owned) brand has arrived in the UK, which makes this museum a little more relevant to British visitors. The collection has a large number of artifacts and displays, plus thirteen historical buses, including the futuristic 1956 aluminium 'Scenicruiser'.
Grupo Cimbali
Binasco, Italy
The famous manufacturer of Espresso Coffee machines has a stylish brand museum, MUMAC (Museo della Macchina per Caffe). It is attached to the Cimbali factory in Binasco just outside Milan. The museum houses a collection of over 300 professional coffee machines spanning 100 years of innovation.
Guinness Brewery
Dublin
A tour of the old Guinness brewery which has been converted into an exhibition of Guinness history with films and exhibits of old posters, bottles, beer cans and brewery equipment. There's a rather impressive bar on the roof (The Gravity Bar) with views over Dublin and a souvenir shop.
Harley-Davidson Factory Tour
Pennsylvania
There used to be three factory tours, but of course Covid 19 messed that up! They were, the Powertrain engine plant in Wisconsin, the Sportster bike assembly plant in Kansas City, and the most popular, the 'Harley-Davidson Vehicle Operations' plant in York County, Pennsylvania where roughly half the company's production workforce assemble the Touring, Softail® and custom motorbikes. (Click on the USA region website to find the Factory Tours.) And there's a brand museum in Milwaukee.
Heineken Experience
Amsterdam
The Heineken Experience is located in the original brewery building in Amsterdam and opened in 2001. Visitors take a 45-min tour through malt silos, mash tuns and learn how the brewing process works. There are AV experiences, exhibits and a bar at the end.
IMZ – Irbit Motorcycle Works
Urals, Russia
Visits to the famous Ural motorcycle & sidecar company plant are offered by Ural Expeditions & Tours who also operate motorbike tours in the Ural Mountains.
Jack Daniels
Lynchburg, Tennessee
Visitors centre and continuous guided tours of the historic distillery.
Jaguar Cars
Solihull/Castle Bromwich, UK
A choice. You can see the new Jaguar XE being built in their state-of-the-art production plant in Solihull, and/or the main plant at Castle Bromwich.
JAL – Japan Airlines
Haneda Airport, Tokyo
The JAL Sky Museum is a brand museum and hanger tour at the airline's maintenance base at Haneda airport. During COVID-19 they have set up remote online tours.
Jayco
Middlebury, Indiana, USA
Jayco builds amazing RVs, motorhomes and trailers ("caravans" to Brits) in north Indiana. Factory tours temporarily suspended due to COVID-19
John Deere
Moline & Waterloo, Illinois
The famous American tractor, plant & agricultural equipment manufacturer has a brand museum with exhibits from the company's past in Waterloo. Also some of the company's other plants are open to the public for tours, including the combine harvester factory in East Moline, Iowa, and the seeding equipment facility in Davenport. There is also the John Deere Historic Site in Grand Detour just outside Moline where visitors can see a replica of the blacksmith shop where Deere first fashioned a self-scouring plow.
KFC
Corbyn, Kentucky
Colonel Sanders' original cafe and birthplace of the worldwide Kentucky Fried Chicken franchise. There's a small museum there too. (He was never a military colonel by the way. Kentucky Colonel is an honorary titled awarded to cafe-owner, Sanders by the State Governor for 'services to cuisine'.) The cafe/museum doesn't have dedicated website.
Lotus Cars
Hethel, Norfolk, UK
The Lotus production facility in Norfolk is reopening for public tours on 4th April 2022. Lotus suspended their factory tours in November 2017, so fans will be eager to see their new state-of-art factory which, after a £100 million investment, will be building the new Lotus Emira sports car. Tours will be operated Monday – Thursday, but on Tuesdays and Wednesdays you can also visit their Classic Lotus racing museum and see their collection of historic Formula 1 race cars.
Louisville Slugger
Louisville, Kentucky, USA
Baseball fans can see historic memorabilia and how bats are made.
Mack Trucks Historical Museum
Allentown, Pennsylvania
Brand museum of the iconic American trucks, dating back to the early 1900s.
Maerklin Museum
Goeppingen, Germany
The world-famous model railway manufacturer has a museum in Goeppingen (nr Stuttgart) of over a 1,000 products including historic toy trains, steam engines, dolls houses and sheet metal toys dating back to 1859 when Theodor Friedrich Wilhelm Maerklin and his wife Caroline set up the company. Model railway enthusiasts were horrified in Jan 05 when robbers got away with a significant and valuable part of the collection, but the stolen exhibits have since been recovered.
Mercedes Benz Museum
Stuttgart, Germany
A stylish museum stuffed with stunningly elegant historic cars (and other exhibits such as engines) laid out in chronological order, starting with a replica of the very first car that Carl Daimler built and which his wife promptly took for a spin! (Course, there weren't any garages in 1881 so she had to fill up with ether from chemists.) Guides will periodically spin the huge flywheel and start her up.
Mercedes-Benz, Bremen Factory
Bremen, Germany
The Mercedes-Benz Customer Centre operates 1½hr group tours (up to 30 people) around the huge Mercedes-Benz plant in Bremen, but it's only for organised groups, and you'll need a coach. The current price (2023) is €300.
Mercedes-Benz USA
Tuscaloosa County, Alabama
The giant Mercedes plant, the only one in the USA, has a visitor centre, museum and daily factory tours (from time to time temporarily closed when they have plant refits for new model assembly).
Mercedes Benz World
Brooklands, UK
MBW opened in Oct 06 at the historic Brooklands racing circuit in Surrey with a selection of driving courses from serious racetrack and off-road instruction to driving experiences for young children (over 1.5m). There are 100+ Mercedes cars on exhibition in the centre (in addition to the historic vehicles in the adjacent Brooklands museum), family activities & learning zones, simulators & a cinema, restaurants & shops….and future plans include a 5-star hotel & spa.
Michelin
Clermont-Ferrand, France
Learn about the history of Michelin tyres in L'Aventure Michelin.
Monaco Coach Corporation
Indiana & Oregon, USA
Not a well-known brand in the UK, but these guys make luxury RVs (motorhomes) and they allow the public to come and watch them doing it at their plants in Indiana and Oregon.
Moreno Glass Factory
Venice, Italy
Daily tours for large & small groups to watch glass-blowing in the furnace room.
Morgan Motor Company
Malvern, Worcestershire, UK
Morgan operate pre-booked, guided tours of the classic hand-built sports car factory, that last around two hours and run during weekdays, or on selected Saturdays. They get around 30,000 visitors per year. If you want a preview, they have just released (Feb 2022) a drone fly-through of the factory.
Outhwaite & Son Ropemakers
Hawes, Yorkshire
From the stuff mountaineers dangle from and boats tie-up with, to dog leads and bell rope – you can watch them making metres of rope in the traditional way.
Pagani
Moderna, Italy
Something for the 'petrol-heads'; a chance to see some of Pagani's supercars, such as Jeremy Clarkson's favourite, the Zonda, or the Huayra, in production and their new factory & showroom.
Plymouth Gin
Plymouth, England
Plymouth Gin is the only gin distillery in Britain that runs visitor tours. They opened a visitor centre in Aug 04 in their historic distillery building (a former monastery dating back to 1431, and the building where in 1620 the Pilgrim Fathers spent their last night in England) in the centre of Plymouth.
Polaris
Roseau, Minnesota
You can see Polaris snowmobiles and All Terrain Vehicles (ATVs) being manufactured at their plant on weekday afternoons, and visit their brand museum. Group tours of 15 or more should be arranged ahead of time by calling (218) 463-4999
Porsche
Stuttgart, Germany
Porsche have a museum with 80+ vehicles from the early years to the present day.
RNLI
Poole, Dorset, UK
The Royal National Lifeboat Institution has had a state-of-the-art training and lifeboat construction complex at its headquarters in Poole, Dorset, since 2015. They offer 90-min tours of the training facilities 6 days a week, and 60-min tours of their engineering, production and maintenance facilities on Wednesdays and Saturdays. They even have a hotel (for their crews during training) where you can stay! And… they also have a facility on the Isle of Wight where they build and maintain their inflatable Inshore Rescue Boats (IRBs), which you can visit by appointment.
Royal Mint, The
Cardiff, Wales
The Royal Mint offers "VIP tours" to its factory & workshops… they are a little expensive though.
SAFRAN
Réau, France
French aerospace engine manufacturer, SAFRAN, has a brand museum with a large collection of engines produced by predecessor companies such as Gnome et Rhône and Snecma which are now part of the present day Safran company.
Steinway Pianos
New York, USA
Steinway have a 2½hr tour of the factory where grand pianos are still handmade by craftsmen.
Swarovski Crystal Worlds
Innsbruck, Austria
Swarovski, the costume jewelry & glass collectables manufacturer, have an underground crystal cave which doubles up as an art installation and visitor centre/shop.
Triumph Motorcycles
Hinckley, Leicestershire

Triumph opened its £4 million Triumph visitor experience and factory tour in Nov 2017. The museum collection (free) is open Weds – Sun each week and features some famous Triumph bikes ridden by the likes of David Beckham and Tom Cruise, plus land speed record holders from the 1960s and… THE actual bike – a fully restored 650cc Triumph TR6R – ridden by Steve McQueen in The Great Escape!

The 90 minute factory tours cost £15 and are led by experts including members of the manufacturing teams.

U.S. Mint
Philadelphia and Denver, USA
The United States Mint offers tours in its Philadelphia and Denver locations. They stopped for security reasons after '911' but started again in May 05. At both facilities the tours are free and are operated on a 'first come first served' basis. You'll need photo ID, and, along with cameras, there are a number of banned items such as penknives, etc. Tours cover the history of the Mint and present day manufacturing.
Volkswagen Autostadt & Factory Tour
Wolfsburg, Germany
Wolfsburg is the headquarters of the VW group which includes Audi, SEAT, Skoda and VW itself.
The Autostadt is an automobile theme park, which opened in June 2000. There are numerous attractions for adults and children including various marque pavilions (Bentley, Lamborghini, Audi, Seat, & Skoda) and lernpark where kids aged 5-11 can drive mini-beetles at 4km/h. Visitors can combine a tour of the VW Wolfsburg factory (8 KmSq, the largest plant under one roof in the world) with a visit to the autostadt. The 2-hours factory tours are available every working day from Tuesday to Friday. Near the Autostadt is the VW Auto Museum, VW's brand Museum presenting the history of VW. 
Walt Disney Family Museum
San Francisco, USA
Not so much a brand museum as a 'man behind the brand' museum. Opened Oct 2009 with exhibits from Disney's life from obscure childhood to global fame.
Waterford Crystal
Waterford, Ireland
The old Waterford factory was closed in Feb 09 and a new factory and state-of-the-art visitor centre opened in June 2010. The House of Waterford Crystal is on the Mall in Waterford City, Ireland and employs up to 130 staff at peak periods, including highly skilled craftsmen at the new Waterford Crystal Prestige Manufacturing Facility. Here, approximately 40,000 hand-crafted high end pieces are produced using traditional methods for customers and tourists.
Wild Turkey Distillery
Kentucky, USA
The Wild Turkey bourbon distillery has had a visitor centre since Apr 2014, where visitors can gather before & after the hourly distillery tours.
Notes