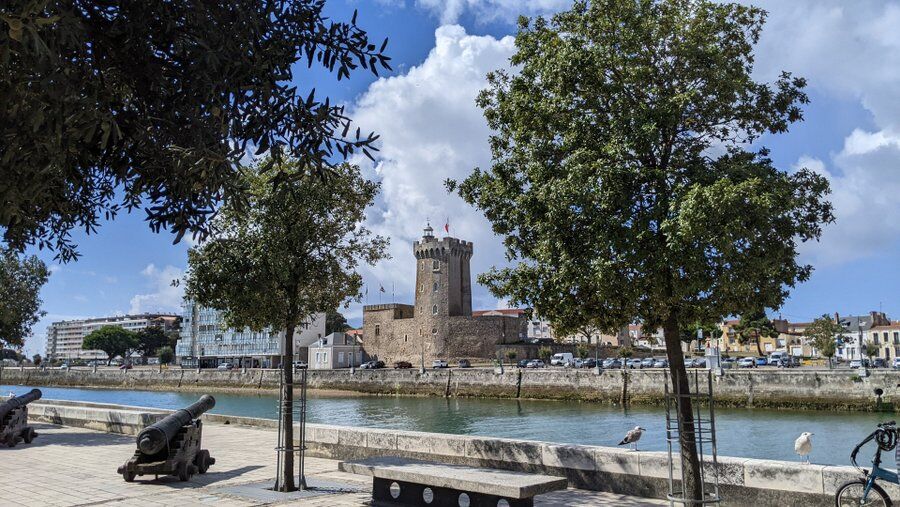 Les Sables d'Olonne ('The Sands of Olonne'), named for its long stretches of fine sandy beaches and dunes, is a fishing port on the Atlantic coast of the Vendée. Although its fishing industry is still important (France's fourth largest fishing port by value of landed catch) and the beaches, woods, & marshes draw thousands of mostly French tourists, these days Les Sable d'Olonne is most famous for yacht racing; round-the-world, single-handed yacht racing.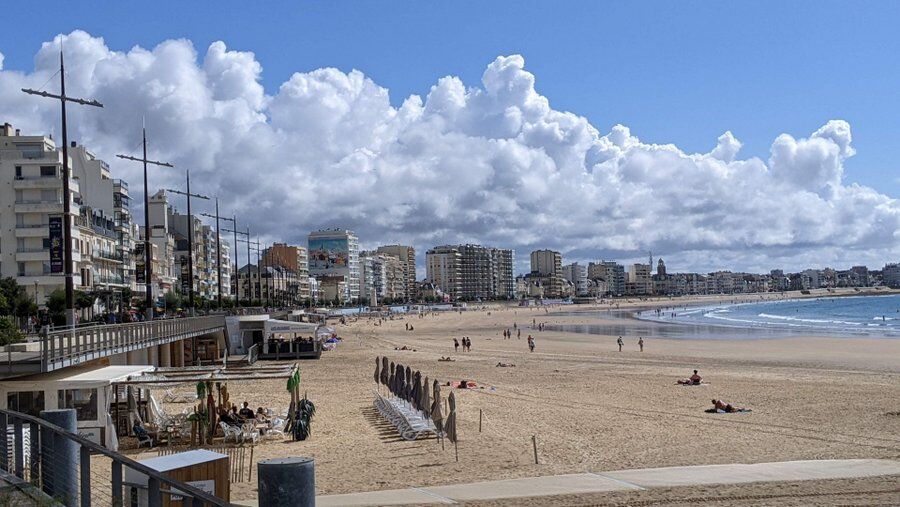 The two big races that start and end at Les Sables d'Olonne are the Vendée Globe and the Golden Globe. In the build up to the start and finish of yacht races the town comes alive with visitors.
Getting there
By Air: The nearest airports are Nantes (90 min transfer), or La Rochelle (100 mins).
From the UK there are direct flights with easyJet & Ryanair to Nantes from Gatwick, Stansted, Manchester and Edinburgh. Ryanair, easyJet, & Jet2 fly to La Rochelle from Stansted, Gatwick, Heathrow, & Manchester
By Rail: It takes around 9 hours to get to Les Sables d'Olonne by rail from London. The route is Eurostar to Paris Gare du Nord > INOUI-TGV Paris Montparnasse > Nantes > SNCF-TER Les Sables d'Olonne.
By Road: Brittany Ferries High Speed service Poole to Cherbourg (4hrs 30mins) then a 4hr 50min drive to Les Sables d'Olonne.
OR Brittany Ferries Portsmouth to St. Malo (8hrs 50mins) then a 3hr 30min drive to Les Sables d'Olonne
OR Brittany Ferries to Plymouth to Roscoff (9hrs 30mins) then a 4hr 50min drive to Les Sables d'Olonne
Depending on my itinerary in France, I usually like crossing with DFDS from Newhaven to Dieppe because it's a quiet route, but in this case it's a longer drive to Les Sables d'Olonne; 5½ hrs.
Accommodation
I stayed at the 3-star Originals Boutique, Admiral's Hôtel right next to the Port du Plaisance (yacht harbour) from where the yacht races are staged. (The Race Village is constructed weeks before a race. It's where the public can eat, drink, dance, watch the quayside preparations and mingle with the competitors). The Admiral's Hôtel staff are bi-lingual and really helpful.
Alternatives…
4-star Atlantic Hôtel & Spa on the promenade overlooking Grande Plage, so a little away from the harbour.
4-star Hôtel Kyriad Prestige is located in the centre of things, halfway (3 min walk) between the Grande Plage and the fishing harbour.
3-star Hotel Restaurant Le Chêne Vert Modern hotel near the Race Village location and right next to the train station.
Eating Out
We tried three places while we were in Les Sables d'Olonne'…
Bikini Beach – A beach bar/restaurant on the beach itself. Good food, bi-lingual owner. A good place to chill out on a hot day. They don't have a website, but they do have lots of images on Facebook/Instagram that will set the scene for you!
Fleurs de Thym is a really good upmarket fish restaurant on the harbour side. You can go completely crazy-nuts on crustaceans here, and nobody will turn a hair!
Les Patagos A small quayside bar-restaurant by the yacht harbour (and near the Admiral's hotel) that serves excellent variations of crepes and moules, and has some spectacular desserts too.

Mechtraveller Top Tip: Ask the owner to show you his special cutlery. He has some knives & forks made by local coutelier Tom Fleury, and oyster shucks with handles made from the carbon-fibre masts of local racing skippers, who like to eat here too!
Getting about in Les Sables d'Olonne
It's a big harbour, with a long entrance channel, and there are no bridges. If you want to get from one side to the other you have to walk or drive around. To get from the Arundal Tower on the Chaume side of the entrance channel, 70 metres across to the old town & beach… it'd take you just over 40 mins on foot!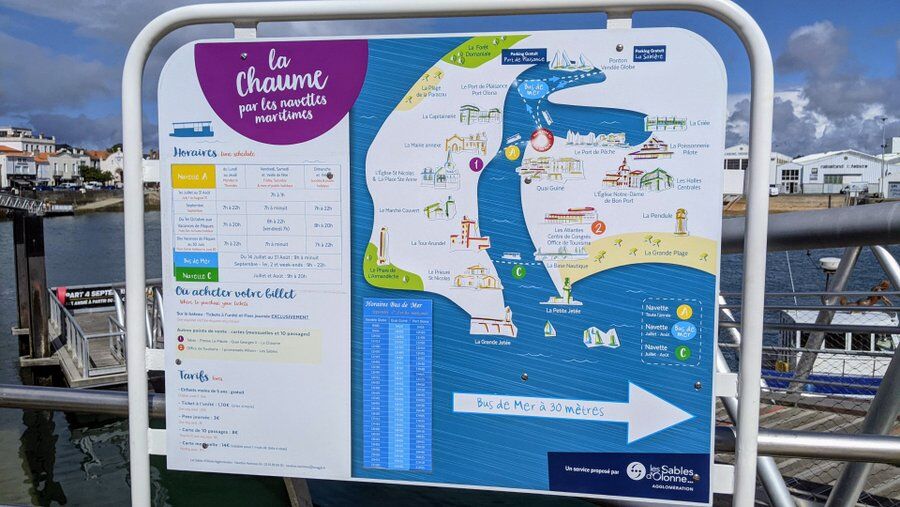 Fortunately, there are a set of passenger ferries! Or at least there are in the summer. In July & August (and weekends only in September) there's a 'Bus de Mer' (Route B) that operates a triangular route from the fishing harbour around the Port de Plaisance. There's also Navette Route C, which crosses the entrance channel – that 70 metre gap – saving you 40 mins of your life!
The key route is Navette A which crosses between the old town centre parts of Le Sables d'Olonne all year around.
Other Attractions/Experiences
The topography of Les Sables d'Olonne can be a little confusing.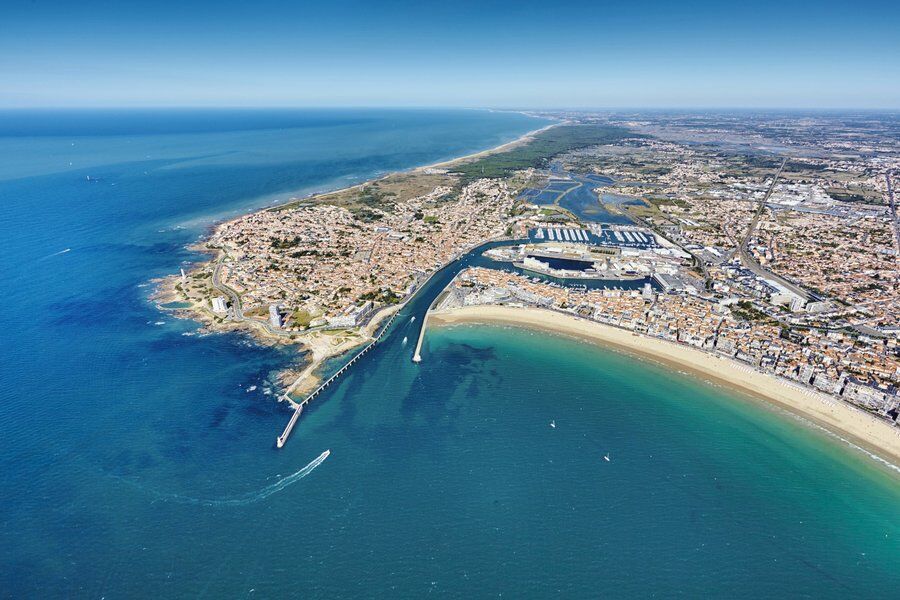 There's a long coastal peninsula of beaches, dunes and woods running from the north into the town, and isolated behind the extensive salt marshes and rivers that feed down into the harbour. It's a natural playground for runners, cyclists, joggers, walkers, paddle-boarders, canoeists and anyone else who wants to get out and enjoy the fresh air.
You can hire a canoe or paddleboard at La Terrasse des Salines and spend a couple of hours paddling around the lakes & waterways of the salt marshes.
The most fun, and least exhausting, way to explore the trails through the marshes, through the woods and out along the dunes, is by electric scooter. No, not those city scooters with little wheels. These are proper off-road scooters with large fat tyres. Libert-e Trott do guided e-scooter tours through the area.
And if you fancied something conventional, like a visit to a local boutique vineyard, Domaine de Granges is located just outside the town.
Useful links
Information about Les Sables d'Olonne and the surrounding district: lessablesdolonne.co.uk
Information about the Vendée region: vendee-tourism.co.uk