We reviewed the German battery at Grandcamp Maisy in Normandy, last year (Oct 2018), but I was in the neighbourhood in April, so I stopped by to have a look for myself.
I spent a happy 40 minutes chatting to Dan Sterne, the owner (Gary)'s son, and wandering about the site. So I thought I'd add a few extra images to the original post.
A quick recap on Maisy Battery
Maisy is a bit of a mystery; in that it was covered up (literally) after the war, and it was only down to the diligent detective work of WW2 historian and collector, Gary Sterne, that the 144 acre site was re-discovered in 2004. Its location, west of Pointe du Hoc and a mile inland (hidden from the sea by a small rise) gave it a field of fire covering both Omaha and Utah beaches.
Its discovery explains how shells were still arriving on Omaha after D+2 when the battery at Longues-sur-Mer was captured on D+1 and the guns at Pointe du Hoc were discovered to be non-existant¹ on D-Day. But it also raises controversial issues about the need for the famous attack on Pointe du Hoc by the Rangers, and it is still ruffling feathers now.
Here is Dan  talking (10′ 11″)² about how they discovered the Maisy Battery and the La Martiniere site (See below) [sc_embed_player fileurl="https://mechtraveller.com/wp-content/uploads/Daniel-Sterne.mp3″]
Maisy Battery now
Well, here is a short video I took while wandering around.³
There is still more to be discovered on the site and nearby.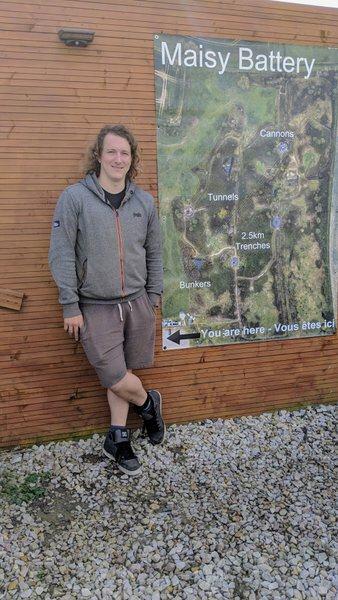 The next bit of the current site to be uncovered is a large bunker of some sort "twice the size of a 622 bunker according to the ground penetrating radar" says Dan.
Maisy Battery is actually three batteries. This one "Les Perrugues", which the Germans listed as WN83, Widerstandsnest 83 (Resistance Nest 83), had six 155mm First World War French field howitzers in open emplacements. Then, 590 metres to the south-west, "La Martiniere" aka WN84 had four 105mm guns in concrete casements, and 590 metres SSW is WN85 "Foucher Farm" with four 150mm field howitzers in open emplacements.
The battery at Foucher Farm was knocked out on 7 June by shelling from the USS Shubrick (DD-639). I'm not sure what's left there now.
La Martiniere, on the other hand is clearly visible from Les Perrugues because the 105mm guns were housed in casements, just like the battery at Azeville. There are three type H669 casements and a fourth was being built when Operation Neptune broke on the shores of Normandy on D-Day. The fourth of the Czech-made 100mm Skoda guns, which the Germans re-bored to fit 105mm ammunition, was set on an open emplacement while its casement was under construction. Gary and Dan now own this site, and at some point in the not too distant future they will start uncovering what's there. Like Azeville there is a defence network of tobruks and trenches/tunnels.
So much to look forward to.
Right now, the 75th Anniversary activities are keeping them extremely busy this week. "I've got 800 jeeps booked in on one day!" says Dan.
Declaration: I was on a self-driving press trip as a guest of the Normandy tourist office. Entry to the battery site was complementary.
---
¹ They weren't in their casements when the Rangers took the cliff top site at Pointe du Hoc, but were found in a field nearby a little while later.
² I started recording a little way into our talk, and really only intending it for notes, but there's some interesting stuff here so I'm publishing it (I've taken out some mildly contentious stuff). The other voice is my partner, and references to 'her nose' are about Dan's dog sitting on his lap and paying interest to the maps & photos he is showing us.
³ I Don't think I was right about the field gun not being the kind of gun they would have on that plinth. It's hard to imagine Gary & Dan getting that wrong!