Saint-Nazaire is an industrial port city and its history is inextricably bound up with its ship building industry. So it is no wonder that visitors are keen to see what goes on at the massive Chantiers de l'Atlantique shipyard, not least because its giant 'products' dominate the sky line.
The history and development of Saint-Nazaire's shipbuilding industry (See Écomusée – The Industrial Heritage Museum of Saint-Nazaire) naturally branched, at the beginning of the 20th century, into a hydro-aviation industry (seaplanes), which in turn has led to Saint-Nazaire's second major manufacturer, Airbus. Not only is the city skyline dominated by huge ships, but residents and visitors look up every day to see the giant 'Beluga' aircraft flying overhead to deliver parts into and out of the Airbus plant just upstream.
Other Saint-Nazaire Posts
And just as the birth of aviation triggered Saint-Nazaire's aviation industry, a new technology has triggered Saint-Nazaire's/Chantiers de l'Atlantique's latest industry offshoot, the wind power industry. (See EOL Centre éolien) Now the city's skyline is also dominated by the giant wind turbine components being loaded onto assembly ships to be taken out to France's new offshore wind farms. Chantiers de l'Atlantique manufacture some of those components – the offshore electricity sub-stations.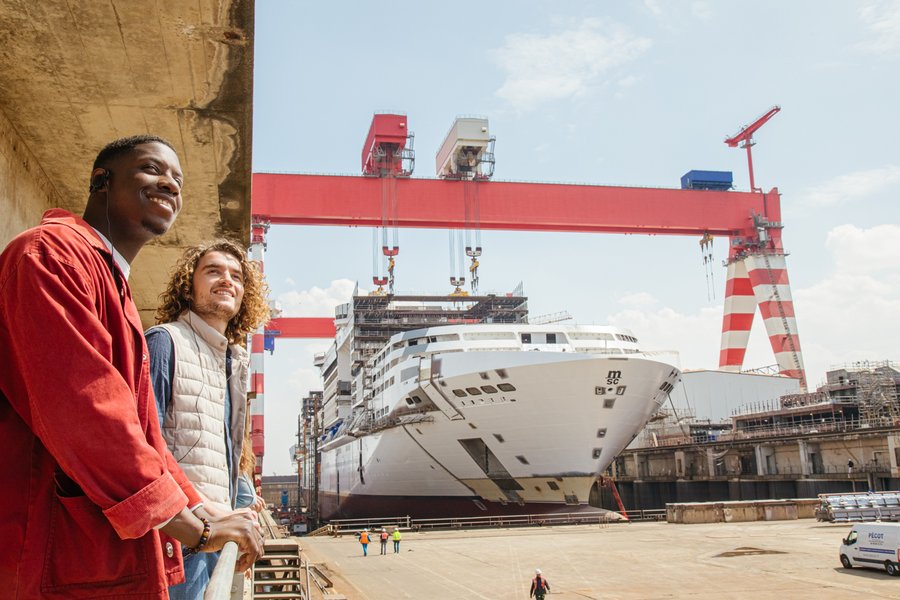 No surprise then, that Saint-Nazaire Tourisme run 2-hour factory tours to both Airbus and Chantiers de l'Atlantique. They also run a 2-hour tour to Saint-Nazaire's vast shipping container port, and, now that the Saint Nazaire Offshore Wind Farm has just become operational, their Industrial Tours programme will soon include a 3-hr cruise to the wind farm too.
The tour coaches for Chantiers de l'Atlantique, Airbus, and the Port, depart from and return to the Tourist Office in the submarine base, and they need to be booked in advance. Here come 'the things'…
You need to supply your first name, surname, date-of-birth, place of birth, and nationality for the booking. If you are not an EU citizen (thanks Brexit!) you have to make your booking at least 21 days in advance to visit Airbus, which is why I wasn't able to. For Chantiers de l'Atlantique and the port, booking online 2 days in advance should do. When you get on the coach, you'll need your passport (or ID card if you are an EU citizen), a driving licence won't do.
These are industrial/commercial enterprises. They guard their secrets jealously. Photography and video filming are strictly forbidden. This applies to Chantiers de l'Atlantique, Airbus and Saint-Nazaire Port. It is not yet clear whether the same rule will apply to the wind farm tour. I suspect not.
These industrial tours are aimed at domestic tourists. They are guided in French. There aren't enough foreign visitors for that to change. The Chantiers de l'Atlantique tour is the only one to have audio guides (with earphones) in foreign languages, including English. The guide will trigger the audio at key moments so that users can get a summary of what is being said, in their own language.
Chantiers de l'Atlantique – The Business
Chantiers de l'Atlantique is one of the world's biggest shipyards specialising in cruise ships, and in that market its main competitors are Meyer Werft in Germany (been there!), Meyer Turku in Finland, and Fincantieri in Italy (been there too!).
In its 'back-catalogue' of 70+ passenger ships there are some famous liners: SS Normandie, SS France, and RMS Queen Mary II. And some ground breaking cruise ships for Royal Caribbean, Celebrity Cruises, Princess Cruises, MSC, Renaissance Cruises, and Norwegian Cruise Line.
Although they specialise in cruise ships, they also have built/build some cargo vessels, ferries, yachts, supertankers, and military ships, and, as mentioned before, they are now beginning to diversify into the marine renewables sector.
Chantiers de l'Atlantique – The Shipyard Tour
Since photography is strictly prohibited, I can't show you what I saw in the shipyard. I have to rely on official photographs, but you'll get the picture, so to speak!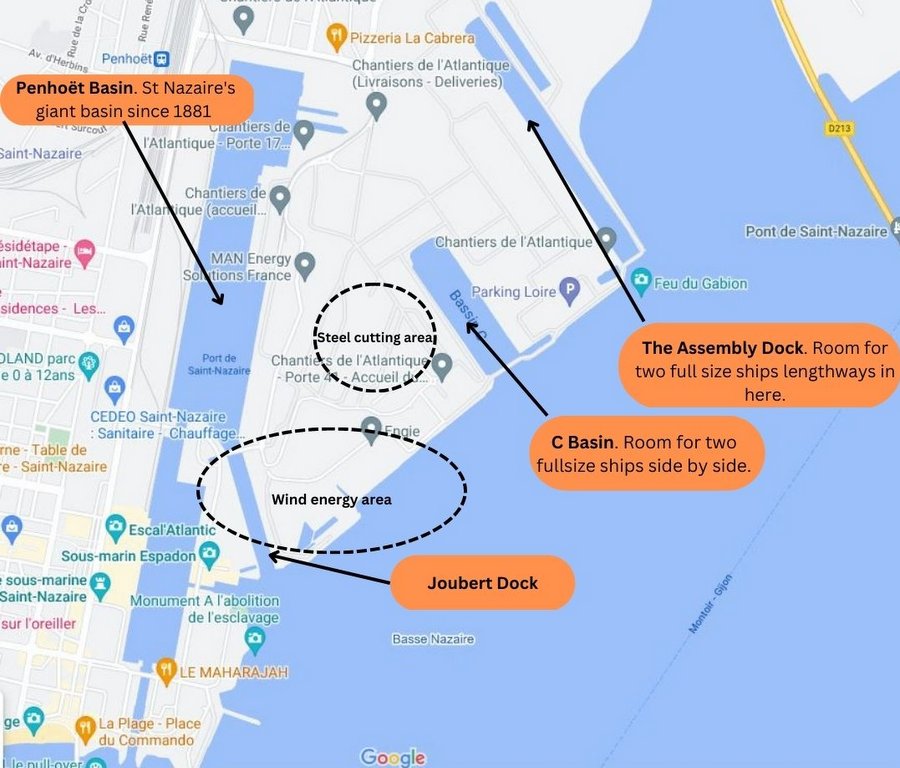 Once through the shipyard main gate (the guide has to go to the security office to check us in) the tour starts at the steelyard where steel sheets, rods and bars, mostly shipped in from the ArcelorMittal steelworks in Gijon, Northern Spain, are sorted, cut and assembled into small sections. Much of the cutting, particularly intricate shapes, is handled by dry plasma cutting tools.
This is the start of a 24-hour continuous building process for several ships and other projects, at the same time. Chantiers de l'Atlantique can simultaneously build three ships in different stages of assembly, while fitting out two other post-assembly ships. That's five major ships in the yard at any moment!
Shipbuilding has become so astonishingly efficient these days, it usually takes a year to plan/design (Chantiers de l'Atlantique emplys 800 designers) a cruise liner, and then between a year to 18 months to build, depending on its size.
When I visited at the end of August 2022, they were cutting steel for the Ritz Carlton Yacht Collection's first cruise ship, MS Ilma, while building & assembling Celebrity Ascent & Royal Caribbean Cruises' Utopia of the Seas. Meanwhile they were fitting out MSC World Europa, MSC's first cruise ship powered by liquefied natural gas (LNG), which would be handed over a few weeks later (24 Oct), and MSC Euribia, which is due to be handed over this year (2023).
Celebrity Ascent was floated out of the Assembly dock yesterday (21 Jan 2023)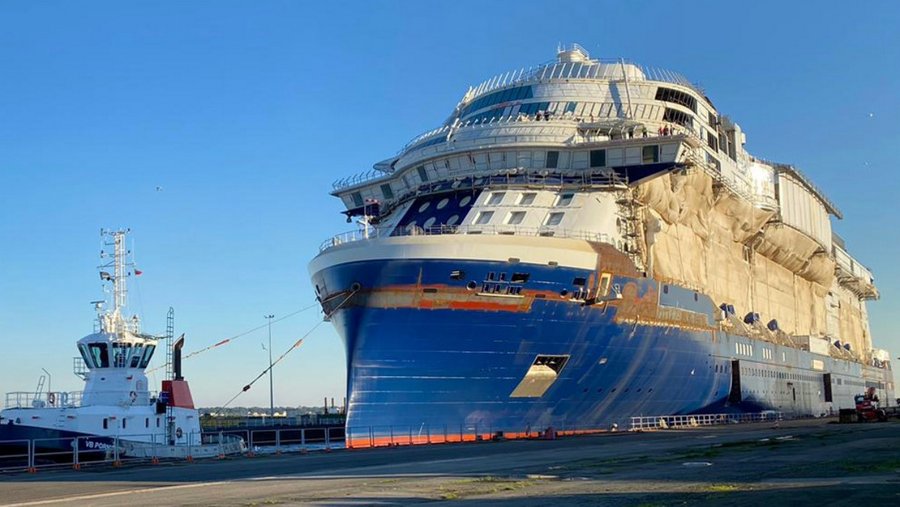 She has been moved into the Penhoët Basin for fitting out.
As the tour progresses through the yard, you see tantalising glimpses through the giant doors of increasingly larger sections of ship being welded inside enormous hanger-like buildings, and some sections being worked on outside. Often they are upside-down so the fitters can run pipes and ducts through the ceiling spaces, while standing on them. Way easier!
If you are lucky you may see some sections being moved carefully around the shipyard by a diverse range of tractor and trailer units. The general direction of movement is towards the Assembly Dock and its quayside, where sections are turned into "blocks", and the blocks are welded together to become ships.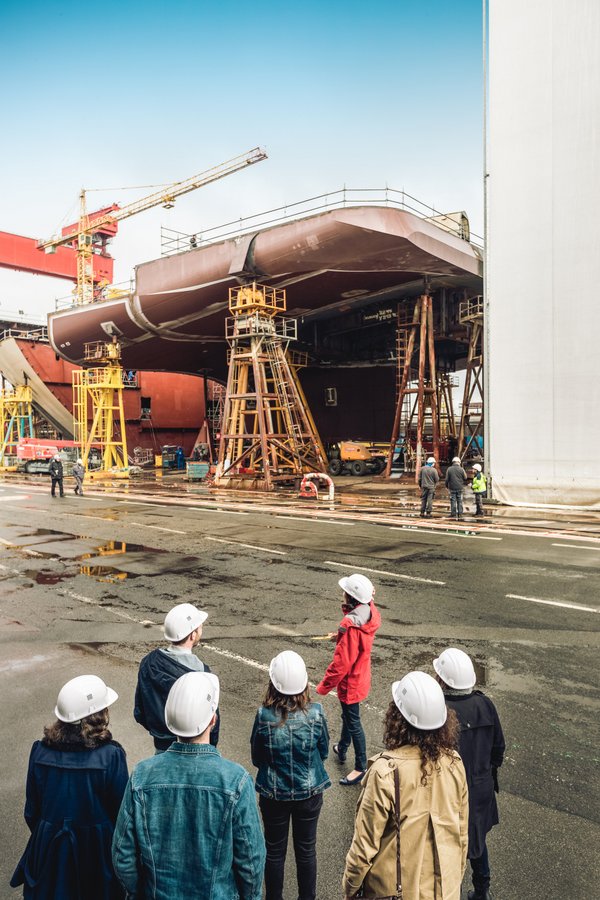 This section (above) looks like a piece of hull, possibly the stern of MSC Bellissima, waiting on the quayside of the Assembly Dock, to be lifted into place in the dock itself . The white writing marking the Centre-of-Gravity (CoG) and its weight, is upside down, so it is likely the section was built upside down and then turned over. All sections have the all important CoG marked on them so they can be lifted/turned safely.
The highlight of the tour is visiting the Assembly Dock itself. The coach parks up on the far side of the dock and visitors are able to get out and view the ships being built from a gallery high up on the dock wall.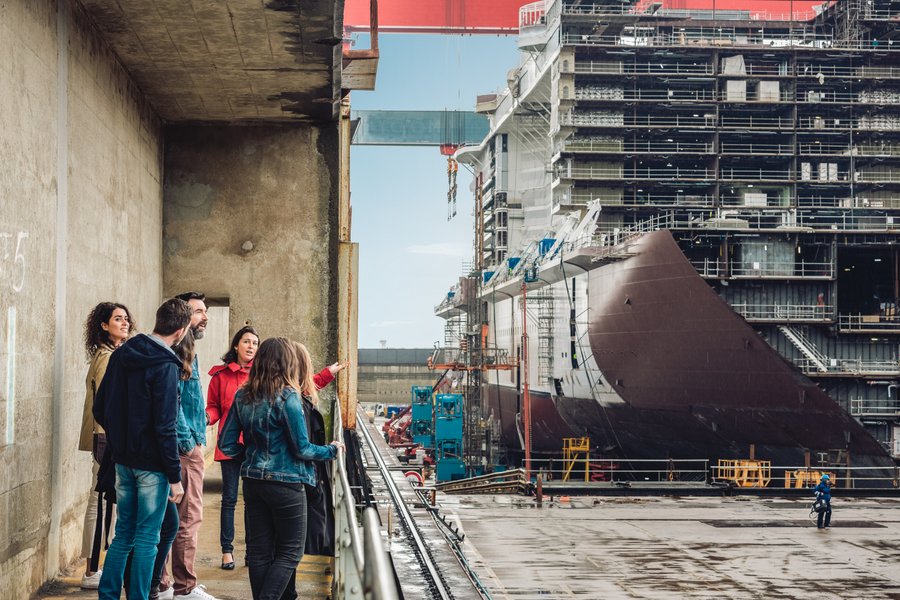 The scale is amazing. The dock and the huge quayside pre-assembly area are the best part of a kilometre long (900m / 2952ft)! Two gigantic gantry cranes lift the blocks and other components weighing up to 1,400 tons, gently and precisely into place.
One of the gantry cranes is new. The Very High Portico (THP) replaced the their old Krupp gantry which was dismantled early last year after 55 years of service. The new, taller (80 m), gantry was put to work this summer on Celebrity Ascent. Typically, 'fitting out' takes 2,500 workers around a year, but Celebrity Ascent, just starting to be fitted out today, is due to be delivered in November this year, so they must be getting more efficient!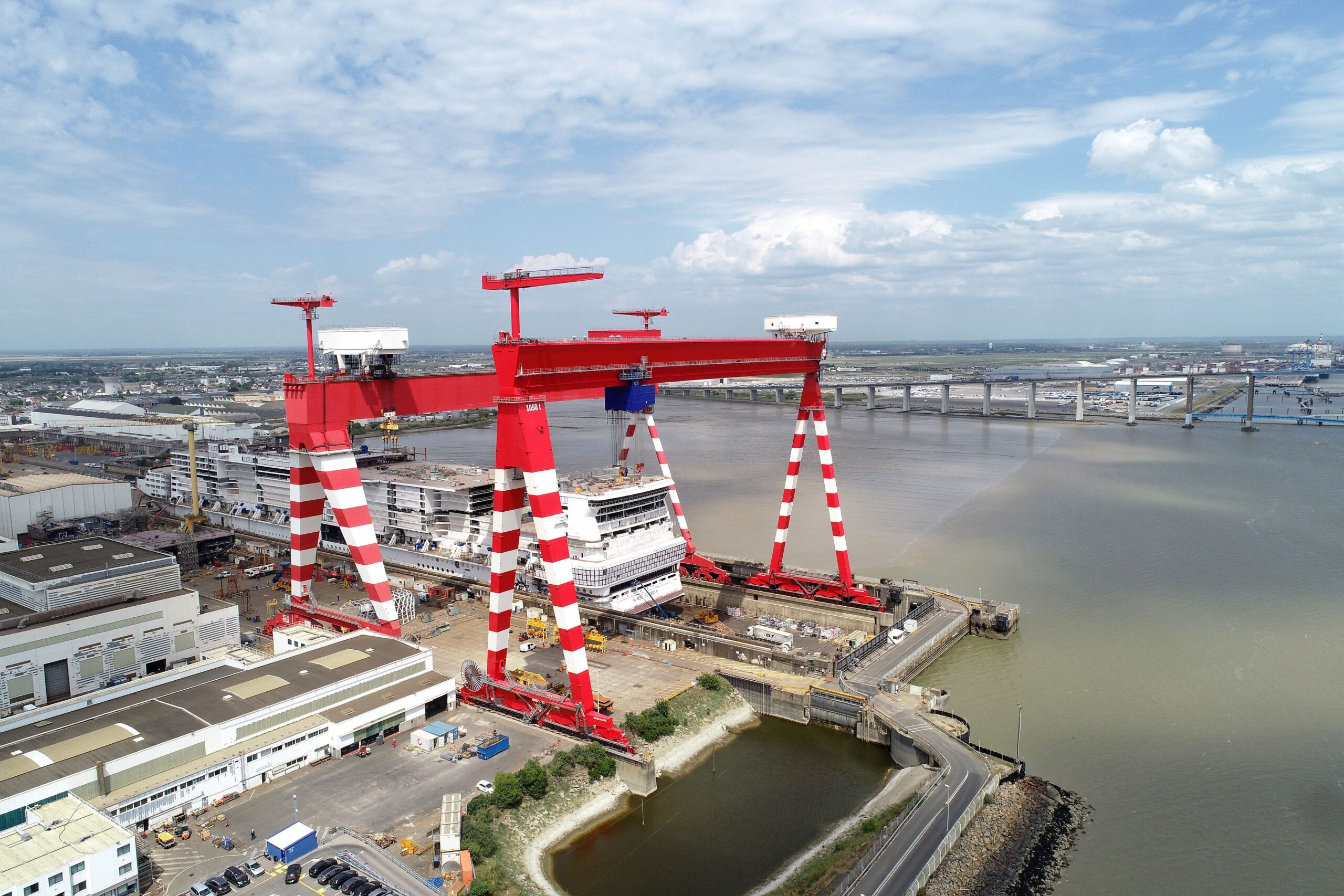 One of the ways they achieve that efficiency is by the extensive use of integrated Computer Aided Design (CAD) systems with Bill of Materials (BOM) database and Enterprise Resource Planning (ERP) software. Or put another way, they build a complete digital twin of the ship before they build the ship itself. As designs are changed, the digital twin is updated every night, keeping the entire workforce up-to-speed on the changes to millions of  components and systems, ranging from engines, Heating, Ventilation and Air Conditioning (HVAC) systems to water slides and swimming pools. This enables them to pre-fit out the digital ship, before doing it for real.
One of the major parts of the fitting out process for a cruise ship is the use of prefabricated cabin modules, which are constructed on an assembly line in the shipyard at a rate of 25 to 30 cabins per day. These can then be inserted through a breach onto a section of deck and lined up to form two rows of cabins with a corridor between, then the breach is closed – simples!
Tour visitors can see ships being busily fitted out in the other large dock, Bassin C, as the coach passes by, but the shipyard also uses the massive Penhoët Basin for fitting out. When I was there, they were fitting out the next MSC cruise ship, MSC Euribia in the 22-hectare Penhoët Basin.
As the tour coach returns to check-out through the same gate it entered, there is also a chance to glimpse some of Chantiers de l'Atlantique's green enterprises.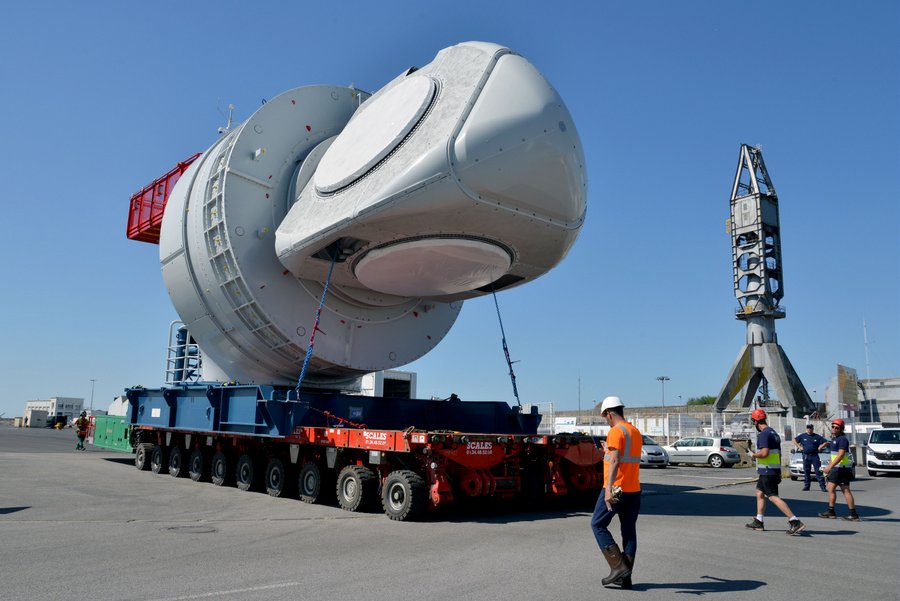 The wind turbine area of the yard is where General Electric, Chantiers de l'Atlantique, and EDF Renouvelables build and gather the components (turbine rotor, blades, mast, and substations) for offshore wind farms. You can also see what's going on in this area from the roof of the EOL Centre éolien on the other side of the Joubert Lock.
And this part of the shipyard is also where Chantiers de l'Atlantique are developing their Solidsail technology…
Chantiers de l'Atlantique – The Future
The pace of work in the shipyard is both fast and relentless. As soon as one ship is finished, another is started. In 2023 two ships are due to be delivered. In 2024 three ships, in 2025 two ships… so visitors on the tour one year, will see a completely different set of ships to visitors on the tour two years later.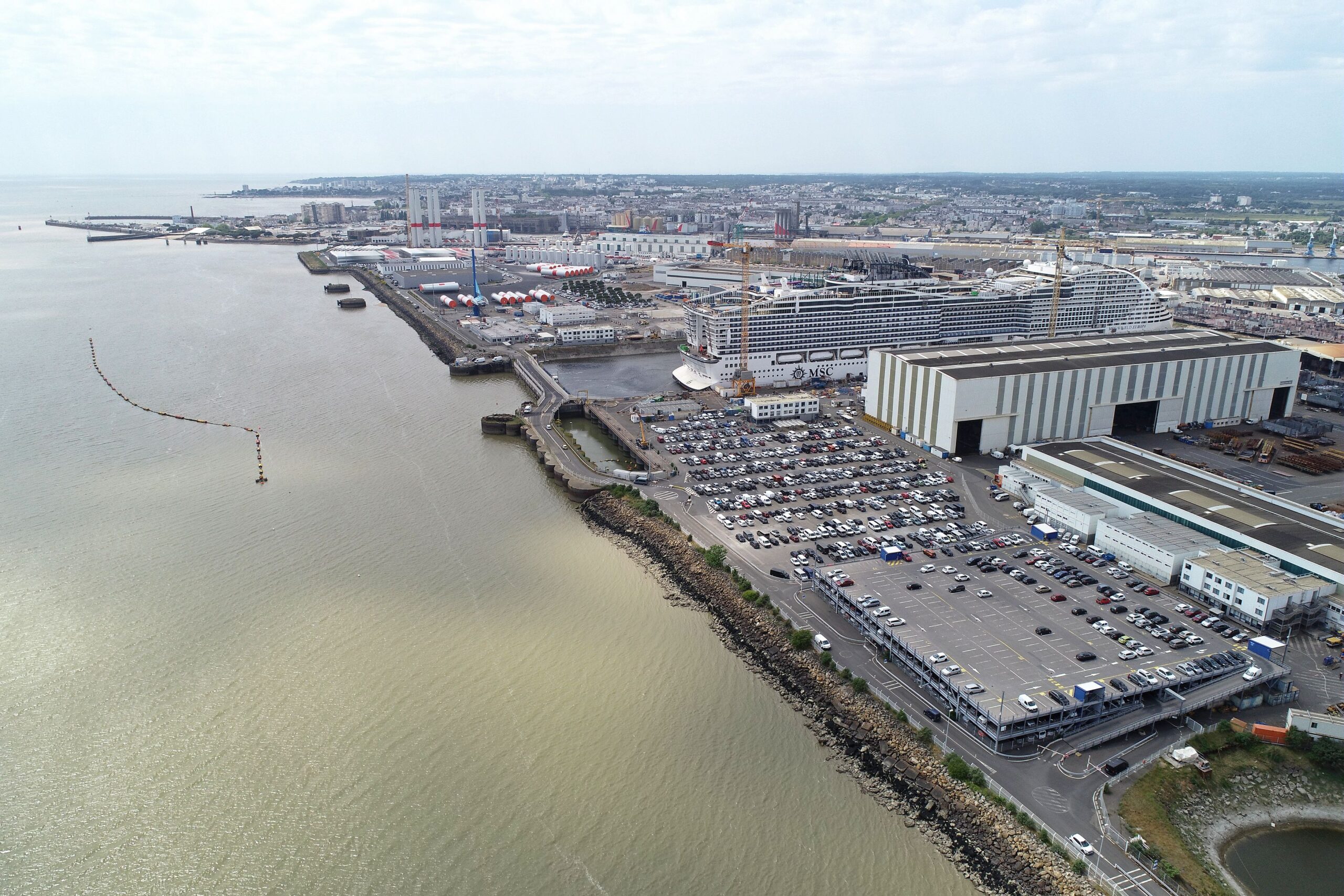 There are a couple of highlights in the order books to look forward to seeing on the stocks and in the shipyard in the next few years…
As part of their move into green technologies, Chantiers de l'Atlantique have pioneered 'Solidsail' for ships. The Solidsail carbon fibre mast assembly is self-supporting (no stays or shrouds needed) and automatically controlled.
The first mast was completed in December 2022. It is 66 metres tall (220 ft) and weighs around 20 tons. It can be rotated 360° and tilted down 70° in order to pass under low bridges.
A French start-up ferry company, Neoline Armateur, is planning to build a wind-powered Roll on – Roll off (RoRo) ferry using Chantiers de l'Atlantique's sails. If the project moves ahead (it has just received funding), their first Neoliner will be 136m long and will have two 76m (250 ft) mast with 3,000 m²of solid sail, driving her at 11 knots.
Appropriately, the ship is intended for the transatlantic route from Saint-Nazaire to the U.S.East Coast – the shipyards in Saint-Nazaire were started because in 1860 the French Government stipulated that if the CGT (Compagnie Générale Transatlantique) was to win a 20-year contract to provide postal services between Le Havre & New York and Saint-Nazaire to the Caribbean and South America, they would have to agree that half their fleet would be built in Saint-Nazaire.
The Neoliner is designed to carry oversized freight, 400 cars, or 265 containers, representing up to 5,000 tons of goods. Neoline has already received firm commitments from a number of shippers such as Renault Group, Groupe Beneteau, Manitou Group, Clarins, Hennessy, Longchamp, and Michelin.
Unfortunately the Neoliner itself won't be built at Chantiers de l'Atlantique. It's due to be built at a Turkish shipbuilder, RMK Marine, but visitors on the shipyard tour might catch a glimpse of its Solidsails under construction.
However that's not the only application for Chantiers de l'Atlantique's Solidsail.
The rail/hotel brand, Orient Express (owned by Accor), has just signed a letter of intent to order two luxury sailing ships from Chantiers de l'Atlantique using Solidsails.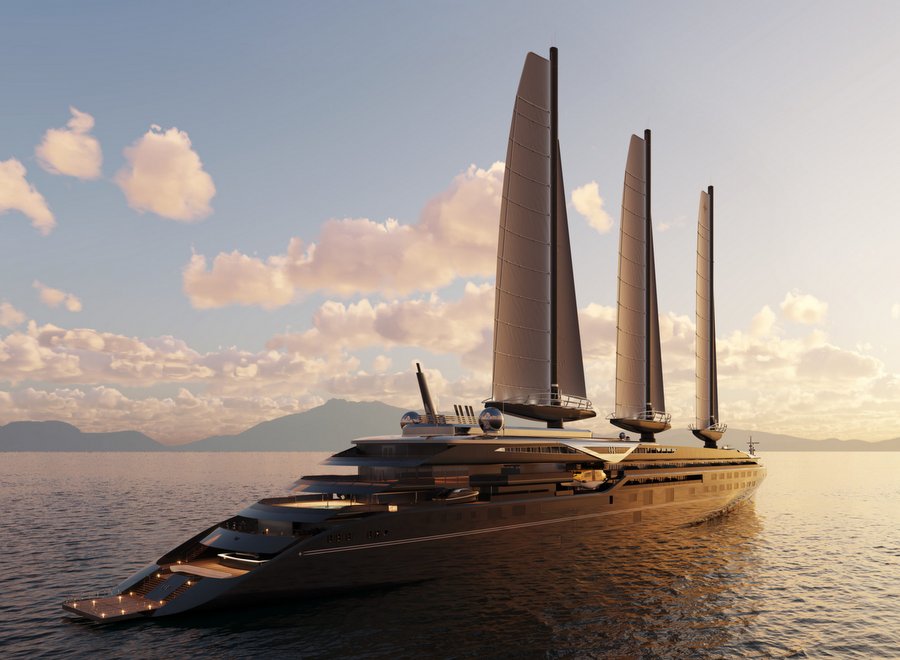 The first, Orient Express Silenseas, is due to be completed in 2026 and at 220m long, will be the world's largest sailing ship – although the three Solidsail rigs will only "contribute significantly to the propulsion of the ship"¹. She will have a hybrid propulsion system, with engines running on liquefied natural gas (LNG).
Silenseas will have 54 large suites, a huge 1,415 m² Presidential Suite, two swimming pools, two restaurants and a speakeasy bar.
It won't be long before shipyard tour visitors will see the first steel being cut for her.
On a rather more impressive scale, though a little further down the line, Chantiers de l'Atlantique will be building France's next nuclear-powered aircraft carrier.
Two years ago, French President Emmanuel Macron gave the go-ahead for the PANG project (Porte-Avions de Nouvelle Génération). The New Generation carrier will be the future flagship of the French Navy and is expected to replace the existing carrier, Charles de Gaulle, around 2038.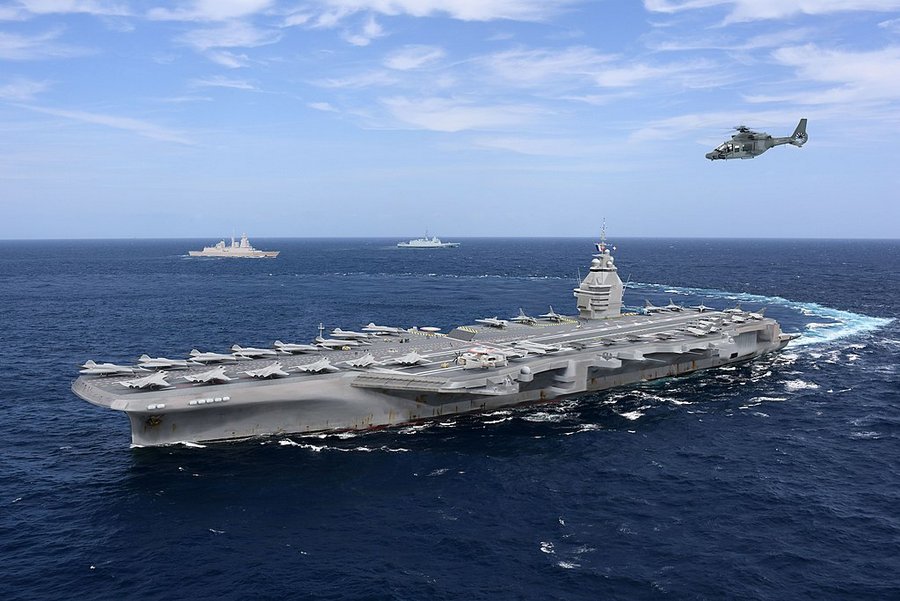 The 75,000-ton/310 m aircraft carrier is currently in the preliminary design stage. She is expected to have two, possibly three 90 m electromagnetic catapults (EMALS) for launching an air wing of around 30 New Generation Fighters (NGF) and the existing Rafale M (Navy version of the Rafale), and a max speed of 30 knots.
Construction will start in early 2031 in St Nazaire, but the carrier will then move to Toulon in mid-2035 to be finished off. Chantiers de l'Atlantique is not a nuclear shipyard. The fuelling of the nuclear core and first power up of the reactor will take place in Toulon. To get her there, the plan is to install a set of temporary diesel generators in the hangar to power her electric propulsion system. So she'll be under her own power… sort of!
UPDATE 31/05/2023: As if to demonstrate what a conveyor-belt process shipbuilding is, today MSC Euribia was delivered to MSC Cruises, and a commemorative keel-laying coin ceremony was held (they place a coin under the first block to be laid, for luck) for the next MSC cruise ship, MSC World America which is due in 2025.
---
¹ Laurent Castaing, Managing Director, Chantiers de l'Atlantique – Marine Industry News, Jan 2023
Declaration: I was a guest of the Saint-Nazaire tourist office. The shipyard tour was complementary.
Factbox
Website:
Saint-Nazaire Industrial Tours
Tour start:
All three Saint-Nazaire Industrial Tours start from the tourist office at the submarine base.
Tour Price (2023):
|   | Adult | Reduced* | Child (4-17) | Child (7-17) |
| --- | --- | --- | --- | --- |
| Chantiers de l'Atlantique | € 19.00 | € 17.00 | € 9.50 | |
| Container Port | € 19.00 | € 17.00 | € 9.50 | |
| Airbus | € 19.00 | € 17.00 | | € 9.50 |
* Reduced tickets are for students, job seekers, people with disabilities with one accompanying person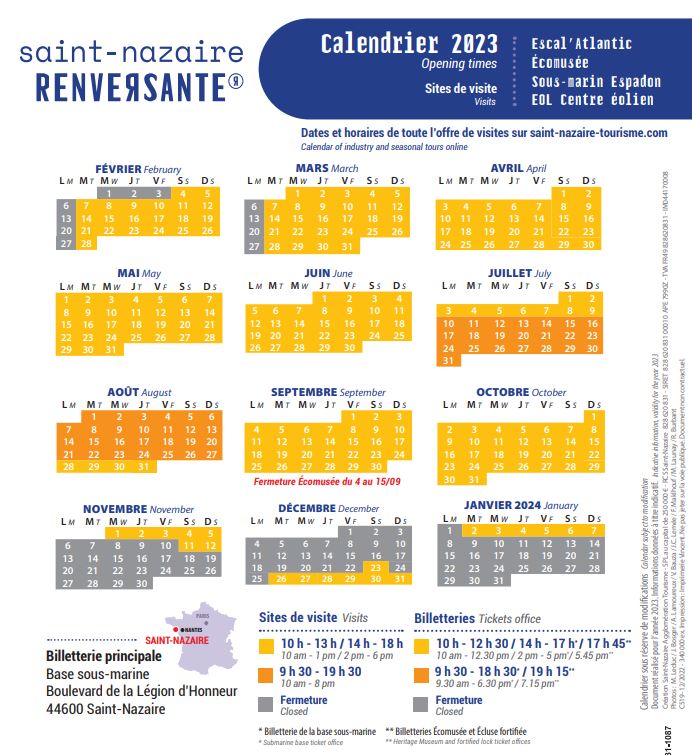 Tour Dates & Times:
Check on the online booking page. Remember that non-EU citizens need to book well in advance.
Further Reading

…