These days, the huge fortified bunker built by the Germans in 1941 to protect its U-boats, is no longer referred to as the "U-boat base" or "the U-boat pens". Instead they simply call it the 'submarine base', maybe to disassociate it from its origins, but we all know who built it and why.
Other Saint-Nazaire Posts
Soon after France was overrun in 1940, the Kriegsmarine (German Navy) started work on a number of U-boat bases on the French Atlantic coast in order to prosecute its U-boat campaign against the Atlantic convoys bringing war material, men & supplies to Britain. Covered U-boat pens were built at Saint-Nazaire, Brest, Lorient (6 bunkers*), Bordeaux and La Pallice (on the outskirts of La Rochelle).
These were huge bunkers, built by Organisation Todt 'guest workers', and the Saint-Nazaire base was one of the biggest. It was built on the site of the old CGT transatlantic shipping line docks. All the terminal buildings and warehouses on the site were demolished and work started in February 1941 on the middle section – pens 6, 7 & 8. They were completed in just four months. Then work switched to the remaining pens on either side, and the whole 14-pen complex was finished a year later in June 1942… although they went on reinforcing the roof and building annexes until June 1944.
During that astonishingly quick 16-month build they poured nearly half a million cubic metres of concrete. The completed base was (still is) 299 metres long (that's almost a third of a kilometre!) by 124 metres wide and was 18 metres tall (980ft x 400ft x 60ft). With a reinforced concrete, granite & steel roof layered up to 8.75m (29ft) thick, it was pretty much impenetrable to bombs.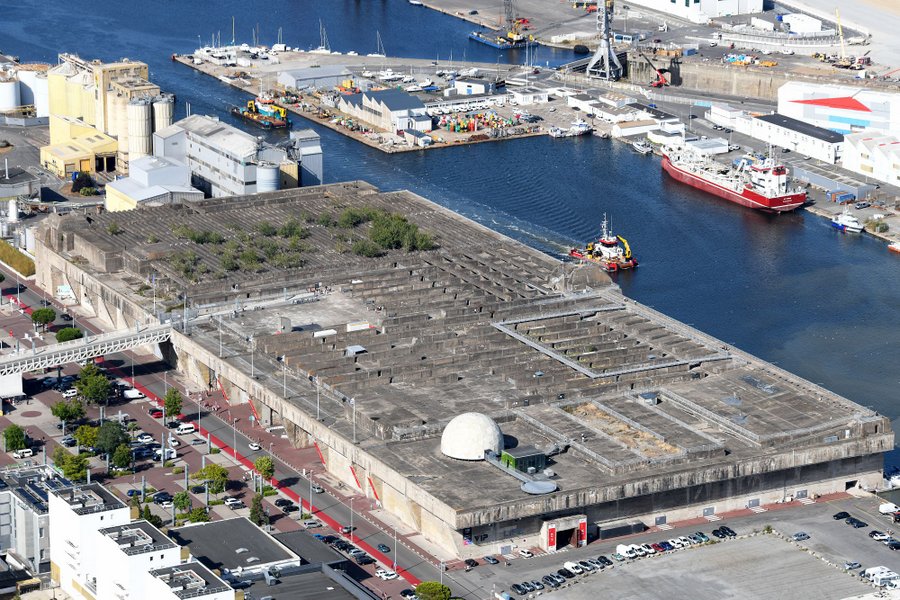 The 14 pens could hold up to 20 U-boats at a time. Pens 1 – 8 were dry docks for working on single submarines. Pens 9 – 14 were wet berths, each holding two U-boats, where they could be repaired and provisioned.
The whole base was a small city for repairing, replenishing & maintaining the U-boats. There were dormitories for workers**, kitchens, and a hospital in the annexes, and workshops and stores in the bunker itself. The whole of the back wall (landside) was filled with specialist workshops and stores. For example at the back of Pen 2 was the deck gun workshop and armourer; opposite Pen 4 were the welders and drawing office; the electricians and their workshops could be found opposite pens 5 & 6; you need your periscope fixing? Try the periscope workshop opposite pen 7; oxygen bottles? You can find them in the stores opposite 8 & 9; small parts store? That's opposite Pen 10; A dodgy motor or air compressor? Get it fixed in one of the workshops opposite Pens 13 & 14.
At the northeast end of the pens were the pumping stations for the dry-docks, offices and a bakery. In the two stairwell sections between Pens 5-6 and 12-13, which led to the roof, there were more offices, magazines, stores, laboratories, and small workshops. In total the bunker had 150 offices, 97 magazines and 62 workshops.¹
The Fortified Lock
The British Commando attack (Operation Chariot) on the massive Joubert (aka Normandie) Lock in March 1942 caused the Kriegsmarine to re-evaluate their defences. Although the U-Boat pens were not a primary target, one of the Motor Torpedo Boats, MTB 74, fired two delayed action torpedoes at the lock gates on the opposite side of the U-Boat base's basin, which blew up the following day.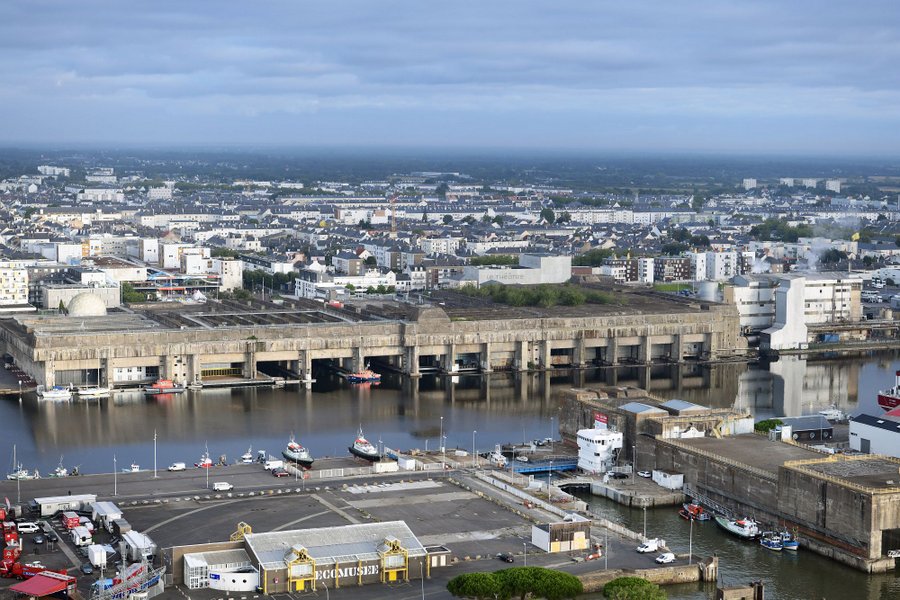 Even if U-boats were protected in the bunker, it highlighted how vulnerable they might be if attacked in the basin or locks, and how useless the base would be if the locks were damaged or destroyed leaving their submarines with no access to the sea. So, in 1943, the Germans started work on a new fortified lock protected by its own bunker.
It was completed in 1943 and was protected by 4 x 20mm AA guns and a heavy machine gun in a heavy steel dome, which you can still see on the roof today.
Saint-Nazaire U-Boat Base History
The base was home to two frontline U-Boat flotillas, the 6th & 7th.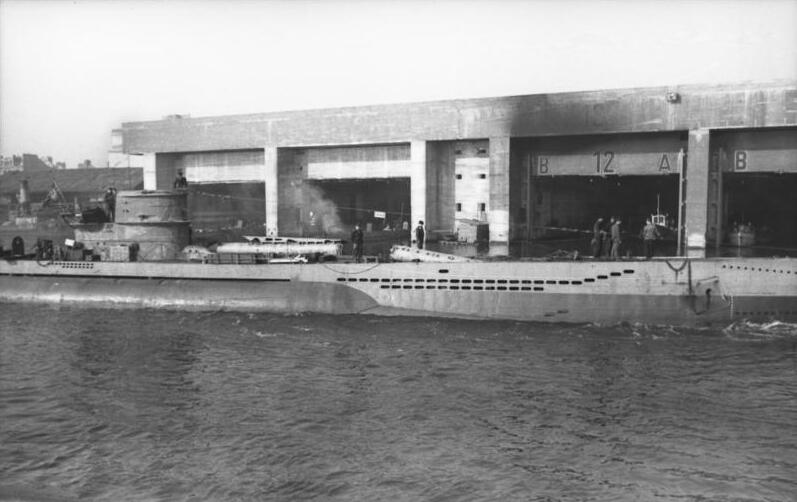 Elements of the 7th Flotilla, which had been operational since September 1939, transfered from Kiel to Saint-Nazaire between January – June 1941 and Vice Admiral Dönitz himself officially opened the base on the 30th June 1941. The 6th Flotilla upgraded from a training flotilla to a combat flotilla and arrived from Danzig in February 1942.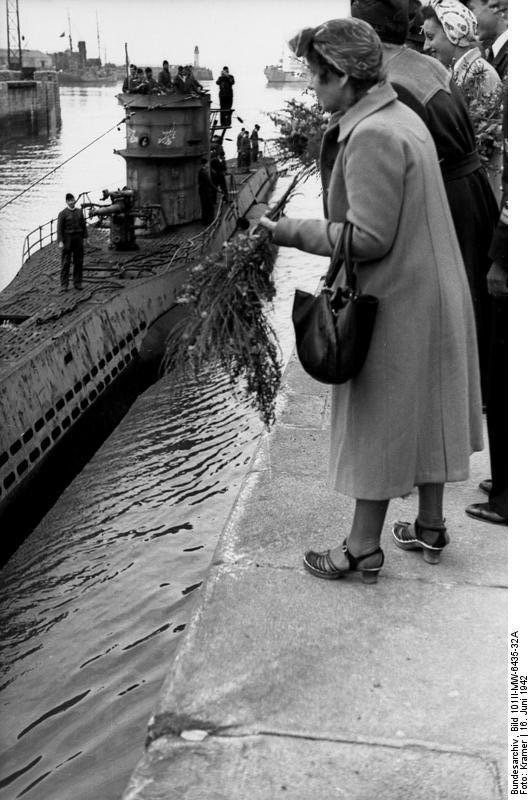 The base and its two flotillas reached their peak of activity in July, August and September 1943. Between September 1940 and May 1945 their U-boats undertook 403 patrols, the third highest of any U-boat base in Germany or overseas. U-Boat aces stationed here (mostly from the 7th Flotilla) included U-48 Schultze/Bleichrodt (13 patrols, 51 ships sunk); U-96 Lehmann-Willenbrock (11 patrols, 27 ships sunk); U-552 Topp (15 patrols, 30 ships sunk).
The city and port facilities of Saint-Nazaire were leveled in over 50 allied air raids during the war, during which the bunker was bombed 13 times with over 44,000 pounds of bombs. Despite this, the bunker suffered no significant damage and remained operational throughout the war.
The last U-boat to set out on patrol from Saint-Nazaire was the U-255 on 8 May 1945. Four days later she surrendered at sea.
Saint-Nazaire itself became a German fortress – a pocket of resistance to the Advancing Allied forces. It held out for nine months – although by September 1944 the allies had decided not to bother attacking it*** – until 8 May 1945 when the German commander, General Junck, agreed to surrender. He handed over his weapon to US General Kramer of the 66th Infantry division on 11 May 1945.
When US soldiers entered the base they found U-510, a type IXC U-boat which had arrived from the Far East on the 23 April 1945. She was commissioned into the French Navy as S-11 Bouan in 1946 and remained operational until 1963.
Saint-Nazaire Submarine Base Now
After WW2 the base was occasionally used by the French Navy and commercial maritime companies, but it was mostly left derelict till 1994 when the city council decided to make better use of it. Project 'Ville-Port' opened up the back wall to pens 8-11, and used the pens for an experiential museum, exhibition space, and a music venue. They also built a long ramp up to give the public access to the roof.
There are 14 pens & 3 sections (stairwells). Their uses now are…
| | |
| --- | --- |
| East wall section (former pump rooms) | Used by the French agrifoods company Cargill, which also occupies the quayside next to the bunker with its storage silos. |
| 01 – 05 | Cargill |
| Stairwell section | Saint-Nazaire Tourism storage |
| 06 – 07 | Escal'Atlantic visitor experience |
| 08 | Tourist ticket office for tours, admin office and entrance to Escal'Atlantic |
| 09 | St Nazaire Tourist Office and the Société Nationale de Sauvetage en Mer (SNSM) ribs |
| 10 | Le Ponton Bistro cafe and the Société Nationale de Sauvetage en Mer (SNSM) lifeboats |
| 11 | Empty |
| 12 | VIP Music Venue |
| Stairwell section | Event venue offices |
| 13 | Exhibition/Storage |
| 14 | LIFE Exhibition space |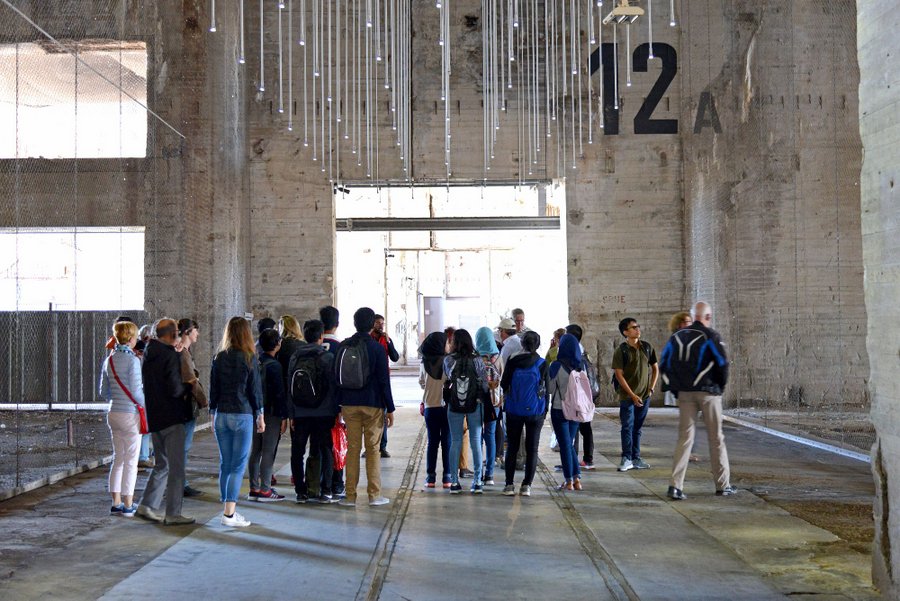 Saint-Nazaire Tourism operate 75-minute tours (in French) of the submarine base, covering pens 7 – 12 and the rooftop. Prices in the factbox below.
---
* The Lorient U-boat base comprised three bunkers, "Keroman I", "II" and "III"; the "Scorff" bunker (on the river Scorff); and two "Dom" (cathedral) bunkers, east and west.
** The crews were billeted in La Baule a few miles away on the coast for some fresh air and R&R. Sometimes if repairs to their boat would take a month or more, they were given leave in Germany.
*** The Germans fortified all their Atlantic ports, hoping that if the Allies lost their remaining artificial port, Mulberry B, in Normandy they would be cut of from their supplies and the Germans could counter-attack. However, Cherbourg was captured quickly and then in mid-September 1944 Brest is taken. Meanwhile as they advance north, the Allies capture Le Havre, Dieppe & Boulogne. So, attacking the heavily fortified ports of Lorient and Saint-Nazaire is no longer important to Allied strategy and simply not worth it.
**** Sunk by a mine on 5 April 1944 in the Mediterranean, south-east of Genoa. All hands lost.
Declaration: I was on a self-driving press trip as a guest of the Saint-Nazaire tourist office.
Factbox
Website:
Saint-Nazaire City Tours (inc Submarine base)
Getting there:
Escal'Atlantic,
Submarine base,
Boulevard de la Légion d'Honneur,
Saint-Nazaire,
France.
The meeting point for the tour is at the Tourist Office in Pen 09
Tour Price (2023):
| | |
| --- | --- |
| Adult (age 18 and older) | € 7.00 |
| Child (age 4 to 17) | € 3.50 |
| Child (age under 4) | Free |
| Concessions (students, job-seekers, disabled) | € 6.00 |
Times (2023):
Tours are on Sundays only at 17.00 from now to 25 June.
From 10 July – 27 Aug the tours are daily at 11.30am & 17.00pm
Further Reading

…