The Tiger Tank parked by the side of the road down into Vimoutiers in the Orne dept of Normandy is a well known historic monument left over from WW2.
"Wait! You dragged us 20 kilometres off our route to see THIS?" said my partner.
"Yes, obvs!"
She had a point. These days Panzerkampfwagen VI Tiger Ausf. E No. 251 is looking a little shabby, and where it used to look, like all Tiger tanks, powerfully impressive, now, surrounded by the silly little fence they erected in 2018, it looks forlorn and a bit pathetic – a caged tiger now.
Tiger 251 was one of the German army tanks and other vehicles desperately squeezing their way out of the 'Falaise Gap' in the third week of August 1944 as the Allies tried to seal off their escape. It is thought it was heading up out of Vimoutiers towards a fuel dump in Ticheville (only 5 kms away) when it ran out of fuel and was abandoned by its crew who set two charges to disable it before they left.
The Canadian army, in hot pursuit, pushed the Tiger off the road and into a ditch, where it lay like so many other vehicles after the war (the Germans are reported to have abandoned over 60 vehicles in and around Vimoutiers¹). Most were sold & cut up for scrap. Parts of this Tiger were removed, but it is so heavy, it was left in the ditch until 1975 when the local commune bought it and mounted it on its concrete plinth close to where it was originally abandoned. It was registered as an historic monument that same year.
There is a plan to move the tank down into the town and create a museum there, but the schedule seems to have slipped a bit.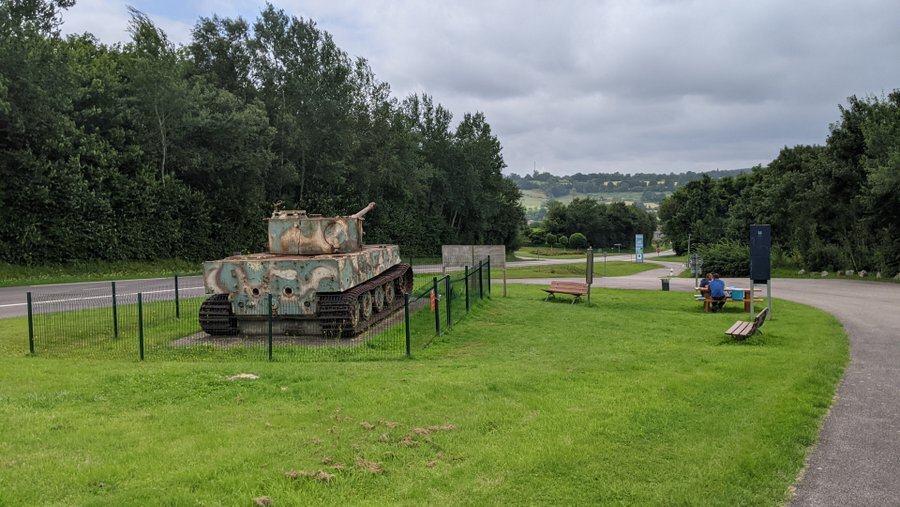 There's another Tiger tank, parked where it was abandoned… that one is a huge 69-ton King Tiger (The Tiger's big brother) in the village La Gleize, in the Belgian Ardennes.
I haven't told my partner about that one, yet. But I did win some credits and was let out of the doghouse when she discovered there is an excellent Camembert Museum in Vimoutiers!
---
² L'association pour la Restauration du Char Tigre de Vimoutiers en Normandie (CATIVEN)