We think of the Hawker Hurricane as the workhorse of the Battle of Britain and, while generally acknowledged to be not as fast or glamourous as the Spitfire, most pilots found it to be a highly efficient gun platform that could take a lot of punishment. Most, but not all.
Some 14,500 Hurricanes were built during the war and they served everywhere; over Britain, over Europe, the Far East, the Mediterranean, North Africa, over the Atlantic Ocean & Norwegian Sea from aircraft carriers (the Sea Hurricane), while single-use Hurricanes were catapulted from merchant ships… and in Russia.
3,000 Lend-Lease Hurricanes were delivered to our Russian allies where they were gratefully, but not enthusiastically, received.
Soviet pilot, Vitaly Klimenko was brutal in his assessment. On the 1st December 1941 his Reserve Air Regiment was re-equipped with Hurricanes.
"It was a piece of junk rather than a fighter!" said Klimenko¹ "A MiG might be clumsy at low altitude, but when flying higher I felt like a king. In comparison the Hurricane was slow and unwieldy – its wings were too thick."
His other criticisms covered the pilot's armour plate, which was too thin by comparison to Russian aircraft, and the armament: "At first eight machine guns in the wings seemed formidable armament, but the Hurricane's ammo storage was minimal".
And the Merlin XX engine displeased him too: "[they] were bad. They could overheat and jam even if you didn't use engine boost".
I'm no expert but I suspect the Merlin XXs, designed for 100 octane aviation fuel may have not been so happy on 95-octane Soviet fuel.
Similar complaints came from a number of Russian pilots, and I've been reading Igor Kabarov's autobiography, 

'Swastika in the Gunsight' recently, where he adds a little more detail.
Kabarov flew with the Baltic Fleet Air Force defending Leningrad and won many medals, including Hero of the Soviet Union. During his 476 sorties – in which he fought 132 air battles and shot down 28 enemy aircraft – he flew a number of different aircraft types² including the Hurricane.
In May 1942 Kabarov's regiment flew to a base near Leningrad to re-equip with new aircraft – Hawker Hurricanes.
"Here, waiting for us, were the new English fighters, Hawker Hurricanes. First of all, the size of the Hurricane struck us. Both in length and span, it was almost half as big again as our Yak. Humpbacked, on long 'legs', it seemed rather strange."
Kaberov and his colleagues had to quickly get used to all the labels in English and measurements in imperial – altitude in feet, speed in miles per hour and fuel in gallons not litres. However, like Klimenko, they could not resign themselves to the armament.
"It had twelve wing-mounted machine-guns of rifle calibre – six in each wing. After our Soviet cannons and heavy calibre machine-guns, we considered this insufficient. Nor did we like the armour behind the pilot's seat. It consisted of two vertically placed 4 mm plastic sheets, one above the other – and this at a time of high velocity cannons and armour-piercing rockets. 'Why you could pierce it with a walking stick,' said Sukhov, and we all agreed with him. Headquarters got to know about our dissatisfaction. We were ordered to fly immediately to Moscow in order to replace the armour and weapons on the Hurricanes."
Before returning to his airfield with his upgraded Hurricane, a Russian test pilot, Vladimir Konstaninovich, tried Kaberov's' Hurricane out and afterwards declared that, while it was not a Yak, now that it was fitted with proper canons he thought it was possible to use it in aerial combat.
One thing they did notice on their homeward flight was that in calm level flight the Hurricane would first dip, then raise its nose. "That's how it flew, bowing".
Again I'm no expert, but I suspect that the alterations may have had something to do with the new flying characteristics.
Kaberov seemed resigned to it…
"I thought that the name 'Hurricane' hardly matched the technical qualities of the machine. The armament on it was now good – two 20 mm cannons and two heavy calibre machine-guns. One burst and pieces would fly off any aircraft. The armour plating (taken from our LaGG) was fine. Such protection was like a stone wall. The horizon indicator was also a wonderful instrument. It was easy to fly in the clouds with it. The radio worked magnificently, like a domestic telephone: neither noise nor crackle. But the speed, the speed. . . . No, this aircraft was far from being a hurricane. It was slow to gain height and was not good in a dive. As for vertical manoeuvrability – not good at all!"
"Yefimov, our Commissar, got it right: 'The aircraft is fine; it's metal, so it won't catch fire. You can shoot from it. But instead of manoeuvrability and speed – you'll have to use your Russian wits!'"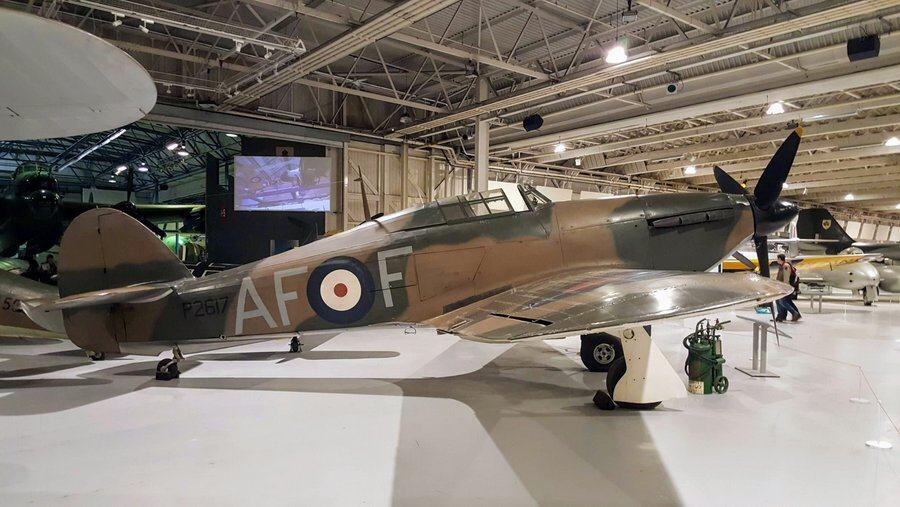 In May 1985 Igor Kaberov briefly visited the UK as part of a twinning (Novgorod & Watford) delegation. While he was here he was shown the RAF Museum at Hendon, and allowed to sit in the cockpit of a Hurricane. It could have been this one!
---
¹ One of the pilots featured in 

Barbarossa and the Retreat to Moscow: Recollections of Soviet Fighter Pilots, by Artem Drabkin
² He started out in the stubby Polikarpov I-16, flew the Mig 3 and Yak 1, and his favourite, the LaGG 3, and later the LaGG 5.