The SS Keewatin museum ship, an Edwardian Great Lakes passenger steamer, is moving from her current home in Port McNicoll on Lake Michigan to the Marine Museum of the Great Lakes at Kingston on the St. Lawrence River.
The 103m long ship was purpose built for the Great Lakes by the Fairfield Shipbuilding and Engineering Company in Govan, Glasgow, Scotland, but once across the Atlantic she had to pass through the 26 locks of the Welland canal to reach the Lakes. At that time the locks were just wide enough for her (by 0.4m) but 20m short, so she had to be cut in half to make her way through.
Once re-assembled, SS Keewatin began her working life carrying up to 288 passengers + 86 crew, and freight between the Canadian Pacific Railway's depots at Thunder Bay (then Port Arthur/Fort William) on Lake Superior and Owen Sound. A few years later her eastern terminal was switched from Owen Sound to Port McNicoll on Lake Huron.
Her four coal-fuelled boilers powered a steam engine delivering 3,000 hp to her single screw, which gave her a cruising speed of 14 knots. The journey from Thunder Bay, through the Soo Locks at Saulte St. Marie, to Port McNicoll took 2½ days.
Keewatin operated this route from 1910 for decades before steamship traffic on the Great Lakes declined as passengers and freight switched to faster and more reliable road & rail routes. She was eventually retired in 1965, and became a museum ship in 1967.
This current re-location is not Keewatin's first. She was originally berthed on the Kalamazoo River at Saugatuck, Michigan. Then, in 2012, 100 years after she first started working from there, she returned to Canada and her former operational port, Port McNicoll.
Announcing this move, the Marine Museum of the Great Lakes' chair, Chris West said: "We're pleased to steward the Keewatin through the next phase of its life here in Kingston. The story of the Keewatin is a story of Canada's creation as a country. It is vital that the ship, which is the last of its kind, be preserved for current and future generations, and our museum has the expertise, facilities and funding to be able to do this."
SS Keewatin is expected to arrive in Kingston in the early autumn.
UPDATE (24/04/2023): SS Keewatin is on her way. She left her berth at Port McNicoll under tow, yesterday evening. See comments below following her progress.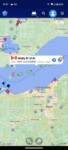 UPDATE (27/04/2023): In response to Margaret's comment below, I was trying to post a screenshot of her tug's  location as at 13.53 UTC in the comments, but it won't display properly, so here it is.
---
Photo: SS Keewatin, UpNorthMemories (CC BY-NC-ND 2.0)
Further Reading

…