The Aston Martin Heritage Trust museum is home to some classic, and beautiful, examples of auto engineering excellence. The museum tells the story of the brand's luxury sports cars and grand tourers – their amazing engine design, development and manufacturing, and their motor racing history.
I went last week to take a look.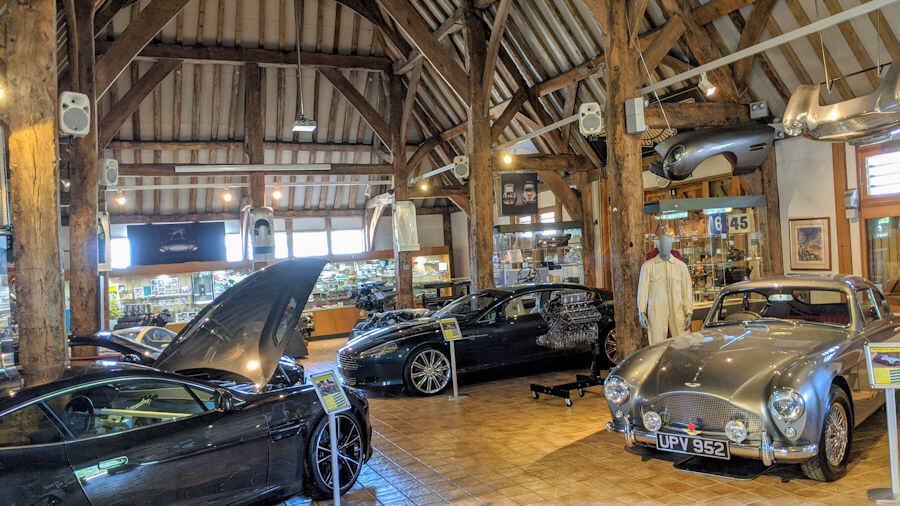 The History of Aston Martin
The 107-year history of Aston Martin is fairly convoluted, but that's often the way with famous brands that have a long history.
It all started with two friends, Lionel Martin and Robert Bamford, who set up their car dealership business in London in 1913. Bamford & Martin sold Singer cars and serviced two other makes, GWK and Calthrope. As an enthusiastic petrol head, Lionel Martin raced cars in the 'Aston Hill Climb' at Aston Clinton outside Aylesbury. In 1914 he built the first Aston Martin racer using an existing engine and chassis, and then the next year he and his partner decided to improve on it by building their own cars from scratch.
Unfortunately the First World War, and then the Second, intervened. Both partners joined up for World War I. Afterwards they tried to pick the business up, producing a trickle of successful racing cars, but Robert Bamford left the company in 1922 and the business went bankrupt in 1925. It was picked up again by one of its former investors, Lady Charnwood, and a new investor, Augusta Bertelli, who designed and drove Aston Martin racers and built the reputation of the brand, which now began to produce road cars on a small scale for the consumer market. Then came World War II and the factory was switched to war work.
Most importantly, he clarified the business model. Aston Martin would still produce racing cars to continue its reputation on the track, which in turn would help to market the luxury sports and grand tourer road cars that would generate its revenue.
Aston Martin's luck changed 1947 when it was put up for sale and bought by industrialist, David Brown, a machine tools and tractor manufacturer. He set about rationalising and improving the production process, but most importantly he clarified the business model. Aston Martin would still produce racing cars to continue its reputation on the track, which in turn would help to market the luxury sports and grand tourer road cars that would generate its revenue. Brochures would refer to the racing pedigree and its latest successes but would feature elegant couples with their Aston Martins parked in glamorous settings such as country house estates.
Those production models came about through another chance purchase. The motor manufacturer, Lagonda was up for sale and on a whim David Brown went to look at it. He met Lagonda's chief engineer, W.O. Bentley (yes, that Bentley!) and was inspired by his 2.6-litre straight 6 engine design. So he bought the company and started building a new range of Lagonda-powered grand tourers using his own initials, DB. The DB1 was the prototype, the first production car was the DB2. And so it started.
When they got to the DB5 model, another stroke of luck came Aston Martin's way.
Aston Martins in James Bond movies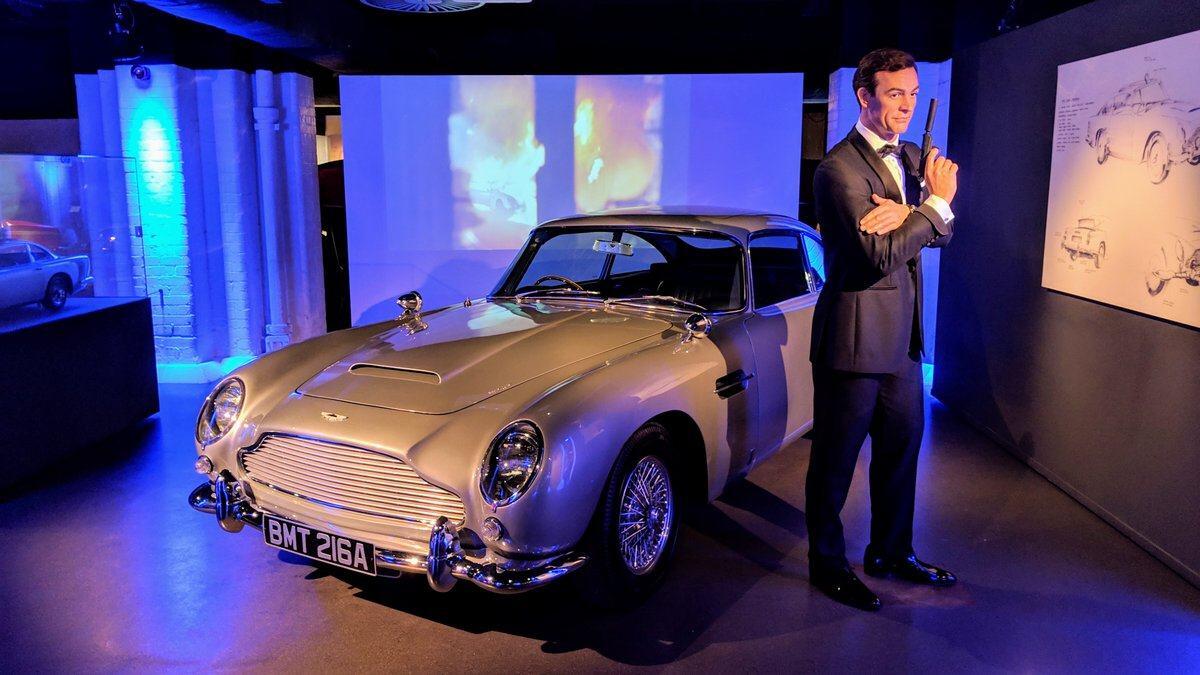 A film production company approached Aston Martin in 1963 and asked to use a DB5 as a prop in their new movie, Goldfinger starring Sean Connery as James Bond. Bond's lethally accessorised silver DB5 was a huge hit with Bond fans (including me*) and cemented a long-lasting relationship between the Bond franchise and the luxury car brand.
The DB5 appeared again in Thunderball (1965), Goldeneye (1995), Casino Royale (2006), Skyfall (2012), and  Spectre (2015).
When Bond didn't have a DB5, he had other Aston Martins: an Aston Martin DBS On Her Majesty's Secret Service (1969), Aston Martin V8 Vantage The Living Daylights (1987), Aston Martin V12 Vanquish Die Another Day (2002), Aston Martin DBS (+ the DB5) Casino Royale (2006), Aston Martin DBS Quantum of Solace (2008), and an Aston Martin DB10 (+ the DB5) Spectre (2015).
Last year (Feb 2019) there was an exhibition of James Bond cars and paraphernalia at the London Film Museum. It included a couple of those Aston Martins: the V12 Vanquish from Die Another Day and the DB5 from Skyfall.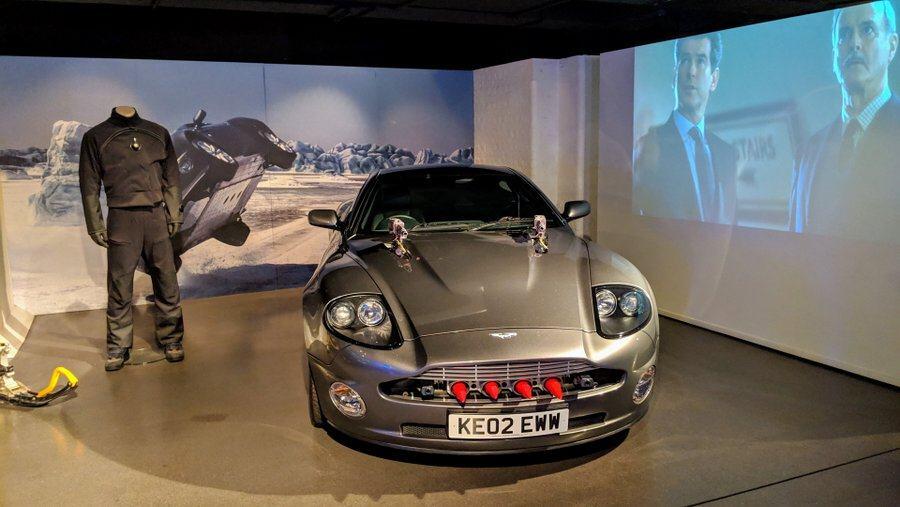 The latest James Bond movie, No Time To Die (it was due to be released in the UK in April as the pandemic kicked-in and, [update] when I wrote this, its theatrical release was still postponed till 12 November. Now its release has been rescheduled once again, to 2nd April 2021), continues the relationship. This time Bond has an Aston Martin Valhalla,  a hybrid car powered/charged by a specially-developed turbocharged V6 petrol engine and capable of doing  0-60 mph in under three seconds. Gulp! 
By the way, Aston Martin haven't finished making DB5s. They have got into the "continuation car" game, producing a limited number of new-old models, including the James Bond DB5 itself… with all the accessories!!!
If you want a non- street legal Bond car (the problem is not the machine guns, it's the revolving number plate) the Aston Martin DB5 007 Goldfinger edition will set you back around £3.6m. But hurry while stocks last, they are only making 25 of them.¹
The end of the David Brown era
The DB range** ended with the Aston Martin DBS (1193 cars built 1967 – 1972), and David Brown's role ended with it. The oil crisis in 1973 brought an end to "gas-guzzling" cars and the magnificent 6-cylinder and V8 engines of the DB range, designed & developed by Aston Martin's amazing Polish engineer, Tadek Marek, were (for a time) out of fashion. David Brown sold the company for a token £101 in 1972.
Over the next two decades there followed a succession of owners, changes, receiverships (the company has been bankrupt seven times since its inception, and come close to bankruptcy several times), re-locations, and investments. However the marque still produced some legendary cars, such as Aston Martin Lagonda in 1974, the V8 Vantage in 1977, the convertible Volante in 1978, and the Virage in 1988.
In 1991 the Ford Motor Company took the reigns and re-established the DB range with the DB7 and then started using V12 engines in the V12 Vantage (1999) and V12 Vanquish (2001).
In 2007 a new consortium bought Aston Martin and produced the four-door Aston Martin Rapide grand tourer. They formed a partnership with Daimler AG, who are now supplying Mercedes engines and digital systems ushering in a new generation of cars such as the DB11 (2016) and V8 Vantage (2018).
The latest car to be launched by the newly public*** Aston Martin Lagonda Global Holding PLC, is an SUV, the Aston Martin DBX …. and I seriously want one!
The Aston Martin Museum Collection
The museum's lovely 15th century converted barn is not the biggest of buildings! Therein lies a problem. The Heritage Trust has just over 30 vehicles. All are significant, but not all of them are real cars in running order. Many are dummy design and marketing models and engineering cutaways. Whatever they are, the building can only fit six in at a time.
"That means we are regularly changing the display," says Collections Assistant, John Wood "even though it's a complex operation!".
The advantage is: this is a museum you can revisit often and be pretty much guaranteed to see new vehicles.
The space factor also comes in to play in the displays at the far end of the barn. If you want to display the 70+ Aston Martin models in their numerous variations and guises… it's best done with scale models. So the display cabinets are stuffed full of model cars covering the range of Aston Martin production and racing cars.
Do they want to find or build a bigger home so they can display their full collection? "Absolutely!" says John Wood, though fund-raising will probably be paused while we are in the uncertain economic climate of COVID-19 & Brexit.
Meanwhile, what's there now, OR what was there last week?
The DB3 is a classic, not least because it was the first Aston Martin production car to have that iconic grille shape. This one was manufactured in 1958 and underwent a 7-year restoration to get it back into shape.
The Bovis-sponsored Nimrod highlights Aston Martin's racing legacy in the 1980s. This Group C competition car was the result of a collaboration between Aston Martin (V8 engine), Lola (chassis) and Nimrod Racing Automobiles (body). It's best finish was 6th in the 1982 British Racing Drivers Club event at Silverstone.
The modern 'glamour' cars on display were a beautiful black Aston Martin DB7 V12 Zagato from 2003, a cutaway demonstration model of the new 2012 Vanquish with a V12 engine in it (feature image), and the Aston Martin Rapide concept car made for the 2006 Detroit Motor Show.
Speaking of cutaways – I love cutaways – the sixth car-sized space in the museum is taken up with a cutaway Rapide powertrain with its mighty 6 litre V12. It's a fascinating glimpse 'under the skin'.
One of the important things that has distinguished Aston Martin from other small automobile manufacturers, is that they, mostly, didn't use other components from other manufacturers, notably the engine. Morgan, for example never made their own engines. Their engines have been a major part of Aston Martin's prowess and success on the race track. So, there are a few examples in the museum, and the cutaway 4.3L V8 is definitely one to linger over.
Another hallmark of Aston Martin cars and engines is that they were handmade, and even now many parts are handmade or hand fitted. A reminder of the skills levels of the craftsmen and women who have worked for the company is highlighted in displays of their tools.
There's no doubt about it, Aston Martin is an iconic – overused word but the right one here – British marque, that continues to produce magnificent luxury sports cars and tourers. Old fans, and new ones, will be drawn to this museum shrine. Next month, the latest Bond movie will create a new batch of young fans. So, with more heritage being created, and more fans wanting to see it, the Aston Martin Museum will soon need to expand… a lot!
What's your favourite Aston Martin? Tell me in the comments.
---
* Who didn't have the Corgi James Bond DB5 model car with the rotating number plates, the pop-out machine guns, the rising bulletproof shield, and, best of all, the ejector seat?! (Corgi were still selling them a year ago) I certainly did, and so did most of my friends! But I also had a schoolboy encounter with the real thing; the original James Bond DB5. The anecdote is in the London Film Museum post.
** There's a nice little documentary covering the key cars of the David Brown era.
*** They were listed on the London Stock Exchange in 2018.
¹ Aston Martin's DB5 Goldfinger Continuation Car Is the Ultimate Toy For Bond Fans – RobReport
---
Declaration: None needed. I booked and paid.
Further Reading/Playing

…