Guédelon is a 13th century castle under construction from scratch using only medieval tools, materials and techniques.
It is a fascinating project in experimental archaeology that began in 1995 – a quarter century ago! Construction began two years later* in a former quarry in the middle of a forest near Treigny in Burgundy, France.
The master builders and craftsmen involved – stonemasons, stone cutters, woodcutters, carpenters, blacksmiths, rope, tile & cloth makers – are passionate about rediscovering, practising and developing their skills, and about passing them on. The whole site is an academy for apprentices, and a 'living museum' for the public who can see and learn about traditional craft skills in a 'real' working environment.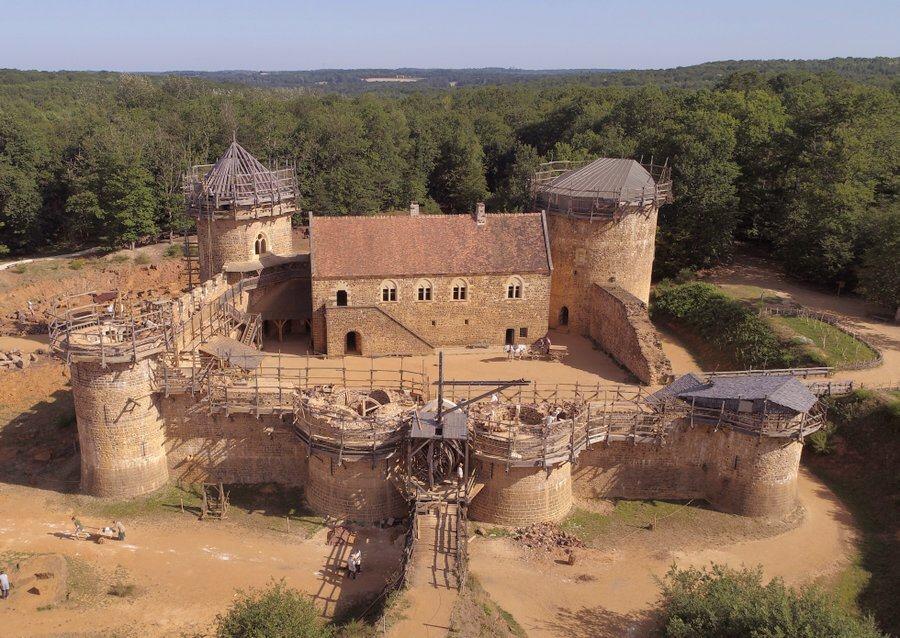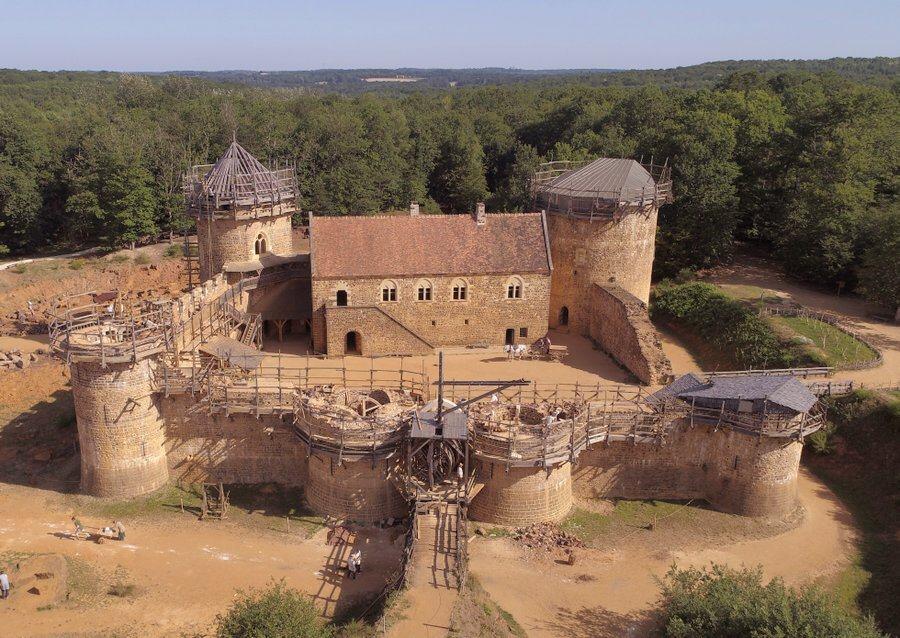 "When we started we had no idea how long it would take to build a castle," says Guédelon's Sarah Preston. "Our back-of-an-envelope guess was 25 years. Now we think it'll be more like thirty."
The truth is, unlike a 'real' scenario with a 'Lord of Guédelon' eagerly pushing them to get it finished so he can move in, their role is about learning and teaching – not something they can do so well when it is completed! So they are not eager to finish, and if anything they are slowing up.
Obviously, this year has been unusual. There are around 40 workers** on the site, but they are usually supplemented each season with volunteers. This season, with the pandemic (Guédelon reopened on 11 June) there is no volunteer programme.
Happily, visitor numbers, usually around 300,000 a year, have bounced back and they are now receiving the same number of independent visitors as last year, but not large groups in coaches.
How far has the building work progressed at Guédelon?
Well, to my untutored eye, I'd say they are around 80% of the way there.
Barring any minor dressing, the main building, the 'North Range' is complete with its storerooms & kitchen on the ground floor and on the first floor, the Great Hall with the outside staircase ("grand degré ") and the Lord's Chamber.
The Great Tower is currently at half its final height. It is at 18 metres now but it will be just under 30 metres high when complete. The Chapel Tower and the crenellated Western Wall are now complete. The major areas of building work now are the twin turrets and gate of the Portcullis, the Eastern Tower, and East Wall.
What do visitors see and experience at Guédelon?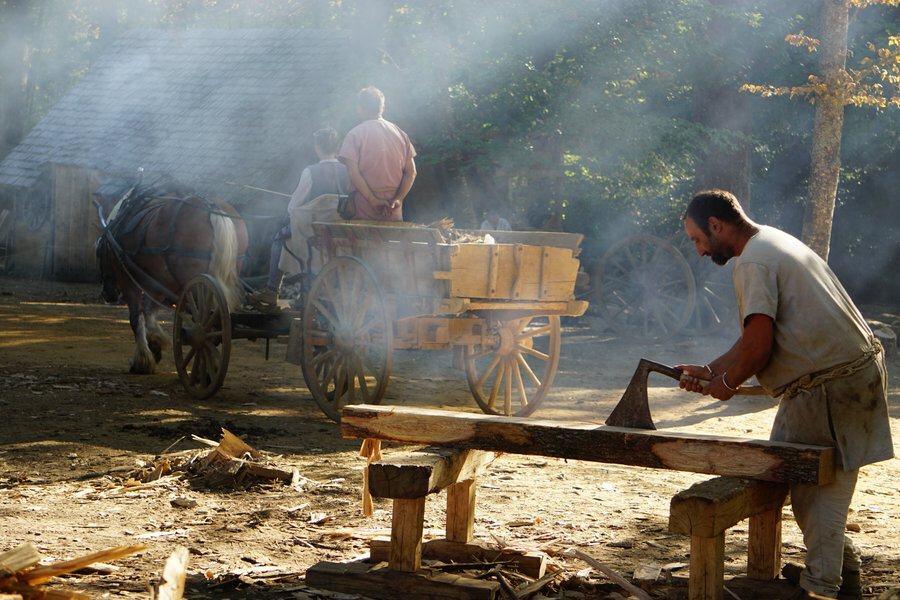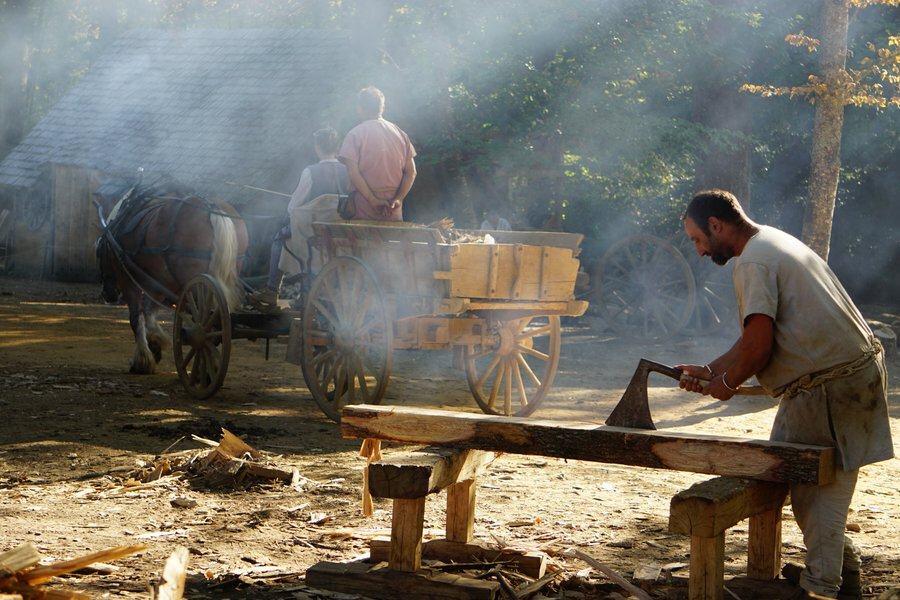 For visitors there's a lot to see. In the clearings around the castle itself there are the medieval workshops and buildings where all the crafts and their support infrastructure are housed. To move building materials you need horses and carts. They in turn need stables, rope makers and wheelwrights. To make mortar & plaster you need lime, and for that you need a (temporary) lime kiln. To make tools and metalwork, you need a blacksmith. To make tiles you need a tile maker.
And to make paint and fabrics you need pigments…
"Far from the early 13th century being a dark, gloomy, ignorant and miserable time," says Sarah Preston, "we wanted to show visitors that it was actually a very colourful period, just at the start of the renaissance. So this is where we create pigments and dyes for our paints and clothing."
The workshop (aka "The House of Colour"), run by Valery Lachemy, uses red & yellow ochre found locally in the quarry clay, and hematites, but if the (theoretical) Lord of Guédelon wanted colours like blue, then he'd have to buy those pigments in from outside.
Nearby are the blacksmiths, making metal fittings, nails, and anything else needed by the builders.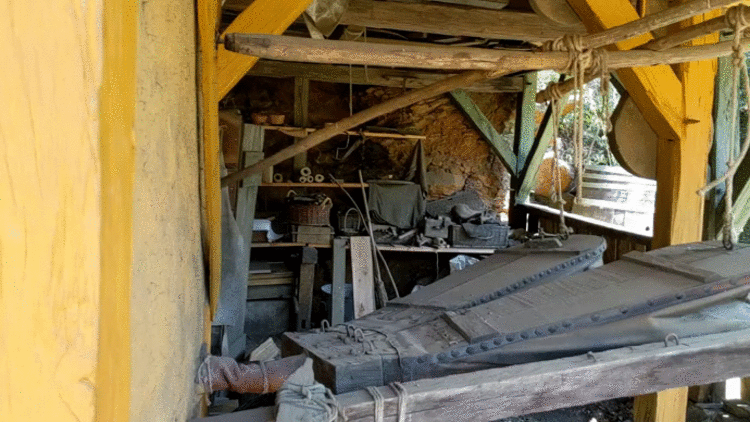 A little further on are the wood cutters who shape logs into forms, beams and braces for the stonemasons and for the carpenters who turn the wood into practical tools, furniture, etc. Normally the wood cutters would be working deep in the forest where the trees are felled; what's the point in dragging a log to the workshop when 50% of its weight will be cut off? Unless it's for demonstration purposes.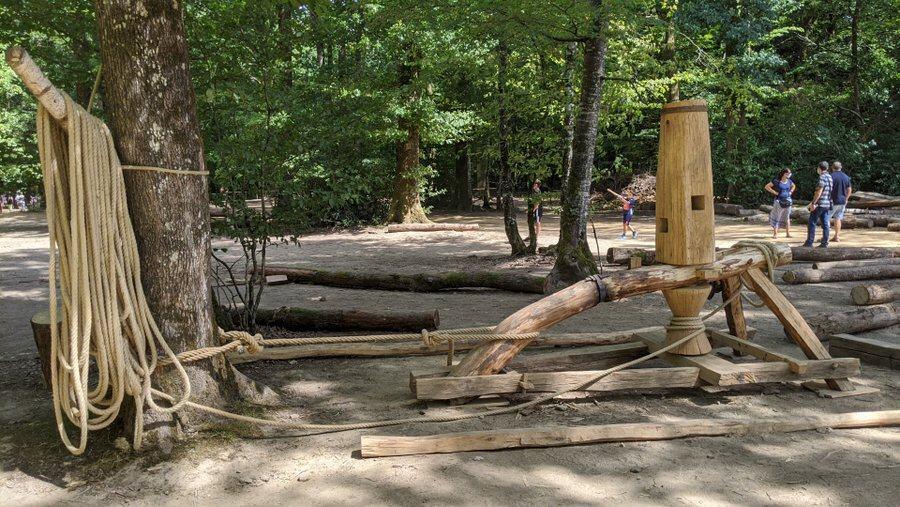 Here they also use a capstan for hauling heavy logs, but there's another break with 13th century reality – the ropes don't come from Guédelon's ropemaker. There are some aspects of the work at Guédelon that have to meet 21st century standards. For example, back in 1995 they couldn't just start work. They had to submit their plans to the local council to get planning permission. I can't see the fictitious Lord of Guédelon*** bothering with that! Also Health & Safety regulations are rather more strict and 'safety' is the watchword. (For some jobs, medieval clothing is required to include steel-capped boots, eye protection, and helmets!) So all ropes have to be certified for the loads they can carry and brought in from outside.
And there was a tussle with the authorities before Guédelon could get permission to use their treadwheel cranes. They had to have a number of 21st century safety features built in! The result though is worth it. Castles, cathedrals and magnificent buildings all over the world were built with the aid of this amazing technology, and I very much wanted to see it in action – I was lucky!
Stonemasons are the rock stars of Guédelon.
The stonemasons are the rock stars of Guédelon. Visitors hang on their every word as they explain just how they insert and adjust the heavy keystones into vaulted ceilings, build intricate window frames and deep recessed arrow slits.
The 'lead singer' is Florian Renucci, Guédelon's charismatic site manager and master mason.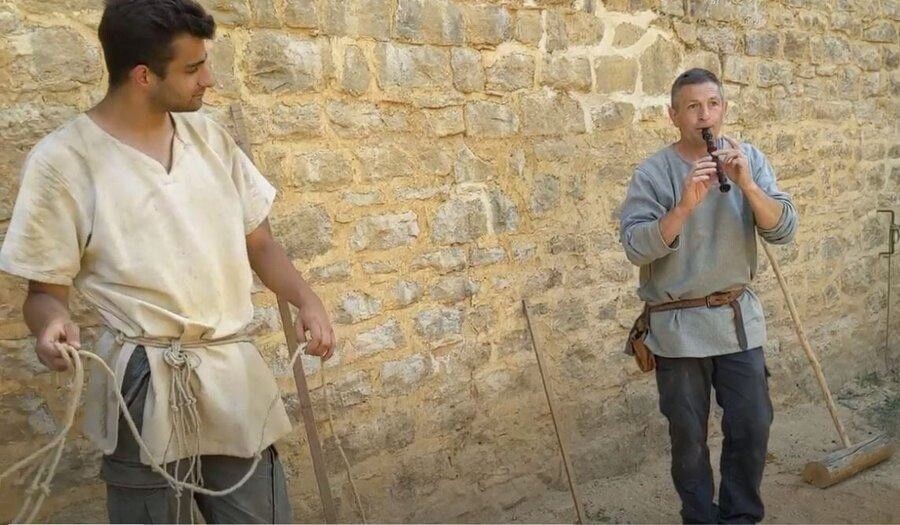 With the aid of a flute (to demonstrate musical scales in terms of numerical ratios) and a thirteen-knot rope he explains how master builders had a grounding not just in stonework, but mathematics, astronomy and music, all of which are interlinked. He uses the rope with sticks in the ground to draw some of the complex geometric curves and patterns needed for archways.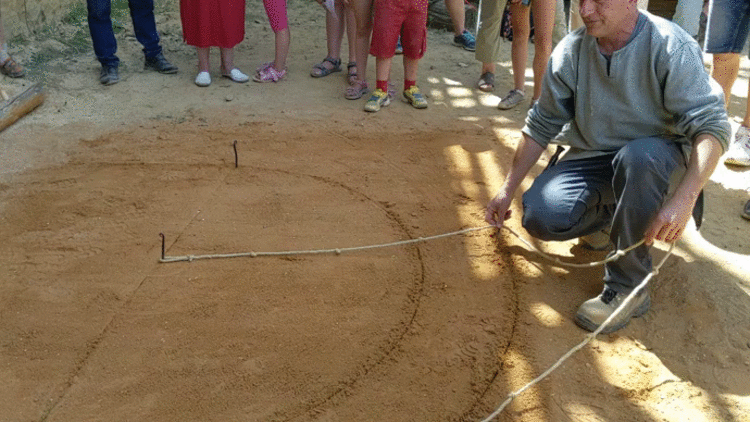 Then there are the workshops and buildings that don't necessarily contribute directly to the castle construction, but to village life – the potter, the basket weaver, the farm for growing food and raising farm animals. And, a short walk away (500m) in another clearing in the seven hectare woodland site, there's the wood turner making wooden bowls, plates & cups on a lathe…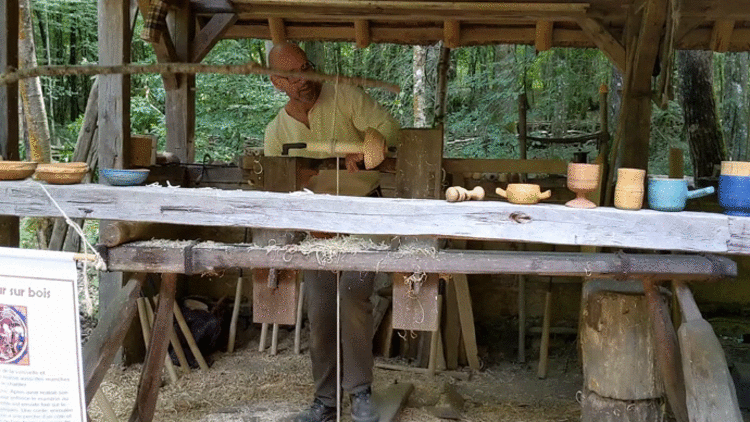 … and Guédelon's latest addition, a water-powered flour mill.
The mill is the result of three years' collaboration with archaeologists from Inrap (French National Institute for Preventative Archaeological Research) and the design is based on the archaeological remains of a 12th-century water mill found at Thevray in Jura.
Sadly, after all this warm weather, when we visited, the lake that provides water into the mill race was so low that the mill couldn't be run. Poor Constantin Lemesle, the miller, had to demonstrate how it works by hand! But when running as normal, Guédelon schedules dates on which flour is produced and bread is cooked.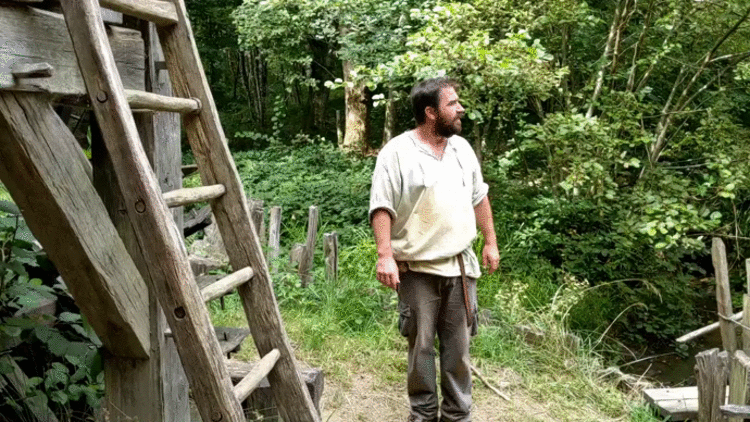 Guédelon's legacy
As the castle has grown, so too has their knowledge bank of information on medieval skills and techniques, and this has been feeding into academia and beyond. For example Guédelon's master builders have been part of the consultation process on the reconstruction of Notre-Dame after last year's devastating fire. Initially the debate was about whether Notre-Dame should be restored to what it was before, or whether, in the interests of time & money, something new should be done; a modern glass spire for example. That was President Macron's first choice, but he has now been won around to the traditionalist view. In July he approved plans to restore Notre-Dame to its former glory. Work will begin in 2021, and could take up to two decades to be completed.
Where will they find and train the 400+ craftsmen needed to restore the stonework, timbers and roof of a medieval cathedral? Hmmm… scratches head!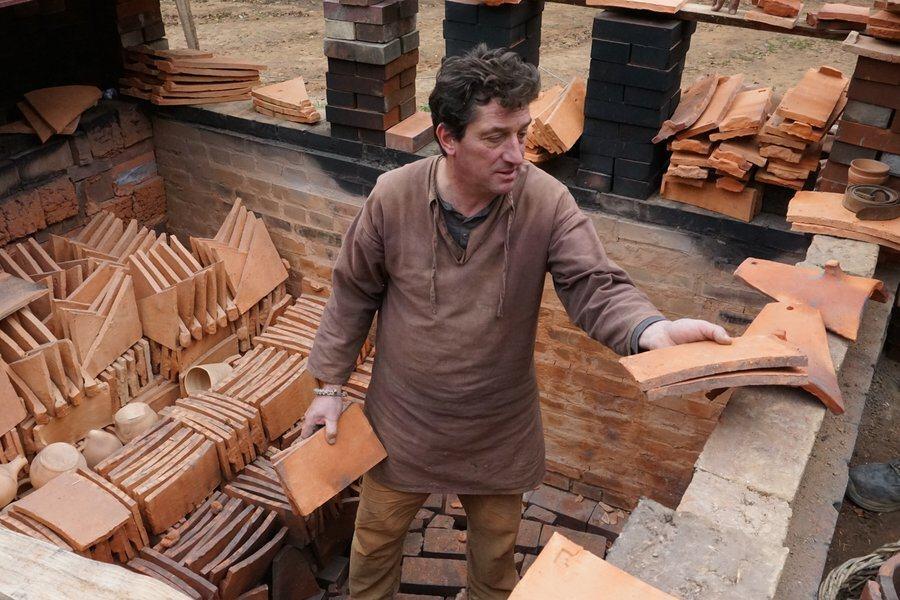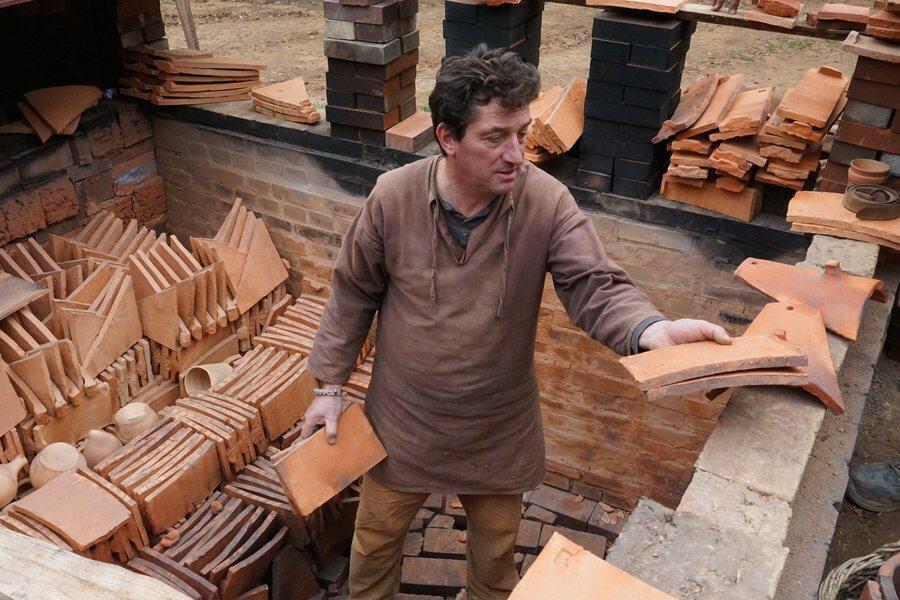 Guédelon is likely to be at the heart of that process, and the opportunity to increase the respect for traditional skills is welcomed by Guédelon's CEO, Maryline Martin, who has said if anything good is to come out of the burning of Notre Dame, it is that the traditional trades will finally be recognised as worthwhile. She has been planning to create an artisan trades school at Guédelon offering a fully-recognised diploma in historical renovation, though her plans have been stalled by COVID-19 .
And why not let Notre-Dame become 'Guédelon Deux'?
Imagine a showcase village of workshops in the style of Guédelon set up at Notre-Dame demonstrating those skills to a new generation of kids as the restoration goes on. Now that would realise the dream of Guédelon years after the castle itself is completed.
---
* The first stone was laid on June 20th 1997.
** The 40 workers are supported by another 30 people in admin, catering, etc. Guédelon is not open during the winter (Nov – Mar)
*** They have created a backstory for their imaginary Lord. He is Guilbert Courtenay, a minor nobleman, who has been given a royal "license" to build a small castle in recognition of his loyalty to King Louis IX
Declaration: I was a guest of Guédelon.
Further Reading

…