If you are anywhere near the city of Chartres (SW of Paris) on 17 September, you should see the Festival of Lights (Fête de la Lumière) that night.
It marks the climax of the 2016 season (16 Apr – 08 Oct) which sees many (27) of Chartres medieval buildings and structures illuminated every evening (2200 – 0100) with moving and static images, slides and effects.
There is a trail, marked with little spotlights set in the ground, around the city centre which can be walked, or toured in a tourist roadtrain. 
Most of the sites have static or rotational displays projected on them, but the huge gothic cathedral of Notre-Dame, which during the day can been seen for miles across the plains that surround Chartres, is the centrepiece with a 20-minute son & lumiere show playing on it. Behind the scenes are four technicians displaying (last year's stats):
537 linear metres of silver halide film, through…
22 giant image projectors
50 high powered video projectors
101 LED projectors
98 LED halogen projectors
10 projectors on moving head lamps
44 distribution boxes
16 projection towers
25 computers for controlling the operation, synchronised to the clock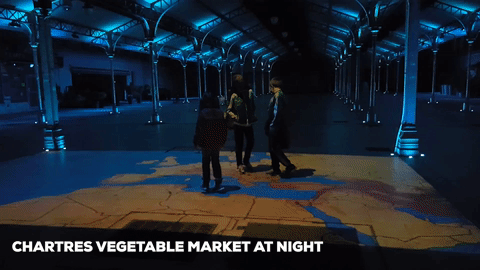 The annual Chartres light show started back in 2002 as a simple Festival of Light over one weekend, but then grew rapidly, and now entertains over 1 million visitors annually. If you join them, you might want to check out the handy "Chartres en Lumières" app, available (free) on Google Play® and the App Store®