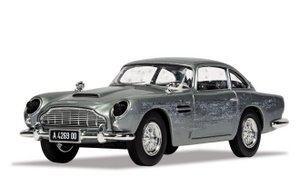 Looking rather shot up, this is a diecast model of James Bond's classic Aston Martin DB5, the one that was rebuilt by Q by the conclusion of Spectre and appeared again in No Time To Die.
---
"What fun! I could spend happy hours in the garden with this!"
It's a scale model, 15 channel (movements) heavy duty professional remote control grapple fork excavator with metal fork, that works exactly like a real fork excavator. It has 680° Degree cab rotation, 3 separate motors on digging arm separate motor on fork to lift up and down to its full extent.
---

Topical at the moment. The clever thing about this 1:350 scale Royal Navy Type 45 Destroyer kit, is that you can badge it up as whichever of the six Type 45s you prefer. HMS Defender, the one that has just been ruffling the feathers of the Russians in Crimea? Or TV star HMS Duncan, who was doing the same in the Black Sea a couple of years ago.
---
Pages: 1 2