Wow! The Golden Globe Race 2022 #GGR2022 is turning into a real nail-biter!
It's been 225 days and 16 hours since 16 solo sailors set off from Les Sables d'Olonne on 4th Sep last year, in their tiny 30+ foot yachts to race non-stop around the world with no modern navigation aids.
On the way, there have been retirements, crashes, dismastings & sinkings and now with just three competitors still in the race, the first two are approaching the Bay of Biscay with just an hour – ONE HOUR! – separating their ETA at the finish line.
Kirsten Neuschafer, the only woman in the race, is minutes ahead of Abhilash Tomy, as they approach the 'final furlong', with Michael Guggenberger in 3rd place in mid-Atlantic off West Africa.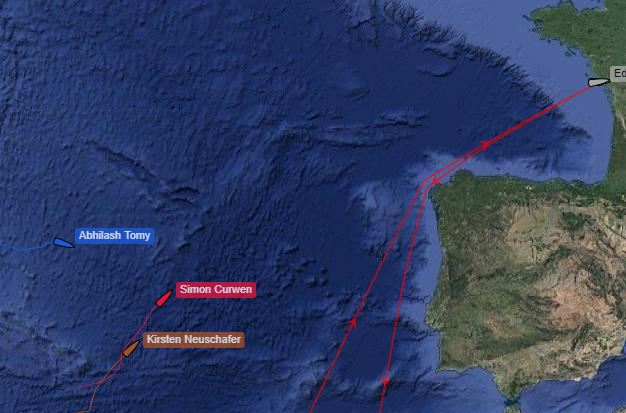 And that's not all the drama. Simon Curwin led the race from the start, until his self-steering broke as he was approaching Cape Horn. He had to manually steer the boat several hundred miles up to a harbour in Peru and spend a few days repairing it while watching his competitors sail past and round the Horn. His stopover meant that he was out of the race, but could continue sailing the course in the 'Chichester Class' – a sort of round-the-world 'also rans'. Except that he is hardly an 'also ran'! With the repairs finished, he set off in pursuit, overtook the leaders and is now set to be the first boat home!
Oh, and there's one more thing to throw into this 'edge of your seat' finish – adjusted hours.
Back in November, both Abhilash and Kirsten received bonus hours when they deviated from their course to go to the rescue of Tapio Lehtinen in the Southern Ocean when his boat suffered a catastrophic failure and sank from under him in minutes. Kirsten, who got to Tapio first, was awarded a 35 hour time compensation. Abhilash, who was the first to respond to Lehtinen's distress call, but was further away and was able to return to the race when he was no longer needed for the rescue, also received a 12 hour time compensation.
Wait! There's there's still more adjustment to be done… for fuel use. After they finish their fuel tanks are topped up to calculate litres consumed. For every litre consumed over 25 litres, a two hour time penalty will be added to the total elapsed time to calculate the official finish time of the entrant.
Kirsten received a 30 litre fuel allowance after rescuing Tapio, but it is not clear how much fuel compensation or penalty Abhilash will receive, not least because there are reports that he has suffered from fuel leaks.
So, the nail-biting will continue even after the first three boats in the fleet cross the line somewhere around 29 April.