Tom Hanks and Steven Spielberg are producing Masters of the Air for Apple TV, a third WW2 mini series to follow their Band of Brothers and The Pacific. Where are the likely airfield locations?
This post was first published in Oct 2020. We know now where MOA is being filmed, so I have moved all the latest production news updates here.
Masters of the Air*, which has been in gestation since 2013, is based on Donald L. Miller's book of the same name and covers the heroic and terrifying exploits of the U.S. 8th Air Force bomber crews over Europe in World War II. 
There have been few production details released but Masters of the Air will likely focus on the 100th Bombardment Group and two of its B-17 squadrons in particular, the 418th and 350th, based at Thorpe Abbotts in Suffolk, England.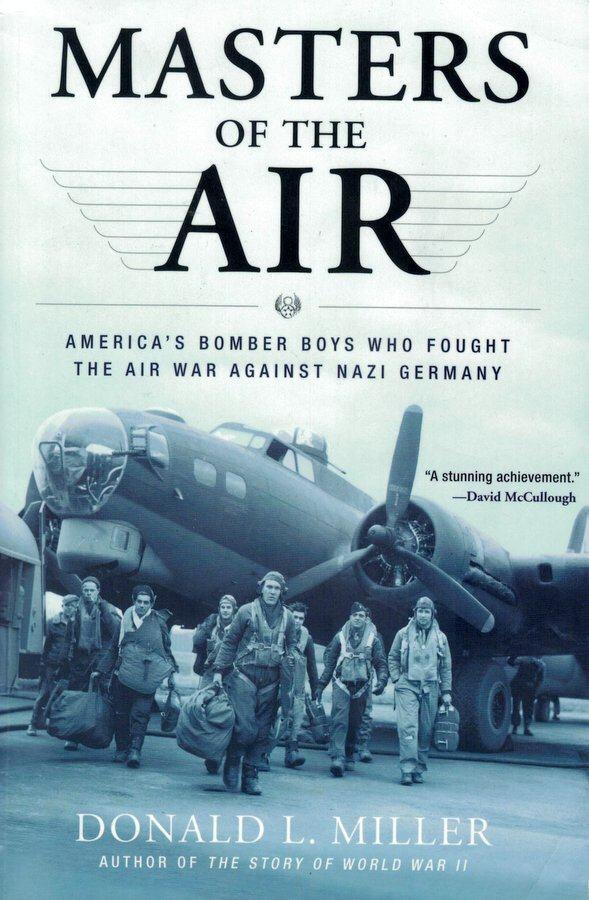 Donald Miller's book (Amazon link below) covers the whole USAAF bombing campaign, but he brings aspects of it to life by focusing on individual servicemen. The opening chapter starts with Major John Egan, the commander of the 418th Squadron, taking some well earned leave in London, which, as it happens, is where filming is due to start in March 2021.
The other leading real-life character is thought to be Gale W. Cleven, commanding officer of the 350th Bomb Squadron. It's a natural pairing. Both Cleven and Egan were nicknamed "Bucky", both were squadron commanders and friends at the same airfield, both were shot down within two days of each other, and both survived to meet up later in the same POW camp – this story practically tells itself!
Other likely real-life characters include crew members, senior officers, station personnel and mechanics. Dan Monfre at Footsteps Research has been usefully listing some likely real-life candidates who might appear in the series.
The series is also likely to include bomber crew experiences on the ground in Europe. Many were shot down. On the notorious first combined mission to the Messerschmitt ME 109 factory at Regensburg and the ball-bearing factory at nearby Schweinfurt, the "Mighty Eighth" lost 60 B-17s. That's 600+ men Missing in Action (MIA). About half were captured and sent to POW camps. A few aircrew, particularly on missions over occupied countries like France and the Netherlands, managed to escape with help from local resistance. These storylines (or should we call them 'historylines'?) are also likely to feature in the Masters of the Air series, especially Stalag Luft III** in the pine forest outside Sagan (now Żagań, Poland), where many of the 100th Bomb Group's captured airmen, including Egan & Cleven, ended up.
Of course, most of the above is 'informed speculation'. The real clues to what 'historylines' the series will cover will come when the cast list is revealed.
Masters of the Air Production Details
The basic details are that screenwriters John Orloff and Graham Yost, who each wrote several of the episodes of Band of Brothers and parts of The Pacific, will be writing an unknown number of the eight to ten*** episodes of Masters of the Air. And director Cary Joji Fukunaga (No Time to Die) will be directing three episodes.
The bad news is that last year the series switched platforms. It won't be broadcast on HBO like its predecessors Band of Brothers & The Pacific. Instead it will be streamed exclusively on Apple TV+ like Hank's WW2 Greyhound movie. No doubt Masters of the Air will emerge some time from its walled garden for non-Apple subscribers to view, but Greyhound launched on Apple TV in early July 2020 and there's no sign of it being released into the wild, yet.
Where will Masters of the Air be shot?
Apart from the filming starting in 'London', there is absolutely no information on this yet, so this is pure speculation!
We have to guess that while much of the action takes place in the air, the other main focus will be on the airfield where the ground crews and support staff are.
Some close-up scenes, eg. crews by their aircraft, can be shot anywhere and since there are a few static & operational B-17s in the USA, I guess some scenes could be shot there, but for primary airfield scenes, I think Hanks & Spielberg will go for the real thing, and shoot in the UK.
You might think that RAF Binbrook in Lincolnshire would be an obvious spot to film the airfield scenes, since it was the location for the core take-off & landing scenes in Memphis Belle (1990). Sadly, since then the former RAF base has been closed, turned into a business park, and the airfield ploughed up.
"their first requirement was for the aircraft to be kept in hangars"
I
had
been wondering about
East Kirkby Aerodrome
. East Kirkby is home to the
Lincolnshire Aviation Heritage Centre
, based on a former WW2 RAF bomber base. It has a restored 1940s control tower and a grass airfield where they have warbird flying events featuring aircraft like the PBY Catalina and De Havilland Mosquito.
Their field didn't look big enough to me for something like a B17 to take-off. A B17 needs between 3,350 ft – 4,925 ft¹. On the other hand… Lincolnshire Aviation Heritage Centre's star attraction is another four-engined "heavy", Avro Lancaster NX611 'Just Jane', which they are diligently restoring to flying condition. How and where will they get her off the ground for her first flight?
So I asked them. It turns out they have enough area to lay a 6,000ft grass strip, which would be sufficient space for a B17. So, have the Masters of the Air production team been in touch by any chance?
"We have had contact with them but their first requirement was for the aircraft to be kept in hangars so we wouldn't be able to achieve that." says the heritage centre's Andrew Panton.
A shame. That rules East Kirkby out.
I think there are five possible-ish candidate locations…
1) Chalgrove Airfield – Very Unlikely
The real life former WW2 airbase of the 8th Air Force's photographic and weather reconnaissance squadrons near Oxford. I'm really only suggesting this site because there's a small window of opportunity. 
Since 1946 it's been the research base, and more recently the pyrotechnics manufacturing centre, for Martin Baker ejection seats. In 2016 the Ministry of Defence, who leased it to Martin Baker, handed it over to Homes England to be turned into a new town with 3,000 homes. The plan is to build the town over most of the site to the south (two of the three runways have been unlicensed since 2012), while Martin Baker construct a new runway on the northern side next to their facility. 
Homes England only submitted their planning application to the local council in June, so with all the hurdles that will have to go through, and a pandemic, I reckon it will be at least 12 – 18 months before any bulldozers turn up on site. Meanwhile, that leaves a 3-runway rural airfield, with potential hanger space if Martin Baker can spare it, doing nothing. #justsaying 
2) Manston – Pretty Unlikely
The famous RAF Battle of Britain fighter base at the tip of Kent has been closed as a commercial airport since 2014. There have been numerous attempts to revive it. The latest owners, RiverOak Strategic Partners, are hoping to turn it into an international air freight hub. Meanwhile there is a huge runway and multiple hangers not doing much.
3) Thorpe Abbotts – Unlikely
The real life former airbase of the 100th Bomb Group, Thorpe Abbotts in Suffolk, no longer exists, except for its restored control tower and a couple of nissen huts that are the 100th Bomb Group Memorial Museum.
We know that some of the production team have scoped this site because Donald Miller, John Orloff and Kirk Saduski from Playtone paid a research visit to the museum in Feb 2017, and it is possible that Tom Hanks also secretly visited a few years ago.²
There couldn't be any flying sequences there, and museum trustee Sophie Towne is quoted saying the site is not suitable for such a large production to film over a prolonged period of time²… but I think they might, as a hat-tip to the 100th Bomb Group veterans, stage a couple of shots by the control tower.
4) IWM Duxford – Very Likely
The old WW2 aerodrome at Duxford (Cambridgeshire) is now well-known as the Imperial War Museum's spectacular air museum with a fully operational airfield complete with a modernised 1940s control tower and 1940s hangers. It is home to dozens of flying warbirds including the B17 'Sally B' aka 'Memphis Belle' (it depends which side you view her from!).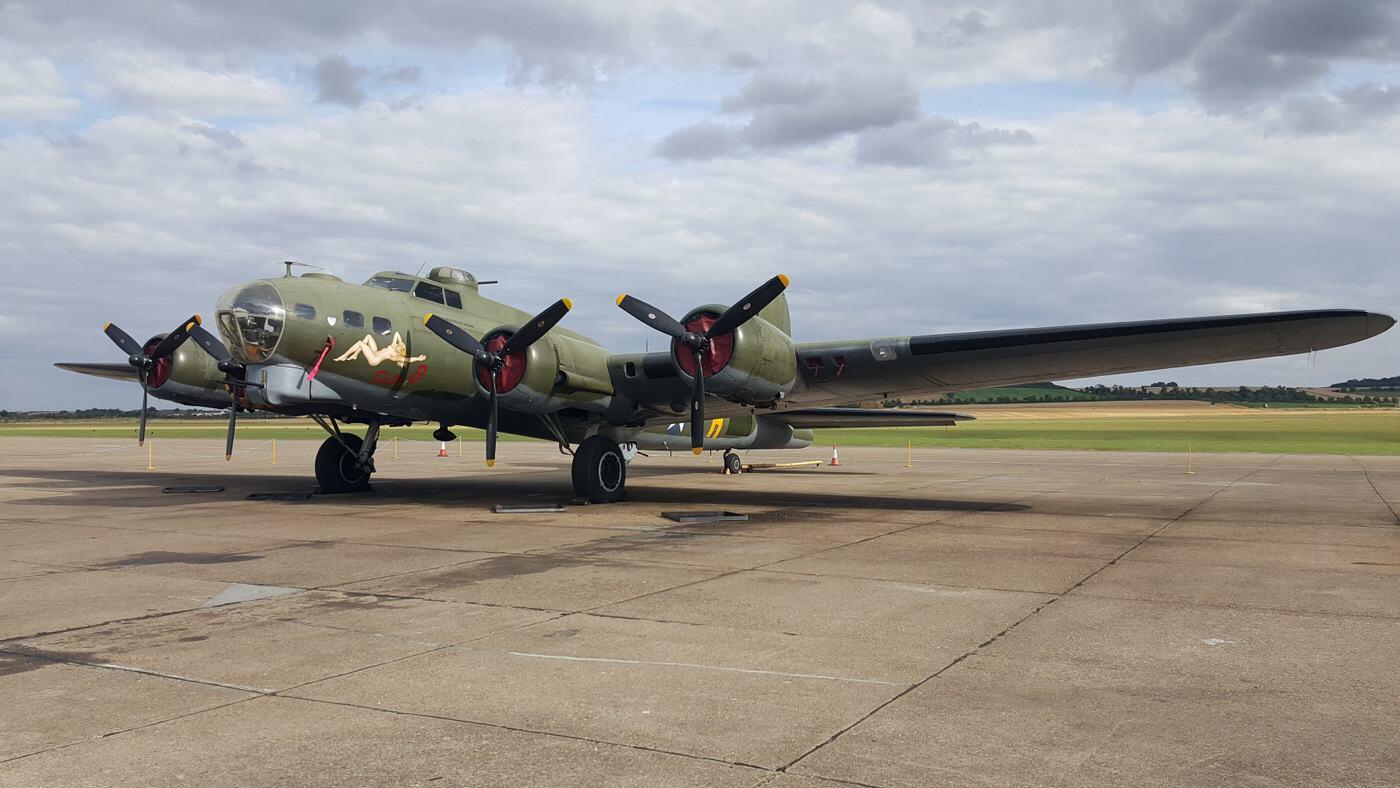 The combination of airfield, WW2 props & aircraft, and the ability to host complex air events, make Duxford an obvious choice both as a location but also the centre for flying operations. Many of the Battle of Britain (1969) scenes were shot at & over Duxford, and most of the airborne sequences were operated from there too. The Memphis Belle aerial sequences were also operated from Duxford.
I would be surprised if Duxford didn't have a significant role to play in Masters of the Air!
5) RAF Elvington – Just Possible
This is my 'dark horse' contender.
The former RAF airbase at Elvington was a WW2 RAF bomber base, flying Halifax bombers. In 1952 it was given to the USAF to be a Strategic Air Command (SAC) base. They built a 10,151 ft (3,094 m) runway – the longest in the north of England – and a huge 49 acre (19.8 hectares ) rectangular hard standing apron.
Right alongside it, stands the 1940s control tower, nissen huts and hangers of the amazing (I'm a fan) Yorkshire Air Museum.
On this site, you could build a whole film production complex/city, and shoot everything from interior/exterior airfield scenes on the ground, to take-off/landings, and operate the airborne scenes. The museum/airfield is set up for filming and for flying operations with onsite Civil Aviation Authority certified fire & rescue services and Jet A1 & Avgas.  The only thing missing is the hanger facilities, but there's plenty of space to build a temporary hanger. There's also a plentiful and wide range of accommodation for cast & crew in York only 20 mins away. For the Masters of the Air production company, Elvington could be a one-stop shop!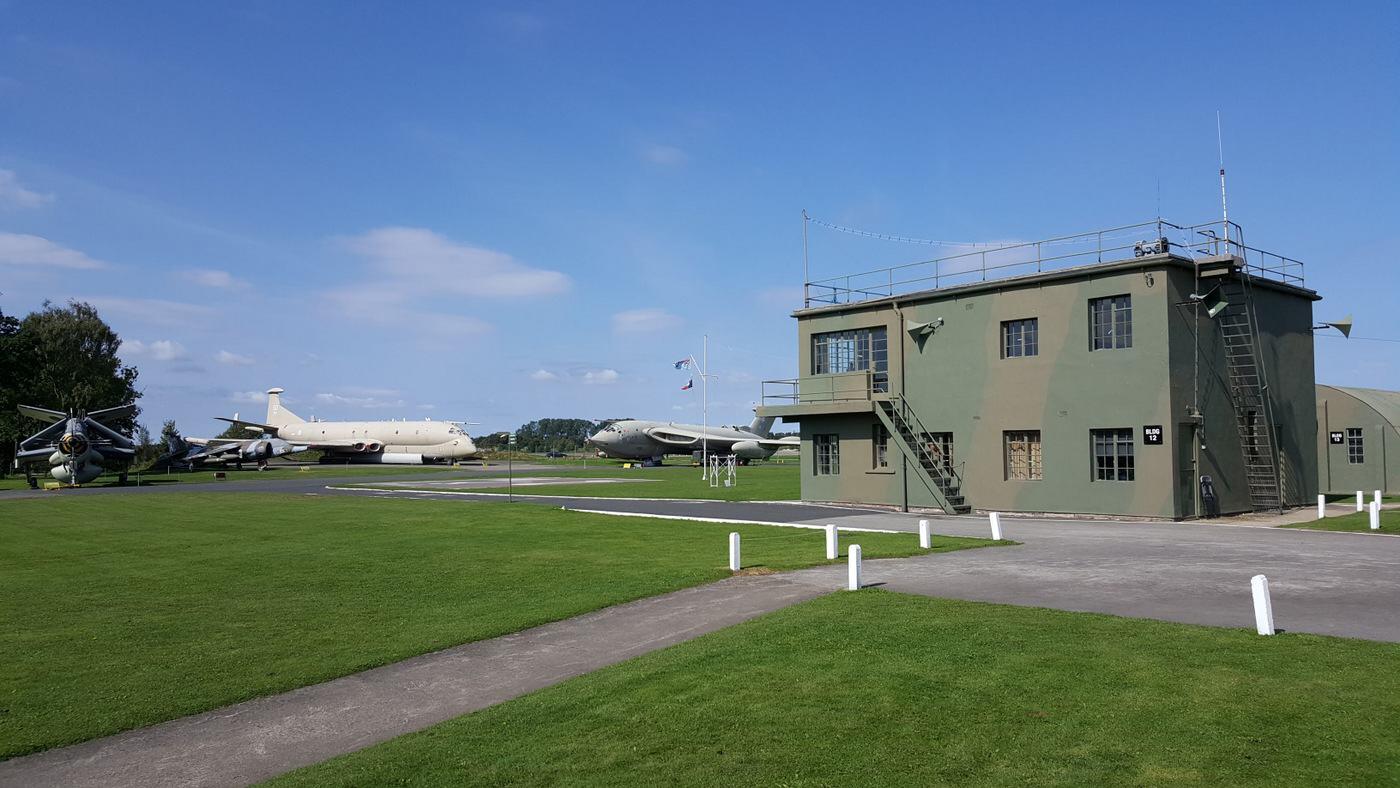 This post was first published in Oct 2020. We know now where MOA is being filmed, so I have moved all the latest production news updates here.
---
* Three years ago, TVOvermind.com thought it was going to be called 'The Mighty Eighth'. Screenrant.com thinks it's going to be called 'Bomber Boys'. I don't. Hanks & Spielberg named 'Band of Brothers' after the book they based the series on, and I think they'll do it again. (The Pacific was based mostly on two books – the memoirs of two US Marines: 'With the Old Breed: At Peleliu and Okinawa' by Eugene Sledge, and 'Helmet for My Pillow' by Robert Leckie.)
** Famous for the 'Great Escape'.
*** It was originally thought to be a 10-episode series, but some reports say nine, and others, eight.
² Diss Mercury & War History Online.
Further Reading/Playing

…