The Air Museum at Duxford, one of the Imperial War Museum (IWM) sites, is probably the most important, 'must-see' aircraft museum in the UK. If you haven't been, you really should, it is excellent.
There are a number of things that set it apart.
Firstly, its history. Built originally as an RAF training base, it became one of the key RAF fighter bases during WW2 – famously home to Douglas Bader's 'Big Wing' during the Battle of Britain, and then American 78th fighter group as the war moved onto the continent.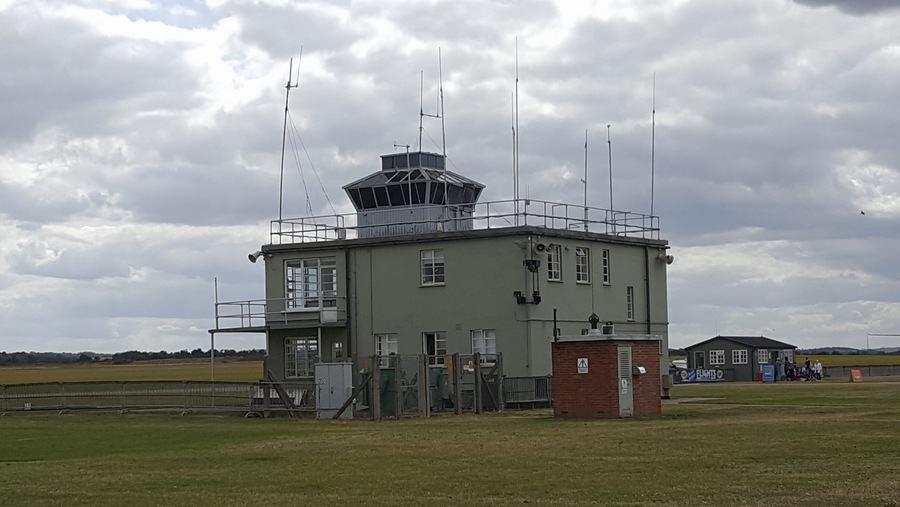 Secondly, it's still an operational airfield. Not only does that make it a home to many of the unique historic military aircraft still flying, it also has a programme of airshows and events during the year featuring those aircraft and many more from around the world.
Thirdly, it has a huge collection of unique aircraft and other exhibits spread through giant hangers laid out over 1¼ kilometres on the side of the airfield (take your comfy shoes!). I spent 6 hours there and still didn't see everything!
The Hangers.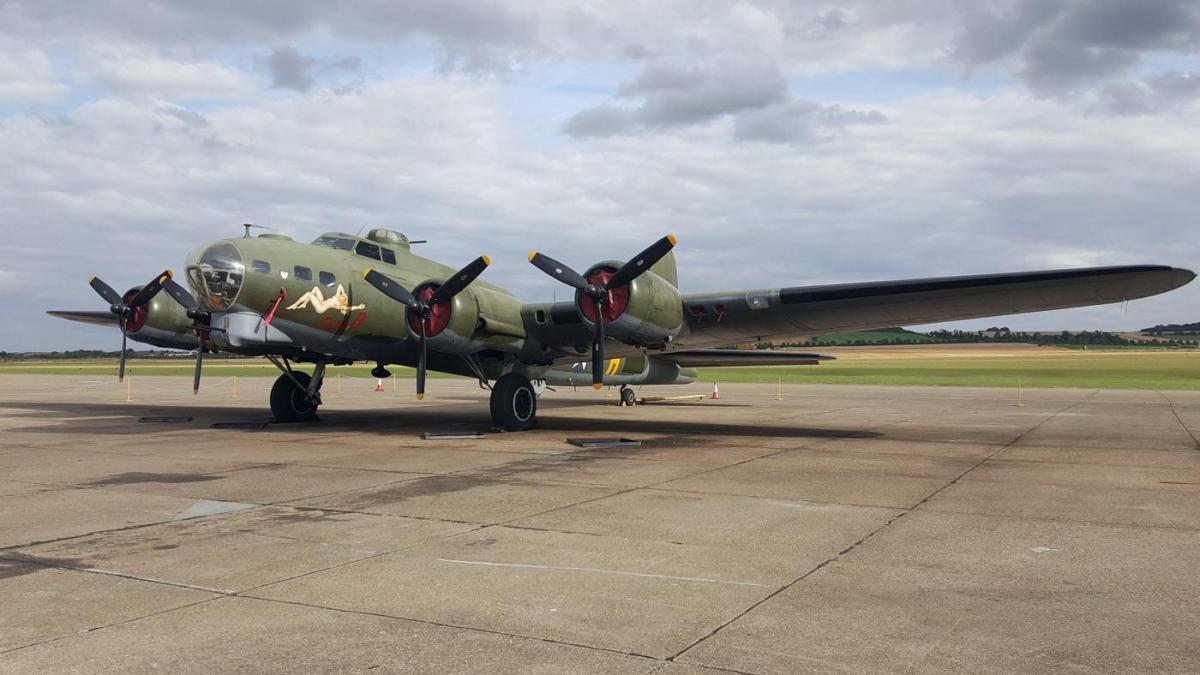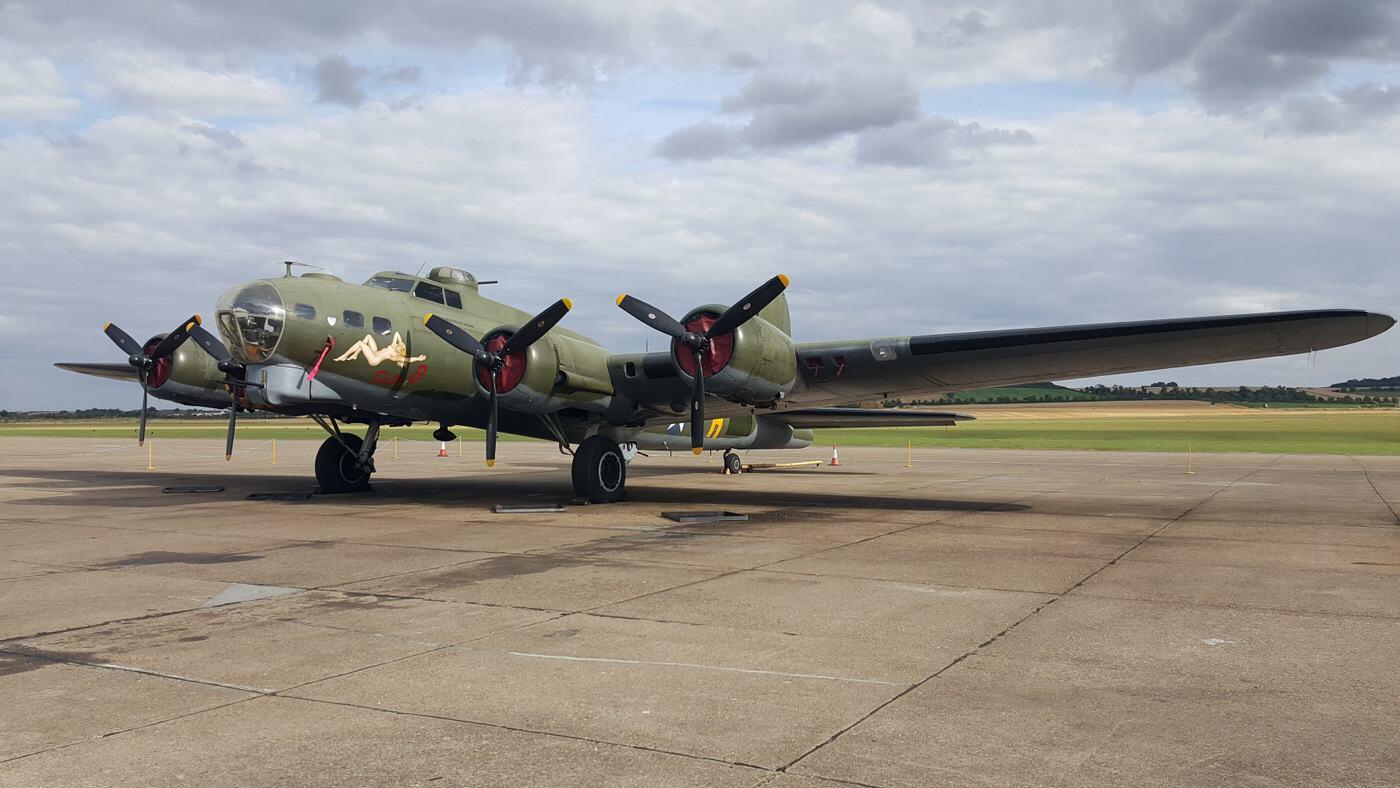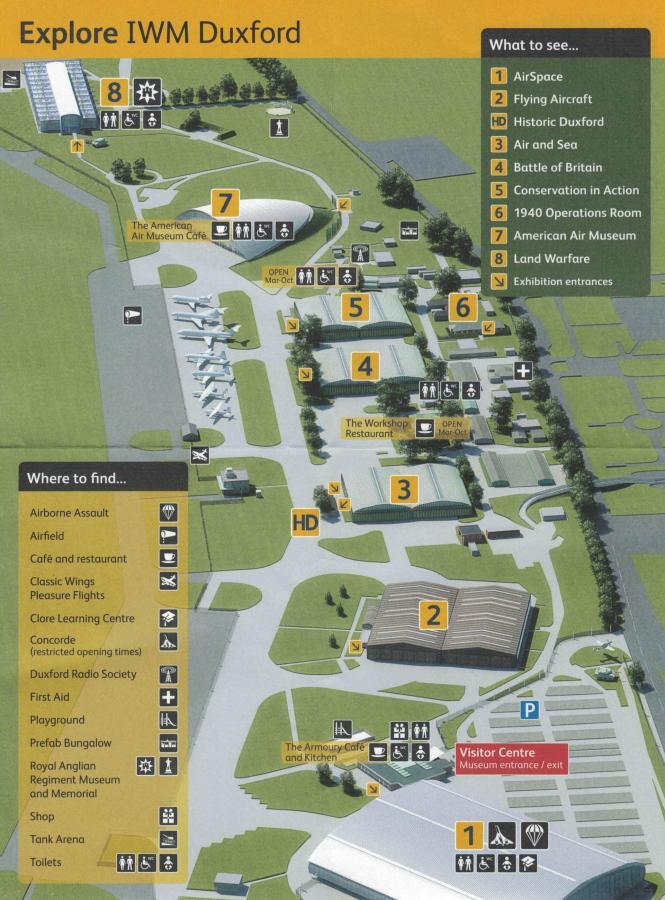 There are a number of static exhibits outside on the 'flightline' – a string of historic civilian airliners, and other flying exhibits from time to time, such as the only airworthy B-17 Flying Fortress which doubles up as "Memphis Belle" or "Sally B" depending which side you view her from! – but the rest of the collection is housed in giant buildings/hangers; the three biggest being the Airspace hanger, the recently re-developed American Air Museum and the Land Warfare building, which I'm going to cover in a separate post because it is a whole tank & military museum in its own right.
The 'natural' way to explore Duxford is to turn left out of the Visitor Centre and visit the huge Airspace building first, before retracing your steps past the visitor centre to visit all the others in order along the airfield to the Land Warfare building at the end.
1) Airspace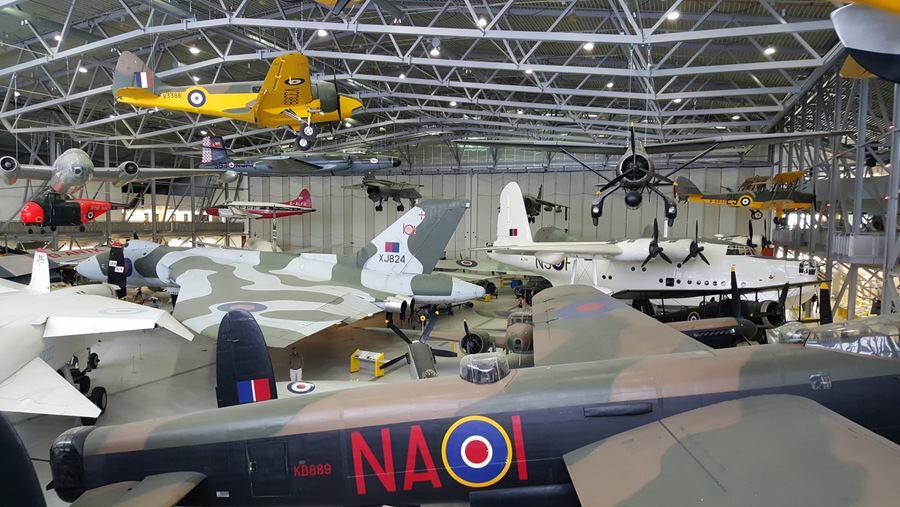 A slightly misleading name. I didn't see much 'space', either between the 30 tightly crammed aircraft, or of the 'outer' variety! However, it houses an amazing collection of some of the most iconic British & Commonwealth aircraft over the years.
Who doesn't love to see bombers like the Lancaster (with a bouncing bomb) & Vulcan up close, Concorde (the one used for testing. If you want to see operational Concordes there are 5 located around the UK. For my money the best is in the Scottish Museum of Flight), the square-jawed brute-force English Electric Lightning, or a super-graceful de Havilland Mosquito?
And then there's the special/rare stuff. A BAC TSR-2 a futuristic high-speed fighter-bomber developed for the RAF in the late 1950s and then cancelled at the last minute (There is another at RAF Cosford); a Westland Lysander, you don't see them often, all decked out for SOE operations into occupied France; and…. be still my beating heart… a Short Sunderland flying boat.
The Airspace building also houses Airborne Assault a small sub-museum dedicated to the Parachute Regiment and Airborne Forces (eg. glider-borne). It covers the history of airborne forces up to recent times, their equipment, tactics and stories, which, of course, include some of the most dramatic moments of WW2, including the Pegasus Bridge attack in Normandy and the legendary operation to capture the bridge at Arnhem in Holland.
2) Flying Aircraft
This is the hanger where Duxford's flying partner organisations, such as The Fighter Collection, The Old Flying Machine Company & the Historic Aircraft Collection, maintain, repair and keep their classic aircraft in tip top airworthy condition.
When I visited, in addition to the expected Spitfires Gloster Gladiator, Vought Corsair and Grumman Wildcat of the Fighter Collection, there were two cool aircraft being prepped for flight: a Bristol Beaufighter and outside on the tarmac a Consolidated PBY-5A Catalina.
3) Air & Sea
The hanger is divided into two sections. At the front, a number of airworthy Spitfires, Hurricanes and a rare Bristol Blenheim, all ready to be wheeled out.
Post from RICOH THETA. #theta360 #theta360uk – Spherical Image – RICOH THETA
(Zooming in on the 360° straightens out the perspective)
Then, at the back, the maritime aircraft from the Fleet Air Arm, and some interesting sea-related artifacts.
I really enjoyed this section, not only did it have three of my favourite aircraft in really good condition (I've seen plenty of them rotting away outside at other museums)…
A Fairey Gannet AS6 – what an amazingly useful aeroplane,  for Anti Submarine Warfare (ASW) as here, but also as an Airborne Early Warning radar platform (AEW), and an Electronic Counter Measures (ECM) platform! We could use some of those now… if the UK's new pretend carriers were capable of flying them!
A Grumman TBM-3 Avenger – Huge great WW2 single-engine carrier-borne torpedo plane, designed and built to do exactly that… avenge Pearl Harbour!
A Blackburn Buccaneer – 1960s carrier strike aircraft, heavily built with broad shoulders and designed to carry a range of weapons including nuclear bombs at low level over the sea in its unique revolving bomb bay.
… but also it had some rare maritime artifacts, two of them instantly recogniseable…
A Focke Achgelis Bachstelze (Water Wagtail) collapsible tethered auto-gyro. A clever idea. It was designed for the parts to fit through a U-boat conning tower hatch, where it could be assembled and towed on a cable like a kite, so its pilot could spot from a height, convoy targets well over the U-boat's line of sight. Normally the horizon for a U-Boat would be around 4-5 miles. From his seat at the end of the 150m cable, the pilot could see as far as 20 miles.
And a Fritz-X guided bomb. You might think smart bombs are a 20th century innovation, but the Germans were using non-autonomous remote control bombs, dropped on ships from aircraft and guided in by radio control in WW2. Thankfully they didn't have too many of them.
… and a third, not so recognisable…
The remains of the bow of HMS X7 midget submarine which was sunk during its famous attack on the Tirpitz in a Norwegian fjord in 1943.
4) Battle of Britain
Another oddly-named hanger because although it starts off as pure 'Battle of Britain' with a Spitfire, Hurricane, V1 Flying bomb on its launcher, and a downed/captured bf-109, around the back of the hanger there's an eclectic mix of planes including a Gloster Javelin, a Mig-21 and a Eurofighter Typhoon.
There's also a rare RAF Cierva C-30A auto-gyro from WW2. They were used to calibrate radar stations, but the star of the hanger for me is the downed Messerschmitt bf-109E in its diorama with a sentry guarding it… just as it was in the famous photo taken just after it was shot down on 30th September 1940 near East Dean in Sussex.
5) Conservation in Action
This might not be the height of excitement for many visitors – this hanger is where wrecked and dismantled aircraft are starting their road to recovery – but there were a couple of things in here, to quicken my pulse!
A Heinkel 162 jet fighter, produced at the end of the war, too late to be effective. This one is nearing completion and looks splendid.
The rusty remains of a Heinkel 111 bomber – the mainstay of the Luftwaffe bomber force in the Battle of Britain. Actually, this one (the shape is unmistakable, even though tucked away behind other aircraft at the back of the hanger) is not quite the real thing. It was a CASA 2.111B version built under license by Casa in Spain for the Spanish Air Force, but almost identical to its German sibling. It would be fantastic to see that as a static exhibit or even flying again. There has been some debate about whether it should be displayed in Luftwaffe colours or its authentic Spanish colours. Personally, even though not strictly correct, I'd prefer to see it in WW2 German livery.
6) American Air Museum

This is the 'biggie'. Designed by Sir Norman Foster and recently re-developed and packed with new exhibits, this is where you get to see some (18) fabulous American warbirds up close & personal!
How can you not be awestruck by a giant B-52 strategic bomber, or the Lockheed SR-71 Blackhawk (one of the most elegant planes ever, leaks fuel like a colander on the ground until she starts climbing to hit mach 3.2 at 70,000ft and all the seals in her titanium hull heat & expand under the air friction and seal her up tight! This particular one set a flight altitude record of 85,069 feet (25,929m) in July 1976); or the butt-ugly A-10 Warthog (the plane that they keep having to reprieve from the scrapheap because nothing does close-support ground attack like a Warthog!); or the B-25 Mitchell bomber made famous in the Doolittle Raid on Tokyo, or the F111 famous for its raid on Col. Gaddafi in Libya? Not to mention the giant (four-engined) B-17 Flying Fortress, B-24 Liberator, and B-29 Superfortress!
For me, the F15 Strike Eagle & P47D Thunderbolt were certainly special but remote, strung up in the ceiling, but the McDonnell-Douglas F4 Phantom, in operation from the 1960s to the 90s, was the star of the show. I could look down on it from the balcony, and walk around it up close. Not the prettiest plane in the world, but probably the best 'all-rounder' – a mach 2.5, all-weather, ship or land based, fighter bomber. (I can't see today's state-of-the-art all-rounder, the F-35 joint strike fighter being as much-loved & trusted by pilots.)
7) Land Warfare
I'll cover this building in a separate post.
Visiting
IWM Duxford is an aviation museum on a grand scale. It's not just the number of exhibits. Like most aircraft museums on former airfields, distances between buildings are long. I saw people on mobility scooters with 'range anxiety' etched on their faces! So there's a lot to see over a big area, and in the hours I was there I missed things (like the recreation of a 1940s Operations Room). Coupled with its regular programme of flying events, you could keep going back to Duxford and not get bored.
What do you think? Have you been? Let me know in the comments below.
Declaration: I always reserve the right to say what I think on this blog, whether hosted or not, but in this case a declaration is not needed. I paid for everything on this visit including entry to the museum (I have been invited by the press office before, but this was a visit at short notice, so I didn't bother).