The Royal Navy Submarine Museum is one of the two satellite sites of the National Museum of the Royal Navy (NMRN) on the other side of Portsmouth harbour.
For that reason, it maybe doesn't get as much attention as the ships and other museum attractions in the Portsmouth Historic Dockyard, but it totally should because it has some very significant artefacts and vessels.
HMS Alliance
The 280-foot Royal Navy A-class submarine, HMS Alliance, is definitely the lead exhibit at the RN Submarine Museum. She dominates the museum itself, and the Gosport shoreline, where her black shape stands out above the yachts in the nearby marina.
She's interesting for a number of reasons. She was laid down in March 1945, barely two months before VE Day, so she never saw action in WWII. But at least she was completed. The Royal Navy had ordered 46 Amphion class subs in 1943, but only a few were commissioned in time for the war. A dozen, including HMS Alliance, were completed and commissioned over the next 24 months. Two that had been launched were never completed, and 27 subs on order were cancelled.
The Amphion class submarines were designed for operations in the Pacific, with an improved dive performance, surface cruising speed, and increased crew space for long range operations. So HMS Alliance had that classic high cutter bow (good for pounding to waves on the surface) that many WW2 era Royal Navy submarines had…. and a deck gun.
Wait! She doesn't look anything like that now!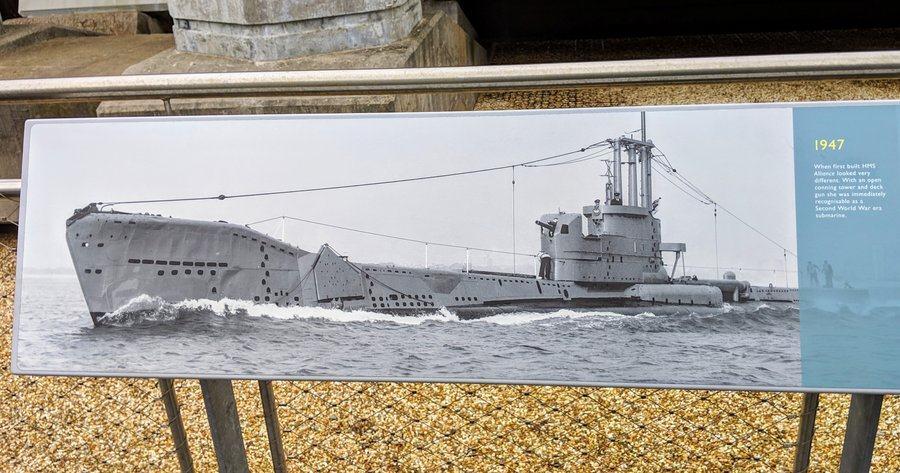 That's because in the late 1950s the A-class subs underwent a 'cinderella' transformation, turning them into quiet, streamlined, and efficient Cold War subs designed to stalk Russian ships & subs. The high bow went, the deck gun went, and so too did that raggedy conning tower. In their place, a tall sleek conning tower with no drag-inducing periscopes, and a high power sonar bulge at the bow.
In her new configuration HMS Alliance became one of the unsung heroes of the Cold War, quietly going about her business, much of which, I suspect, we'll not hear about for a few years yet. In 1973 she became a static training submarine at HMS Dolphin, and six years later she was turned into the Navy's museum ship here at Gosport.
So what is she like to visit?
Well, you could argue that if have walked through one diesel-electric submarine you've walked through them all, but I was surprised how different HMS Alliance is.
For a start, her original design criteria for long-range patrols shows through; she does feel quite spacious for a sub. Though with 69 men on board, that's a relative description!
Secondly, she feels alive.
Over the years, she had begun to suffer from the elements and by 2011, with parts of her exterior rusting away she was badly in need of some TLC. A £7m repair and restoration project, supported by the Heritage Lottery Fund (£3.4m) and completed in 2014, patched her up externally, added improved access and lighting, and included a new soundscape designed by Sarah Angliss¹ to recreate the sounds of a working A-class submarine. This is her video walkthrough, highlighting those effects…
The walkthrough includes a wardroom with a wreath and newspaper on the table and a call over the tannoy for the "Memorial party to the casing in ten minutes".  A reminder that one of her sister A-class subs, HMS Affray, was mysteriously lost with all hands in the English Channel in 1951. She was eventually discovered six weeks later at the northern end of Hurd's Deep – a haunting tale I remember reading years ago in Edwyn Gray's Few Survived

.
HMS Alliance may be largest, but she is not the only submarine of significance at the museum. In her own dedicated display building is the Royal Navy's first submarine, HMS Holland I, and in the main museum they have one of the famous X-class midget subs from WWII, HMS X24.
HMS Holland
The 64ft (20m) HMS Holland has her own dedicated exhibition building. She was the Royal Navy's first submarine, ordered in 1901 from an engineer, John Philip Holland, who had already designed a submarine for the United States Navy.
Her career was quite brief, she served with four sister ships (Hollands 2 – 5) in the Navy's first submarine flotilla, which was mostly experimental. In 1904 they were tasked with their only combat mission, against Russian ships in the 'Dogger Bank Incident', but they were recalled before they were able to attack. In 1913 she was decommissioned accidently sank while under tow to a scrapyard. She was found and raised in 1982, and brought to the RN Submarine Museum.
She is interesting to see, but there isn't much to see. She's a bit of an empty hulk. You have to work hard to imagine her operational and fully crewed (8 men).
Main Submarine Museum Building
There's a more interesting submarine, slightly shorter and a lot thinner than the Holland 1, on the lower ground floor of the main museum.
HMS X24
HMS X24 is one of the famous X-class midget submarines that played an extraordinarily significant role in WW2.
The 51ft (16m) X-Craft were designed to be towed to their targets by parent subs. When they were withing striking distance the four-man crew would transfer onto their X-craft. The X-Craft carried two huge (4,400 lb) amatol explosive charges strapped to the sides, which they would lay underneath their unsuspecting target, timed to go off once the X-craft were clear.
The X-craft that everyone remembers are X6 and X7 (two of an attacking force of six X-craft²), which managed to lay their charges under the German battleship Tirpitz in Sep 1943.
But the boats of the X20-class also made remarkable contributions to the war effort. X24 attacked the Laksevåg floating dock in Bergen… twice. The first time her charges sank a merchant moored alongside the dock, but only damaged the dock itself. She went back five months later, and this time succeeded in sinking the dock.
Meanwhile, in the preparations for Operation Overlord, X20 had been sneaking around the beaches of Normandy for four nights in Jan 1944, taking photographs, soundings, and putting divers ashore to check defences and take sand samples from the beach – a classic Special Boat Service operation! (Or COPPS – Combined Operations Pilotage Parties – as the SBS were known then. See SBS-The Inside Story).
Then on the morning of 6 June itself X20 & X23 popped to the surface and acted as navigational beacons for the assaults ships approaching Sword and Juno beaches.
The X-24 on display, has her hull separated just forward of her engine compartment so that you can see inside and admire the men who went to war in these cramped machines.
X-24 shares the ground floor entrance area with the Museum's ticket desk, shop, cafe… and a Polaris Missile! Wherever you see them (RAF Duxford, RAF Cosford, Imperial War Museum in London) there's something impressively sinister about them! On the mezzanine above, there's a really rather good 'hands-on' section with lots of gadgets and displays explaining the science and workings of submarines. Good for families.
From here there's the entrance into the main museum galleries, which run pretty much chronologically, starting with a model of the world's first submarine, The Turtle, and ending back on the ground floor with contemporary nuclear subs.
Highlights for me…
Polaris warhead. I really struggled to make sense of this when I first saw it, but thankfully I took a picture of the sequence diagram so I've had a chance to study it, I now see how it works.


Polaris Chevaline nose cone



This is the head of a Polaris Chevaline missile. The outer nose cone is really there to protect it as it rushes through the water on launch. It is discarded when it gets up to a high altitude. Then the whole thing starts separating.

That black space capsule on the right is one of the A3 200-kiloton warheads. It sits in the slot on the top of the package (where the yellowish rust/grease streak is). It and its siblings are designed to re-enter the earth's atmosphere. Meanwhile, as they start re-entering, all those tubes are various kinds of decoys and they start popping out along the same track as the warheads. Some of them deploy chaff, others are designed to look like warheads to anti-ballistic missile radar, and others just create multiple moving targets. All terrifyingly clever stuff… and this is old technology.

HMS E-11 Ensign. HMS E11 was a hugely successful 1st World War submarine operating in the Dardanelles during the Gallipoli campaign. Her 3 officers & 29 crew sank over 80 vessels of all sizes in three tours of the Sea of Marmara. She was the first enemy vessel to attack Constantinople (Istanbul) in 100 years, and she did it more than once. She was also unconventionally daring. At one time she captured a small fishing vessel and tied alongside her conning tower to disguise herself and draw in more prey. It didn't work. Another time, one of her officers swam ashore and blew up a railway line. It seems rather sad then that she didn't end up as a museum ship. Instead she was sold for scrap and all that's left of her is her tattered and exhaust-stained white ensign.
Jolly Rogers RN submarines began displaying their war record on home-made Jolly Roger flags on their return from operations. The museum has a set of four, from HMS Trenchant (top left), HMS Ursula (top right), HMS Seraph (bottom left), and HMS Statesman (bottom right). The symbols denote a particular achievement. So a 'U' with a red line through means they sank a U-boat. I think the diver's helmet on HMS Statesman's flag is a little worrying. It means they dived below their safe depth!
Zig-Zag Clock. I've heard about them, never seen one. It might not be the most exciting chronometer/alarm clock, but these things ensured all the ships in a convoy zigged (or zagged) at the same moment. Important! I wonder if we'll see one in Tom Hank's Greyhound movie next year?
---
¹Sarah Angliss described her work on HMS Alliance  in an audio interview (now deleted 02/08/2023).
² Other than 2 prototype X-Craft and 6 training XT-Craft, there were only two batches of operational X-Craft: The six X5-class boats that attacked Tirpitz, and the six X20-class boats.
Declaration: No need. I was visiting Portsmouth/Gosport on my own. All entrance fees, accommodation, petrol, etc paid by me.