The operational history of HMS Warrior 1860¹, the world's first iron-hulled, armoured warship was both dull and brief, and that's what makes her so interesting, because when launched she was, without question, the most powerful warship afloat.
So how come she never distinguished herself in action?
Well, she was technically advanced but only as a halfway point in the transition from wooden, sail-powered ships-of-the-line to steam-powered armoured dreadnoughts. HMS Warrior was designed and built in response to a shocking development in France – the sudden appearance of La Gloire, the first iron-clad warship.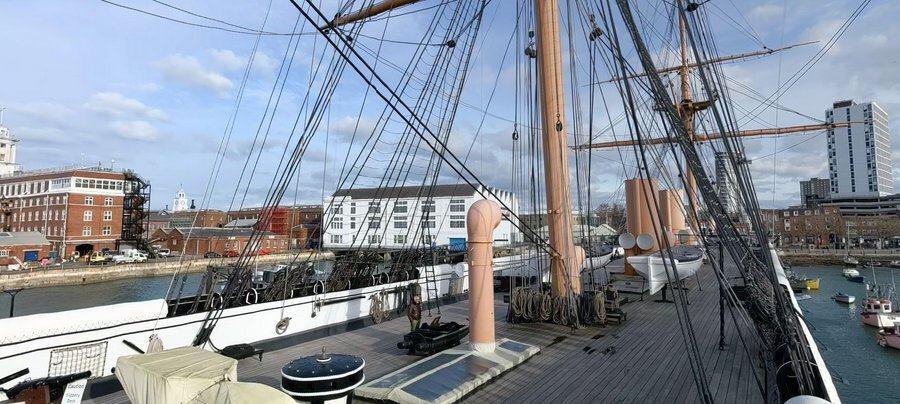 This was a period of rapid advances in military technology². In particular, the development of rifled cannon enabled shells to be fired and arrive on target, pointy end first, which meant a detonator could be fitted to fire an explosive charge. No wooden hulled ships could cope with that! So the French naval architect Stanislas Charles Henri Dupuy de Lome designed La Gloire with iron armour plating and 36 × 164 mm (6.5 in) rifled muzzle-loading guns.
The Royal Navy was not about to hand over maritime supremacy to the 'old enemy' so as soon as he learned of La Gloire, the First Lord of the Admiralty, Sir John Somerset Pakington, ordered a bigger, better & faster ship.
Isaac Watts, Chief Constructor to the Navy, set about designing a revolutionary ship. And I suspect it was one of those "don't worry about the budget" moments!
Firstly her hull would be made of iron, not wood. Then he came up with the concept of an armoured box or 'citadel' at the centre of the ship which would house and protect the engine room & boilers, the main guns and the armoury. This was constructed from 4½ inch thick wrought iron plates bolted to 18″ inches of teak (spall lining), all mounted behind the ribs & 1″ iron plates of the hull. Inside the citadel there's a good 2 ft of layered armour, which means vents can't be reached and have to be operated with a rod.
The innovation didn't stop there. HMS Warrior was fitted with a double hull under the citadel and the first watertight compartments on a warship, so that if the unprotected stern and bow sections were holed, she could still float.
And there's more…
Under steam only she could move at 14.5 knots. Under sail she could reach 13 knots (It helped if her two funnels were lowered to reduce drag, and propellor raised – see below). But her max speed was reached steam-sailing – an astonishing 17.5 knots (La Gloire's top speed was 11.75 knots).
Steam-sailing must have seemed an attractive, if expensive, option, because her extraordinary retractable propellor – designed to reduce drag in the water when sailing – was not exactly a 'push button' option! It took almost the entire crew to rig the derrick and hoist the 26 ton propellor cage up into the hull. One of the guides on board told me, they only did it once!
There were two areas in which HMS Warrior and her sister-ship, HMS Black Prince were not 'cutting edge'. They were amongst the last ships in the Royal Navy to carry a carved figurehead, and the last to use manual labour to hoist anchor. Over 100 sailors were needed to turn the capstan and raise the massive iron chain and 5.6 ton anchor (HMS Warrior had 4 anchors), and it could take up to 5 hours to lift it (although I'm not sure I believe that).
HMS Warrior was designed as a 40-gun frigate. Almost a century earlier, her smaller neighbour at Portsmouth Historic Dockyard, HMS Victory, had been built to carry 104 guns on three decks. The difference is in gun development. Victory's guns were a combination of 32-pounders (lower deck), 24-pounders (middle deck) and 12-pounders (upper & quarter decks). HMS Warrior was designed for 40 massive 68-pounders on one deck.
As I mentioned earlier, gun technology was rapidly advancing in the mid nineteenth century – the reason for HMS Warrior – and before she was launched the number of 68-pound muzzle loading guns was reduced to 26 to allow 10 huge state-of-the-art breech-loading 110-pounders (plus 4 x 40-pounder breech loading).
As it turned out, the breech mechanism was not as reliable as hoped, but HMS Warrior and her guns certainly did their job 'projecting power'…
HMS Warrior's career
When commissioned in August 1861, Warrior was the largest warship in the world and seriously intimidating. The French naval attaché in London reported "Should this ship meet our fleet it will be as a black snake among rabbits!"³ Nobody messed with the Royal Navy while she and her sister ship, HMS Black Prince (commissioned a year later), were in the fleet, and so she led a tranquil life in the Channel Squadron visiting home ports, Gibraltar & Lisbon, making public appearances to 'fly the flag'.
In 1869 she stretched her legs, towing a floating dry dock across the Atlantic to Bermuda. On her return she went for a refit (1871-1875) and was then…placed in reserve status. She had become a victim of the arms race she had triggered 14 years earlier. She was already obsolete.
On the reserve list, she was used as a training vessel in the Baltic & Mediterranean for eight years, and was then laid up. From 1904 to 1923 she was a floating hulk at the Royal Navy's torpedo training school in Portsmouth, and then finally ended up as a floating oil jetty at Pembroke, Wales.
In 1979, HMS Warrior was saved from the scrap yard by the Maritime Trust, who began an astonishingly complicated 8-year programme restoring her to her original state. She went on public display at Portsmouth Historic Dockyard in June 1987.
Highlights of a visit to HMS Warrior
You have to admire her size and style, and you have to admire her space.
At 420 ft long (128m) she is almost twice the size of her 95-yr older neighbour HMS Victory while her crew of 706 is a fifth smaller. So by comparison to the old wooden warships she feels very spacious inside.
This space allows for some very elegant cabins, and wardrooms for her officers, which must also have been designed to impress local dignatories and foreign officers when she was being shown off on port visits.
It also allows for better living conditions for the ordinary seamen, who didn't have to spend half their lives crouching in small spaces. On the other hand, working in the engine room and boiler room would have been extremely noisy, dangerous and hot. The boiler men were working in temperatures around 43°C (110°F) shifting tons of dirty black coal into the furnaces for the boilers. No wonder HMS Warrior was the first warship to be equipped with (hand powered) washing machines!
There's a lot to see on HMS Warrior and I'm not sure it can be taken in on just one visit. I suspect her position near the entrance of the Portsmouth Historic Dockyard means that even slow and determinedly methodical visitors like me, tend to skip past things, knowing that there's the rest of the dockyard to see. I think she requires two visits, and I'm not sure I'd say that of Mary Rose, Victory, or M.33.
I will be returning for a second visit soon because there are several things I didn't really get to study properly, and some unanswered questions to investigate. EG. the crew allocation: if the 68-pounders had a crew of 18 each, and the 110 & 40-pounders similar, that's 720 men! More than the entire crew including the officers! So how many guns did they actually man at any one time… while the rest of the crew were in the rigging, in the engine room, or busy officer-ing??
Answers please below, if you know.
---
¹ There have been five HMS Warriors (six, if you count a shore base).
² And civil. Brunel had launched his iron-hulled, propellor-driven SS Great Britain just 17 years earlier.
³ Charles Dickens visited her before she was commissioned and was similarly impressed. He wrote: "A black vicious ugly customer as ever I saw, whale-like in size, and with as terrible a row of incisor teeth as ever closed on a French frigate."
Declaration: No need. I was visiting Portsmouth on my own. All entrance fees, accommodation, petrol, etc paid by me.