The thing with 'icons' is that you know what to expect when you finally see them. Sometimes the scale is unexpected – eg. "Oh, the Mt Rushmore heads are smaller than I thought!" (they were) – but the detail is exactly as anticipated. I have seen HMS Victory from a distance a few times, passing by on cross channel ferries, but never visited her, until last month. So, to be honest, I had pretty clear expectations and, although excited in anticipation, she met those expectations exactly.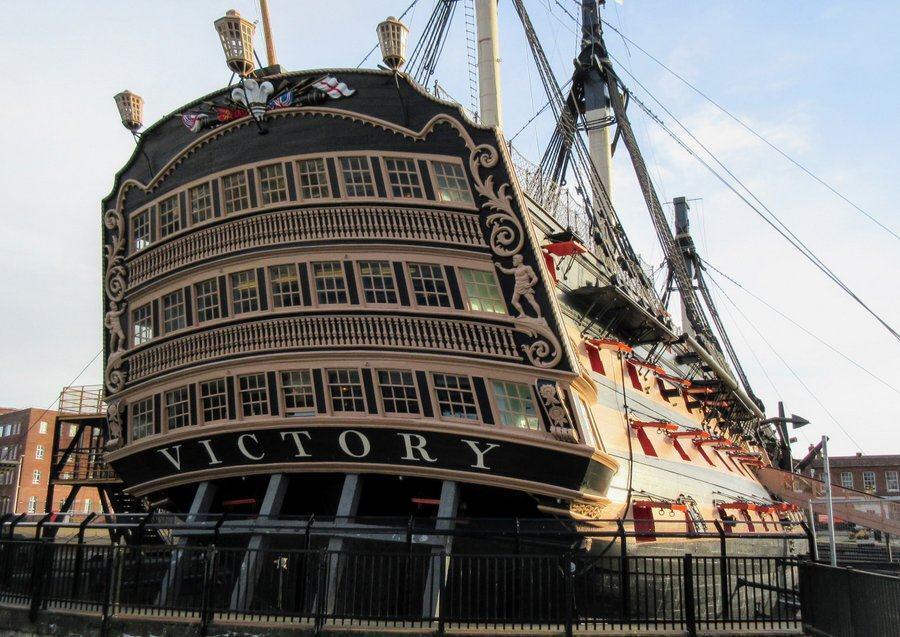 When you see her up close, she is big. Certainly not by modern ship standards, but to 18th century eyes she must have been hugely impressive; a 104-gun, first rate ship of the line. And she is a thing of beauty, with graceful lines and a fat-bottomed bulging hull that emphasises her strength, three full-length rows of gun ports highlighted in the 'Nelson Chequer' paintwork emphasising her power, and the intricate decorative woodwork of her aft cabins emphasising her pedigree. She must have had an enormous diplomatic presence when seen abroad 'flying the flag'.
How sad then that, since her upper masts and rigging were removed in 2011, she looks strangely stunted.
The problem is well-known. She entered her dry-dock in 1922 and since then, as her timbers get older and without the uniform cradling of water, she has begun to sag, in recent years at a rate of half a centimetre every year. As her upper deck sinks towards her keel, that bulging hull gets emphasised more than intended. So now the dock is being fitted with 139 'smart' props that support her more uniformly, monitor any movement and adjust to balance the load – as explained in this video…
The plan is that when her hull is stabilised the three masts, each of which adds 25 tons, will be restored and she'll be her full, glorious self again. I doubt I'm the only one who can't wait for that day!
Even locked into her dry-dock, HMS Victory has continued to play an important role in our naval tradition. From 1824 to 1830 she was the Port Admiral's flagship for Portsmouth Harbour. From 1889 – 2012 she was the flagship of Commander in Chief, Portsmouth (later 2nd Sea Lord). Since 2012, when her ownership was passed to the National Museum of the Royal Navy (NMRN) she has been the flagship of the First Sea Lord, which seems right and proper since she is the world's oldest naval ship still in commission (241 yrs).
That's the bit that puzzles me. I used to think that, like the American's USS Constitution¹, a commissioned vessel had to be 'listed in the fleet', floating and manned by navy officers & crew, but apparently not. Royal Navy shore stations can be 'commissioned', so no need to float, and HMS Victory has a commanding naval officer. That leaves ownership. Since she was transferred from the fleet to the NMRN, does that still count?
On Board HMS Victory
The good thing is you can get to most parts of HMS Victory and over the years they have perfected the visitor experience. There's a 'trail' that starts on the upper gundeck and naturally leads you up onto the Quarterdeck & Poop deck (highest), before you head back down through the three gundecks to the bottom of the ship where the exit is. There is an audio tour you can hire to enhance your tour (reportedly not available at the time of writing, but when I was there there were people walking about with headsets), but one of the universal features of all the NMRN ships and sites is an abundance of well-informed and engaging guides. If you have a question, there's usually a guide within 10 metres of you, who will be delighted to explain.
There are some things you have to see, like the Day Cabins – Capt Hardy's on the Quarterdeck and underneath him, Nelson's Great Cabin – and the plaque that marks the spot where Nelson fell on the Quarterdeck. I wondered how they could be so sure from written accounts that this was indeed the exact spot, but it turns out the plaque was added during a refit in 1816 so there would have been plenty of living witnesses to confirm it!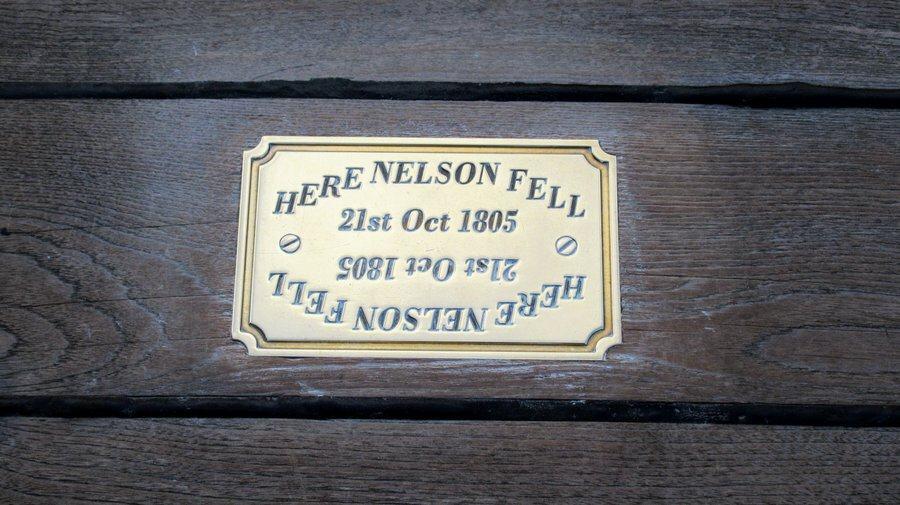 The gun decks are impressive. It was all about the guns; having as many as you could cram in. When you think about it, a warship like this might sail around for years before actually engaging an enemy, and when they did, they might spend hours working their way to a firing position alongside. When that moment finally comes… and goes, in only a few seconds, wouldn't you want to have as many guns as could can possibly squeeze in to maximise your broadside? You might have worked your gun crews up to fire a broadside every 90 seconds, but then you might only have one chance to fire it! When HMS Victory fired her first 104-gun broadside at the battle of Trafalgar she let fly 1¼ tons of cannonballs!
Rather disappointingly I discovered after my visit that nearly all the huge guns on board are reproductions in wood or fibreglass. (Bloody good! They totally fooled me!). In among them are only eight originals. I'm going to look out for them on my next visit (next month). If you notice somebody methodically tapping all the cannons, that'll be me!
Highlights for me…?
Well, actually it was some of the more mundane parts of the ship. I suppose it comes back to my point about visiting an icon. The gun decks are the most impressive but well-known parts of the ship. I was expecting them, and there they were. It was the un-expected stuff that held my attention: the anchor rope lockers (that's a heavy rope to coil when wet!), the bosun's locker (way bigger than mine!), the ship's carpenter workshop (I was surprised how large it is, until it occured to me they would need to work on large pieces of wood down here), the stores down in the keel (a lot of heavy work packing and retrieving from all the way down here!).
It's the scale of the human effort that comes across down here on the lower decks. 
Imagine a ship of this size and weight swinging at anchor in a winter gale. The strain on that huge rope wrapped around the bits (from ancient times, boats had a strong point at the bows to tie an anchor or mooring rope to, usually a forked tree stump. The "bits". Hence our phrase "the bitter end"; hanging on to the end of the anchor rope.)
There's nothing dainty about the size of the fittings, rope and rigging stored in the bosun's locker. Imagine one of those wooden blocks swinging about in bad weather. It could take a man's head off. (I crewed a huge racing catamaran years ago in the Round Europe Race. It had running rigging. When we went about, the windward quarter-stay took up the strain of the 105 ft mast and for a brief moment, until it was tied up, the leeward stay flapped about with a big steel block the size of Victory's swinging around just above head height!  Victory's crew were dealing with big gear like this, under enormous strain, all the time. Very dangerous!
Everything on Victory is on a large scale. The galley stove is the size of a large SUV! 
Nelson & HMS Victory 'ashore'
Not all the Victory and Nelson artefacts are to be found on board. Directly opposite her is the Sir Donald Gosling Victory Gallery built in 1938 to house an exhibition about Admiral Lord Nelson and HMS Victory. Next door in the NMRN building is another gallery, Nelson: The Hero and the Man, dedicated to Nelson's personal life, and upstairs in a loft is the 'Trafalgar Sail'.
Sir Donald Gosling Victory Gallery
This building is mostly, but not exclusively, about Nelson & HMS Victory. There are some interesting items in here, like the collection of figureheads and Nelson's funeral barge on the upper level, and there's a glorious model of HMS Vanguard in the prime spot on the ground floor.
For me though, the highlights were the display of different types of canon shot, and some of Captain Hardy's personal items, his 2-barrel pocket pistol and his sextant in particular. I think personal possessions like these are immensely important in somehow drawing a connection between us and their owner, which is where…
Nelson: The Hero and the Man (inside the NMRN building)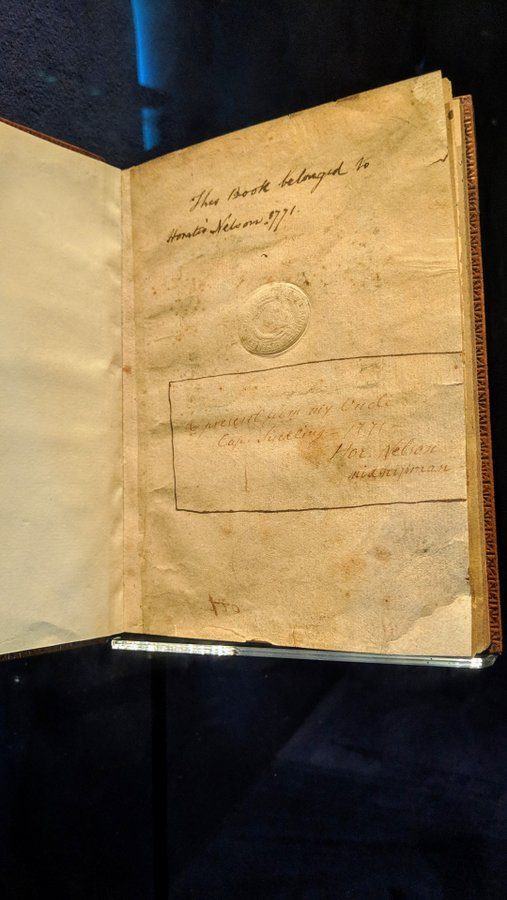 …comes into its own. This gallery is full of Admiral Lord Nelson's possessions from his clothes, furniture, chinaware and silverware to smaller personal items like his sextant, watch and… toothpick! And right up there when it comes to forming that 'connection between us and its owner' – 'The Longitude Found' a navigation manual, given to him by his uncle, Capt Maurice Suckling,  when he was a  young boy going to sea for the first time aged 12. Nelson wrote his name on the inside page, and a note about its provenance.
I'd never really thought about it before but Nelson wasn't always one-armed. He lost his right arm in 1797 at Tenerife. Some of his letters are exhibited and with them, graphically contrasting examples of his (right-handed) writing a couple of days before losing it, and his left-handed scrawl a couple of days after. Dramatic stuff!
The Trafalgar Sail
NB. Get to see this now, before it is removed² from display in April.
The Trafalgar Sail was HMS Victory's Fore Topsail at the Battle of Trafalgar and was at the heart of the action, as the 90 cannon and bullet/shrapnel holes testify.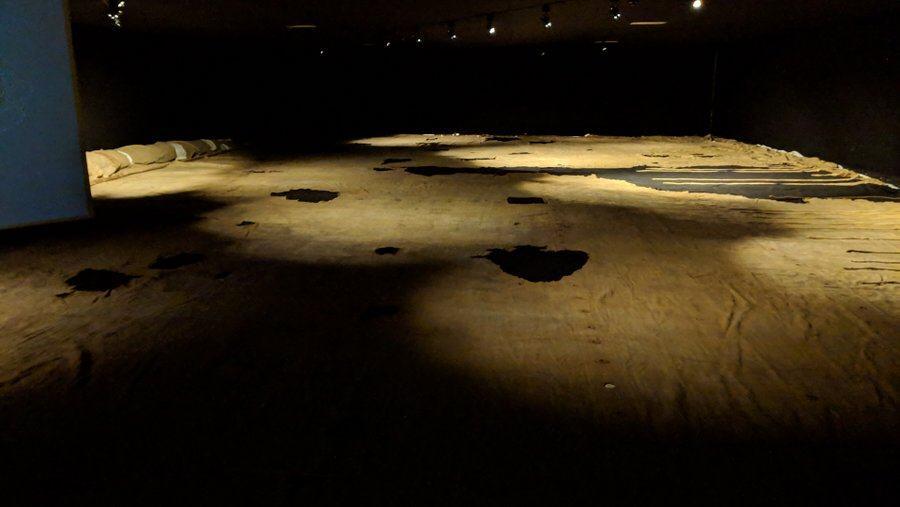 It was sent, after the battle, to the sail loft in Chatham Naval Dockyard and then disappeared for 85 years. It went on display briefly in 1905 and then disappeared again. It was found in 1960 under some gym mats in a naval store at Victory barracks, and was put on display on board HMS Victory until 1992 when it was realised that it was deteriorating rapidly and needed conservation.
The Fore Topsail is a big sail, and it is not, as the name might suggest, at the top of the foremast. The biggest sail at the bottom of the foremast on a square rigged ship is the Fore Sail. The Fore Topsail is the one above it ie. the second sail up the mast. Above that would typically be two more sails – the fore Topgallant and the Fore Royal. This sail was made for HMS Victory at Chatham in 1803. With a 54ft (16.4m) head, 54ft (16.4m) drop and 80ft (24.3m) foot, it was about the size of two tennis courts and was the second largest sail on HMS Victory.
It is currently to be found laid out in dim lighting with an accompanying AV presentation (mostly using Master & Commander film footage) in Storehouse 10 in the top of the NMRN building above the Hear my Story exhibition.
---
¹ The 44-gun frigate USS Constitution moored in Boston is the world's oldest commissioned warship afloat.
² Due to its frail condition, the Trafalgar Sail was put on "limited display" last year. It's due to end in April 2019, but final decisions about exactly when, and if it may come back on display in the future, have yet to be made.
Declaration: No need. I was visiting Portsmouth on my own. All entrance fees, accommodation, petrol, etc paid by me.