A Boeing 747 Jumbo will be the centrepiece of an underwater theme park planned for Bahrain.
HH Shaikh Abdullah bin Hamad Al Khalifa has announced the launch of the world's largest underwater theme park, covering an area of over 100,000 square meters, which will include a 70-metre long decommissioned Boeing 747 as its centerpiece, the largest aircraft ever to be submerged.
Other attractions for divers to experience, will include a replica of a traditional Bahraini pearl merchant's house, artificial coral reefs and sculptures fabricated from eco-friendly material, all submerged to provide a safe haven for coral reef growth and a habitat for marine life.
Much emphasis is being placed on the Kingdom's commitment to preserving its marine habitat by incorporating the highest international environmental standards in this eco-friendly underwater project. Bahrain hopes the site will become an international tourist attraction for divers, and at the same time, provide researchers with rich information and data on marine ecology and biology.
Artificial reefs are becoming a regular encounter for scuba enthusiasts these days, as more and more resorts are building underwater sculptures and sinking ships to entice them. Usually ships and other objects are well prepared in advance to minimise hazardous obstructions (cable, pipes, debris) for divers. It will be interesting to see how 'stripped out' the B747 is. It is likely to be an empty fuselage without seats, overhead bins and doors.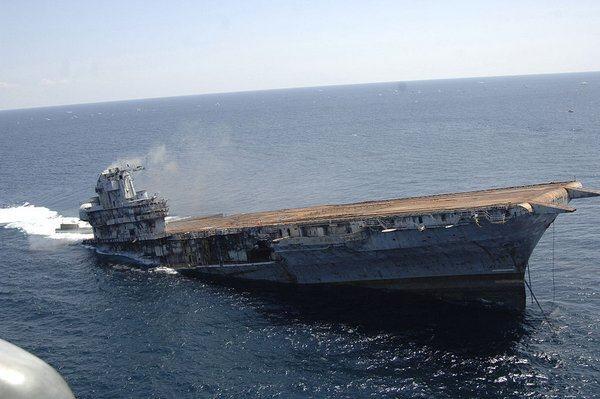 The B747 Jumbo may be the largest aircraft ever to be submerged, but not the largest artificial wreck. That honour must go to the USS Oriskany – the aircraft carrier sunk to be a dive attraction 22 miles from Pensacola, Florida.
Artificial wrecks/reefs are fun to dive on, but they don't have the presence of real wrecks. If you want to dive on the real thing – an aircraft carrier sunk in action – there's HMS Hermes, sunk off Sri Lanka in 1942. (USS Saratoga sunk in the atomic bomb tests at Bikini Atoll in 1946 doesn't quite meet the 'in action' definition!) My first wreck dive was HMS Maori, a destroyer sunk in an air raid in the harbour at Valletta, Malta in 1942… and it was a night dive, which gave it added zest!
The timing is tight for Bahrain. HH Shaikh Abdullah says the underwater dive site will open to diving enthusiasts and visitors before the summer of 2019.
---
UPDATE: 19 June 2019 – The Bahrain Tourism and Exhibitions Authority (BTEA) says they have successfully submerged the B747 and the underwater theme park is set to open in August. 2019.
More underwater attractions/items are due to be fabricated and submerged alongside the plane, including a 900-square metre traditional Bahraini pearl merchant's house.
Before it was sunk, the Boeing 747 was prepared in accordance with international environmental and safety standards. This included dismantling and reassembling the aircraft's wings, removing wires, hydraulic, aerial and fuel systems, adhesive, plastic, rubber, chemical materials, and all possibly-toxic substances to preserve the marine environment.