Last May, London Gatwick Airport opened its new 'Pier 1' at the South Terminal, replacing the old Pier 1 originally opened by the Queen in 1958.
The new pier, costing £186 million, has 5 efficient dual-boarding gates with state-of-the-art passenger gate rooms and a premium lounge with panoramic views across the airfield, but hidden away underneath and behind the walls is a brand new £45 million automated baggage handling system that is designed to make the airport ultra-efficient and end the trauma of lost bags… and I got a 'backstage pass' to see it last month.
The new baggage handling system processes the bags for the whole terminal and can handle up to 4,250 bags an hour. Paul Morgan, Head of Commissioning & Handover (he was Project Manager for the baggage system install), says that at peak hours, eg. early morning in August, South Terminal handles around 2,200 – 2,300 bags an hour. So at its busiest, the system is running at just over 50% capacity.
Once past security into 'airside' and through an antonymous door we are in the noisy multi-level baggage handling area. There are three components to the system:
Hold Baggage Screening (HBS) where bags go through an automated x-ray process, which we are not allowed to see (I think for health & safety reasons more than security).
A new "Bag Hotel" or Early Bag Store (EBS).
Sorting.
Sorting
Everywhere in the confused & congested space there are conveyor belts of moving baggage & pallets ("trays"), climbing, descending and turning corners. Plain conveyor belts take the bags from the check-in halls and load them individually onto trays. The conveyor belts with trays are the "sorters" and, although they dominate the area, it turns out there are just two of them. Each has over 300 pallets ("trays") and they take bags, through HBS and to the Bag Hotel or the 108 "make up points" on the ground floor where baggage handlers manually load them into the flight containers to be driven out & loaded into aircraft.
How do the sorters know where to deliver them?
The bags are tracked by the bar code tags that the check-in agent puts on the handle, so it is a visual scan, just like a supermarket laser checkout scanner, not electronic eg. Near Field Communication (NFC).
The scanners are really efficient says John Sanderson, Gatwick's Senior Consultant & Assurance Engineer, "you can pretty much scrunch it up into a ball and throw it through the scanner and it'll still read it, but the problem comes with multiple labels, left on from previous trips. We've had some bags with over 30 labels on them!"
The system knows the content of each tray and will tip it up & drop the bag at the required destination. A typical short haul flight might have two Make-up Points where the handlers load the bags into the flight containers. The tracking system is precise enough that if there's a "no-show" – a checked-in passenger fails to turn up at the gate in time – and his or her bag has to be found & off-loaded from the aircraft, the handlers will know which container the bag is in, and roughly where in the container it is; top/bottom/middle!
The whole system is designed to be as flexible as possible and to change an adapt as passenger flying habits change. For example, Gatwick is still a point-to-point airport with few connecting flights (mostly BA & Norwegian) but connections are increasing and now they have introduced 'Gatwick Connect' where passengers who have booked combination flights online no longer have to collect their bags, go landside, and then check-in again. It can be done airside, and the baggage handling system is designed to cope with that.
Early Bag Store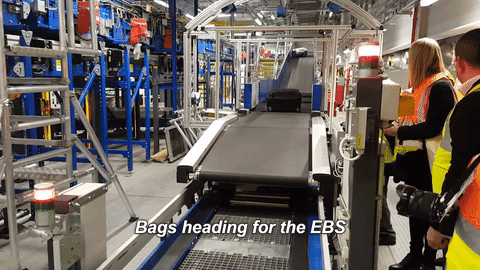 One facility that gives them added flexibility is the new Early Bag Store which can hold 2,600 bags. It allows passengers to check-in their bags up to 18 hours before departure – something the airport likes because it reduces queues by spreading out check-in times. New services & facilities such as Airportr's baggage transfer service and the in-terminal Bloc Hotel are convenient for passengers, and the EBS is Gatwick's response.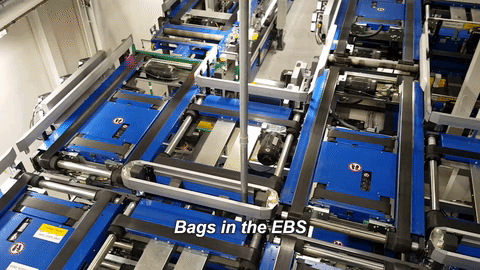 Watching bags entering and leaving the EBS is mesmerising. No humans here!
Glitch-Free Automation
Gatwick's Pier 1 Baggage Handling System has handled over 3 million bags since it opened in May 2016 with hardly an error.
Does it go wrong? Are there bags it doesn't like or can't handle?
"Yes there are" says John Sanderson, "firstly the oversized bags that shouldn't get into the system in the first place, but maybe an over-eager check-in agent has allowed them through. There are over-length and over-height detectors that should pick them out."
"Then bags on wheels, sometimes they slide a bit on the container which means we sometimes lose tracking… and bags with long dangly straps like rucksacks."
"But the system on the whole does remarkably well – we have pictures of items like guitars going through happily, and rucksacks with things attached a la Enid Blyton style like boots & mugs!"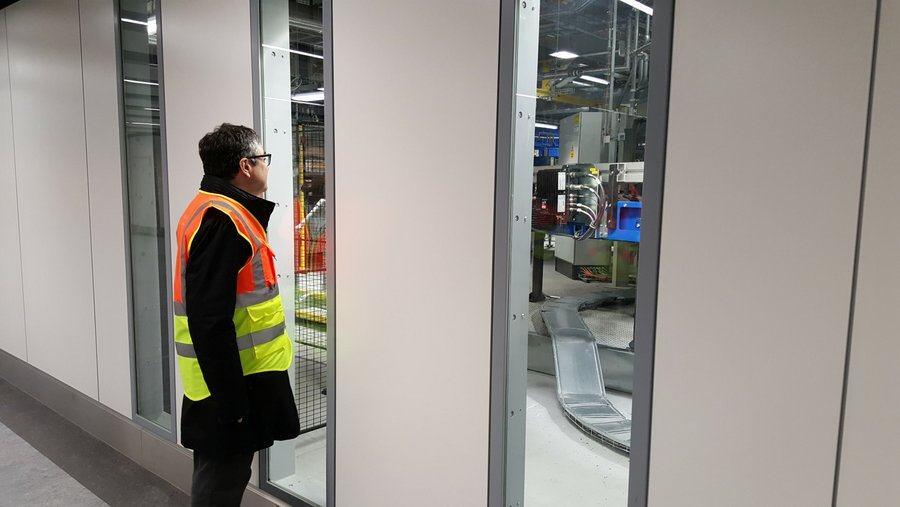 I was lucky to get to see behind the scenes at Gatwick, on a small press tour organised by one of my colleagues in the British Guild of Travel Writers, but the new baggage handling system is not completely hidden from view. Gatwick have installed viewing windows so interested passengers in the new pier can watch their bags whizzing about – genius!