Environmentally-friendly, remotely-controlled, electric aircraft tugs are taking over the role of ground handling, pushback and hanger movements at airports around the world.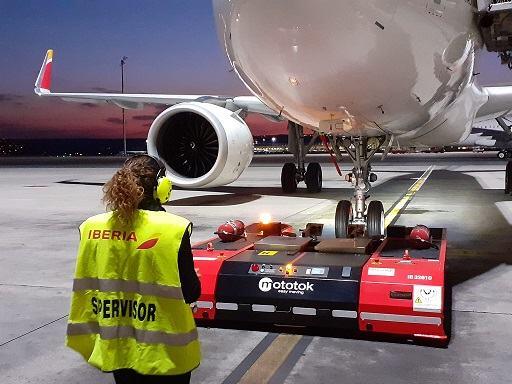 Spanish airline, Iberia is the latest to start using remotely controlled Mototok electric tugs for moving their aircraft at Madrid and Barcelona Airports. Their eight new pushback tugs will each cut CO2 emissions by up to 23 tonnes while improving ramp safety and flight punctuality.
The 'Mototok Spacer 8600' tugs they are using are powered by 80V batteries which enable them to move as many as 28 narrow-bodied aircraft between charges. This category includes all the Airbus A319s, A320s, and A321s in the short and medium range fleets of both Iberia and Vueling.
Iberia are not the only users of Mototoc tugs. Their sister airline, British Airways, has been using them at Heathrow since successfully trialling them in 2016. They now have 28 of them at Terminal 5.
Other airlines, aircraft manufacturers and military operators such as ANA, Airbus, Boeing, Sukhoi, Aegean Airways, Alaska Airlines, Tui, Pilatus, Gulfstream & Embraer use Mototok tugs, which can shift pretty much everything except B747s and A380s.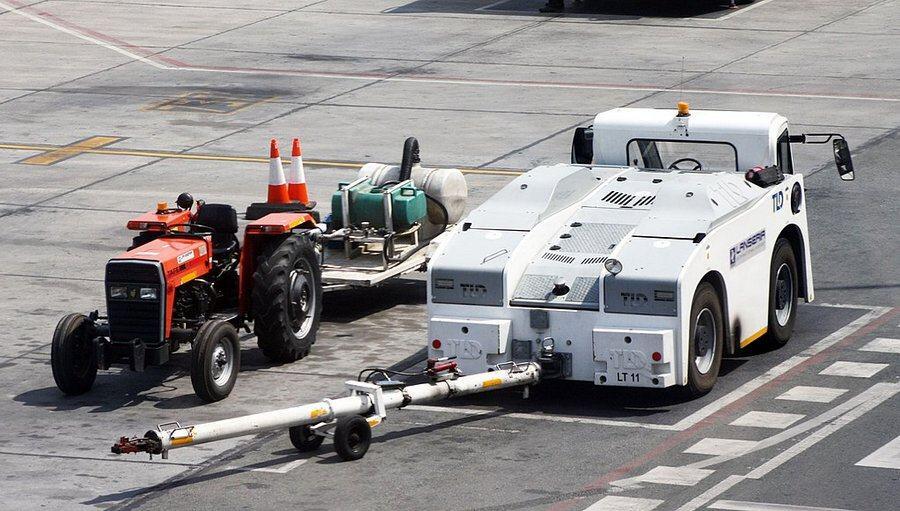 I always thought that you have to have enormous power to overcome the inertia of a fully loaded airliner, and that was why traditional aircraft tugs/tractors are so big. But it turns out, not really. All you need is good traction and a super low gearbox!
And these eco-friendly tugs have a number of advantages over traditional tugs.
Traditional tugs with towbars are not as maneuverable… and have to have the right towbar. Mototok tugs don't tow or push the aircraft. They clamp the nosewheel (fitting all sizes in the class) and lift it up. They can then turn the aircraft in its own length.
A traditional tug requires an operator with an airside driving licence for towing. The Mototok tug doesn't require a license. With two hours training, the Ramp Supervisor can do it.
So how did all this get moving (sic)?
Well Mototok was launched in 2003 by two Germans, Thilo Wiers-Keiser and Kersten Eckert, a hobby pilot who was frustrated with the effort it took to get his plane out from the back of the hanger¹. All the other aircraft that needed to be moved out of the way, required different tugs & towbars. So he set about designing a default tug that could move everything – hence the nose wheel clamping and lifting idea.
Now, since they started manufacturing in 2007, they have sold over 850 tugs around the world.
Why is the growth of eco-friendly, remote-controlled, single-operator electric pushback tugs assured?
Because, that British Airways trial I mentioned above… it demonstrated a 54% reduction in delays!²
---