The classic sail ship cruise line, Star Clippers, has a new square-rigger currently under construction at Brodosplit shipyard in Split, Croatia.
Steel cutting for 'Hull 483' – whose name, announced this week, is to be: Flying Clipper – commenced in last September.
When she is completed in late 2017 she will be a 162m long/18.5m wide, 5-masted, fully square-rigged barque, powered by 35 sails totalling more than 6.350 m2, carrying 300 passengers & 140 crew on five decks.
The design of Star Clippers' current flagship, the 5-masted Royal Clipper, is based on the historic Preussen clipper – a ship that inspired Star Clippers founder, Swedish yachtsman and entrepreneur, Mikael Krafft.
Flying Clipper's design is based on another famous clipper ship, France II, which was the largest square rig sailing ship ever built when she was launched in 1912 from La Gironde shipyard, Bordeaux.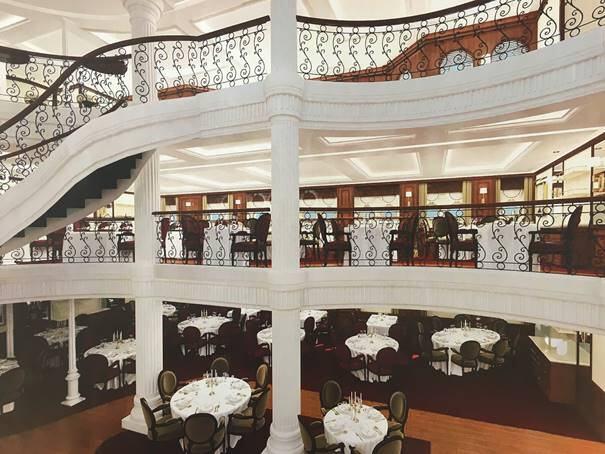 The new ship will have three swimming pools with fresh or sea water and underwater lights, one of which will funnel sunlight through the ship's atrium into the elegantly appointed dining room.
There will be a water sports platform in the stern for use when the ship is at anchor and a variety of cabin grades, including 34 suites with balconies and four luxurious owner's suites. Each cabin will have Internet access, telephone, television, music and other entertainment facilities, the entire ship will be covered with Wi-Fi signal (Yaay!). A restaurant in the light-filled atrium will accommodate all passengers for open-seating dining and a glass Dive bar for younger guests will occupy several compartments of the ship.
Regular Star Clippers guests will be happy to find favourite hallmarks, such as the cosy library, the bowsprit net and the popular, al fresco Tropical Bar, where evening entertainment takes place.
Her design specifies that her sails will be operated by only a few crew members… and also by passengers if they wish.
While the ship will have ecologically sound, high-tech engines enabling her to motor at 16 knots, she will, like her sisters, rely on her sails whenever possible. They will also propel her at 16 knots, but if handled well in perfect sailing conditions, she could reach 20 knots! Her design specifies that her sails will be operated by only a few crew members… and also by passengers if they wish.
The ship will meet the new Safe Return to Port standards for increased safety of passenger ships. So all key equipment on the ship will be duplicated (ie. two engine rooms, each with independent electric & water supply plants and fuel & oil systems), enabling the ship to return safely to port from up to 2000 NM offshore in the event of breakdown, fire or flooding.
Her design specs also predict her use in all waters, including the Arctic and Antarctic so she will be built to comply with Ice Class Requirements.
All in all, she will be spectacular!
[amazon_link asins='1472900286,0060934786,0852426186,0486273326,1163150355,0486255840,B01ANNOU54,B00MCI80MI,B0071LF3JY,B015DX3MTO' template='ProductCarousel' store='mechtraveller-21′ marketplace='UK' link_id='e52ba029-e189-11e7-bf78-8999964dfe12′]