The Museum of the Liberation of Paris, in Paris, tells the story of the occupation of Paris in the Second World War, its resistance, and its eventual liberation in Aug 1944.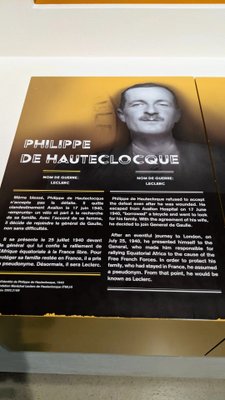 It's not a museum loaded with artefacts, most of the displays are reproduced historic photographs, documents and maps. They are laid out in a more or less chronological order, and they focus on key characters in the Resistance and Free French Forces, in particular the two lead characters – Philippe de Hauteclocque and Jean Moulin.
Philippe de Hauteclocque was born in Nov 1922 into rural nobility. Like a stick of rock, his family lineage had the military stamped through it. His ancestors had fought in two Crusades and most of France's wars since then. So, no surprise that young Philippe went to military school and then began his career serving in Morocco.
By the time the Germans invaded the low countries in 1940, he was a staff officer with the 4th Infantry Division. During the battle for France he was captured and escaped twice and was wounded in the head while commanding an armoured brigade. When the Armistice was signed, he decided to escape to England and join the Free French leader, Gen. de Gaulle in London. In order to disguise his identity and for the protection of his family left behind in occupied France, he took a new name, a nom de guerre: Leclerc.
Jean Moulin was born in southern France in 1899. After school he trained as a lawyer in Montpelier and then became a junior civil servant. In 1918, at the tail end of WW1, he was drafted into the army and witnessed first hand the horrors of war. When the war ended he returned to his job as attaché at the préfecture of Hérault, in Montpellier, and continued with his law studies.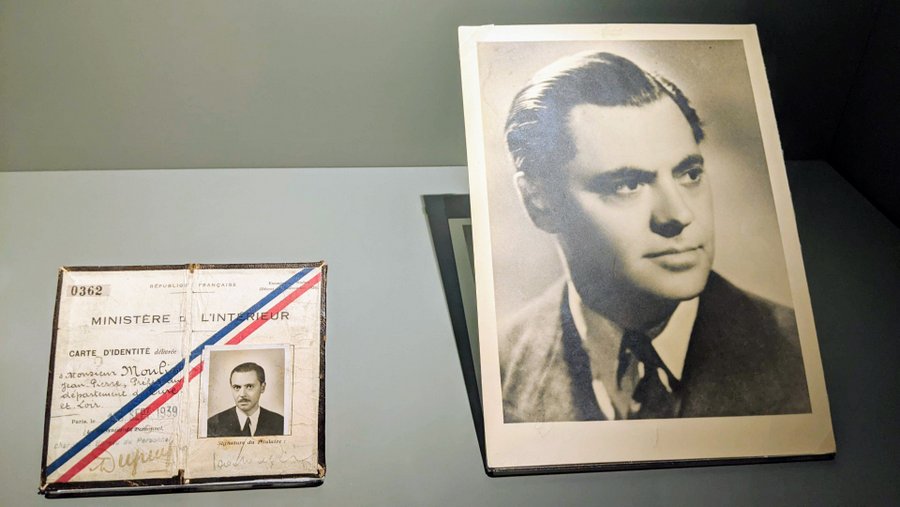 By the time WW2 started, Moulin had served as Prefect (Préfet) in several areas around France from Savoie to Brittany, and was Prefect of the Eure-et-Loir department based in Chartres when the Germans arrived. Sacked from his job by the new Vichy puppet government led by Marshall Pétain, and beaten by the Germans for "non-co-operation", he travelled to his home town in Provence and joined the French Resistance movement.
Being in the Resistance, in rural France, the cities, or in Paris itself, was a dangerous existence. As the German occupiers became more embedded and bureaucratic control of the population, more organised, the resistance had to become more and more sophisticated. However, the big problem was disunity. There were too many resistance groups with different agendas and different politics.
In September 1941, like de Hauteclocque, Jean Moulin also made his way to London to meet De Gaulle, who charged him with the job of organising the multiple factions of the resistance into a more cohesive organisation. He parachuted back into France and began his dangerous work in January 1942. Within a year he had established the National Resistance Council (Conseil National de la Résistance) and become its leader. His success was short-lived. He was betrayed to the Germans in June 1943, captured, tortured by the head of the Gestapo in Lyon, Klaus Barbie, and died around 3 weeks later.
So, both men would come to play a major role in the liberation of Paris and France – Leclerc as a general of the Free French, and Moulin as a resistance leader, though sadly Moulin would not get to see Paris liberated. That is why the 'Museum of the Liberation of Paris' is also known as the 'General Leclerc Museum' and the 'Jean Moulin Museum'.
The museum starts with Moulin & Leclerc's background and then moves quickly on to Hitler's triumphant visit and the occupation of Paris.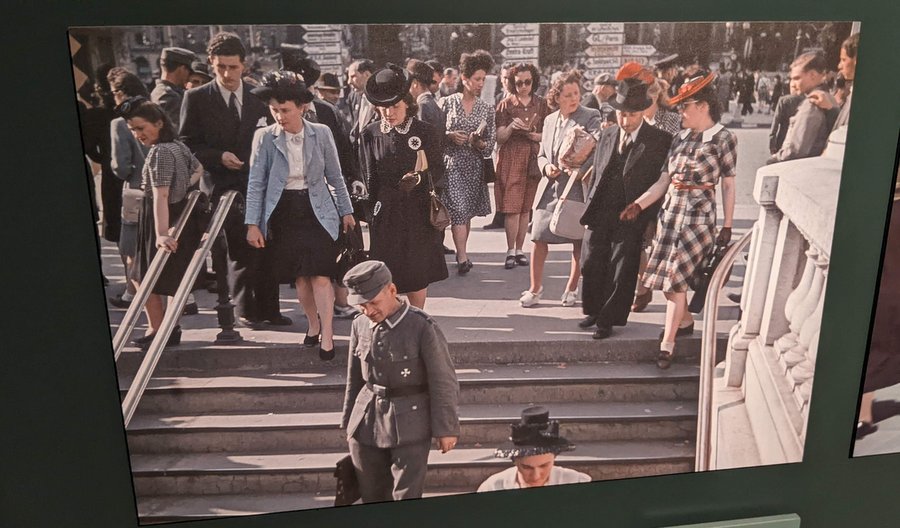 There is much material about day to day life in occupied Paris; difficult enough for most Parisians, but of course a nightmare for Jewish citizens.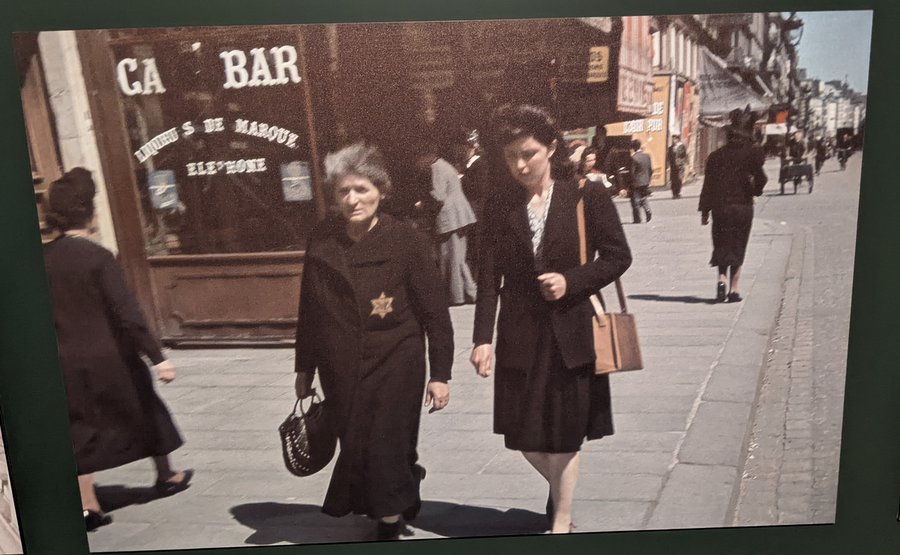 The story of one in particular, Lipman Levison, highlights the ordinary experience of Jews in Paris. He was a WW1 veteran who got arrested by the Germans in Dec 1941 and was detained in Pithiviers internment camp for 10 months. On display is the receipt his wife got for a 100-franc postal order that his wife sent to him in the internment camp, and a copy of her letter to Marshall Pétain in July 1943, pleading for his release. There is no record of any response, which is not surprising. Lipman had been transferred to Auschwitz in Sep 1942 and died 7 weeks later.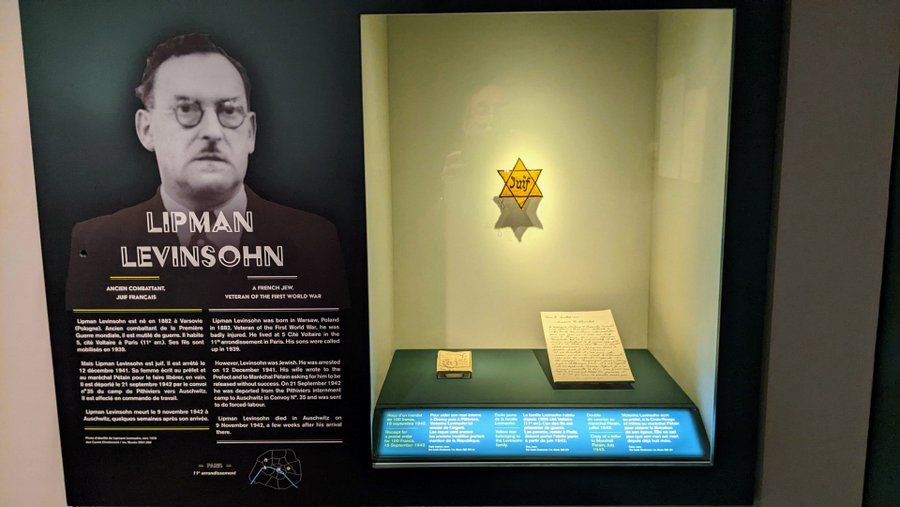 Non-Jewish Parisians were comparatively lucky, but there were always shortages, rationing, and petty German bureaucracy to deal with, not to mention an ever-present fear of innocent transgression. (See feature image: counterfeit ration stubs, a ration book, a child's rather inadequate shoe, and a proof of ownership certificate…for a bicycle!)
Some Parisians collaborated. Influencer marketing is not new. The German propaganda minister, Josef Goebbels, enticed a group of celebrities & film stars to come to Berlin and rave about it.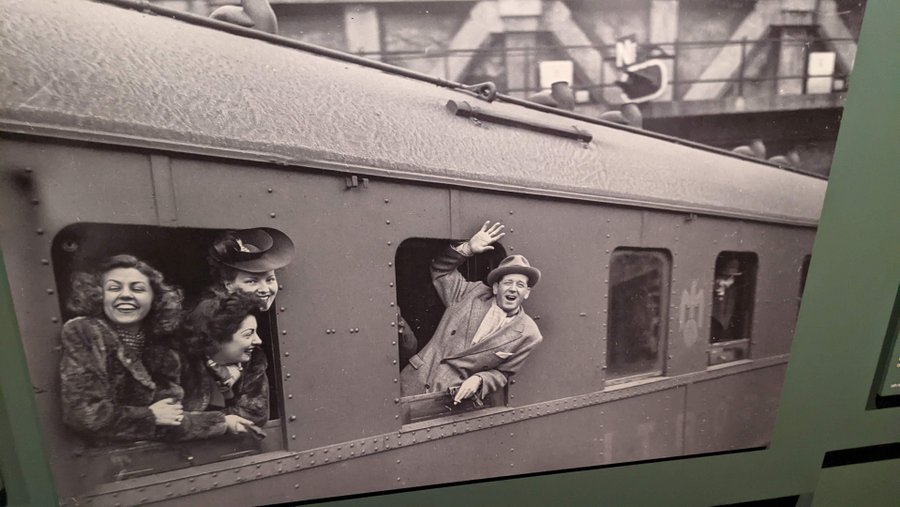 Meanwhile, outside France, events were slowly turning in favour of the Allies. In 1940 Leclerc had been promoted to Major by de Gaulle and sent to French Equatorial Africa as governor of (Free) French Cameroon. He quickly took a small force to neighbouring Gabon (Vichy) and secured it for Free France. Next, de Gaulle sent Leclerc to Chad (Free French), next door to Italian-controlled Libya, from where in Jan 1941 he launched small raids to capture two Italian outposts in the desert. His next advance into Libya was postponed by Gen. Rommel's advance through Libya into Egypt, but when the tide turned at the battle of El Alamein in Nov 1942, and the British Eighth Army began to push Rommel back along the coast into Libya, Leclerc, now a Brigadier, was unleashed.
He and his force of 500 European and 2,700 African troops rendezvoused with Gen. Montgomery at Tripoli in January 43, having captured two Libyan towns en route. With added Greek troops, Leclerc's force, now called 'L Force', was detailed to cover the Eighth Army's inland flank as they drove Rommel's Afrika Corps back into Tunisia.
One of the larger spaces in the museum is dedicated to Leclerc's campaigns in West Africa and then in the desert landscapes of Chad and Libya.
Once the fighting in North Africa was over, Leclerc's L Force was enlarged and re-organised into the Free French 2nd Armoured Division, which then  returned to England in preparation for the D-Day Landings. General Leclerc and his division came ashore on UTAH beach on 1st August 1944, and with the collapse of German resistance, were quickly on their way to Paris.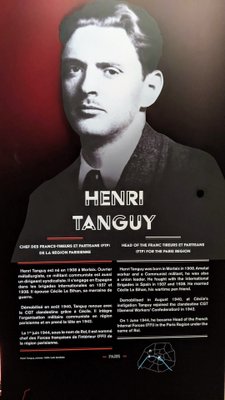 Jean Moulin didn't live long enough to see Paris liberated, but another resistance leader certainly did.
Henri Tanguy was a communist and union leader who had fought in the Spanish Civil War. When WW2 started, he was conscripted into the French Army, but had to quickly go underground when France surrendered. He became one of the leaders of communist resistance in Paris and used the nom de guerre: "Colonel Rol". When D-Day came in June 1944 he became leader of the French Forces of the Interior in Paris and commanded them as Gen. Leclerc and the Allies bore down on the city. It was Col. Rol and Gen. Leclerc who took the surrender of the German commander, Gen. Dietrich von Choltitz on 25th Aug 1944.
The museum's chronological path through lives and events ends in a stack of video screen cubes that show scenes of the liberation and its immediate aftermath.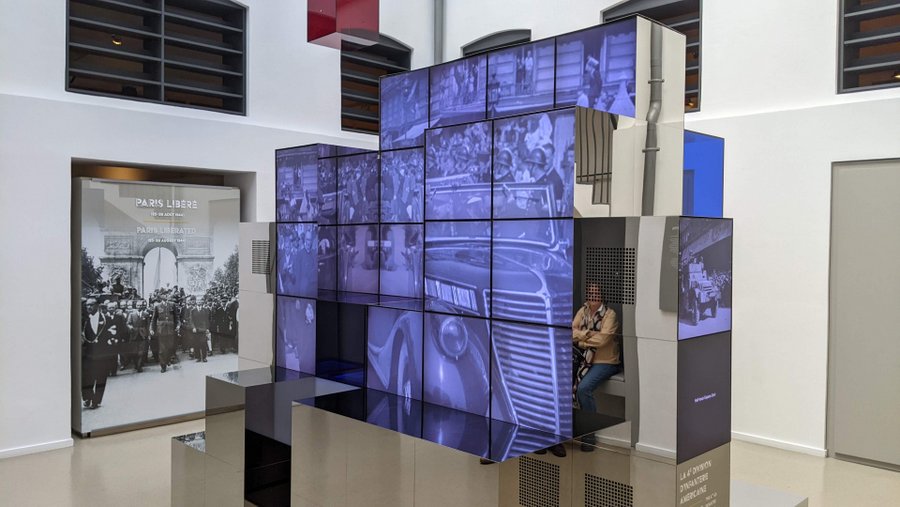 Colonel Rol's secret HQ in Paris was in a bunker in Place Denfert-Rochereau… 20 metres under the museum. From this command post, he gave operational orders during the Paris insurrection. Later, during the Cold War, it was used as a shelter for government official in the event of a chemical attack. Now it is open to the public through a door near the video cubes. There are regular guided tours down into the bunker for small groups each day.
---
Declaration: None needed. I was in Paris and the museum is free.
Factbox
Website:
Musée de la Libération de Paris
Getting there: Place Denfert-Rochereau
75014
Paris
The nearest Metro station is Saint-Jacques on the No.6 line, 200m away. If you are taking the bus, the 59, 88, and 68 come to Place Denfert-Rochereau.
Entry Price: Free
Although there is a charge for some temporary exhibitions and for group guided tours of the museum & Colonel Rol Command Bunker. For example, the upcoming exhibition: 'Desert Soldiers – Leclerc & the British 1940 – 1943' about Leclerc's desert campaigns, runs 16 Mar – 16 July 2023 and costs 9 Euros (7 Euros reduced).
Colonel Rol Command Bunker: Free for individuals and families.
The bunker is not suitable for all. It is one hundred steps down a narrow tunnel. There is no lift for visitors with restricted movement. It's also not really suitable for those with breathing difficulties or claustrophobia issues.
A virtual 360° visit on a tablet is available upon request from the museum reception desk for those who are unable to visit the command post.
Since space is at a premium down there, visits are operated on a timed (free) ticket basis, restricting visits to 30 minutes for ten people.
Opening Hours:
The museum is open from Tuesday to Sunday, from 10.00am to 6.00pm.
Further Reading

…