The famous toy brand, Matchbox®, now owned by Mattel, is celebrating its 70th anniversary this year.
It's not obviously 'cornerstone content' for Mechtraveller, but it does have a military history and engineering aspect to it… and seriously, who doesn't love Matchbox vehicles?!
It started with engineer Jack Odell, who had been a vehicle mechanic in the British Army in World War II. After the war he teamed up with Leslie Smith and Rodney Smith who had set up Lesney Products, manufacturing car parts in a bombed out pub in North London.
In 1952 Jack's daughter could only bring a toy to school if it was small enough to fit inside a match box – bit harsh! So, Jack created a scaled-down die-cast steam roller she could take to school. When all her school chums wanted one, Jack and his partners realised they had a potential new product line. Matchbox was born in 1953, producing a small range – a road roller, a dumper truck, and a cement mixer.
Then came a masterstroke. That year, Queen Elizabeth II was crowned, and Lesney added a coronation coach to the range. It sold a million copies and the rest as they say, is history. Matchbox reinvented the die-cast vehicle industry and went on to become one of the most popular toy brands in history, not just with kids (me too) but also with collectors.
I wonder what the headmaster/mistress thought of it all, having been wrong-footed? I expect in later years he/she dined out on the idea that Matchbox's growth was partly down to them!
Anyway, to celebrate, the brand is introducing a line of special limited-edition, highly collectable vehicles.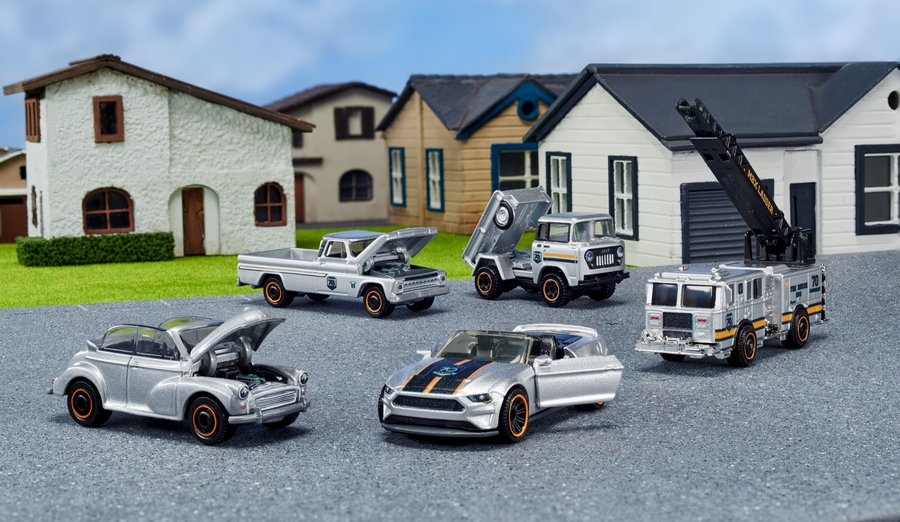 The 70th anniversary die-cast vehicles will be released in seven different assortments across the Matchbox range, all honouring the anniversary with special platinum details. These selections are a combination of collector favourites and iconic vehicles spanning seven decades and regions around the world. There will also be individual 70th anniversary die-cast vehicles on sale (this is where Mechtraveller fulfills its mission to talk about exceptional engineering, and where you can see it!) at Tesco, Sainsburys, B&M Bargain, Morrisons, The Entertainer and Toymaster stores. With RRP starting from £2.30 for a single die-cast vehicle.
Mattel say they are committed to sustainability in the die-cast category of toys. To support this, a portion of the new 70th anniversary die-cast collection will be made from recycled zinc.
Additionally, Matchbox is committed to integrating more electric vehicles and eco-friendly themes into products and have a plan to make all toys and packaging from 100% recycled, recyclable or bio-based plastic materials by 2030.
---
Further Reading

…