Yesterday, the historic 'tall ship' Peking was welcomed back to her home port of Hamburg, where she is due to become a permanent highlight on the waterfront, and the primary exhibit of the new German Port Museum.
"With the Peking, Hamburg is gaining a new landmark," Hamburg Mayor Peter Tschenscher said. "During a history of more than 100 years, the Peking rounded Cape Horn 34 times, survived two world wars, and spent more than 40 years as a museum ship on a Manhattan pier."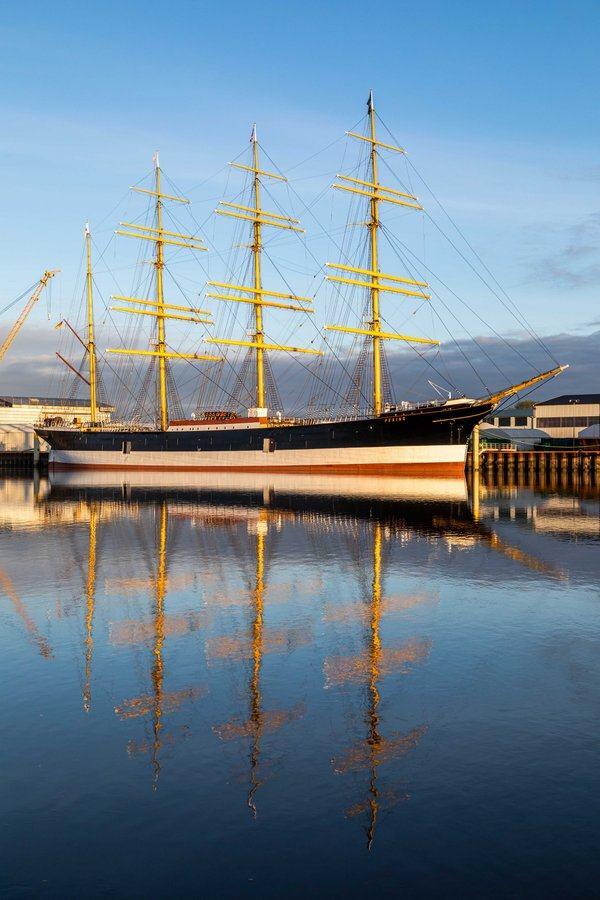 The steel-hulled, four-masted barque was built at the Blohm+Voss shipyard in Hamburg 109 years ago for the Hamburg shipping company, Laeisz. She was one of the last successful cargo ships of the sail era. Her robust and highly efficient design enabled a crew of just 30 to sail her with precision, in safety, and importantly, at speeds that made her competitive with her steam-powered rivals. These attributes were perfect for the important long haul route from Chile, around Cape Horn and back to Germany, carrying saltpetre. Three years after she was launched, World War I broke out and saltpeter (sodium nitrate) from the Atacama Desert was in high demand as a nitrogen fertilizer and in black powder production.
After World War I, Peking was transferred to Italy as part of the war reparations, but the Laeisz shipping company bought her back in 1923 and put her to work again with her "Flying P Liner"* sister ships on the saltpetre route. The opening of the Panama Canal (1914), new processes for making fertilizer, and better steamship technology, were all factors that finally brought the era of sailing cargo ships to an end. In 1932 Peking was converted into a stationary training ship in England, and renamed Arathusa (sp. 'T.S. Arethusa'. See Ian Tidbury's comment below). Then in 1974 she was sold to the South Street Seaport Museum in New York to be a museum ship under the updated name Beijing.
In 2002 negotiations began to return her to Hamburg, and in 2015 the budget committee of the German Bundestag agreed to include her as the star attraction of the new German Port Museum (Deutsche Hafenmuseum). She was moved to Germany in 2017 and has been undergoing repair work at the Peters shipyard in Wewelsfleth, Schleswig-Holstein, which has restored her to her 1927 condition… and restored her name to Peking.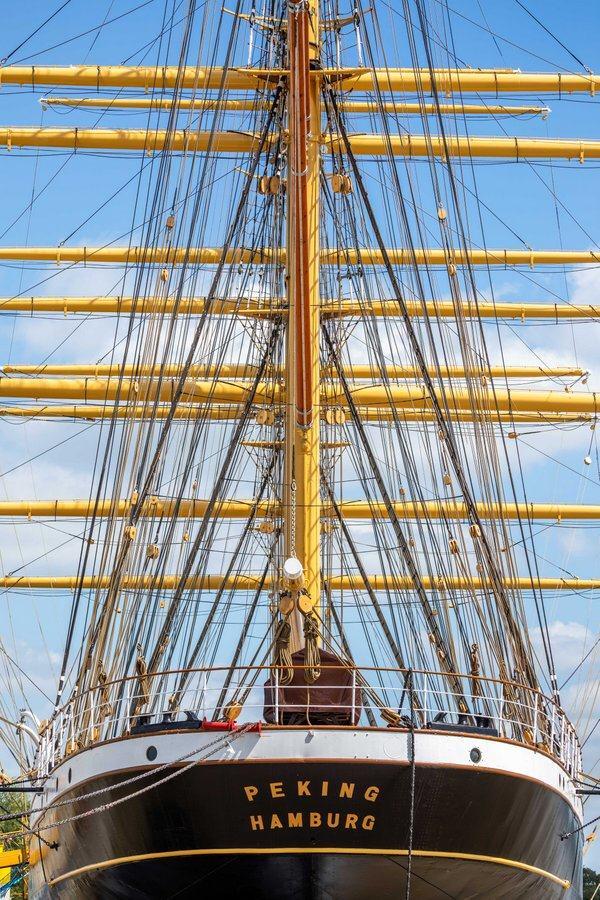 The whole project has taken on a special meaning for the Hanseatic port of Hamburg and German maritime pride, as Monika Grütters, the State Minister for Culture and Federal Government Commissioner for Culture and Media, made clear: "The four-master PEKING is an outstanding example of German shipbuilding. After a turbulent history on the world's oceans and years of restoration, this sailing ship is now back in its old splendour. I thank the restorers very much for their extremely demanding work in recent years.
"As Minister of State for Culture and The Federal Government Commissioner for Culture and Media, the promotion of the maritime culture of our country is an important concern. That's why we have supported both the restoration of the Peking and the construction of the future German Harbor Museum with a total of 185.5 million euros."
Peking is now owned by the the Hamburg Historical Museums Foundation, and, as of yesterday (08 Sep 2020), she is moored at her interim berth on the Bremen Quay near the current port museum. Here she will undergo further works (such as installing lifts) to get her ready for her first onboard visitors, hopefully in the summer 2021. Her permanent home will be outside the new museum which is due to open in 2025.
---
* 'Poodle' (Pudel) was the nickname of shipowner Carl Laeisz's curly-haired wife Sophie (yeah, I know it doesn't play quite so well in 2020!) and that was the name given to the barque that was launched in 1865 at the Stülcken shipyard. Thereafter 66 of the 86 sailing ships owned by the F. Laeisz shipping company bore names starting with "P". Today four of the legendary "Flying P-Liners" still exist – Peking, Passat, Pommers and Padua (now renamed Kruzenshtern).