The Musee 39-45 * north of Boulogne in Pas-de-Calais, differs from many WW2 museums in that it is dedicated to the uniforms and accessories of the combatants, rather than their equipment.
The only large pieces of military equipment are parked outside, namely 'Jean Beart', a Sherman M4 and a few pieces of field artillery (eg. a US 105mm howitzer, a German 88mm). They are more 'gate guardians' than part of the core collection"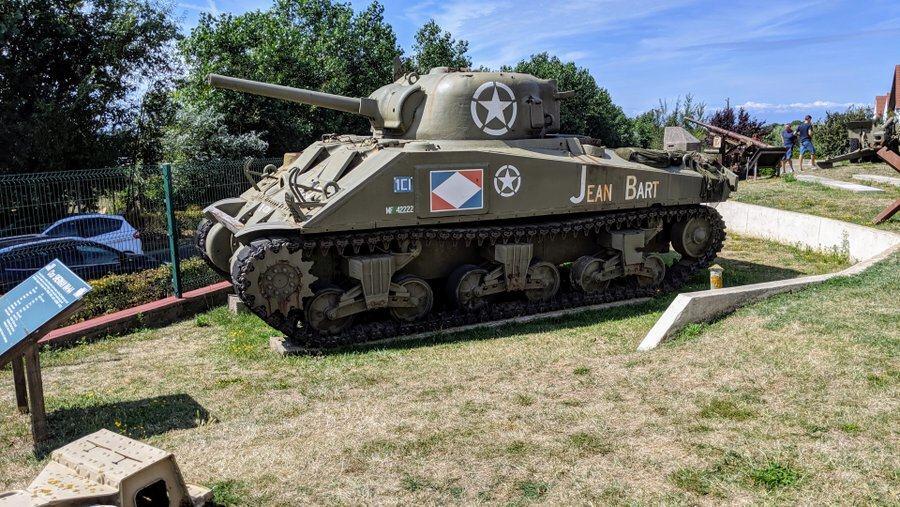 As with many of the best private museums, it was born out of a passion for collecting. In this case it was Christophe Deschodt and Denis Barbe who spent over 40 years collecting WW2 uniforms, accessories, and documents, before putting them on display in the 1990s.
It's not a large museum but its galleries are busy with dioramas featuring a galaxy of uniforms from campaigns across World War II. Many dress and battledress uniforms are familiar, but some of their seasonal or geographic variations are perhaps less so. Naturally French forces are well represented here too.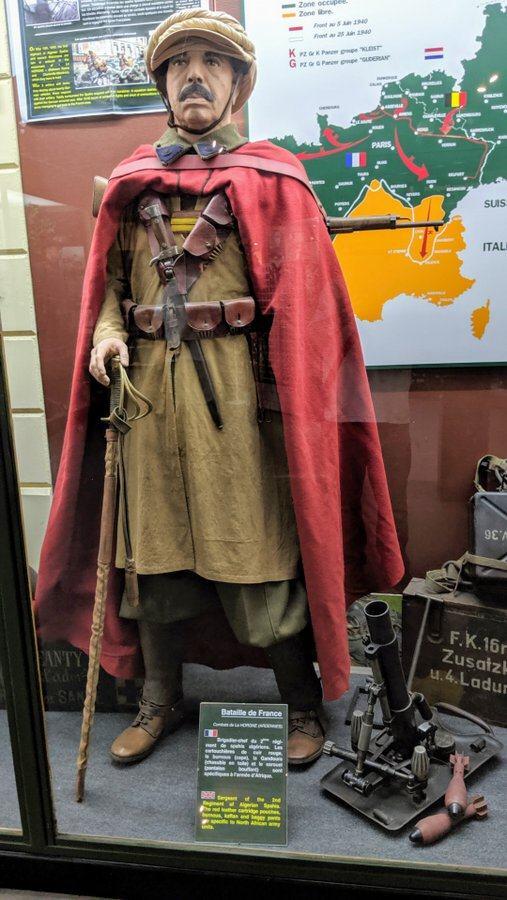 Some uniforms, you rarely see. A standout example for me is the Sergeant from the 2nd Regiment of Algerian Spahis, with his bernous cloak… which he would have needed, fighting as they did in the Battle of France in late 1944! Interestingly, the French Army still has a Spahi Regiment and they still proudly wear their cloaks.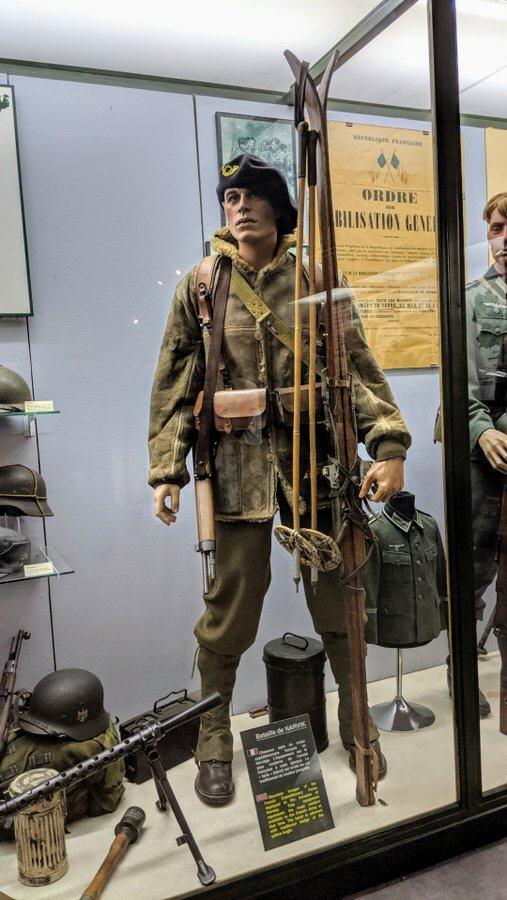 Also in the French forces, there's the mountain trooper of the French Expeditionary Force deployed to Narvik for the "invasion" of Norway…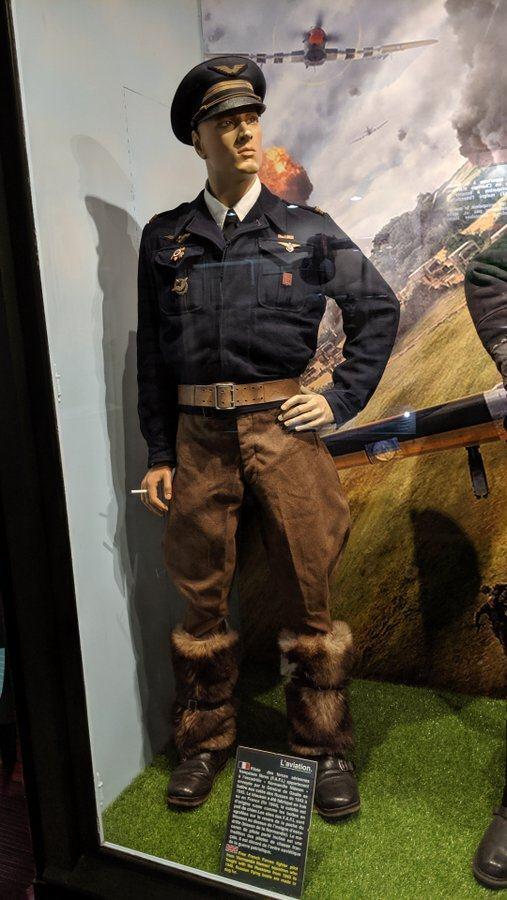 … and the uber-cool, Gitane smoking, pilot from the famous Normandie Niemen squadron flying with the Soviet VVS (Russian air force). The fur leggings are a giveaway!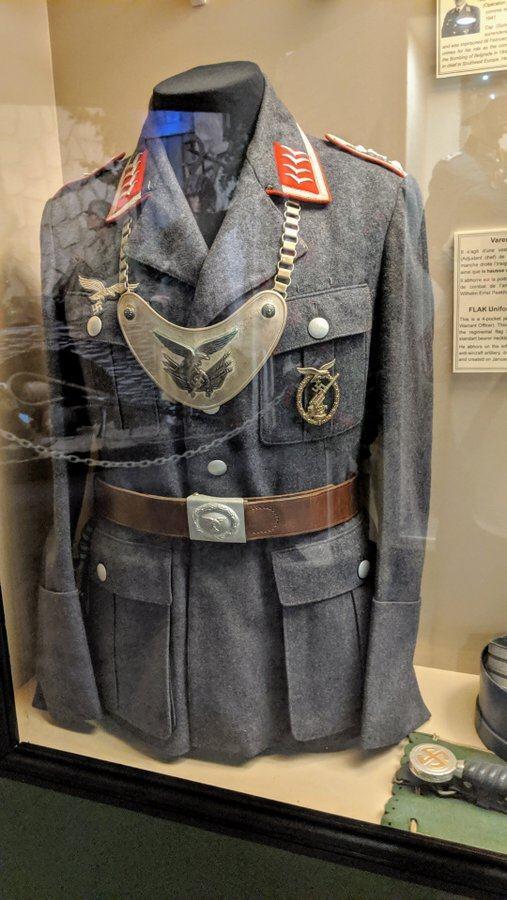 I've always been fascinated by the German Army standard bearer necklace, even for a dress uniform it seems like an awkward accessory. If it weren't for the tie-clip on the back of them, they'd be flying around all over the place if the wearer had to run or do anything active. This one was the uniform of an Oberfeldwebel (Senior Warrant officer) in an anti-aircraft artillery regiment.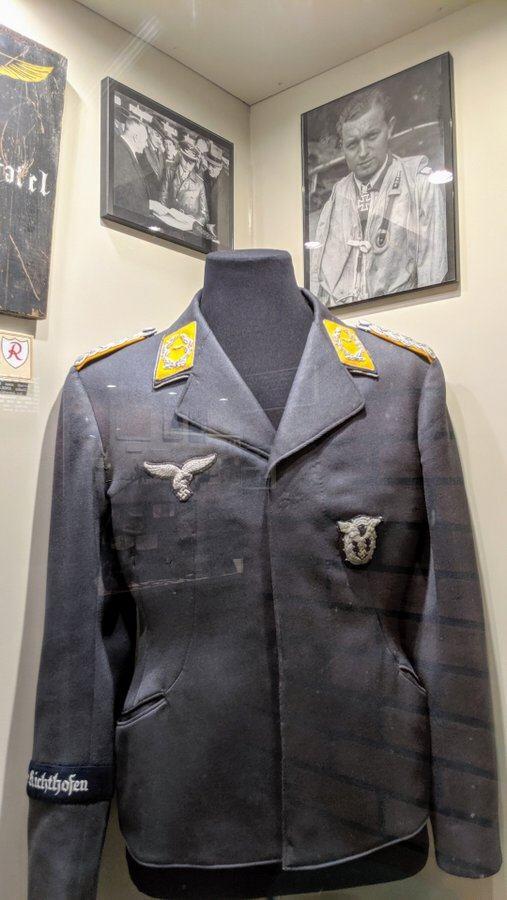 There's an interesting display featuring the Luftwaffe ace, Walter Oesau. I'll admit that while I knew who he was I didn't know much detail about him. He was easily one of the top German fighter pilots with 127 kills spread over 460 missions from the Spanish Civil War to his death over Belgium in May 1944. In that time he was awarded 13 medals or embellishments to medals, and half of them are on display here with his dress tunic. 
The museum has a small section recreating a Parisien shopping street with clothes and goods to entice both civilians and occupiers through their doors.
And there's a small cinema that shows a 30-minute documentary film entitled "From the Battle of Britain to the dawn of liberation". It's in French with English subtitles (There is an English commentary version which they will show for British tour groups). It's worth taking a look in the cinema, even if not to watch the film, because it's dress in period style with 1950s seating and decorations… and it has a load of war film props on display – weapons, costumes and accessories from movies such as Saving Private Ryan and Black Hawk Down.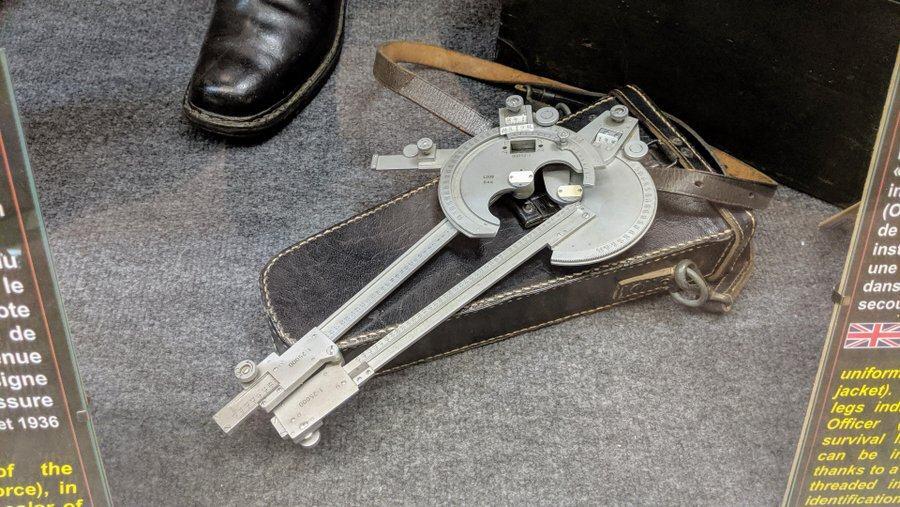 Now, a question…
Does anyone know what this is (above)? It is/was in the display with Luftwaffe aircrew at the Musee 39-45, but I didn't see a sign for it. There's also a navigator's case with standard tools of the trade, and at first I thought this was a rather elaborate 3-arm protractor/plotter for air navigation. But I'm now thinking it's way too complicated for that. It's a map tool of some sort; it has several engraved references to 1:25,000 scale. I'm wondering if it has something to do with bomb aiming. Maybe for establishing an IP point or bomb release point….?
---
* Musee or Musée? I'm reluctant to ditch the acute accent, it doesn't seem right, but the museum itself doesn't use the correct spelling on its website or its signage.
Declaration: None. It was a private visit. I was passing, and paid to get in.
Further Reading

…