It's been a few years since I last visited the Royal Air Force Museum in Hendon, North London, and I certainly haven't visited since the recent Lottery Heritage funded re-development for the 100th Anniversary of the RAF this year.
Ridiculous really, since I live in North London! I went to the sister museum at RAF Cosford a couple of years ago, but not to my 'local' museum. Anyway, they've had their revenge; I really wanted to see the Boulton-Paul Defiant they had at Hendon… but a year or so back they shipped it up to Cosford! Never mind. Another time.
So what's here?
Well, there are six hangars set in a rough circle:
Hangar 1 – Entrance & Exit, shop, and exhibitions covering the first 100 years of the RAF and its Future
Hangar 2 – 'The First World War in the Air'
Hangar 6 – 'The RAF in an Age of Uncertainty'
Hangar 3 – 'War in the Air'
Hangar 4 – 'War in the Air'
Hangar 5 – 'War in the Air'
Yes, the numbers are not sequential. If you start at Hangar 1 (You have to. It's the only entrance) and head around in an anti-clockwise direction (it makes sense to start with the WW1 biplanes in Hangar 2), then the next Hangar is hangar 6. Then Hangars 3,4 & 5 are effectively one big hangar.
Hangar 1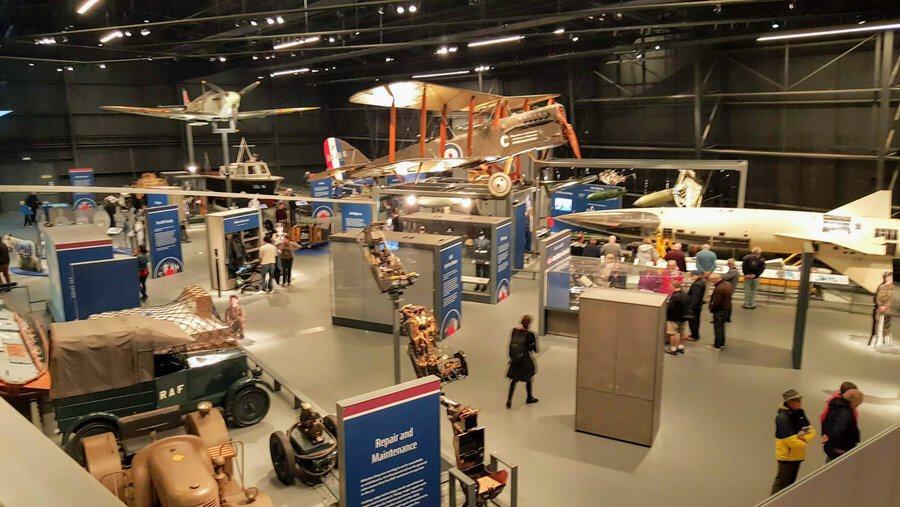 Hangar 1 is now the (badly signed ¹) entrance to the museum and the focus of the recent #RAF100 redevelopment project. The hangar has been extensively refurbished – around the enormous Sunderland Flying Boat which is still there – and now has a new gallery titled 'RAF Stories: The First Hundred Years' that highlights, not just the aircraft & weapons, but also the personnel and their gear too. It's a melange of artefacts that's bound to catch someone's interest in something (!), from hats & uniforms, through bombs, missiles, engines, ejector seats, aircraft, vehicles & a small launch, to a section on the RAF's new F-35B fighter and command & control systems.
The route through Hangar 1 starts with a surprising display of RAF headgear. I hadn't realised there were that many variations! (Swipe left or click arrow for more…)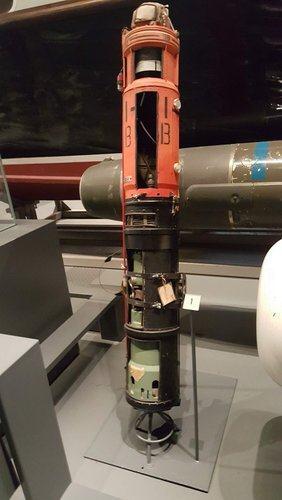 Essentially they've built a multi-level block in the middle of Hangar 1, which houses a café, toilets, the museum shop (so you exit through hangar 1 at the end of your visit) and admin offices above. If you find your way upstairs onto the first floor, you can get balcony views over the gallery at one end, and the Sunderland MR5 flying boat at the other end.
For me, there's plenty of interest in here, but it's a bit of a hotch-potch. It's good to see the armaments; everything from the large 1960's Blue Steel stand-off nuclear bomb to the rather more contemporary Paveway II laser-guided bomb, and Hendon has a missile collection like Cosford. People don't think about missiles – they are just long pointy tubes carried by modern jets! – but when you see them up close and can compare their design, systems, functions and size, you realise there is a whole world of technology that's often overlooked by aviation fans.
My stand-out objects in Hangar 1?
A sonobuoy. Scattered like (expensive) confetti over the oceans by aircraft sniffing for submarines, I hadn't realised how big they are… or were. Taller than me, anyway! This one is a Type 17054 Mk 1c sonobuoy from the 1970s. They are much smaller these days.
A Merlin engine. Ok, hardly rare. There are dozens of those exhibited in museums around the world, but this one was glistening under the attention of an RAF Museum engineer who was carefully dusting and polishing it.
And, of course, Sunderland ML824 dominating, as she does, one end of hangar 1. IWM Duxford have got a Sunderland (ML796) but she's a bit 'in-yer-face' because she's in a crowded hangar sharing space with several other large aircraft. You can't step back from her, as you can at Hendon, and just enjoy her size & shape.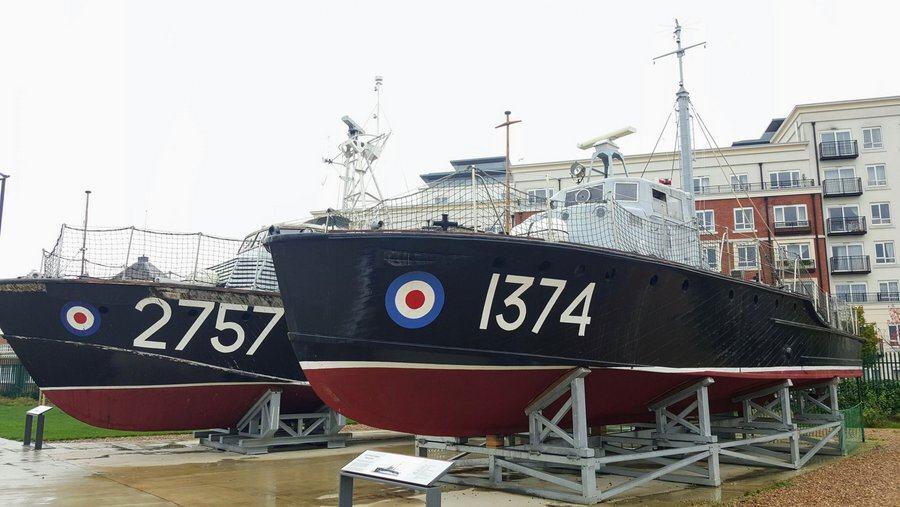 When you leave Hangar 1 on your way to Hangar 2, you pass the two large RAF launches standing outside. They look very similar but had different functions.
No. 1374 is a 63ft (19.2m) general purpose launch from the WW2 period, used inshore for towing flying boats, moving stores, loading weapons and so on.
No. 2757 is a 68ft (20.7m) high-speed (39 knts), post-war search & Rescue launch and target towing launch.
Hangar 2

Hangar 2 covers the First World War in the Air. Remember, it was in the closing stages of WW1 that the Royal Flying Corps and the Royal Navy Aviation Service were merged into the new Royal Air Force under Hugh Trenchard. And remember too, the French played a role in this, of which they are very proud, because it happened on French soil.
The entrance building to Hangar 2 is the oldest building on the Museum's site and pre-dates many of the machines housed in the hangar. In 1911 Claude Grahame-White bought the land and developed the aerodrome for his Grahame-White Aviation Company which was already building aeroplanes. In 1915 he built the Grahame-White Watch Office as an extension for his factory. It overlooked the airfield and, if you look up, you'll see the 'watch tower' on top. Later, the view was blotted out by other buildings and it languished on the edge of the field until 2010 when it was physically moved (it's a Grade II listed building) to its present site to make way for the neighbouring housing development.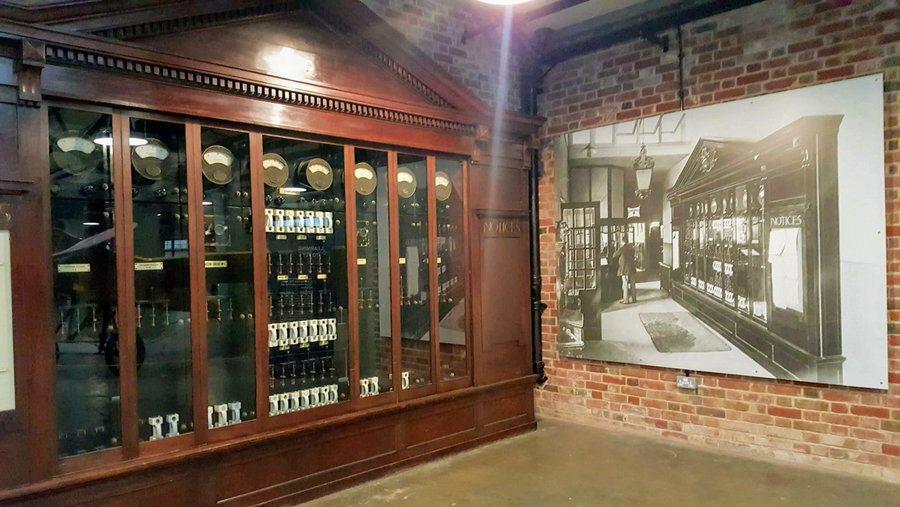 Claude Graham-White was proud that his modern factory was powered by electricity and he had his state-of-the-art electrical distribution board displayed at the entrance to impress visitors. He could tell them how many machine tools were running by the power levels indicated on huge meters. A couple of decades later my grandfather & father were manufacturing meters like those in their London factory.
There are some fascinating aircraft & replicas in this hangar, starting with pre-WW1 aeroplanes like the astonishing Bleriot XXVII monoplane (1911) and the classic Avro 504 which first appeared in 1913. Both of these, I was amazed to find, were the real thing. Not replicas. You feel like you ought to bow as you walk past!
Then there are classics like the Sopwith Triplane – so manoeuverable the Germans had to design & build one too, the Fokker Dr1, as used by the Red Baron. There's the business-like Royal Aircraft Factory SE5, the elegant Albatros D.Va (replica), and the workhorses, the Fokker DV2 and the Sopwith Camel. The museum also features a few less well-known WW1 combatants such as the Royal Aircraft Factory FE2b with its pusher-propeller, the immaculate replica of a Royal Aircraft Factory RE8, and the Sopwith 5F.1 Dolphin with its staggered wings – I'd never heard of it before.
Most interesting in Hangar 2?
The Bristol F.2b Fighter with its fabric cut away on one side to expose its inner workings, structure and design… would have been more interesting if you could see it – the lighting was atrocious.
The intricate Gledhill Interlocking Bomb Release Gear displayed in a cabinet – a masterpiece of 'Heath Robinson' engineering!
The weird, box-like Caudron G.3, with a small cockpit as if for a pusher-propeller, and frames to hold the tail assembly. It used wing-warping (like the Wright Bros Flyer) instead of ailerons and was used for training new pilots. It must have been a bit of a shock for them when the graduated on to 'real' aircraft!
Hangar 6

Hangar 6 is a new hangar and the next in line, if you are exploring the museum in a logical circle, but as the number suggests, it comes chronologically at the end, featuring the most recent RAF jets (except the F35B) and overlapping² slightly with other hangars. Its title is 'The RAF in an Age of Uncertainty' which is broad enough to cover the Cold War (Buccaneer) as well as more recent conflicts like Iraq & Afghanistan.
It's an excellent building with plenty of space to 'fly' some of the exhibited aircraft, such as the General Atomics MQ-1B Predator drone, the BAe Harrier GR9A, the Sepecat Jaguar GR.1, and rather dramatically, the Eurofighter Typhoon (replica). It also has plenty of balcony space to look at the exhibits from different angles and some extremely practical & modern classroom/meeting spaces for schools & groups.
On the ground are a number of interesting aircraft including a Panavia Tornado GR1B, and the front ends of a Lockheed Hercules WC-130E and a Boeing CH47D Chinook, but the highlights for me were…
The Hawker Siddeley Buccaneer S2B. You know I'm a sucker for the Buccaneer (I'm contributing to the restoration of one at the Yorkshire Air Museum). This one, in desert brown camo, looks deadly cool!
The Hunting JP233 airfield denial weapon. You remember the one? It was carried at ultra low level by RAF Tornados and used to sprinkle Saddam's runways with little aerial mines or bomblets. And, displayed next to it…
A WE177E tactical nuclear bomb – very compact, very sinister.
Hangars 3, 4 and 5
Here's the core of the RAF Museum's collection. Hangars 3 & 4 are really one space separated only by wide-spaced support pillars down the middle. Hangar 5 is connected through a large dock, and houses the larger aircraft. Many or even most, of the aircraft in these hangars are inter-war and WW2 era, but then they are jumbled up with aircraft from the 50s through to the 90s. So, as you walk in to Hangar 3, the first aircraft you see is a WW2 Curtiss Kittyhawk III, followed by a Hawker Hunter FGA9 jet… go figure!
I suppose, if there's any pattern to these hangars it's that sections of them focus on different groups of aircraft. After the peculiar juxtaposition of the Kittyhawk & Hunter, the first section of Hangar 3 concentrates on single-engined WW2 & post war aircraft. The far end has larger twin-engined aircraft. Crossing over to the far end of Hangar 4 you find what I call 'Helicopter Corner', then in the central crossover section of H4 (next to the entrance to H5) there's the 'Battle of Britain Hub'. The near end of Hangar 4 has the 'Cold War Jets' and Hangar 5 has 'The Big Boys' (bombers).
So following that path, here are the highlights for me (and remember, these are my names for these groupings, not the museum's)…
'The Singletons'
P47 Thunderbolt – Love this aeroplane! Very American! Take the biggest engine you can find and build a fighter around it. Actually, of course, it was one of the best all-rounders in WW2. It was a specialist at ground attack and formidable as a short/medium range fighter escort. This one is a Thunderbolt II, and its lovely wide undercarriage must have been envied by the pilots of the plane sitting opposite…
…the top-of-the-range, end-of-the-line Spitfire F24. It looks seriously mean with its 5-bladed propeller, Rolls Royce Griffon engine and 4 x 20mm cannon, but it never really took off, so to speak. Built in 1946 as the jet age took over, they hardly saw any service at all. This one has a note on its museum sign, "Low mileage, only 7 hours flying time!". By 1952 it had been decommissioned and by 1961 it was a Gate Guardian at RAF Gaydon – sad.
Hawker Tempest II – always good to see, and they have a Mk5 around the corner. Truthfully, I'd rather see the only surviving Typhoon (MN235) but that's away on loan somewhere I believe.
There's also a small hub of aircraft in a circle in the centre of H3, but I can't see a curatorial logic. A McDonnell Douglas Phantom FGR2 jet, a Sopwith Snipe biplane, a Panavia Tornado F3, and Bristol Bulldog MkIIA. I dunno. What do you think we should call this section? 'Fast & Slow'?
'The Twins'
There's some good stuff in this section.
Starting with the Bristol Beaufort VIII torpedo bomber. You really don't get to see Beauforts often. There are three in Australia and one in the USA. So this is a very special exhibit.
And next to it, one of my favourites, the Beaufighter. In this case a Bristol Beaufighter TFX nightfighter. Read Sdr Ldr Jimmy Rawnsley's book Night Fighter and you'll get to understand just how difficult the work of the night fighters was, and how radar operators like him and his pilot, Grp Capt John Cunningham, pioneered the techniques of hunting at night from scratch. (Displayed in front of the Beaufighter is a menacing-looking Molins 6-pounder auto-loading anti-tank gun. It was never fitted to the Beaufighter but Coastal Command Mosquitoes used it to devastating effect on shipping and U-boats.)
Another piece of kit used to devastating effect on U-boats by Coastal Command aircraft was the Leigh Light – a powerful searchlight used to light up surprised U-boats in the dark just before attacking them. I always thought they were wing-mounted fixed-beam lights and fairly small, but there's one on display in this section and it's a big thing that's more like a ball turret. It turns out that the first ones developed by Wing Commander Humphrey de Verd Leigh, were like this, fitted into the belly of Wellingtons. They were retractable and could be directed by the bomb aimer. Later versions were wing-mounted and fitted to Catalinas and Liberators.
And the Lockheed Hudson IIIA. The RAF had over 2,000 Hudsons during the war years. This one never got the chance to fly with the RAF. It was transferred on delivery to the Australian RAAF and served with distinction (2 aerial kills).
Crossing over to the end of Hangar 4…
'Helicopter Corner'

I'll be honest. I'm not particularly turned on by helicopters. In this section the European Helicopter Industries Merlin EH101 is a pretty impressive heavyweight, but in Hendon's sister museum at Cosford, they have an MH53 Pave Low – just as big, but way more impressive!
What I did like is the ridiculously long & thin Westland Belvedere HC1, the RAF's first twin rotor helicopter in the 1960s. It looks like a flying cigar tube. It's successor, the Chinook, looks a lot chunkier!
Other machines in this section include a classic Sikorsky R-4B Hoverfly 1, a Bristol Sycamore HR14, and a number of other Westland helicopters; the Whirlwind HAR 10, the Wessex HCC4, the Gazelle HT3.
'Battle of Britain Hub'
Laid out in a circle are four Axis & Allied fighters: a Messerschmitt Bf 109E-3, Supermarine Spitfire I, a Hawker Hurricane 1 and I was genuinely chuffed and surprised to see an Italian Fiat CR42 Falco because not many people know that the Regia Aeronautica also played a johnny-come-lately role in the Battle of Britain.
'Cold War Jets'
we would have loved to have been at the design meeting  when somebody said "well, what about putting them on <em>top</em> of the wings?"
The Cold War Jets section actually starts with the second Tempest, the
Hawker Tempest V
. I think the logic is that the Tempest V represented the pinnacle of piston engine aircraft development before the jet age took over. It's a big aeroplane – it must be twice the size of the Messerschmitt Bf 109 parked nearby – and next to it is the 2250hp 24-cylinder Napier Sabre III engine that powered it. Very cool! (and kept that way by the gaping jowl of an air intake at the front!)
The rest of this section has a number of famous post-war jets including the English Electric Canberra PR3 long range photo reconnaissance jet, the Gloster Meteor F8, the de Havilland Vampire F3, and the BAC Jet Provost T5a trainer, but my favourite has to be the BAC Lightning F6 with its over-wing fuel tanks. As I was admiring it, I got chatting with a couple of guys doing the same and we all agreed… we would have loved to have been at the design meeting discussing mounting extra fuel pods (the Lightning was notorious for guzzling fuel) when somebody said "well, what about putting them on top of the wings?"
'The Big Boys'

Hangar 5 is where the majority of large aircraft, mostly bombers, are displayed, starting at the entrance with an Avro Lancaster 1. It must be a HUGE hangar when it's empty because there's a Boeing B17G Fortress, a Consolidated B24L-20-FO Liberator, a North American TB-25 J Mitchell bomber, a de Havilland Mosquito B35 and, the biggest resident, the Avro Vulcan 2, and that's just six of the seventeen aircraft in here!
In themselves those six represent some amazing aircraft, but they are not particularly rare. They can be seen in several air museums around the UK, and abroad. It's the machines you rarely see that make this hangar probably my favourite at Hendon…
Like the Fairey Battle 1 – a hopeless, underpowered machine at the start of WW2. You have to feel sorry for the guys who had to fly it. It's a surprise that any survived. I certainly haven't seen one before.
The only other Messerschmitt Bf 110 I've seen is in the Technikmuseum in Berlin. This one, a Messerschmitt Bf 110 G4 night fighter variant, bristling with radar aerials, looks fantastic. I could, and did, spend ages admiring her.
I am so pleased to see the Heinkel He111 H-20 again. It was built for the Luftwaffe as a paratrooper transport variant, which explains the absence of a bomb bay. The only other one I'm aware of is in the Norwegian Air Force Museum outside Oslo. I'm sure I've seen one tucked away awaiting restoration at the back of the Yorkshire Air Museum workshops, but that could be a replica, or a CASA 2.111 Spanish copy, and/or I could just be hallucinating. I can't find a photo of it. Either way, this one is special and I love standing under those great moth-like wings!
The FW-190 is a surprise. It's instantly recognisable and seemingly not that rare… until you walk up to it and go: "Wait, that's not right! This one is a two-seater!" It turns out Hendon has a Focke Wulf Fw190A-8/U-1 training version of the FW-190.
The jet powered Heinkel He 162 A-2 is pretty rare. Duxford have one, there are a handful in museums in North America and I've seen one in the Technikmuseum in Berlin. All the same, it's a really interesting aircraft and there have been rumours that they might be able to get the one in Berlin to an airworthy state, which would be amazing.
So too is the news that we may see a Junkers Ju-87 Stuka flying again soon. There are only three in existence. Here in hangar 5 is Ju 87G-2 wk.nr.494085. Then there's one in the Chicago Space & Science museum, and now the third, Ju 87R-2 Stuka wk.nr. 5709, is being restored to flight condition at the late Paul Allen's Flying Heritage & Combat Armor Museum in Everett, Washington State. Can you imagine being able to hear that Junkers Jumo engine in flight, and possibly one day see it screaming out of the sky in a near vertical dive? I am SO buying tickets for that airshow if it happens! Meanwhile, just enjoy this one in H5. It's always bigger than you expect and seriously sinister.
Big Boys' Toys
There are also a couple of interesting items in hangar 5, worth looking out for…
The first is hard to miss. The Grand Slam bomb, designed by Barnes Wallace and used by the RAF against targets like the Tirpitz and communications bunkers. I've seen 12,000 lb (5,400 Kg) Tallboy bombs in other museums, and at 21 ft long they are very impressive, but the 22,000 lb (10,000 Kg) Grand Slam is longer and much fatter. It's of a different scale altogether!
The air-to-air refueling systems. I'd never really thought about it much, but there's quite a lot of has-to-be-reliable engineering in those trailing fuel pipe systems.
The Zündapp DB 200 motorcycle, used by German military in WW2 – I'd never heard of it! (Now though – you know how it works – I've seen the name three times in the last two weeks!)
---
¹ Caution. If you are entering through the East pedestrian gate (Spitfire guardian) don't make the mistake I and all the others around me made. The "Entrance arrow" on the side of Hangar 3 in the distance is not pointing you around the side of hangar 3 to the old entrance. It and the small sign by the door of Hangar 1 are directing West gate and car park visitors coming from the other direction, to the entrance in Hangar 1, but you won't see that unless you happen to look back after passing it, because it is only printed on one side. I'm sure they'll sort it out soon.
² Overlap. The truth is, from a curator's perspective, there's quite a lot of chronological overlap between the hangars. Cold war weaponry, for example, can be found in Hangar 1, 6 and 5. Cold War aircraft in 6, 4, 5 & 3 (if you count the tail end of the Phantom jet!). It's totally not important to have chronological consistency just for anal geeks like me. In fact it's probably a good thing; telling the story of the RAF and its roles & history from different perspectives, and I suspect it also helps to make more efficient use of the display spaces.
Declaration: None this time. The museum is free so I didn't even pay to get in.