Imperial War Museum (IWM) – Duxford is primarily an aircraft museum, but the westernmost building is not, like the others, a giant hanger full of aircraft. Instead it is where the lion's share of the IWM's military vehicle collection is displayed – in the Land Warfare building.
I said ages ago, when I reviewed the Duxford Air Museum, that I would cover the Land Warfare building separately, but that was so long ago I don't think it would be right to award points on criteria that may no longer be applicable. I doubt it's changed much, but I'll need to revisit to review.
There are a couple of really good things about the Land Warfare building.
Firstly, it has been purpose designed so that visitors enter at gallery level. The gallery extends down the middle of the building and it means that 'casual' visitors can walk along the gallery and get a good view down onto all the exhbits without having to get down among them – freeing up the pathways for enthusiasts like me who want to get close up!
Secondly, unlike many tank museums (Musee des Bindes, Saumur; Arsenalen, Sweden) where space is at a premium, the IWM have taken the trouble to put most of their vehicles in quite detailed dioramas, conveying a sense of their use and, I suppose, their natural habitat!
As in many military museums the exhibits are displayed chronologically, so you start in the left hand hall with WW1 vehicles and go clockwise around the exhibition floor, ending back at the entrance with a British Challenger Main Battle Tank.
Back outside there are some contemporary exhibits – a British Armoured Personnel Carrier with a Soviet howitzer – and very interesting, a section of Whale bridging from the famous Mulberry Harbour used to unload supplies onto the beaches at Normandy in 1943 when the assault was complete.
So, what was there and what did I like?
Well, trucks… to start with.
The WW1 weaponry looks very businesslike especially the British 6″ heavy howitzer and 9.45″ heavy field mortar, but the trucks interested me, like the 1917 FWD Model 'B' 4×4 truck – such a familiar shape – and the ahead of its time-looking 6-wheel drive AEC850 AMP80 artillery tractor – so that's how they hauled the really heavy guns. It couldn't just be horses!
And, moving on to WW2, the iconic AEC Matador 4×4 truck in desert camouflage, drew my eye before the 6.6″ gun it is towing. This one served on Malta with the Royal Malta Artillery in WW2. (It has a sibling from RAF Luqa airfield on Malta parked at the Museum of Flight in Scotland), and the Morris Quad artillery tractor. Hands up, who had one of these in their collection of Dinky army toys with its towed ammunition limber and 25 pounder field gun?
That memory of toys from my childhood was stirred twice more in the Land Warfare museum.
The 17-pounder anti tank gun used to great effect in Normandy, was another in my toy collection. I remember its sloping armour… at least I thought I did. It turns out what I remembered playing with was the very similar 120mm recoiless Battalion Anti Tank (BAT) gun that replaced the 17-pounder.
And, probably my favourite, stop-in-my-tracks exhibit and my favourite toy, was the unmistakable 155mm artillery gun. As a toy it was spectacular. Breech loading with sprung-loaded brass shell casings that you capped with a little plastic shell (until you lost them all and had to make do with self-molded plasticine cannonballs), and here it was, the real thing, in front of me. Except it wasn't. According to the IWM this is the British 7.2″ howitzer mounted on a US carriage. Do the math. 7.2 inches = 183 mm. Same-ish, but bigger!
Tanks, tanks and more tanks.
Not surprisingly the Land Warfare museum has a good collection of classic tanks, mostly British, from the WW1 Vickers Mk 6 Light Tank to a Challenger Main Battle Tank (MBT) that saw action in both Gulf Wars. In between were a few of my favourites like the lethal Russian tank destroyer the SU-100, and the British A34 Comet tank.
There are also some other vehicles and weapons of note, for example the infamous German Nebelwerfer rocket launcher, a Tatra OT-810 the Czech version of the classic German SdKfz 251 half-track Armoured Personnel Carrier, and the Saxon Armoured Patrol Vehicle from the Afghanistan War with its fence protection barrier against rocket-propelled grenades, the insurgents' favourite weapon! 
Star attraction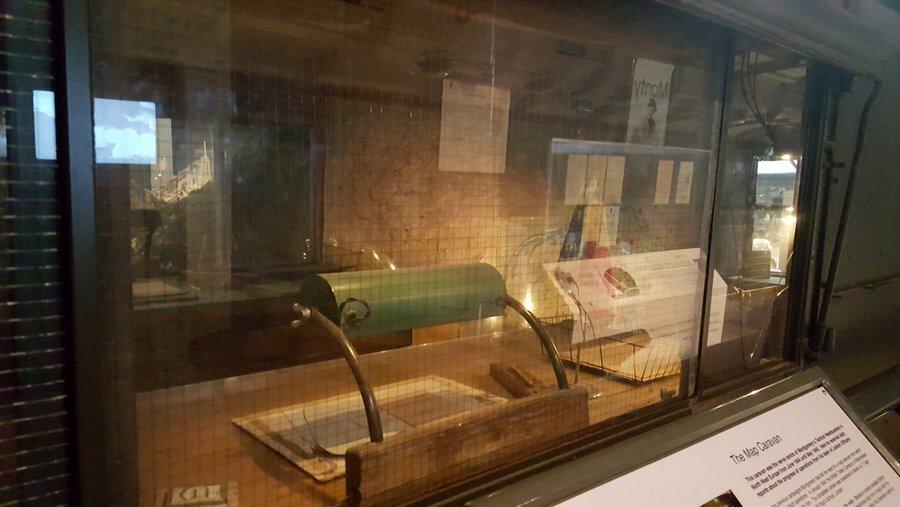 Their star exhibit has to be Monty's Map Van, more formally: Field Marshal Montgomery's Leyland Retriever Office Caravan. Sadly not easy to get a good photo of it (too many reflections), but certainly worth going to see. 
Have you been to the IWM Land Warfare museum? What did you think of it? Next time I visit Duxford, I'll update this into a review and award points.
Declaration: Not needed. I paid for everything on this visit including entry to the museum.