Under project name Sea Zero, Hurtigruten Norway has unveiled plans for its first zero-emission ship, but we're not going to be cruising around the fjords on it any time soon.
The cruise ferry company, together with a consortium of 12 maritime partners and the research institute SINTEF, has been looking at ways of achieving emission-free marine travel, based on existing and near-future carbon-neutral technology.
"When we initially announced the Sea Zero project over a year ago, we were faced with the challenge of not knowing which technologies would be available to us in 2030," says Hedda Felin, the CEO of Hurtigruten Norway. "Our task was to pave the way for new innovations and enhance existing ones to align with our sustainability objectives."
The plan is to build smaller, custom-built ships that leave a positive footprint with zero emissions to both sea and land. With the first ship ready in 2030, the company plans to transform its entire fleet into zero-emission vessels.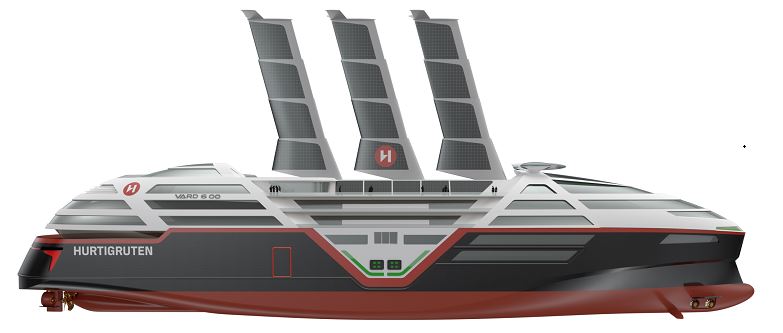 Hurtigruten Norway's future ships will be electric and equipped with batteries that charge in port. (More and more ports are installing re-charging systems.)
"I'm not getting on that! It's only 32% charged!"
Combining 60-megawatt hour battery solutions with wind technology, the vessel is expected to feature numerous innovative features, including retractable sails with solar panels, artificial intelligence manoeuvring, contra-rotating propellers, and multiple retractable thrusters. Additional technologies include advanced hull coating, air lubrication (a stream of micro-bubbles reducing friction between the water and hull), and proactive hull cleaning – a dirty bottom is a drag!
Battery levels will be displayed on the ship's external sides (really? That could be a double-edged sword! "I'm not getting on that! It's only 32% charged!").
The ship's bridge is expected to shrink in size with enhanced A.I. controls for manoeuvring and ship management, reducing the workload.
A nice touch… Hurtigruten Norway point out that they have operated along the Norwegian coast for 130 years and already have detailed knowledge of the 34 ports it stops at daily. The cruise line will now use A.I. to collect data to learn the most efficient docking and undocking methods for each port, improving in-port operations in bad or challenging weather.
The three retractable, autonomous wing rigs will comprise 1500m² (16,146 ft²) of solar panels and a total wind surface of 750m² (8,073ft²), reaching a maximum height of 50m (164 ft) when fully extended. This is not a new concept – several shipping lines are exploring the use of sail systems such as Chantiers de l'Atlantique's 'Solidsail' for ships – but combining sail surfaces with solar panel technology is a conceptual doubling up of green tech.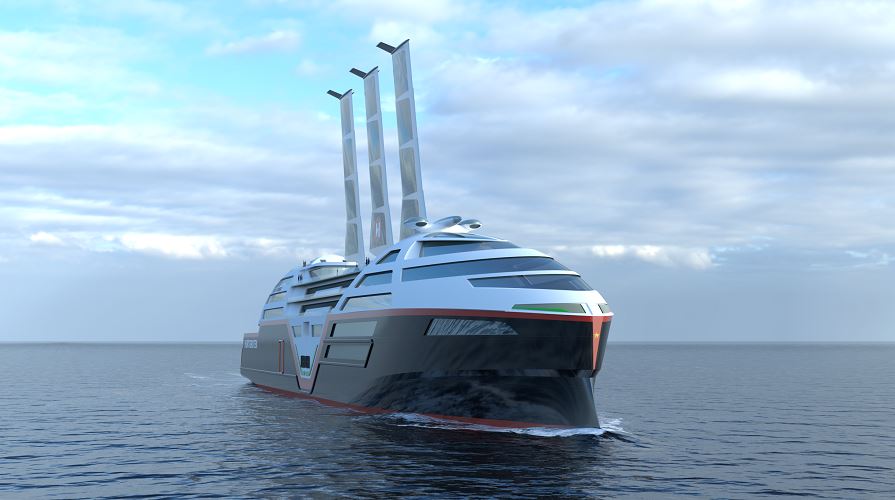 The streamlined shape of the new ships will result in less air resistance and reduce energy use. Although Hurtigruten say there will be "ample outdoor space", there will be "enlarged surface areas with dedicated windows" that "will allow for unparalleled views." In other words balconies are out, panoramic windows are in.
And some of the heavy lifting on eco-efficiency will be undertaken by the guests. Guests will play a key role in minimizing energy consumption through an interactive mobile app, where they can operate ultra-modern cabin ventilation, as well as measure their own water and energy consumption.
The new zero-emission ship is modelled at 135 meters (443 feet) long, with 270 cabins that hold 500 guests and 99 crew. Just as Hurtigruten Norway has been transporting cargo along the Norwegian coast for 130 years, the new ship will also have a significant cargo hold and transport cars.
It may be a little while before we see the new Sea Zero ships, but the project is both significant and welcome.