The Norfolk & Suffolk Aviation Museum is a treasure trove of aviation history, all crammed into a small site, and definitely worth a long visit, or two, to do it justice.
The museum started life in 1972 as the Norfolk & Suffolk Aviation Society, a small group of aviation enthusiasts who started building a collection of aviation memorabilia which they kept in a Nissen hut behind the post office in Flixton, right on the border between Norfolk & Suffolk, hence the name*.
They quickly outgrew the hut and in 1978 they bought the current site, which now houses their collection in several hangers, huts and a couple of fields.
There's no apparent core 'theme' to the collection, other than the stated desire to "record the history of aviation in the region". Most of the aircraft and much of the equipment is post-war/cold-war, but then there's WW2 wreckage, airframes, sections, and equipment. And there are also artefacts and equipment from the inter-war years and WW1. Nor is the collection, either indoors or out, displayed chronologically. It's an eclectic mix of artefacts squeezed and jumbled into the spaces available. Normally that would make accessibility and signage hard, but actually the signage is pretty thorough and you can get up-close to most things.
Where shall we start? Let's start outside…
The museum has around 66 aircraft, including replicas & sections (eg cockpits). Most have been donated over the years, some purchased, and around a dozen are on loan. Most of the complete airframes are displayed outdoors.
Outdoor displays
The first aircraft you see as you drive or walk through the entrance are the F-100 Super Sabre and a Gloster Javelin. The Gloster Javelin was the RAF's primary all-weather subsonic (max 640 mph) fighter between 1954 -1964. They were powerful, long-range fighters and you can see other examples at the RAF Museum in Cosford (where theirs is suspended dramatically in the air in the National Cold War Hall), and on the ground at IWM Duxford, painted in a garish red & white test aircraft livery. So it's nice to see this FAW 9 variant close up, on the ground, and looking good!
On the other side of the driveway is the F-100 Super Sabre from the same era but a little faster. It could clock 864 mph (just over Mach 1) This one, an F-100D fighter/bomber variant, was loaned to the museum by the USAF in 1978. It is painted in the colours of the US Skyblazers aerobatic display team.
The other aircraft in this first field are…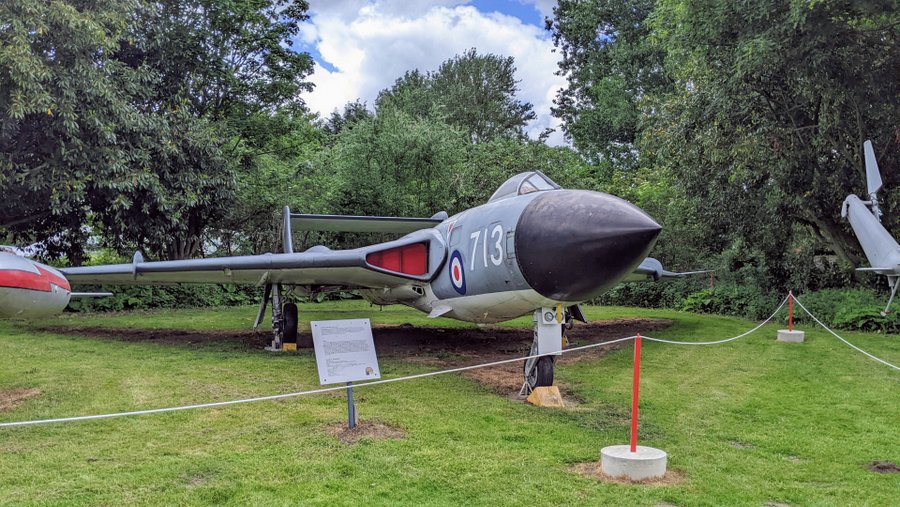 A De Havilland Sea Vixen FAW.1, the Royal Navy's large all-weather nuclear-capable interceptor/bomber that began to replace the Sea Venon in the early 1960s. The Sea Vixen started life as the De Havilland DH 110. Tragically, an early model broke up while demonstrating its ability to break the sound barrier at the Farnborough Airshow in 1952. The 2-man crew & a large number of spectators were killed in what was a famous accident. After this, the RAF lost interest in the DH 110 and invested in the Gloster Javelin. Sadly, another air show crash, this time non-fatal, grounded the last remaining airworthy Sea Vixen in 2017.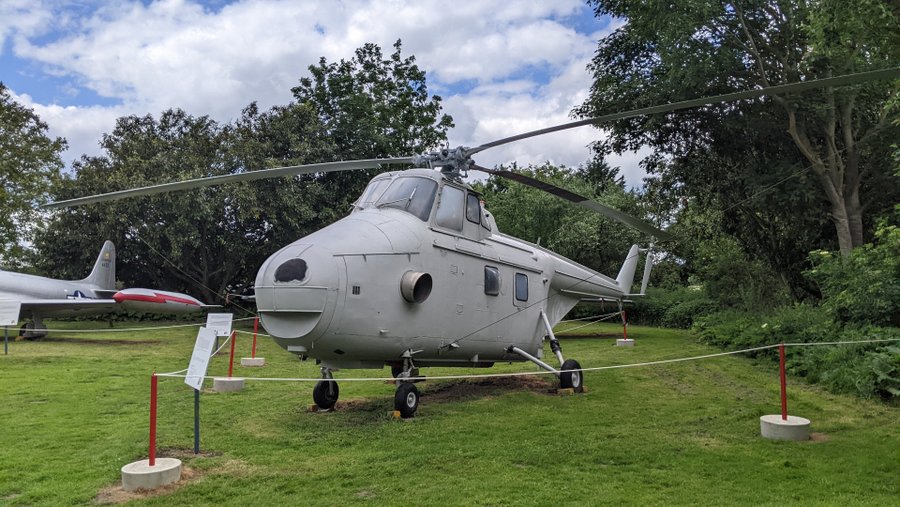 A Westland Whirlwind helicopter (who didn't make this Airfix model as a kid in the 1960s? Don't answer that! It'll just make me feel old!)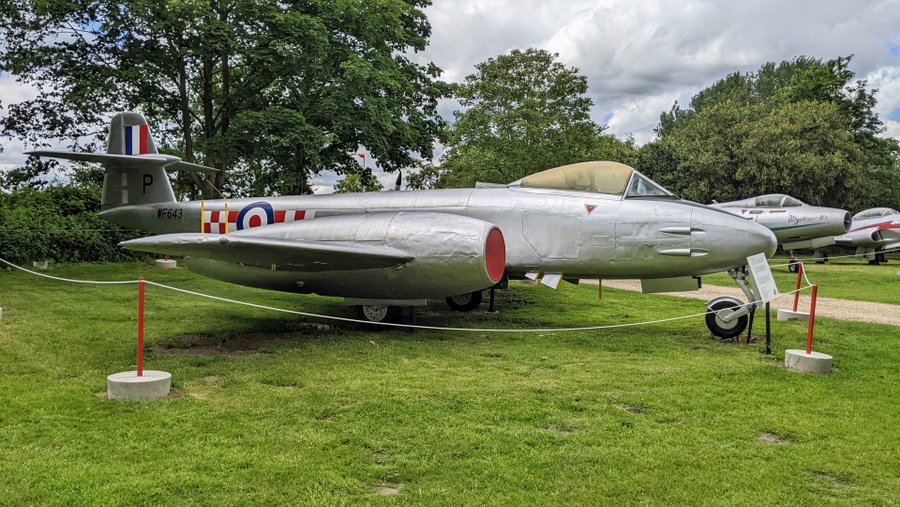 There's a Gloster Meteor – the RAF's first jet, which became operational just at the end of WW2. This one looks a little rough around the edges because when the museum bought it in 1975 it was in poor condition. They had to take parts from other Meteors to patch it up.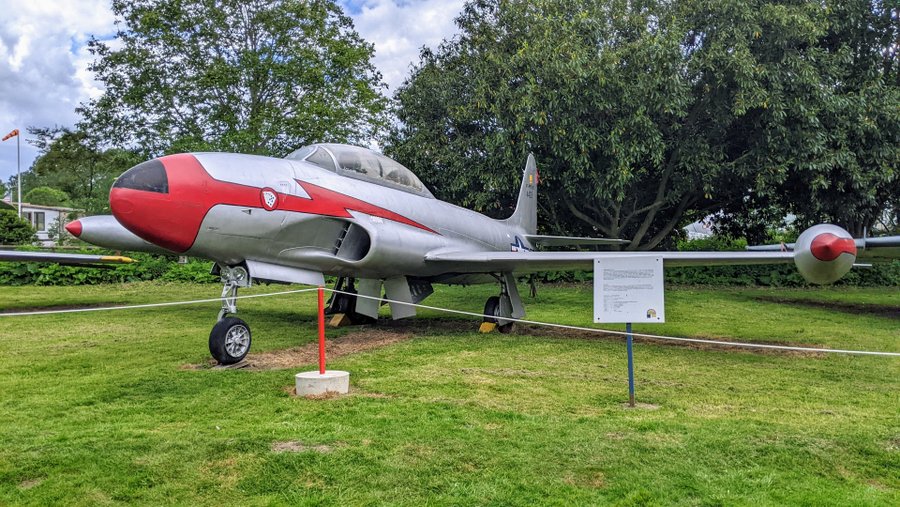 Next to it is a T-33A, the 2-seat trainer variant of the USA's first jet fighter – the P80 Shooting Star, which like the Meteor, also saw very limited action at the end of WW2, and then in the Korean War where it was outclassed by the MIG-15.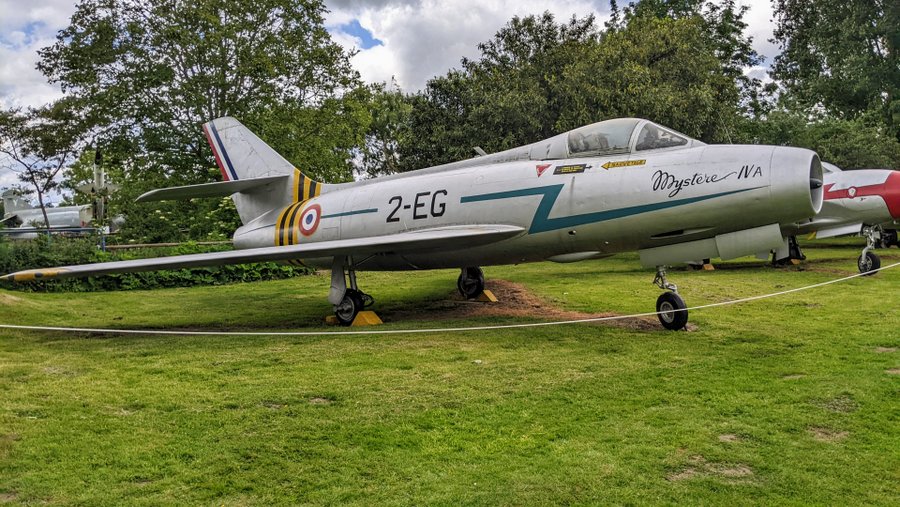 Lastly in this field, there's a Dassault MD-452 Mystère IVa. I really like this aircraft. It's a simple and elegant subsonic fighter from the 1950s. They saw lots of action with the Israeli Air Force during the Six Day War. I've not seen many of these in museums, but unsurprisingly there is one in the "Hall de la cocarde" at the French National Aerospace Museum in Le Bourget, and the very first prototype of the Mystère IV a hundred metres away in the neighbouring 'Hall des Prototypes'.
In the second field (in effect, the forecourt to the museum buildings)…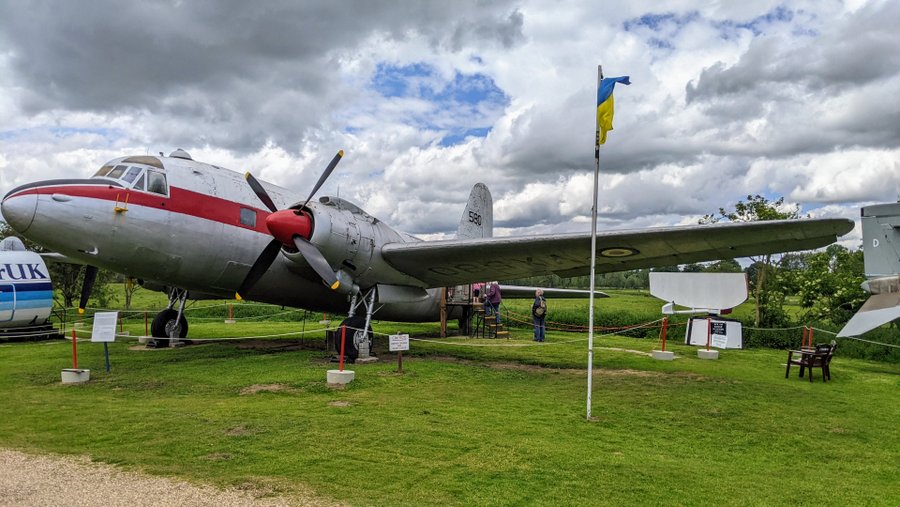 The Vickers Valetta is probably the museum's rarest aircraft. It's essentially a military transport based on the Vickers Viking airliner. Not many were built; 211 x C.1 transporters and 40 x T.3 trainers, but this is a C.2 Valetta designed for VIP transport, and only 11 came off the production line in the late 1940s & early 1950s. This is one of only two left in existence.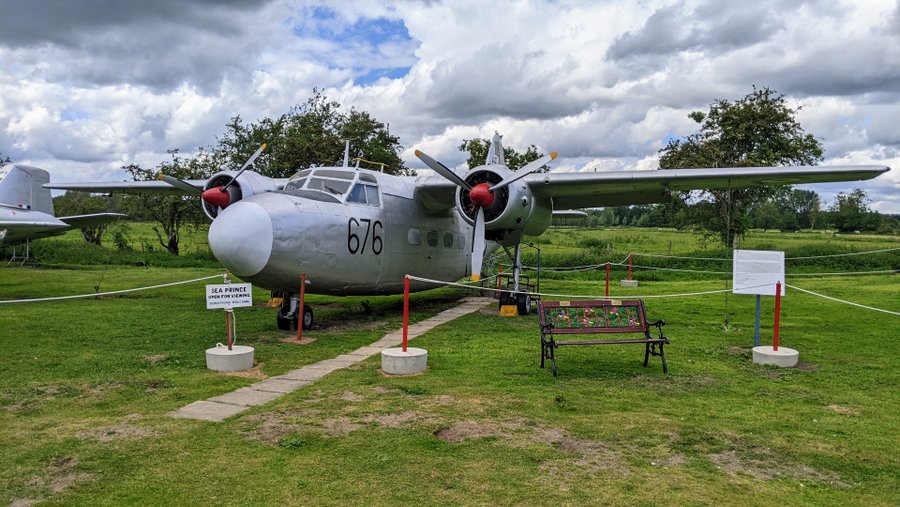 The Percival P.57 Sea Prince T1 was a Royal Navy variant of the 1950s Percival Prince transport/passenger aircraft (The RAF's version was called the Percival Pembroke. I've seen one in West German Luftwaffe colours at the Lufwaffe Museum, Gatow). It was developed as a navigation and anti-submarine trainer. This is one of seven T1 Sea Princes on display in the UK and two overseas, which is not bad considering only 41 were built.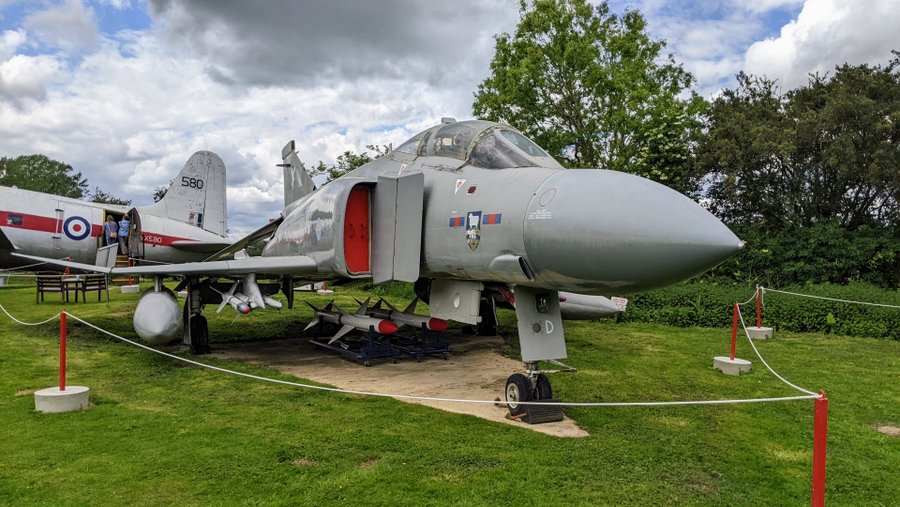 Nearby is an F4 Phantom jet. The all-weather 2-seater supersonic (Mach 2.2) Phantom fighter/bombers were the mainstay of the Fleet Air Arm and the RAF from the late 1960s into the early 1990s. This 4K variant was fitted with Rolls Royce engines and many British-made components. Privately owned, it has been on loan to the museum since 2020.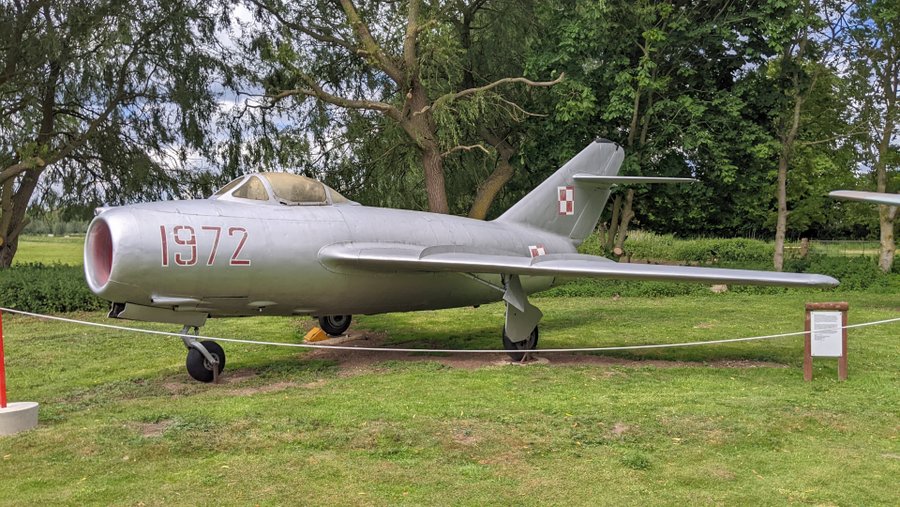 The Czech-made MIG-15 is painted in dual Czech and Polish colours (they were made under license in both countries). This one belonged to IWM Duxford and was moved to Flixton in 2007. It's hardly 'rare'. With over 13,000 having been manufactured, many museums have a MIG-15.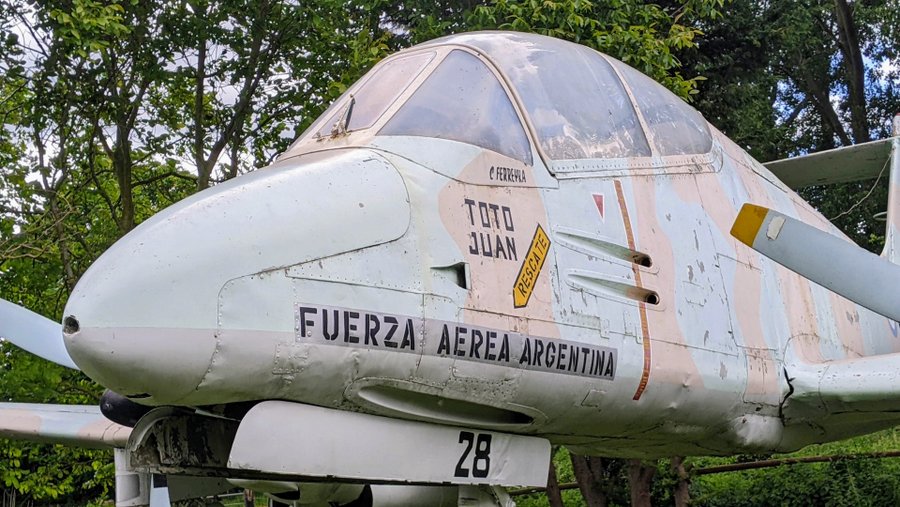 In the corner there's an Argentine Air Force FMA 1A-58A Pucara. No disrespect to British Falklands veterans, but I really like the look of this aircraft. It looks perfectly designed for its role – ground attack against insurgents.
Maybe it wasn't that perfectly designed. They were built to be rugged so they could operate from undeveloped airstrips, but this Pucara was taxiing at Port Stanley airport for a redeployment flight to Goose Green when its nose-wheel collapsed! It sat the rest of the war out and after capture was sent back to the UK with five others.
Not all the large items on display outside are aircraft.
I have a real problem identifying the 1950s British air defence missiles. I'm never confident these 4 x booster rocket ramjet missiles are Bristol Bloodhounds (RAF) or English Electric Thunderbirds (British Army); they are nearly identical. The visual clue, I've decided, is in the shape of the booster rocket nose-cones. If they are straight cones it's a Bloodhound. If they are twisted cones, pointing outward, it's a Thunderbird. This one at Flixton is a Bloodhound. You can see a Thunderbird at Scotland's National Museum of Flight, and apparently there's one at IWM Duxford but I don't remember seeing it there.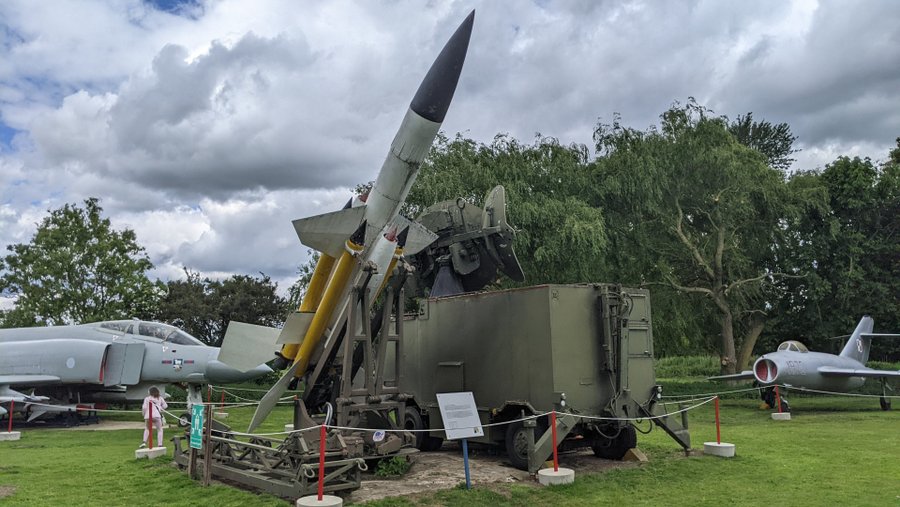 This Bloodhound has a large Ferranti fire control radar trailer with it, but, much more compact and TBH much more modern, is the Marconi Hunter Fire Control Radar trailer, displayed nearby. The clever thing about this system, which has a range of 10 miles, is the way its data can be used by a range of anti-aircraft guns & missiles.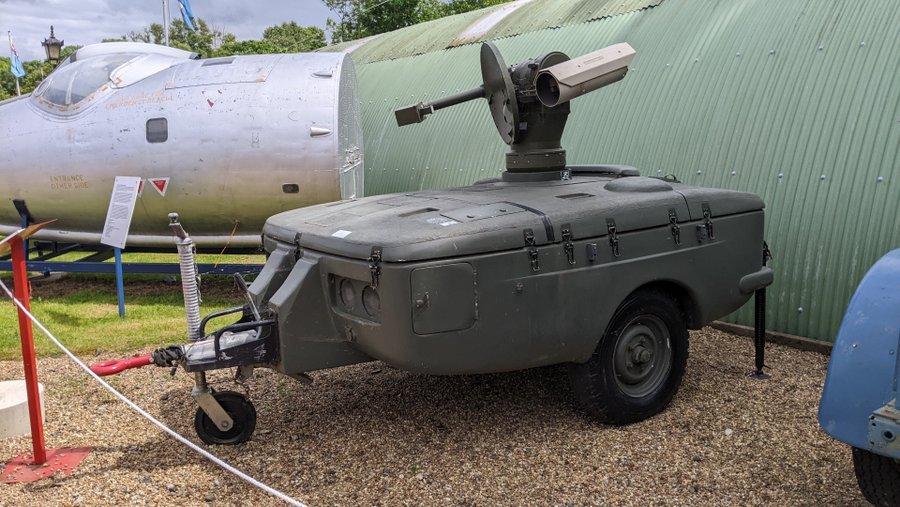 Close by the main buildings there are a couple of aircraft which I've never really been able to get excited about: an English Electric Canberra bomber (this one is a T4 trainer) and, in pride of place in front of the main hanger, a Hawker Hunter FGA 9. I know many aviation enthusiasts do get excited by them, so I should probably put more effort into learning about them. If you can tell me why I should learn to love them, let me know in the comments.
The main buildings
Hanger 1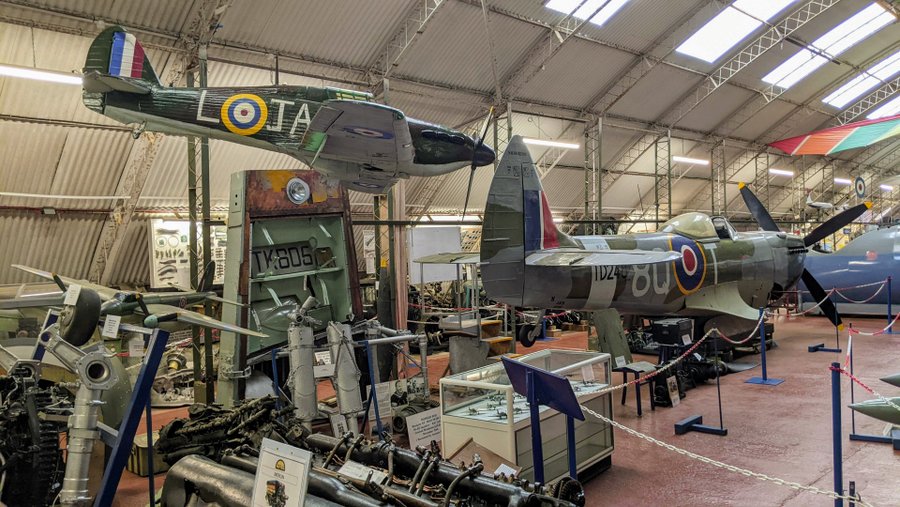 I know I've started outside in this review but Hanger 1 is the natural/instinctive starting point for a visit. It's the largest display space and it has a jumble of artefacts on display, with a path around the outside of them.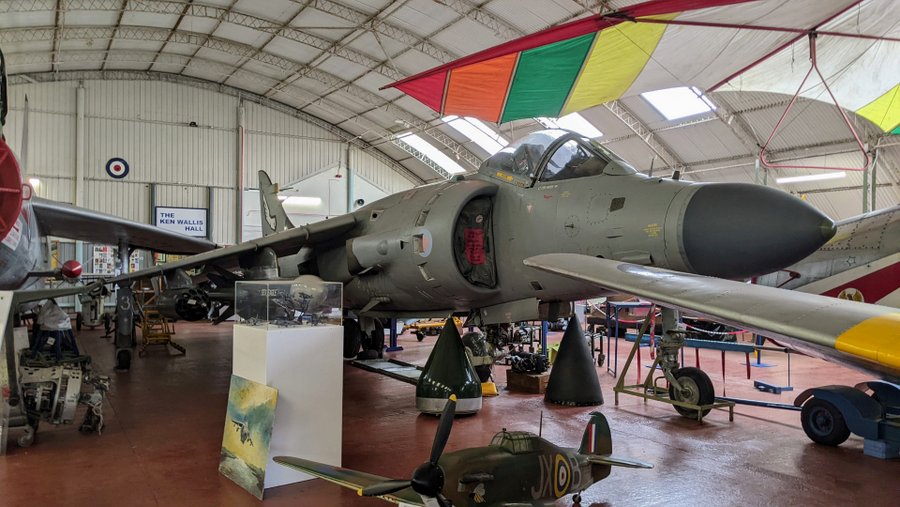 In the centre of the hanger is a BAE Sea Harrier FA-2. I didn't realise, until I read the signage more closely, how significant this particular Harrier is. She joined 801 Naval Air Squadron in Feb 1982 and set off for the Falklands on board HMS Invincible. On 21 May 1982, with the famous CO of 801 NAS, Lt Cdr. Nigel 'Sharkey' Ward, in the cockpit, she shot down an Argentinian 'Dagger'** with a sidewinder missile. She went on to fly 91 operational missions in the Falklands.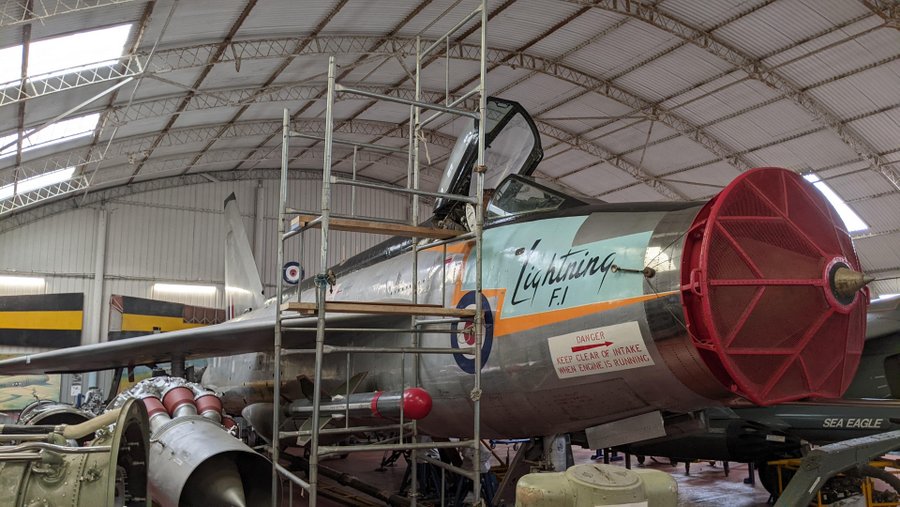 Next to the Harrier is an English Electric Lightning DB, the staggeringly quick but staggeringly fuel thirsty, Cold War supersonic, all-weather interceptor. This particular one, bought by a N&SAM member, was one of two pre-production models built in 1959 and used for trials, such as testing its guns in supersonic flight.
Laid out alongside the Lightning is a history lesson in jet engine technology – a series of British jet engines from the WW2 era into the 1950s. It's amazing to think that engines like the De Havilland Goblin turbojet, which powered the De Havilland Vampire jet were first run up in 1942. Its successor, the Ghost, first ran in 1945 and powered De Havilland's Comet and Venom aircraft. The Rolls Royce Derwent engine, which was the predecessor of Rolls Royce's Trent & Neme engines, was first run in 1943. And the Rolls Royce Avon jet engine, that powered the De Havilland Sea Vixen (outside), the English Electric Canberra (outside) and Lightning (behind), the Hawker Hunter (outside), the Saab 32 Lanson & 35 Draaken, and the Vickers Valiant… was first run in 1947!
On the other side of Hanger 1, there's a large collection of local Luftwaffe "wreckology"; pieces of crashed aircraft found & dug up by aviation archaeologists. There are a number of engines, including one from a Messerschmitt 410 and one from a V2 rocket. There's also a piece of undercarriage, the starboard leg, from a Junkers 88 shot down near Southwold by a famous ace, Wing Commander R.R. Stanford-Tuck who was based at RAF Martlesham Heath. It is accompanied by a fascinating letter from Stanford-Tuck detailing the encounter.
| | | |
| --- | --- | --- |
| Junkers 88 undercarriage | | Junkers 88 undercarriage signage |
Ken Wallis Hall
The hall is named after the museum's inspirational president in the late 1970s, Wing Commander Ken Wallis. He was famous for developing the Wallis Autogyro and it was he who built and flew, as James Bond's double, "Little Nellie" the feisty autogyro in the film 'You Only Live Twice'.
Wallis had two particular enthusiasms: autogyros and aerial photography. Or rather the other way around. He caught the bug for aerial photography while serving as a Wellington bomber pilot in WW2. He started building his own cameras. Later, he started developing autogyros as a stable platform for his aerial photography. He made a living out of his aerial photography for both military and civil contractors. His more unusual contracts included hunting for 'Nessie' in Loch Ness, and trying to spot Lord Lucan's buried body. He died in 2013. Amazing guy! Some autogyros and part of his collection of cameras is on display in the hall.
There are a number of unusual and interesting artefacts in this hall, and a couple of aircraft: a rare WW2 era Boeing Stearman PT-27 Kaydet biplane trainer. The only other Stearman in the UK is a PT-17 model Kaydet at IWM Duxford; and a delightful static reproduction of a Boulton & Paul P.6 biplane. Boulton & Paul were originally an engineering company in Norwich who specialised in pre-fabricated buildings including hangers. By the First World War they were branching out into engines, carts, propellors and then aircraft (remember the Defiant?). This P.6 replica is based on the P.6 used by the company's sales manager.
Around the corner there's a cutaway air-to-air refuelling pod from a Lockheed Tristar tanker. I think these were made by the longstanding company created by aviation legend Sir Alan Cobham, who pioneered the art of air-to-air refuelling. Sadly, Cobham Mission Systems as it's known now, was sold off last year.
And some vehicles you don't see often: A Clarkat B heavy aircraft tug (tractor) of the type used by the Fleet Air Arm during the Korean War, a 1954 Austin Champ, and a Morris MK1 Light Reconnaissance Car of the type used by the RAF Regiment.
As regular readers know, in every museum there's always at least one standout artefact for me. At the N&SAM it's the restored Mk1 Airborne Lifeboat.
It was the Battle of Britain that forced the RAF to seriously address the need for a co-ordinated & comprehensive search & rescue effort to slow the loss rate of skilled aircrew. In the last three weeks of July 1940 some 220 pilots ended up in the Channel or North Sea and not many survived. At first, aircraft searched for downed aircrew and then homed fast rescue launches onto them, but soon they were also dropping specially-designed survival packs to them, such as the Thornaby Bag, Bircham Barrel, and the Lindholme Gear, named for the airbases where they were developed.
As the bomber campaign over Europe grew, so did the size of the crews and the need for an aerial lifeboat that could hold 7 men or more. There's a really good book published by the RAF Museum –

'Rescue from the Skies' by Stephen Brewster Daniels – that details the development and use of these amazing life savers that had to land in the water without breaking apart, not drift away, carry supplies of medical supplies, rescue gear, food, water & fuel, and have 2 inboard/outboard motors, oars & sails, plus six parachutes… oh, and be light enough for an aircraft to carry!
This 23ft (7m) Mk1 lifeboat was rescued from a garden in 2007 in a dilapidated state and restored by museum volunteers.
See that black rod sticking up with a yellow handle/grip? When I saw it I thought it was a 'whale' pump, for pumping out water. It was only weeks later when I was looking at a diagram in the 'Rescue from the Skies' book, I suddenly realised… it's one of the rockets! When the lifeboat landed in the water it immediately fired a rocket at the bow to deploy a canvas sea anchor so it wouldn't drift away AND it fired two rockets each carrying a buoyant line some 200 ft (61m) out to the sides, so that the airmen could grab one and haul themselves to the boat. That's pretty clever!
Boulton & Paul hangar
The Boulton & Paul hanger is, apparently just that, built in 1939 and moved here in 2000 … although it looks a bit more modern to me. ***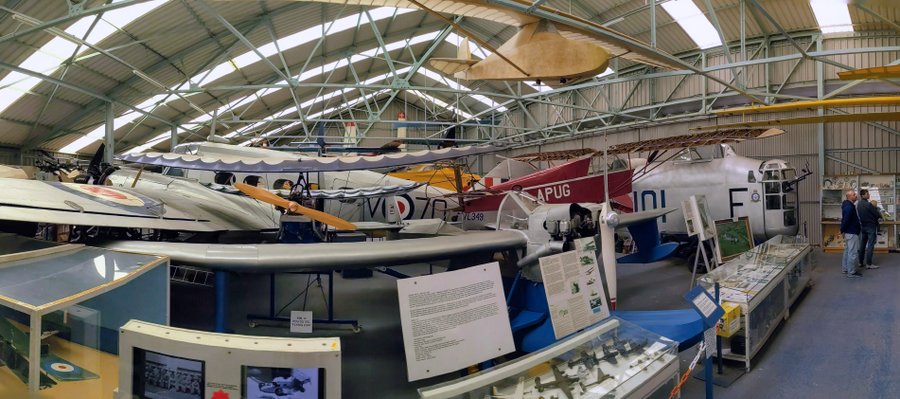 It's a large hanger with some interesting aircraft and artefacts including a Westland Whirlwind & Bristol Sycamore helicopters, an Avro Anson, part of a WWI Felixstowe F5 flying boat built in 1918, and a really interesting replica of the nose of a Boulton & Paul Overstrand with the world's first power-operated gun turret.
There's also an interesting replica of the Colditz Cock, built for the 3-part Channel 4 documentary (2001) 'Escape from Colditz' about the glider built secretly by Allied POWs in the attic of Colditz Castle.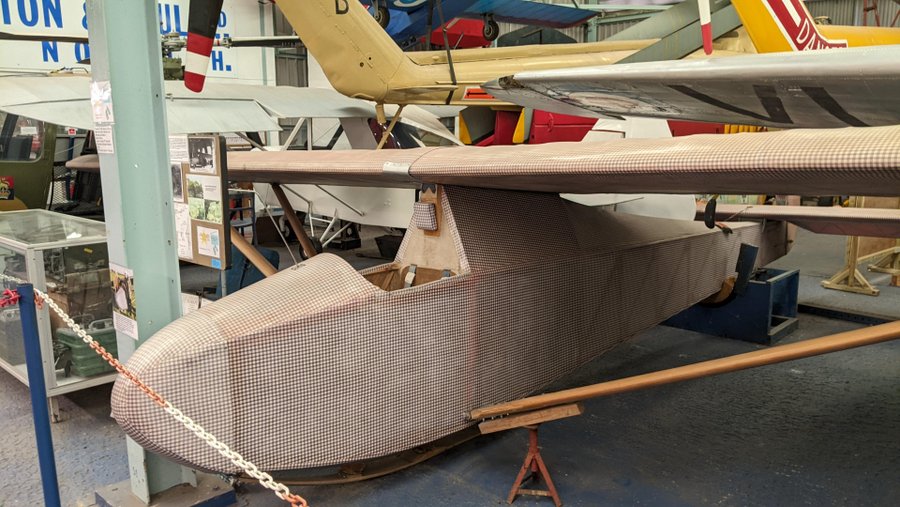 Running down one side of the hanger are display cabinets full of radio and other electronic kit in one half, and military uniforms in the other half.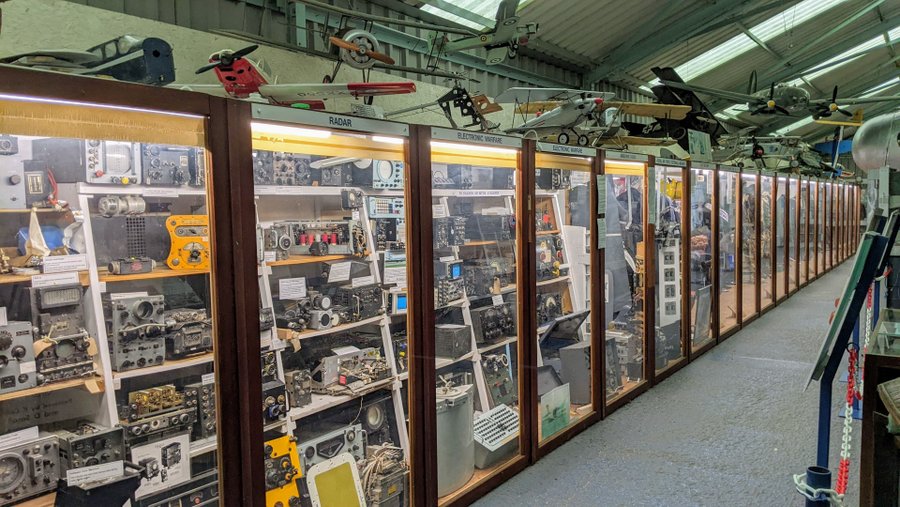 In an adjacent room is the…
Flight Training Area
This room has two working Link Trainers dating from the 1930-50s. One is a static example and the other has been modified to use a computer based MS Flight Simulator system.
Edwin Link, the founder of the Link Company, first started developing a pneumatically powered aircraft simulator on a gimbal in 1927. The company (now the Link Simulation & Training division of L3Harris Technologies) still makes aerospace simulators, though rather more sophisticated these days!
Another small but interesting collection in this room is the museum's gun sight collection.
Sub-Museums (small huts)
There are some Nissen huts and Portakabins that contain specialist collections.
RAF Bomber Command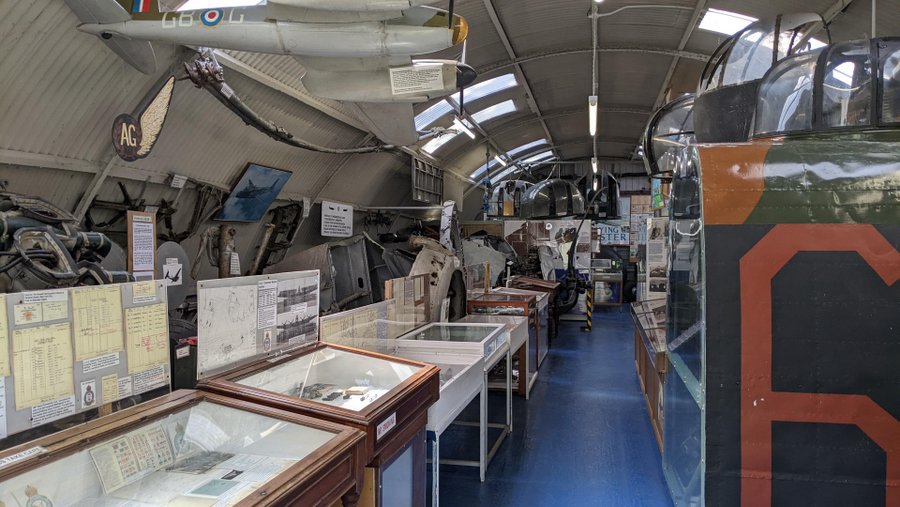 This hut focuses on the role of Bomber Command in WW2. There's a replica of the forward section of an Avro Lancaster bomber, and some pieces of wreckage from a Vickers Wellington of 9 Squadron, plus displays of aircraft equipment, uniforms, and personal items.
446th Bomb Group Museum
This is the memorial museum for the USAAF 446th Bomb Group (704 Squadron, 705 Squadron, 706 Squadron & 707 Squadron****) flying B-24 Liberators from Flixton airfield (Station 125), a mile away on the other side of the village. They arrived in November 1943 and flew 273 missions, losing 58 aircraft, with 447 men being killed in action. Their last raid was to Salzburg on April 25th 1945.
The Nissen hut has aircraft components, instruments and equipment, uniforms, and personal items. There's also a section of wall taken from a building on the site with the bricks signed by US personnel on the base.
RAF Air-Sea Rescue
This Portakabin is focused on the work of the Air-Sea Rescue units from WW2 into the Cold War era. The displays are mostly models, photographs, and documents, including a letter of appreciation from the USAAF 8th Air Force congratulating the RAF Air-Sea Rescue services for saving 78 aircrew over 2 days.
Royal Observer Corps
The Royal Observer Corps (ROC) hut has some interesting artefacts, photos and models from WW2 and later, including the details of over 1,500 secret underground bunkers in the UK set up from 1955 to monitor nuclear fallout after a nuclear attack.
Shop & Beyond
The museum has a shop (worth a look, I picked up some good books at bargain prices), and behind the shop are a couple more rooms with general exhibits including a recreated Anderson Shelter.
---
* The site backs on to the River Waveney, which is the border between the two counties. Physically it is in Suffolk, but it has a Norwich (Norfolk) postcode.
** Israeli version of the French Dassault Mirage 5. It was sold to the Argentinian Air Force under the name 'Dagger'.
*** Barely related anecdote: As a kid I used to get ridiculously excited on car journeys out of Devon on the A30 (or A303?) whenever we passed a tall black corrugated barn in a field by the side of the road with a Boulton & Paul sign on it. I knew about the Boulton & Paul Defiant, and it seemed very glamorous to me that somebody should have a barn built by them too!
**** It was one of the later Bomb Groups to be formed (April 1943). Originally, the BGs comprised of three sequentially numbered squadrons. Then it was decided that three wasn't enough and a fourth, already existing, squadron was added, usually with a number completely out of sequence. EG. 100th Bomb Group – 349, 350, 351 & 418th squadrons.
Declaration: None needed. I was visiting the area.
Further Reading

…