The Freedom Museum in Groesbeek, the Netherlands, has been awarded the Architecture MasterPrize for 2022 in the 'Cultural Architecture' category.
The museum covers a wide range of WW2 experiences and stories, such as the famine endured by Dutch civilians in 1944/5, but the focus is on the liberation of Holland and two local elements of that process in particular: Operation Market Garden (the battle for Arnhem in September 1944), and the Rhineland Offensive in February 1945.
The Freedom Museum roof has the shape of an enormous parachute, a recognisable symbol of liberation at the end of the war. It represents the thousands of parachutes that filled the skies over the landing areas along the Wylerbaan and in Klein Amerika in Groesbeek during Market Garden, and the large Rhineland offensive five months later.
The structure is actually a Shaded Dome, an innovation of Shaded Dome Technologies, a company founded by architectural studio ZJA, Royal HaskoningDHV, and Polyned.
As Rob Torsing, architect and partner at ZJA, says, it gives the museum "a striking form and is an exceptionally sustainable building, with an optimal indoor climate even in extreme weather conditions."
The Shaded Dome, placed on a concrete plinth with doors and windows, consists of a dome supported by air pressure, a network of steel cables, and a roof made of hi-tech textile with a large span. The dome is made of an insulated inner and outer fabric, separated by spacers.
As the roof is inflated, the self-righting spacers become erect, creating a cavity between them in which natural airflow quickly and automatically carries away the heat of the sun. Because of its two-layered structure, with an inner and an outer fabric, and a 50-centimetre cavity in between, the Shaded Dome requires markedly less energy than existing tent-like structures to create a comfortable and healthy indoor climate.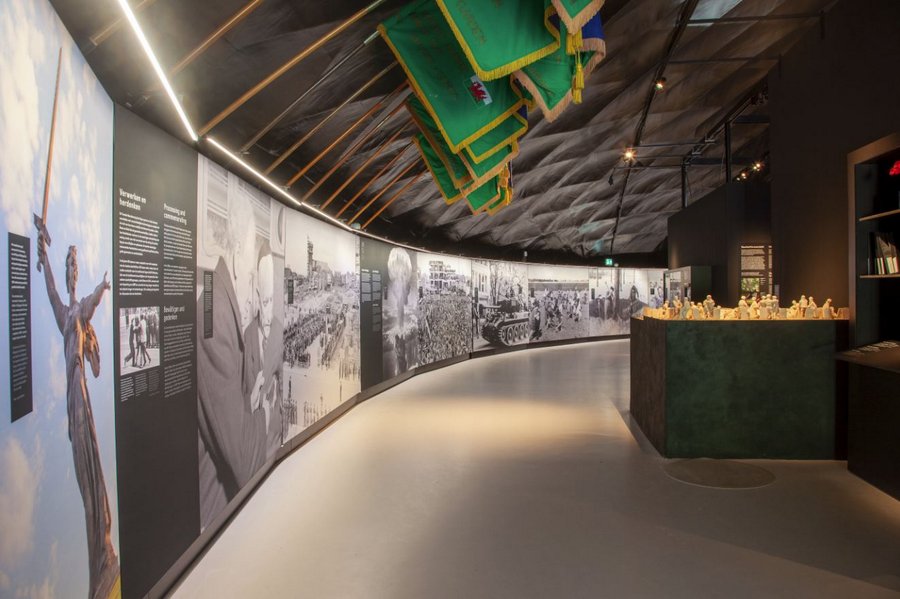 Because the inflatable dome is supported entirely by air pressure, the indoor space has no pillars, and its entire 2,400 square metres can be divided up at will. At its tallest point, the Freedom Museum is 12 metres high, and it has a free span of 60 metres. Therefore, the rooms in the museum, with its reception, museum café, and exhibition spaces, can easily be reconfigured without great expense.
The Freedom Museum has been in Groesbeek since 1987. This new building was inaugurated in 2020.