The fifth and latest Disney Cruise Line ship, Disney Wish, was floated out of the massive Meyer Werft construction hall in Papenberg, Germany, last week, and she is the first new ship for Disney to be fuelled by low-emission Liquefied Natural Gas (LNG).
Many ferries & commercial ships now use LNG propulsion and the cruise lines are following in their wake. Already Carnival Corp has LNG, now Disney, and both Royal Caribbean and MSC have LNG powered ships under construction.
LNG is becoming popular because it is the cleanest marine fuel available. Compared with heavy fuel oil, it burns with significantly reduced CO2 emissions and almost non-existent particle emissions. It eliminates Sulphur Oxide (Sox) particles, reduces Nitrogen Oxide emissions by up to 85%, and CO2 emissions by 20%. LNG is also interchangeable with renewable Liquefied Biogas (LBG).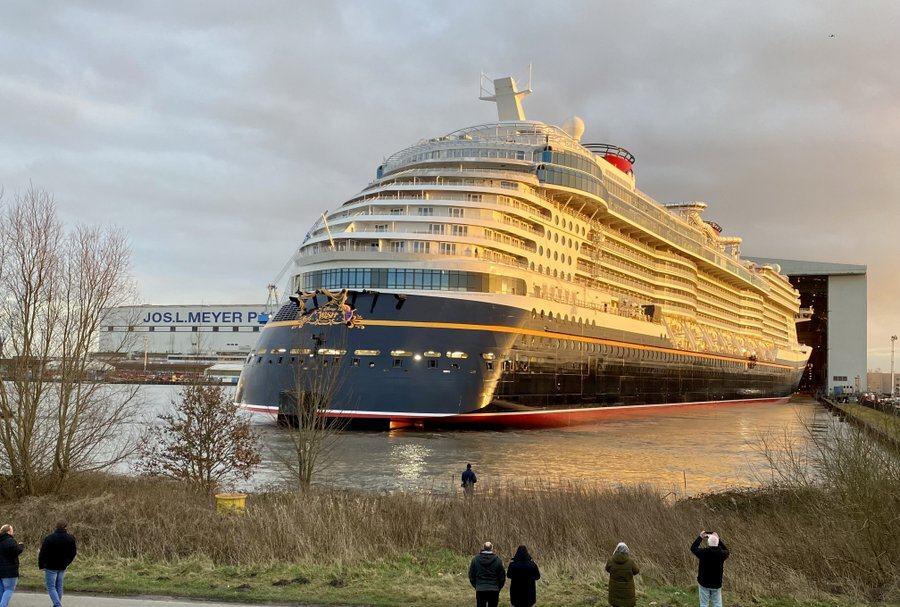 The 144,000 gross ton Disney Wish is the first of three new Triton Class Disney ships being built by Meyer Werft… who are lightning fast these days. Construction began in April 2021. That's 10 months! During a pandemic!
She will now be fitted out in the basin alongside the construction hall, before being taken down the river Ems for sea trials. Her maiden voyage is scheduled for 14 July 2022. Her sister ships – also powered by LNG and carrying approximately 4,000 guests (+ 1,500 crew) – will be delivered in 2024 and 2025.