Shanghai-based avtech company, Autoflight, has debuted its autonomous fixed-wing passenger electric vertical take-off and landing aircraft (eVTOL) concept at the China Airshow in Zhuhai.
The V1500M, which is designed to carry 3-4 passengers at 200 km/h for up to 250 kilometres, is expected to have its maiden flight "in the near future", with a target date for aviation authority certification of 2024.
The aircraft is designed to vertically take-off and land anywhere anytime. When it reaches a certain altitude, the power system turns on the dual prop pusher, so that V1500M is able to cruise at speeds of a fixed-wing airplane. And in low-altitude airspace the all-electric design enables it to operate at a very low noise level.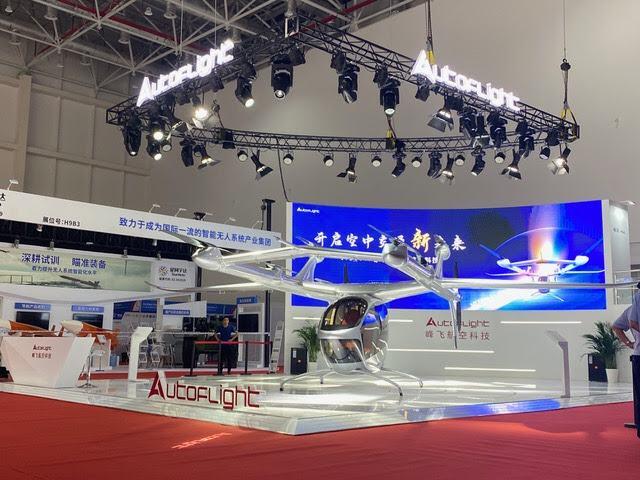 The V1500M uses its eight lifting motors to take off and land vertically like any multi-rotor aircraft, but as the energy consumption in the fixed wing mode is much lower than in the multirotor mode it can fly much further. The 250 km range should be achievable with up to 4 passengers, but that's without a pilot. Current regulations demand a safety pilot, so for the time being it's 3 pax + 1 pilot. Autoflight expects that as technology advances and develops a track record for reliability, regulations will be relaxed.
In terms of safety, the lifting rotor's and prop pusher's redundant power system guarantees that the aircraft could hover safely when two of the rotors malfunction. In case of one propeller failure, the other still ensures safe flight and landing. The V1500M also has a 'whole-aircraft parachute', which is designed to act as the last line of safety to protect passengers.
AutoFlight is one of the earliest avtech companies in China to start making autonomous eVTOLs, including large payload logistic and autonomous unmanned aerial vehicles (UAVs). Logistic UAVs were introduced first. They have now accumulated over 10,000 hours of flight time and been tested in all kinds of extreme conditions.