The light installation Een Spoor van Water (A Trail of Water) by artist Matthias Oostrik was unveiled this week under a railway bridge in the Dutch city of Assen. Each passing train activates a unique light composition, incorporated into the paving and plant beds underneath.
While I cover civil engineering structures and transport on this blog, I don't normally do 'art'… but this is a bit special!
The light installation is part of a series of art projects connecting the city to its green and historic surroundings. It is a "waterfall of light that crashes down over its concrete and meanders through its overgrown slopes. Situated in a historic creek bedding, the artwork connects the natural flow of water to the site's contemporary, urban traffic flows."
Matthias' digital technology artworks respond to visitors with changing light, video, or sound, allowing visitors to re-shape their environment. His works in public space are also functional. They contribute to a sense of security and are designed to last.
An example of his work is the Bijlmer Moodwall (2009), located in a pedestrian passage in Amsterdam. This 24-meter-long installation reacts to visitors with rhythmic light patterns, which turn the shady tunnel into a pleasant place to be. And at De Assen van Assen (2018), passers-by also activate playful streaks of light that move alongside them.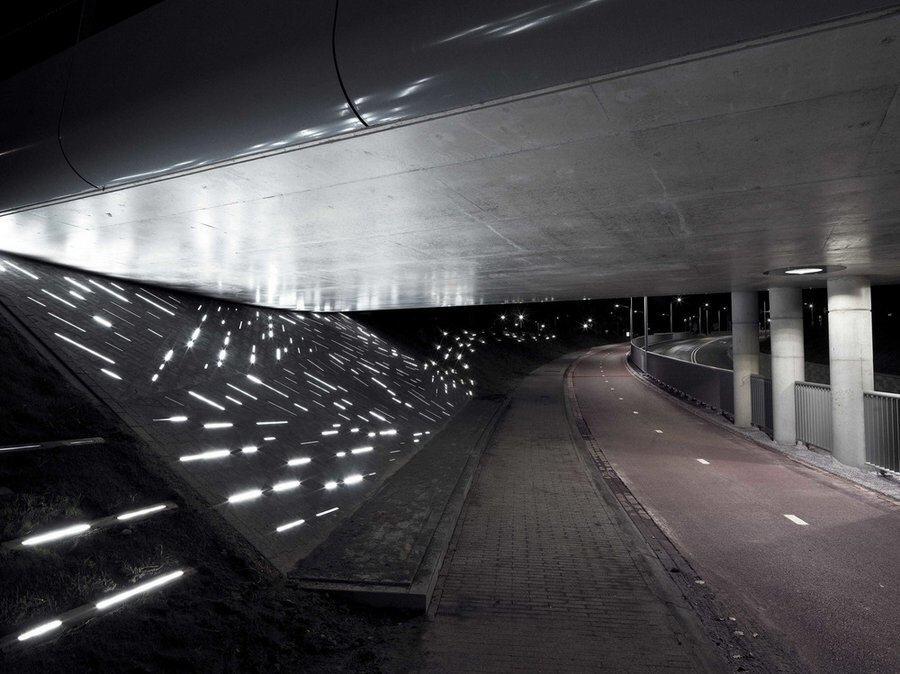 In this rail bridge installation Matthias used 500 paving blocks with custom-designed LED-modules built into them. In total there are over 14 thousand LEDs controlled through 4,248 digital channels and 3 seismic sensors.