The medieval hilltop town of Thiers in the Puy-de-Dôme department of Auvergne*, is known throughout the commercial and domestic kitchens of France as the historic home of the cutlery industry. In particular it's known for its knives.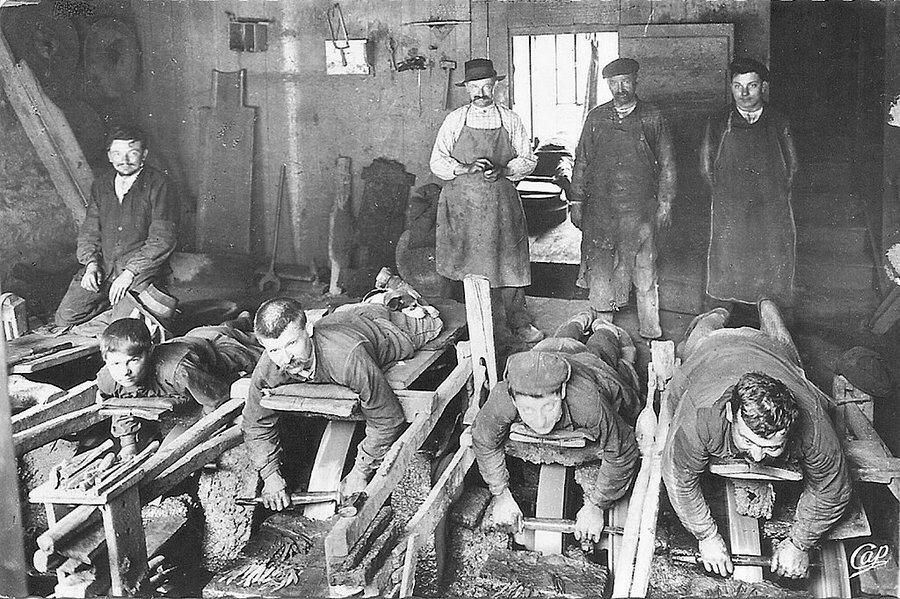 The town's craftsmen (& women) have been making knives for over 800 years, using the power of the fast moving Durolle river to drive their grinding stones, on which they shaped and sharpened their blades lying down. Many of the "Yellow Bellies" – as they were known, for the grinding dust coating the front of their clothes –  were photographed or drawn with a dog lying on their legs (only one in the photo above). Encouraged by management, this helped keep them warm in winter.
But Thiers is certainly not a historic museum or backwater. Two thousand of the town's eleven & a half thousand population are actively involved in today's cutlery industry**. The 78 cutlery manufacturers and 34 artisan knife makers, produce 350,000 pieces daily – 70% of French cutlery.
That's everything from table knives (& forks), kitchen knives, bread knives, hunting knives, combat knives, scissors, potato peelers, secateurs, razors (of the cutthroat variety!), sabers, swords, surgical instruments, and even blades for food processors and lawnmowers… but especially pocket knives.
Pocket knives are part of French culture; certainly in the countryside. A friend recounts the look of utter incomprehension on a Frenchman's face recently when she told him nobody carries a large pocket knife on them in the UK.
"BUT…. how do you cut your saucisson??!!!," he exclaimed.
Folding pocket knives came into fashion (literally) in France at the end of the 17th century when pockets first appeared in men's clothes and table manners evolved. It was a mark of civility… that didn't really make it across the Channel!
Thiers served that surge in demand for high quality, durable & sharp, knives, with innovative & reliable folding mechanisms, and elegant handles in a range of materials***. The reputation of the Theirnois knife was established.
So, it's no surprise that if you visit Thiers now, the first thing you'll notice is the abundance of knife shops in the medieval centre of town. Some are retailers. Some are artisan cutlers.
Knives have got a bad rep these days. Too many loonies & gangsters are running around stabbing people. So it's easy to forget they can be, not just practical tools, but also works of art, cultural icons and status symbols. Many of the world's top chefs will make a special pilgrimage to Thiers to buy their specialist knives, or order online from their favourite shop.
Not surprisingly there is a cutlery museum, and it is definitely worth a look.
Actually it's worth two looks. The museum is in two buildings (Nos 23 & 58) on the aptly named Rue de la Coutellerie which runs down from the town centre to the Durolle river, where, in the vallee d'usine ('factory valley') you can see two of the old water-driven factories, now renovated as an art gallery and an exhibition/trade centre.
Cutlery Museum (Musée de la Coutellerie, No. 23)
The first part of the museum is where you can buy your entrance tickets, watch a video about the history of knife making in Thiers, and see some examples of Thiernoise knives and the cutlers' skill sets – demonstrated at both ends of the scale by giant knives and intricately detailed, tiny models used to promote the skills of coutellerie houses and individual craftsmen.
There's also an interesting social history gallery that explains how the workers lived and organised themselves into Unions and professional associations like the Confrerie de Couteau de Thiers (Brotherhood of Thiers Cutlers). And there's a full sized grinder's bench/bed and a detailed model of one of the early water-powered factories.
…with some cutaway detail of the inner workings. 
I think my favourite artifact in here is the product catalogue for Maison Riberon in the 19th century. The illustrations are hand painted. You can image Monsieur Riberon commissioning this catalogue and proudly taking it to potential customers and trade shows so they can pour over it and place their orders.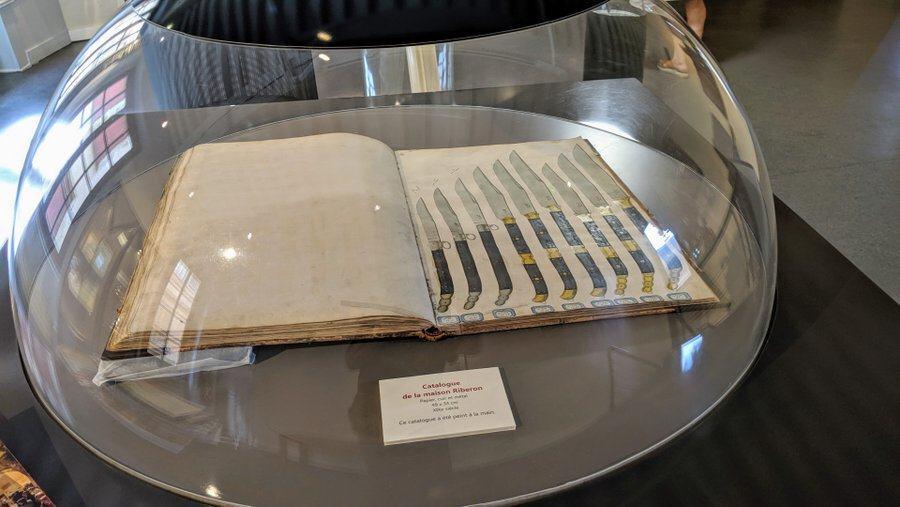 Cutlery Museum Workshop (No. 58)
In the second museum building, a hundred metres down the lane, the museum's cutlers offer demonstrations in their workshops, such as the assembly of a closing knife and traditional Thiernoise grinding.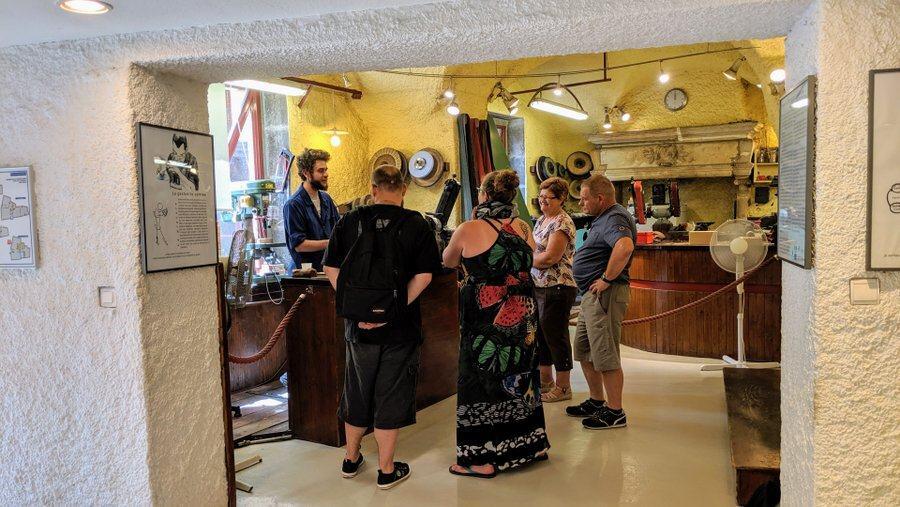 Above, there are two floors of galleries with around 700 pieces of cutlery on display, highlighting their elegance and finesse.
… and the range of utensils, from professional knives (surgical utensils, gardeners' knives, marine knives, vintners' knives, electricians' knives) to scissors & gadget knives (with lighters, rulers, thermometers & pens incorporated), all made in Thiers over the years.
Festival of Knife Makers
If you are visiting in May, then you can enjoy the Festival du Couteau d'Art aka Coutellia. It's a knife trade fair in Thiers, where international cutlers present their work to an audience of knife enthusiasts, retailers, collectors, and buyers from the hospitality industry.
I'm not sure that I can explain it better than knife maker, Craig Lockwood, who visited last year's Coutellia… So I won't!
(Go back to the beginning if you want to enjoy Craig's journey there and rain sodden camping experience!)
If you get the chance to visit Thiers, make sure you come away with at least one knife – we bought a few table knife & fork sets and a lovely wooden handled kitchen knife that has quickly become one of my favourites. And if you get to Coutellia, buy a Chop Knife from Craig!
---
* 45 km east of Claremont-Ferrand, 35 km south of Vichy.
** The opening of this promotional video on Thiers (in French) gives you an idea of the current level of industrial activity. *** Writer Bill Harby has a knife handmade to order in Thiers with an orange-and-green tinted camel bone handle!
Declaration: I was passing through Thiers and visited the Cutlery museum on a whim. I was able to enjoy complimentary access thanks to my press card.
Feature Image: One of the galleries in the Cutlery museum workshop building.
Further Reading

…