The museum ship SS John W. Brown, one of only two World War II 'Liberty' ships preserved and still operational*, is looking for a new home.
The Liberty ships were the cargo-carrying workhorses of the Allied war effort. They were produced with conveyor belt efficiency in huge numbers** in shipyards around the USA and played a key role in defeating the Axis in Europe and in the Pacific. The John W. Brown herself, named after a trade union leader, was launched in Sept 1942 in Baltimore, where she has been based since 1988 as a museum ship.
Unfortunately the lease on the pier where she is berthed is coming to an end. It was due to run out in January, but it has been extended to March 2020 (See comments) to give Project Liberty Ship, the non-profit organisation dedicated to preserving her, a little leeway. Their problem, as always, is funding. They can't afford to stay at the pier when the rate jumps, and so far they haven't been able to strike a deal with any other Baltimore pier owners or waterside landowners.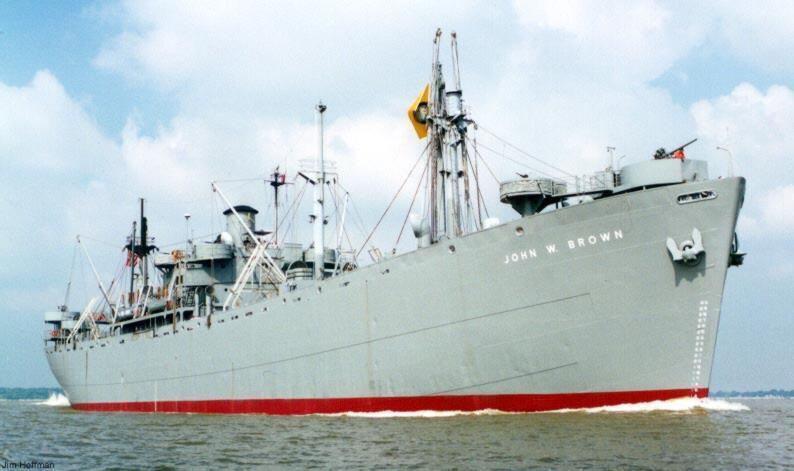 The John W. Brown completed eight wartime voyages carrying troops and cargo***. Then a further five until she was paid off in Nov 1946. She was then docked in New York as a floating school/training centre for maritime trades. Her school-ship days ended in the early 1980's and she was renovated between 1988 – 1991 to be an operational  museum ship.
So, now she needs help. She needs funding support and attention raising. There is a petition page for both at Change.org. (I have donated. Will you?)
UPDATE (04 Feb 2020): Success! An $18 million custom dock is to be built for the John W. Brown at the former Bethlehem Steel site where the ship was originally built and launched in 1942. Meanwhile, for the next two years while the new dock is being built she will move to an interim mooring site at Pier 13 on the Canton waterfront, around the corner from her previous home.
---
* The other surviving operational Liberty ship is SS Jeremiah O'Brien in San Francisco, California. A third Liberty ship, SS Hellas Liberty (ex-SS Arthur M. Huddell) is preserved as a static museum ship in Piraeus, Greece. (Source: Wikipedia)
** Eighteen American shipyards built 2,710 Liberty ships between 1941 and 1945 – an average of three ships every two days! When John W. Brown was launched she was the third Liberty ship launched by Bethlehem-Fairfield shipyard that day. (Source: Wikipedia)
*** Read the summary of her log in Wikipedia. Fascinating stuff! It starts with he maiden voyage from New York delivering Tanks and P-40 Warhawks to Iran for onward overland delivery to Russia. Her route, avoiding any potential hostile intervention, was circuitous to say the least; via the Panama canal into the Pacific, down the west coast of S. America, around Cape Horn, across the Atlantic and around the Cape of Good Hope, and up to the Gulf!