The Naval and Maritime Museum at Patriots Point is pretty spectacular and definitely worth a visit if you are in the neighbourhood. By 'neighbourhood' I mean pretty much anywhere on the central east coast of the continent!
The largest exhibit by far is the aircraft carrier, USS Yorktown CV-10. It dominates the shoreline at Mount Pleasant on the east side of Charleston Harbor. You can see it from the waterside or any tall building in Charleston. You can see it from the 1-mile long Arthur Ravenel Jr. Bridge over the Cooper River. You can see it from Fort Sumter out at the mouth of Charleston Harbor.
The Patriots Point Museum
Patriots Point is a state agency run by the Patriots Point Development Authority. The South Carolina government owns 460 acres of land at Patriots Point and the Patriots Point Development Authority leases much of it to the neighbouring hotels and golf course, which generates revenue for the museum. The rest of their income comes from ticket sales.
Some of that cash gets spent on the 16 full time staff and 60-70 part-time staff (they also have 100 volunteers, many of whom are veterans), but the lion's share is spent preserving the ships. They require a lot of maintenance because they are all 'wet-berthed' in tidal saltwater, and they have been there for many years.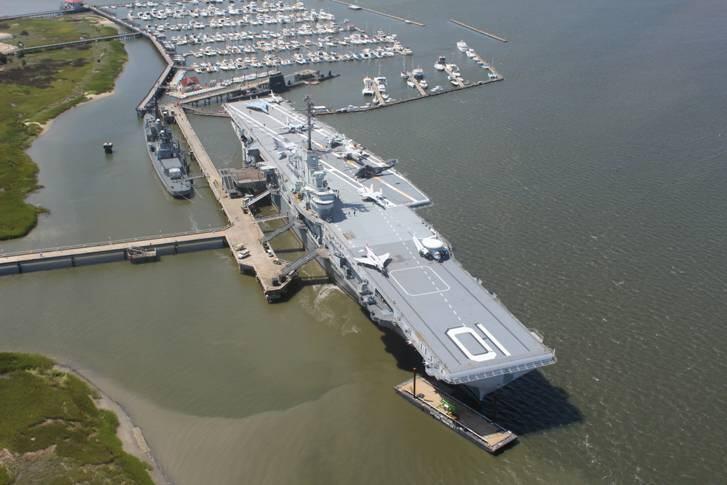 The museum has four primary exhibits…
The USS Yorktown, aircraft carrier
The USS Laffey, destroyer
The USS Clamagore, submarine
The Vietnam Experience
USS Yorktown was the first to arrive, in 1975. The museum was established with her arrival, opening in 1976. USS Laffey & USS Clamagore joined her in 1981.
So, there is a lot to see and most visitors spend the best part of a day here. In my case, I was on a rushed press visit and had to cram it into 90 minutes!
USS Yorktown CV-10 at Patriots Point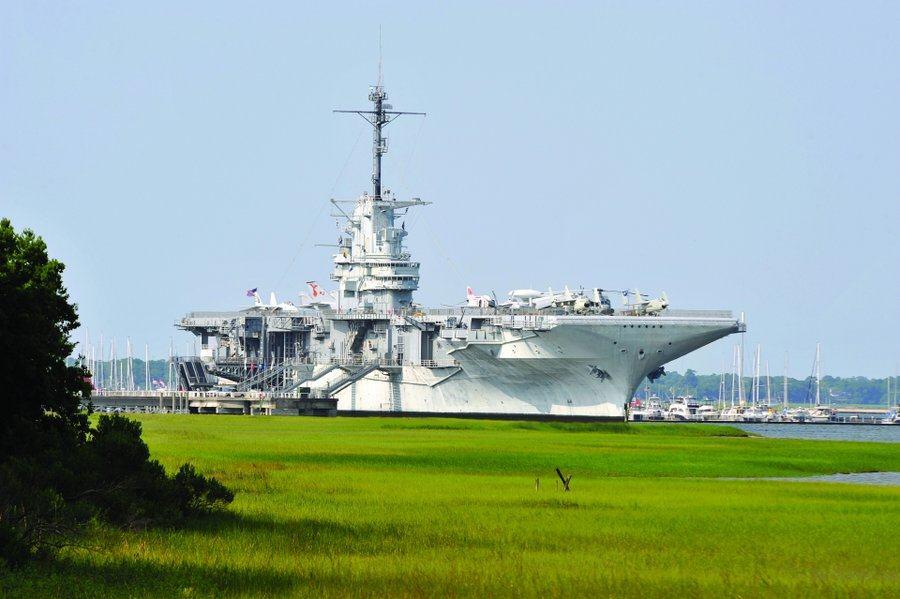 USS Yorktown is a familiar name to many, but this is not the heroic Yorktown that was sunk in the Battle of Midway in June 1942. That was USS Yorktown CV-5¹, first of the Yorktown-class of carriers.
This is CV-10, one of the Essex-class carriers, whose keel had been laid at the end 1941 and was due to be named "USS Bon Homme Richard"². Instead it was decided to honour CV-5's loss by naming her Yorktown.
it must have been a colossal shock AGAIN for the Japanese when a carrier named USS Yorktown appeared 10 months later!
Some say the intention was also to confuse the Japanese about whether Yorktown did or didn't sink… which it surely must have done. Remember, the Japanese thought CV-5 was badly damaged, possibly even sunk at the Battle of the Coral Sea in May 1942. Instead she limped home to Pearl Harbor and went into dry-dock for repairs. With a herculean effort, the ship workers managed to repair her and send her back out to sea in 48 hours, so she could chase after the rest of the US carrier fleet assembling off the island of Midway to ambush the Imperial Japanese Navy. It must have been a colossal shock for the Japanese to find USS Yorktown CV-5 was still very much alive, armed and very dangerous! Once again CV-5 almost survived the Battle of Midway. Listing heavily she was taken under tow, but was torpedoed by a Japanese submarine. So it must have been a colossal shock AGAIN for the Japanese when a carrier named USS Yorktown appeared 10 months later!
CV-10 was commissioned in April 43  just 16 months after her keel was laid, and fought in several operations in the Pacific. She went on to fight in the Korean War and the Vietnam War. In 1968 she was the recovery ship for the Apollo 8 (around the moon & back) space mission. She appeared in two movies: Tora! Tora! Tora! (about the attack on Pearl Harbor) and The Philadelphia Experiment (sci-fi time travel). She was decommissioned in 1970 and towed to Patriots point in 1975.
USS Yorktown has a collection of older WW2 & Korean war aircraft protected from the elements on her hanger deck, while the Cold War jets and more modern aircraft are on her flight deck. Both spaces are enormous and you can spend a lot of time here. You can just visit under you own steam, using , or not, an audio guide system to tell you about the exhibits and spaces in the ship. The audio guides have over 3½ hours of technical descriptions and personal testaments from veterans on 100 points around the ship. There are also docent-led tours at certain times of the day.
Highlights for me…?
Well there were a number of aircraft I don't get to see that often, or at all, like the outlandish and ahead-of-its-time Grumman E-1 Tracer with its huge radome on top – the US Navy's first Airborne Early Warning (AEW) aircraft. Then there's the Anti-Submarine Warfare (ASW) aircraft: the Grumman S2 Tracker and its successor the S3 Viking. How many of these have I spotted in European aviation museums? None!
And who could not love the Grumman A6 Intruder – the unsung reliable all-weather hero of naval aviation in the Cold War era. Although the version I would love to have seen is the Electronic Warfare version, the EA6 Prowler. (Pretty rare, but there is a Prowler in next door North Carolina)
Down below in the hanger there are some more cool aircraft. The US Navy Corsair, Wildcat and Hellcat fighters were also flown by the Royal Navy Fleet Air Arm, so you can see examples of those over on this side of the Atlantic, but I can't recall seeing a Douglas A1 Skyraider up close, nor a Douglas Dauntless dive bomber – the aircraft that had such a devastating impact on the Japanese carriers at Midway.
Other interesting parts of the ship included a quick visit to the pulleys, blocks and pistons of the hydraulic catapult system³, and the nuclear weapons store that used to be guarded by armed marines.
"So, in a way, we are all standing here, thanks, in part, to my grandad!"
It was while we were standing on the flight deck of USS Yorktown that a friend suddenly revealed that her grandfather had been the first person to fly off a moving ship!
It turns out her grandfather was none other than Charles Rumney Samson (I didn't know!), who, on 10th January 1912 became the first British pilot to take off from a ship, flying a Short Improved S.27 from a ramp mounted on the fore-deck of the battleship HMS Africa, while at anchor in the river Medway.
And yes, on 9 May the same year he became the first pilot to take off from a moving ship, using the same ramp and aircraft, now fitted to the battleship HMS Hibernia.
"So, in a way, we are all standing here, thanks, in part, to my grandad!" she pointed out.
Hat tip: Here's to Frances' grandad!
USS Laffey at Patriots Point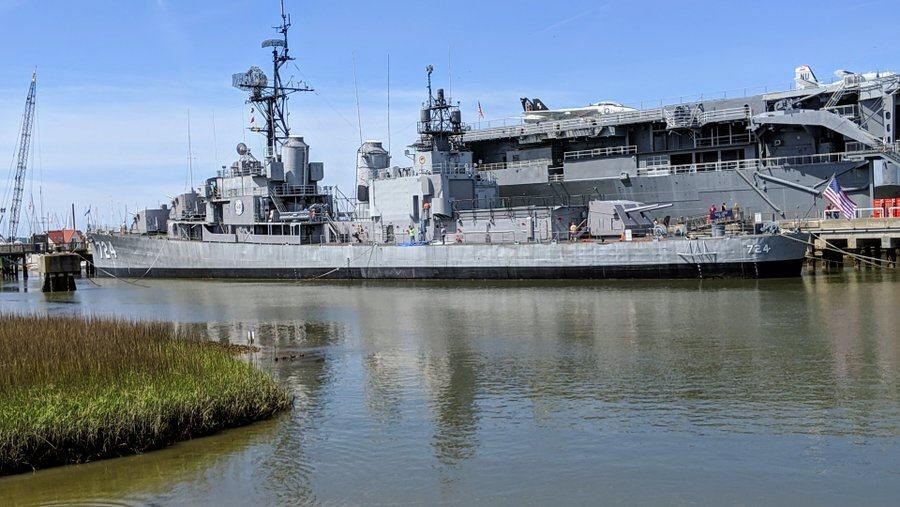 USS Laffey DD-724 is moored next to USS Yorktown on the other side of the quay. It's not the first time these two have been together. They both fought at Okinawa.
She also shares something else in common with Yorktown. She too was named for a predecessor the USS Laffey (DD-459) sunk at Guadalcanal in 1942.
I've been really keen to pay the Laffey a visit for some time because I think she has an amazing history. Maybe not as lengthy a fighting career in WW2 as the British destroyer HMS Faulknor, but this US Navy destroyer came pretty much straight out of the builders yard and into continuous combat.
Interestingly, I'm not the only one who thinks she's a bit special. It is rumoured that Mel Gibson may direct a movie about the USS Laffey. (And he's not the only movie star making a movie featuring an American destroyer.)
She was laid down in June 1943, launched five months later and commissioned in February 1944. She was on Atlantic convoy duty in May 44 and then on 3rd June set off for the Normandy beaches to arrive on D-Day. She spent the rest of the month shelling the French coast and crossing the channel to re-fuel & re-arm before setting out again for France.
In July she crossed the Atlantic back to the USA and then in August she set off for the Pacific, arriving in Pearl Harbor in September 44. For the rest of the year and into 1945 she was engaged in several operations around the Philippines, before joining the Okinawa invasion fleet in March. That's one year since she was first commissioned – busy ship!
It was at Okinawa she earned her nickname 'the ship that would not die' after a long succession of fierce attacks by 22 Japanese bombers and kamikazes. She survived extensive damage from four bombs, six kamikaze crashes and strafing fire, though 32 of her crew didn't, and 71 were wounded. All the same, they shot down 9 aircraft and managed to stay afloat.
There's an interesting mini-documentary about the Laffey's veterans and what they went through here.
One of the biggest losses of life that day was in the aft 5″ gun turret which was hit by an Japanese plane whose bomb went off. It detonated the powder magazine and destroyed the gun turret. Now, as you step on board, one of the first points of interest is the Mount 53 Experience where you get to see a little of what it was like inside the cramped turret during a kamikaze attack.
You can wander pretty freely around the ship; up on the bridge, into another 'experience' in the ship's combat centre, down into the crew quarters and the engine room.
USS Laffey (DD-724)'s career didn't end in 1945. After WW2 she was re-fitted and re-commissioned (1951) and fought in the Korean War. Then during the Cold War she worked in various roles in the Caribbean and Mediterranean, until 1975 when she was finally decommissioned and became a museum ship and a National Historic Landmark like USS Yorktown.
She is still fighting to stay afloat. In 2008 her hull was found to have over 100 leaks. Patriots Point had to persuade the state to fund the $9m repair bill.
USS Clamagore at Patriots Point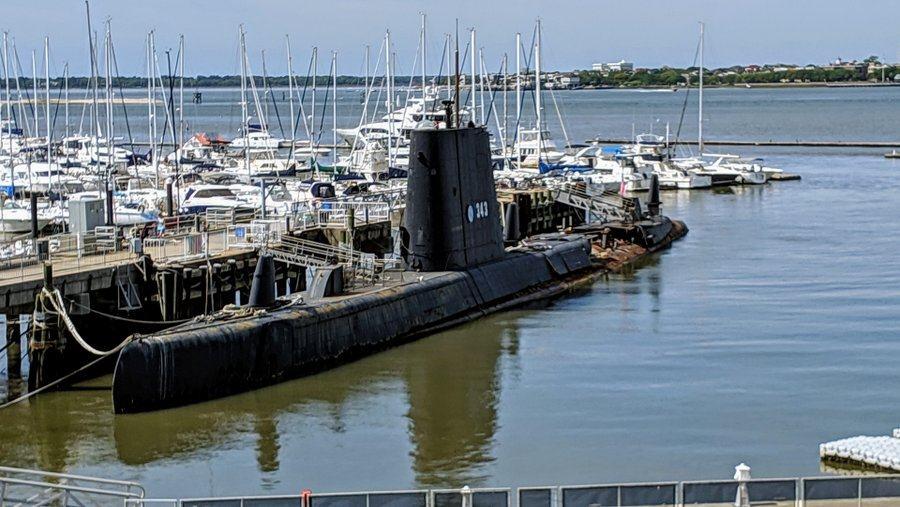 Sadly USS Clamagore is unlikely to be as lucky.
USS Clamagore SS-343 is a 322ft Balao-class submarine, a National Historic Landmark and the last surviving GUPPY submarine (Greater Underwater Propulsion Power Programme) – IE she was equipped with a snorkel.
The problem is, over the almost four decades she has been on display, she has been slowly deteriorating… to the point at which something serious, and expensive (another $9m+), has to be done to keep her afloat. They want to keep her, but their priority is Laffey & Yorktown. Last month the state government agreed to lift a veto on spending the $2.xm needed to scuttle her, so pending any last minute surprise reprieve, it looks as if she'll be taking her final dive soon.
To be honest, I had seen photographs of her shocking condition and it hadn't occurred to me that visitors could still go on board. I was rather surprised to discover that I could have gone onboard, but I didn't have time, and now I rather wish I had. It looks like that was my last chance.
Vietnam Experience at Patriots Point

The 3-acre Vietnam Experience is something a bit special…and not because it is in no danger of sinking!
Basically they have re-created typical US military installations – A brown water Navy support base. A Marine fire artillery base (modeled on Khe Sanh) – from the Vietnam war and filled them with authentic pieces of equipment from Quonset huts, to ambulances, field artillery, a number of helicopters (that actually flew in Vietnam) and a river patrol boat.
There are explanations of what you are looking at, and personal stories from soldiers who served there. There's an interesting exhibition on the little-known indigenous native Montagnard fighters from the central mountain region who fought alongside the US Special Forces.
But, it's called an 'experience' because all the while you are surrounded by the sounds of the Vietnam war – anything from distant artillery to helicopters landing, to the sound of cicadas and even a tiger from time to time – coming from 100 surround sound loudspeakers. Periodically all hell breaks loose as a Tet Offensive attack is simulated.
"Why don't we use it for PTSD treatment?"
"What we found after we built it was that it was way too life-like for a lot of veterans!" says Patriots Point Public Information Officer, Chris Hauff.
"We didn't mean it to be that way so we went to the VA hospital and said 'how do we fix this?', and they said , 'well you don't need to fix it. Why don't we use it for PTSD treatment?' So a lot of Vietnam veterans, and a lot of veterans from other wars who have a hard time hearing those sounds, come through the Vietnam Experience for Repeat Exposure Therapy. Over 6-7 visits they become less and less impacted by those sounds"
I'd like to come back to Patriots Point a few times, for a different reason. I didn't get anything like enough time to soak it up and explore it in detail.
---
¹ US aircraft carriers were designated CV and numbered sequentially. CV-5 was the fifth carrier to be built. Later the designations became more specific. When USS Yorktown CV-10's role changed she became CVA-10 (Attack Carrier), and then CVS-10 (Anti-Submarine carrier).
² The name Bon Homme Richard was in memory of Captain John Paul Jones' Bonhomme Richard… only with a different spelling. It was used in the end for another Essex-class aircraft carrier, CV-31.
³ It turns out these weren't the only catapults on board. In her first iteration (before she was modernised in 1953) she was fitted with a transverse hanger catapult that allowed aircraft to be launched out of the side of the ship from the hanger deck! No, I hadn't heard of such a thing either!
Declaration: I was visiting Charleston for an event (British Guild of Travel Writers Annual General Meeting) hosted by Explore Charleston and South Carolina. This was a visit organised by them, so museum entry was complementary, but as usual, my views are my own
Feature Image: USS Yorktown at Patriots Point – Something Original at English Wikipedia CC BY-SA 3.0
Further Reading

…