The Royal Electrical & Mechanical Engineers (REME) museum re-opened in June last year at MOD Lynham in Wiltshire.
The corps has had a museum since 1958. It was originally a small collection located in a few rooms at Moat House in REME's base at Arborfield outside Reading. It moved to Lyneham in 2015 but only opened to the public a year ago.
Wait a minute! Lyneham is an RAF airbase, what is the Army doing there?
Ah yes, well spotted. Most of us know it as 'RAF Lyneham', not least because, as the home of the RAF's C130 Hercules transport aircraft, it became famous as the airbase to which those killed in the Iraq & Afghanistan wars, were repatriated. However in yet another round of military cuts the airbase was closed in 2012 and the C130s were moved to RAF Brize Norton. It is now 'MOD Lyneham' – a Defence Technical Training establishment and home to the REME technical training schools which moved from Arborfield Garrison and Bordon Garrison, plus of course the REME museum.
So what's there, and why would we be interested?
Ok, I see what you are getting at. Most people get excited about the fighting arms of the military with their tanks, aircraft, & ships, but that's precisely why I think the REME corps is interesting… and far from unimportant.
That importance is highlighted in one of the first displays you encounter at the museum – a quote from Field Marshall Montgomery, who after El Alamein said they were "keeping the punch in the army's fist".
El Alamein (Oct/Nov 1942) was REME's first battle. Despite their lack of equipment and the appalling dust & heat of the desert they were able to recover some 500 armoured cars & carriers, and 1,244 tanks of which 1,007 were returned to battle (!), plus countless 'B' vehicles, guns, small arms, wireless sets and instruments.
REME Museum – First Hall
Their key WW2 vehicles start the museum's chronological display of vehicles and equipment, namely the Light Recovery Vehicle which was essentially a 1930s 6 x 4 Morris truck with a pick-up crane for towing small vehicles; and the Armoured Recovery Vehicle (ARV) for heavier jobs, based on a Churchill tank with a crane & spade for winching at the back, and a dummy gun barrel at the front to make it look more threatening than it was!
With them in the first hall, are two rather more specialist vehicles; the high-sided Sherman Beach Armoured Recovery Vehicle (BARV) designed to drag vehicles out of the sea and used on D-Day in Normandy; and the Bedford QL Type M Machinery Truck – a mobile workshop in a Bedford 4-tonner with its own generator, welding gear, and powered machine tools such as a lathe, drills and grinders.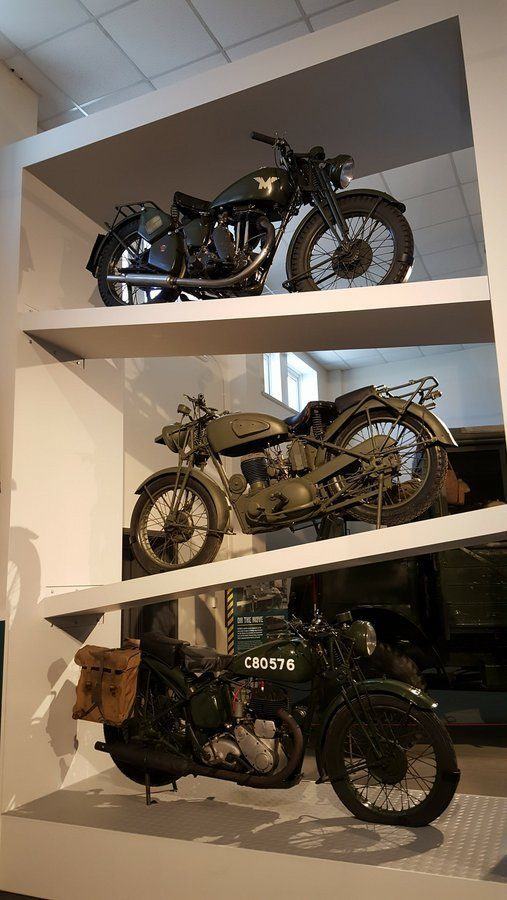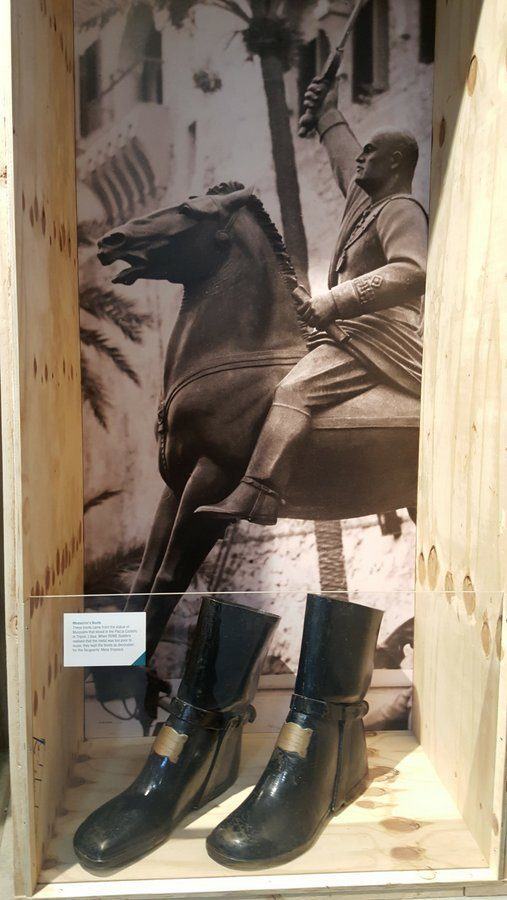 REME also looked after the maintenance & repair of the Army's smallest vehicles; the motorcycles, of which there were many, used for dispatch riders, escorts, scouts, and by REME itself for scouting repair locations and locating damaged vehicles. There's a small collection of WW2 motorbikes in the hall, and a collection of souvenirs & memorabilia.
Every regimental museum features a collection of items 'rescued' from its vanquished foes. REME has a few too: several German, Italian and Japanese swords, bayonets & ceremonial dirks, a piece of material covering Hitler's office chair in the Reich's Chancellory, a piece of concrete from his bunker, a roof tile from Hiroshima, Chief of the Gestapo Heinrich Müller's paperweight… and Mussolini's boots! At least his metal boots, taken from a statue of him in Tripoli.
REME Museum – Main Hall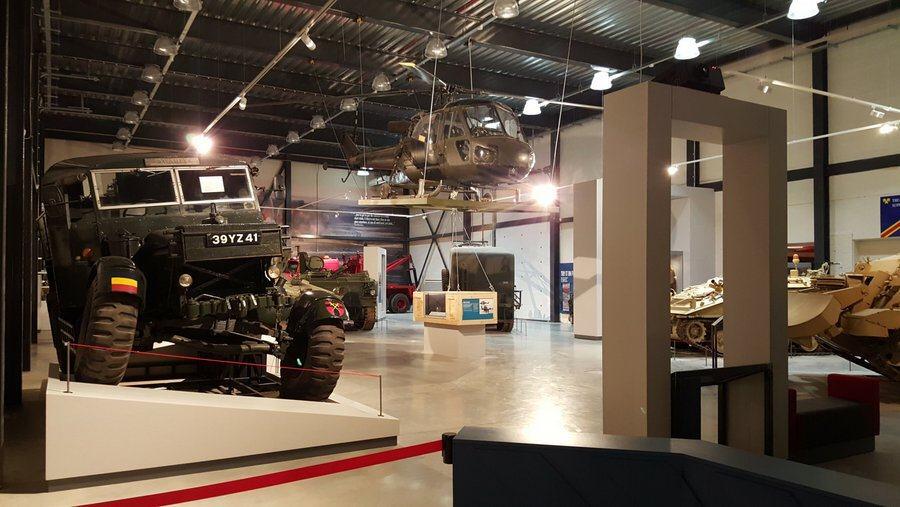 The Main Hall covers the post-WW2 & Cold War era through to the present day, so here we have vehicles that date from the Second World War but were used into the eighties & nineties. As with most REME vehicles, they have been adapted from civilian or military vehicles.
For a specialist vehicle like the REME Telecommunications Repair Vehicle, the base was a Commer 4 x 4 truck fitted out with a workshop, a Faraday cage, a towed generator… and an earth wire with a big spike you hammered into the ground! These were in use till the 1990s.
For the repair and recovery vehicles the conversion involves the addition of a crane for lifting, a winch and a spade (like a bulldozer blade) for digging into the ground and anchoring the vehicle while winching.
The mighty Scammell Pioneer 6 x 4 truck with its seriously flexible suspension was a WW2 vehicle used for general transport, towing artillery and by REME as a recovery vehicle. The one displayed at the museum was the British Army's last, working in the jungles of Belize right up to the eighties.
The WW2 International Half-Track was used up to the 1970s by REME to carry equipment and personel, and with a crane frame rigged, for engine replacement. Then, as the Army began to standardise its tracked vehicles, the FV434 took over that role for the FV430 series** of armoured personnel carriers and light armour vehicles. A REME FV434 would carry a spare engine & gearbox and lift it into place with its hydraulic crane.
More recently the Samson Combat Vehicle Reconnaissance (CVR) and the Challenger Armoured Repair & Recovery Vehicle (CARRV) have been fulfilling those rolls. The Samson can can handle small vehicle (up to 12 tons) repair & recovery jobs. Its big brother, the Challenger (Feature photo) can lift vehicles up to 52 tones and roll over upturned tanks onto their tracks.
There are a couple of other vehicles in here (inc a Gazelle helicopter) but the standout vehicle has to be the bright red American tractor unit called "Western Star" that was bought especially to use on the live firing ranges at the British Army Training Unit Suffield (BATUS) in Canada, for hauling target vehicles… and not being mistaken for one!
REME Museum – Other Rooms
There are a number of smaller rooms/galleries in the museum that focus on the work of the Corps, such as the armoury room with its collection of small arms used, repaired or rebuilt by REME Armourers and a fascinating video of a REME armourer assembling a modern rifle from its component parts in just a few moments – yes, I watched it more than once! And there's an evocative collection of paintings and medals won in the memorial room, supplemented by a continuously running video of REME personnel talking about their own experiences and thoughts of what it means to serve with the corps.
Most of those galleries are at the end of the logical route through the museum, but between the two large vehicle halls, the museum has set up a room to explain the range of 'trades' & skills/roles in the REME. Each trade* has a display stand explaining the roles, skills and work involved. As you leave the room you are invited to vote on which you think is the most important. It's a nice game for kids & families, but I think they are all important and the room itself is one of the more important parts of the museum because it demonstrates how REME soldiers have to be 'jacks of all trades' – able to be practical and think flexibly – and be 'masters of all' too.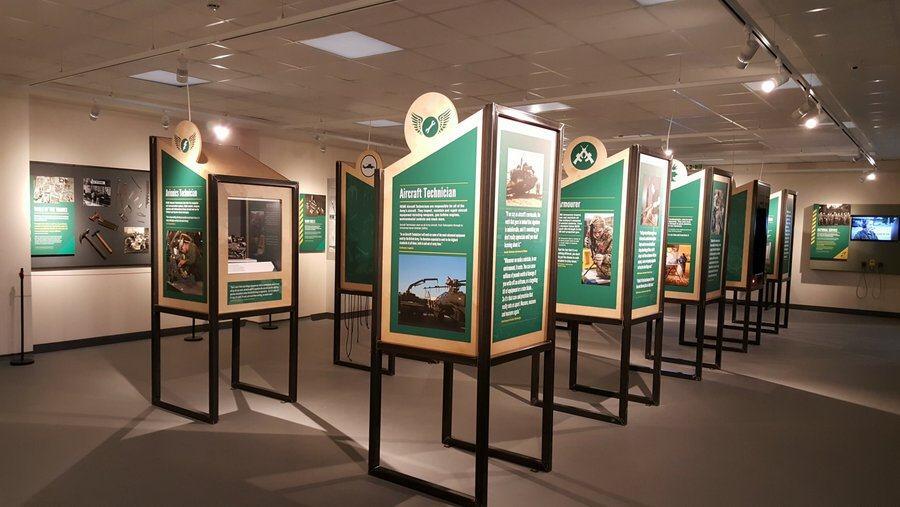 When you think about it, military gear gets punishing treatment. It is shaken, dropped, & bounced, in extreme temperatures from sub-zero to scalding hot, in extreme conditions from baking dry in the desert to near 100% humidity in the tropics, in monsoon rain or blizzard snow… and that's even before it encounters any hostile action! Even though it is designed to be rugged, it's hardly surprising that it needs to be maintained frequently and repaired often, and that's where the unsung heroes of REME come in.
If paratroopers & marines, tankers & artillerymen represent the 'body' of the Army, REME soldiers must represent the 'brains' without whom the body could barely function.
When a REME Electronics Technician can track down a fault on a circuit board in a radio dripping with condensation and fix it, a unit gets its comms back. When REME Vehicle Mechanics swap out the dead engine in a personnel carrier, soldiers get their transport back again. When REME Aircraft Technicians complete the 5,000 hour maintenance checks on a scout helicopter, and a REME Avionics Technician fixes the targetting radar on an attack helicopter, soldiers get their 'eyes' and ground support back.
Now what's not seriously cool about that?
Closer to home for civilians, there's a very interesting display and video in the first hall about REME Major Ivan Hirst.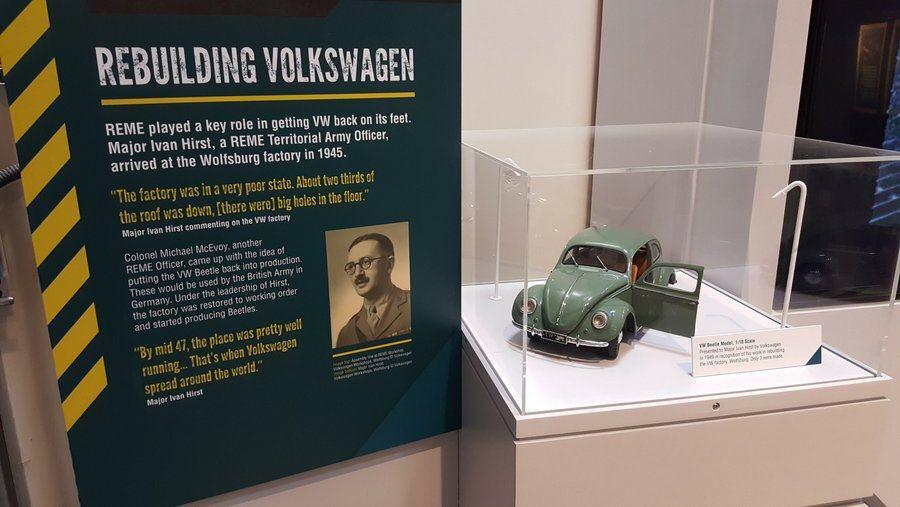 Another REME officer (Col. McEvoy), realised in 1945 amid the ruins of Germany's defeat, the plans and a prototype of Hitler's Volkswagen car still existed. Ivan Hirst was the REME officer who slowly brought the almost totally destroyed factory at Wolfsburg, back to life, and turned a trickle of cars into a torrent, creating the foundation of today's huge VW auto manufacturing conglomerate, which owns Audi, Bentley, Bugatti, Lamborghini, Porsche, SEAT, & Škoda.
Think of that when you are at the wheel of your Passat, Beetle, Golf or VW Campervan – No REME, no VW!
---
Declaration: I received complimentary admission to the museum.
*

REME Trades

**

FV430 tracked vehicle series
Armourer
FV431 Armoured load carrier
Recovery Mechanic
FV432

Armoured

Personnel Carrier
Avionics Technician
FV433 Field Artillery, Self-propelled  105 mm gun
Electronics Technician
FV434 REME Maintenance carrier
Metalsmith
FV435 Communications vehicle
Vehicle Mechanic
FV436 Command and control vehicle
Aircraft Technician
FV437 Pathfinder amphibious scout vehicle
Technical Support Specialist
FV438 Swingfire – Guided missile launcher
FV439 Signals vehicle
FV430 Mk3 Bulldog – Upgraded troop carrier
(began serving in Iraq in Aug 2007)