Last week Norwegian Cruise Line (NCL) took possession of their new 4,000-guest cruise ship during an on board signing ceremony at which ownership was transferred from the (astonishingly efficient) Meyer Werft shipyard (I'm a big fan) to NCL and their respective flags were changed.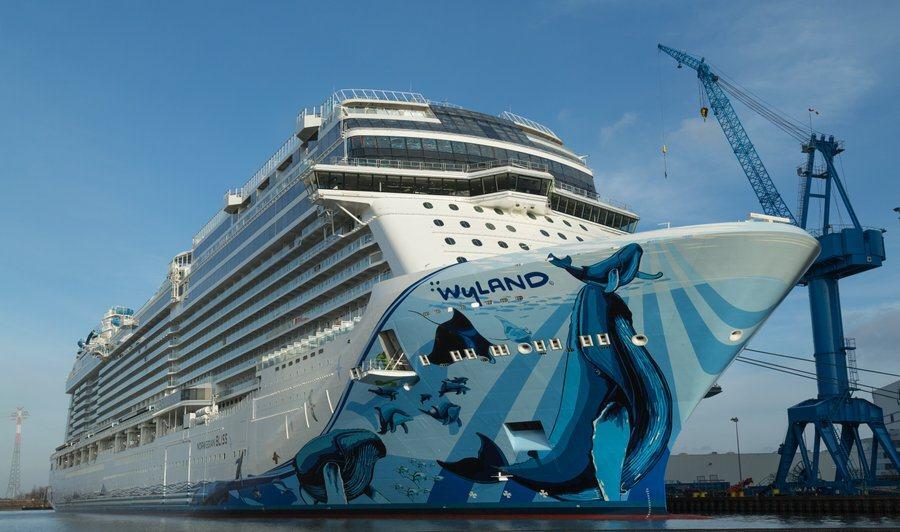 Norwegian Bliss is the third ship in NCL's Breakaway Plus class and the eleventh ship built for them by the German shipyard. As all cruise ships are, she's been designed for a specific role. In her case, cruising Alaska, and you can see that in her specs.
To comply with the environmental regulations in Alaska, she has been equipped with the world's largest marine "scrubber" system (exhaust gas cleaning) made by Yara Marine Technologies, designed to reduce sulfur oxide emissions by 99%. The five scrubber units are cleaning up the exhaust from five MAN, new generation, environmentally friendly, marine diesel engines that produce a combined output of 44 MW to power the two ABB Azipod XO units (Follow the link. Did you know you can climb inside those things? I didn't!), which give her a cruise speed of 23.2 knts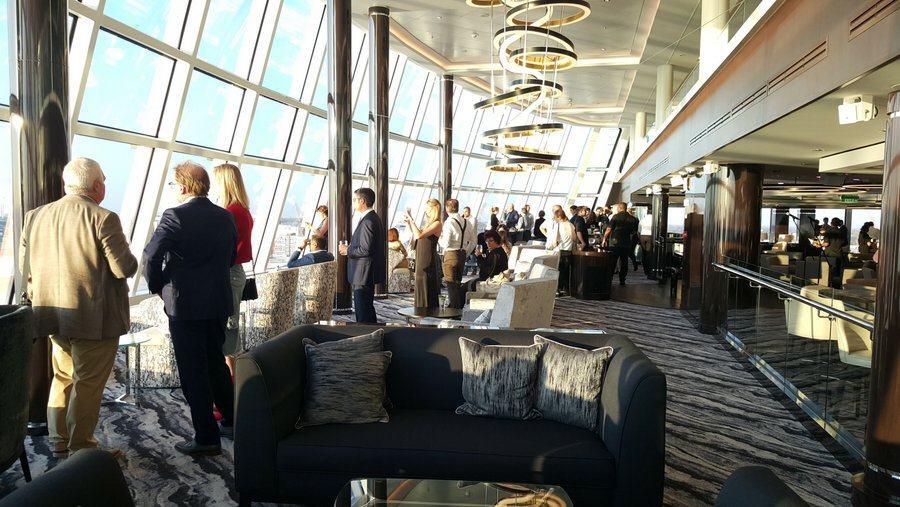 Other eco-improvements include Heat Recovery Systems from the engines and energy saving LED Lights throughout.
Less energy-efficient perhaps, but a lot of fun, are the electric go-karts on the top deck.
Norwegian Bliss is not the first to have a go-kart racetrack on board. Her sister ship, Norwegian Joy, has that distinction but we don't hear much about it because Joy was built specifically for the Chinese market.
However, Bliss does claim to have the longest racetrack on board a ship, at 984ft. That's almost a third of a kilometre (!), and a third again as big as the track on Norwegian Joy.
The go-karts can travel at speeds up to 30 mph, with up to ten karts on the track at one time. From the track side they can look quite sedate, but sitting in them, inches from the ground, it can feel very quick…. and then there's the acceleration!
Nigel Rankin, Senior Business Development Manager, explains that they deliberately enhanced the thrill of driving by adding the sound of the engine through headphones in the drivers' helmets, and the racing gets pretty competitive. There may be numerous heats over the course of a cruise and there's a winners' podium ready and waiting for the victors.
Norwegian Bliss is currently on her way across the Atlantic to New York. She'll operate a few cruises in the Caribbean before transiting the Panama Canal and heading for her for her christening ceremony in Seattle in late May. Then her seven-day Alaskan voyages start on 2nd June. In the Autumn she'll operate Mexican Riviera voyages from Los Angeles before heading to Miami for the winter.
Declaration: I was a guest of NCL on the inaugural 'delivery' cruise from Bremerhaven, Germany to Southampton, UK.