Bristol's latest attraction, 'Being Brunel', a new museum dedicated to the genius of Isambard Kingdom Brunel, was opened to the public this weekend.
The £7.2m museum sits on the dockside next to his marine masterpiece, SS Great Britain on Bristol's Harbourside, and incorporates his Dock Office from where he supervised her construction.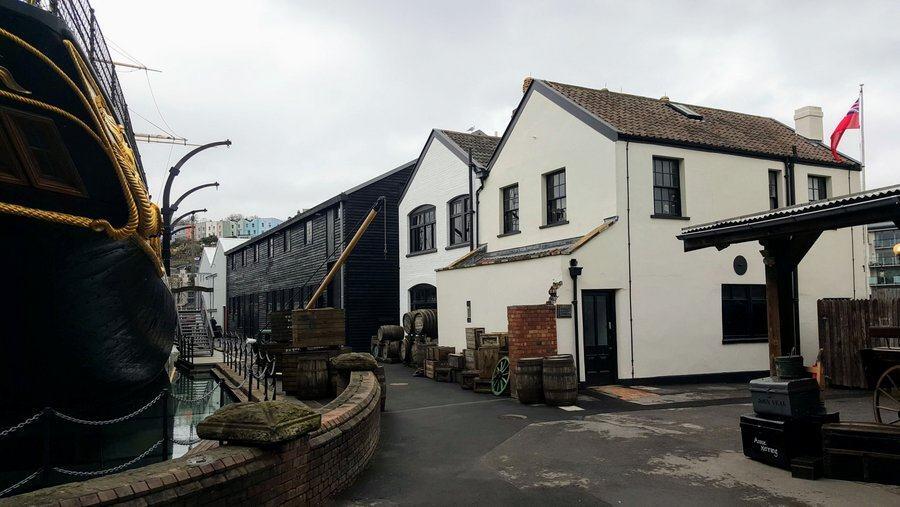 Brunel's SS Great Britain is already Bristol's premiere attraction and will keep any visitor absorbed for hours, but the addition of Being Brunel on the same site, extends the visitor's awe and admiration for his visionary maritime project, to all his other, literally, groundbreaking engineering projects in Bristol, Britain and Europe.
The museum is made up of six galleries containing 150 of Brunel's personal artefacts. After passing through the first – an elegant dining room with various family heirlooms and displays covering IK Brunel's background (including some delightful paper 3d perspective displays showing the route of his father, Sir Marc Brunel's tunnel under the Thames in London), visitors enter the main hall of the museum and above it, the gallery.
[vrview img="https://mechtraveller.com/wp-content/uploads/MainHall360-001.jpg" width="900″ ]
There are some unique and fascinating things here…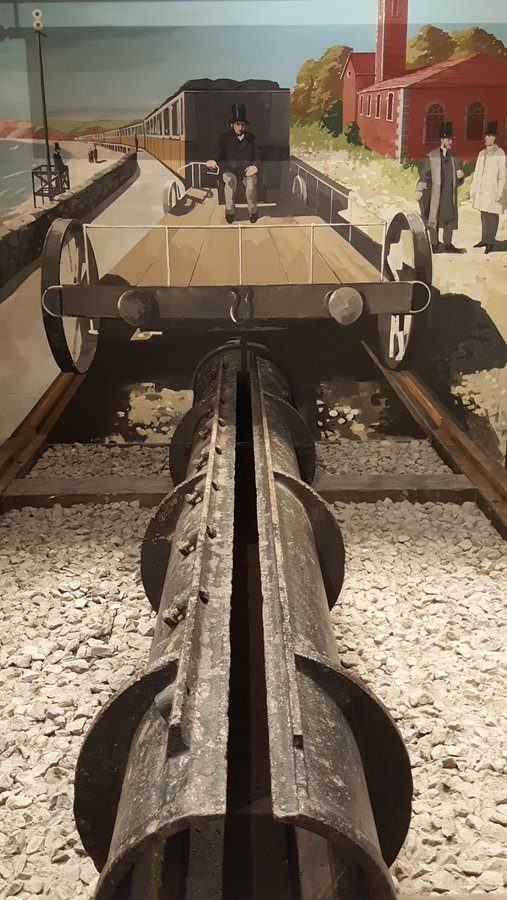 For me, a section of his 'atmospheric railway' pneumatic tube had particular resonance – I used to work in Starcross on the Exe estuary where he built a pumping station for the railway, which to be fair was not one of his successes. On the other hand, the GWR (formerly South Devon Railway) railway he pioneered along the same route from Exeter around the coast and then down to Plymouth where it crossed the Tamar river on one of his iconic bridges, certainly was a success!
Many of Brunel's books, documents and drawings are on display, including his private (locked) diary in which he records his own shortcomings of temprement and height – he was accutely aware of it, hence the tall hats! I thought some of his sketches and calculations were outstanding.
For example in his "factbook" for 1829-1844, opposite the page where he listed gradients on the London – Birmingham rail route, is a page on which he noted the time differences moving west along the London – Bristol route. There's nothing complicated about the calculations; any mariner with a map showing longitude and an almanac can work out how many minutes behind London, Oxford, Bath or Reading is. What is profound is IK Brunel's recognition that it mattered. If trains were to operate to a timetable, a standardised time (GMT) had to be invented. It changed our lives. Before trains, accurate time was largely irrelevant. After trains accurate timekeeping was a must. When you stand on the platform at Exeter St. Davids the clock isn't showing you Exeter time, it is showing you Greenwich time (GMT or BST). When it says 'noon' there's another 14 minutes & 18 seconds to go before the sun reaches its highest point in the sky – local noon!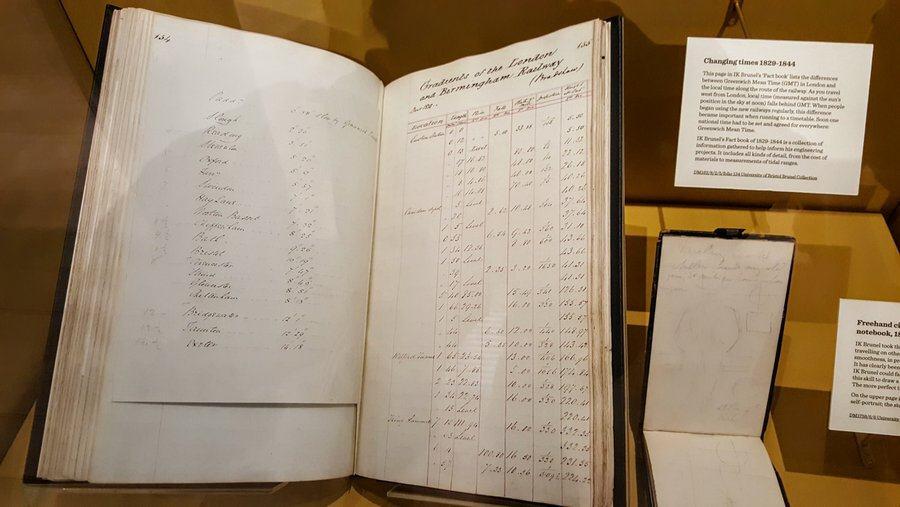 Brunel's focus on acurate time is reflected by another exhibit; the wall-mounted regulator clock made by EJ Dent of London 1841-1845, which was hung in Brunel's London office at 18 Duke Street. regulator clocks were considered the most reliable timepieces and Brunel set his pocket watch by this clock daily.
On the gallery there is a collection of victorian stereoscopic photos of Brunel and many of his engineering works, and two of my favourite drawings, ironically not by Isambard Kingdom, but by his father Sir Marc Brunel. Son and father had a close and supportive relationship. When IK's proposal for a bridge over the Clifton Gorge in Bristol was turned down on the grounds the span was too long, his father sent him a cartoon drawing suggesting maybe they'd prefer a bridge supported by a Chinese pagoda!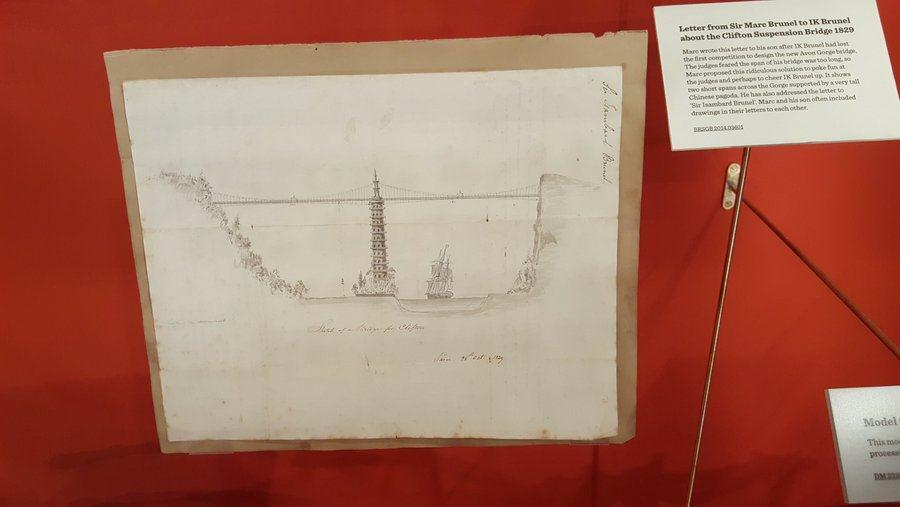 The other Marc Brunel drawing is a proposal for a steam driven sawmill at the Royal Navy's Chatham Dockyard – beautifully elegant.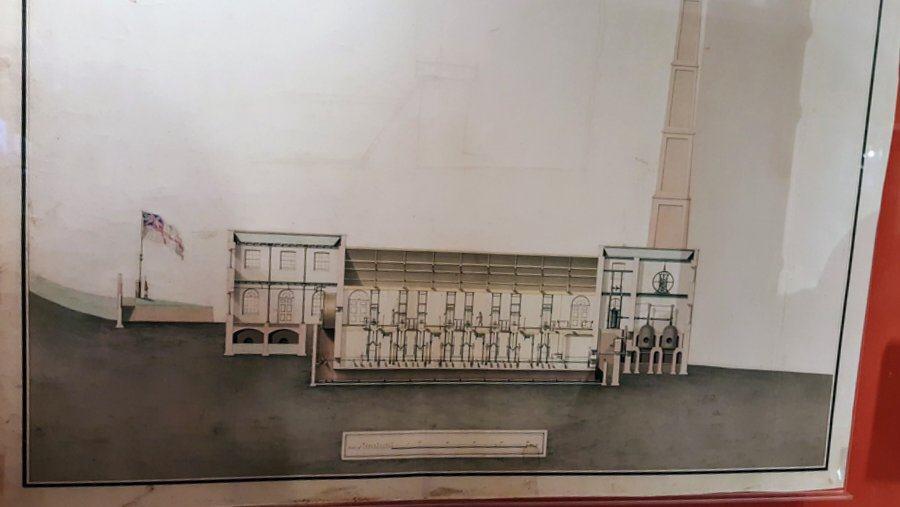 One of the most popular exhibits in the main hall is a pair of dummy victorian broad-gauge railway carriages that sway gently around the floor. IK Brunel's obsession was creating a smooth ride for his passengers and his yardstick was to see how well he could draw a circle while the train was moving. On the benches are tablet displays with a stylus, on which visitors (children love it!) can attempt to do the same and are scored with a percentage success rate.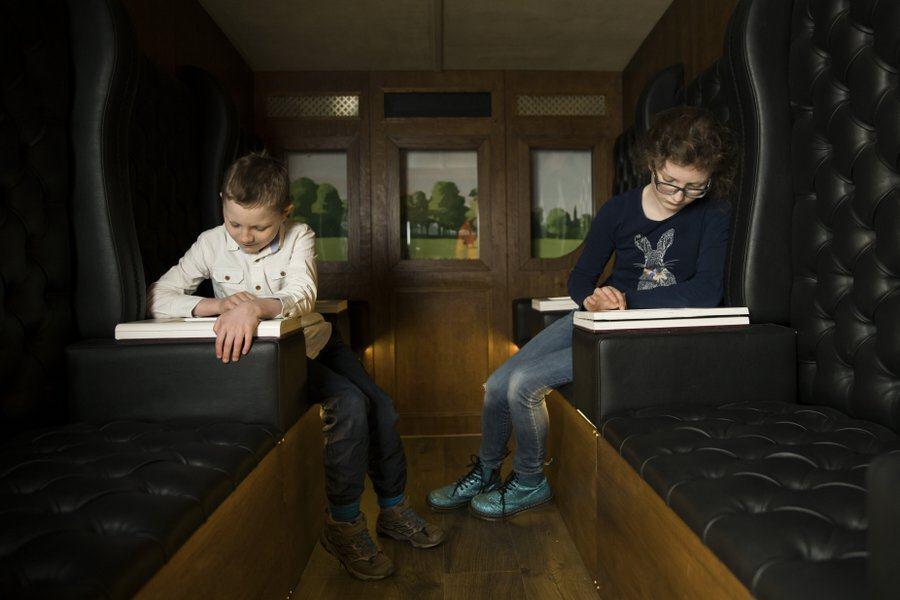 The SS Great Britain Trust have been really clever with the design of the museum, not only squeezing the new building into the triangular shaped space available on the dockside, but linking it up to the Grade 2 listed Dock Office building which has been restored to its original condition and becomes part of the visitor experience through a clever piece of visitor management…
After the main hall and its gallery, visitors go into a 9-minute panoramic multi-sensory show that presents some of Brunel's key experiences through his eyes – getting stuck in a basket over the Avon surveying for the Clifton Suspension Bridge; nearly drowning in his father's Thames tunnel; a worker's death at the launch of the Great Eastern; rows with investors, and locomotive speed-trial success on his Great Western Railway.
This cleverly breaks the visitors up into groups of about 20 who then enter the small rooms of the Dock Office where they are met by costumed actors who explain the significance of the rooms and the events and people who worked there.
After the offices and drawing rooms on the first floor of the Dock Office, there's an interesting and animated directors' meeting in the Board Room, where IK Brunel is trying to persuade the directors of the steamship company to adopt his revolutionary (another 'literally') idea for a screw propellor for the SS Great Britain, over the tried & tested technology of the day, paddle-wheels. It's an AV presentation which seeks to engage the audience, and asks them to vote whether Brunel's argument is a winning one. As you leave the room, you can turn left or right depending which way you voted.
Which way would you vote?
---
Declaration: I visiting Bristol on a personal trip, but my ticket to SS Great Britain and Being Brunel was a press ticket (free). As usual I'll say what I think.'
Factbox
Website:
The Brunel's SS Great Britain > Being Brunel Being Brunel is part of the SS Great Britain site and experience.
Getting there:
Brunel's SS Great Britain
Great Western Dockyard
Gas Ferry Road, Bristol, BS1 6TY
There is car parking nearby, but the best way to get there is to walk from the city centre, around the harbour and along the quay to the SS Great Britain. There's much to see on the way including the Harbourside Steam Railway, dockyard cranes including the Fairbairn Steam Crane and plenty of shops and eateries.
Price:
Adult: £16.50
Child (5-16 years old): £9.50
Under Fives: Free
Seniors (65+): £14.50
Student: £14.50
Family (2 adults + 2/3 children): £45.00
Prices might seem a little on the high side but you get a lot to see/do for your money, and the ticket includes unlimited free return visits for a year. (AND appropos of nothing, the actual ticket itself is a, tweaked, replica of an original passenger ticket for a voyage to Melbourne Australia on board SS Great Britain!)
Opening Hours:
Open every day, except 24 and 25 Dec and the second Monday in January (14 January 2019).
Summer (Mar-Oct): 10am – 6pm, last entry 5pm
Winter (Oct-Mar): 10am – 4.30pm, last entry 3.30pm
[amazon_link asins='1445671360,B00CPNSBV0,0750963069,0857331051,1848321449,0852427670,B00CETBX2E,1445621592|1521426376,1445640651,0857331051,0852427670,1848321449,B01M7RCKQS,B07BFCZV2X,1445621592,B071XFNFKB' template='ProductCarousel' store='mechtraveller-21|mechtraveller-20′ marketplace='UK|US' link_id='e41f1f30-3111-11e8-b807-c75c93753b5e']