A bedding manufacturer is planning a commuter bus fitted with sleeping pods.
Remember Harry Potter's Night Bus? Well this could be a little less…wild!
The idea is to give bleary-eyed Brits some shut-eye on their ride home at the end of a long day. The "snoozliner" is the brainchild of bedding brand, Simba, whose SEO, James Cox says: "New research shows we doze off on public transport 27 times a year and are at our most sleep deprived in December. The Snoozeliner service is all about helping people top up some valuable lost sleep time in a design that's every bit as comfortable as their bed at home."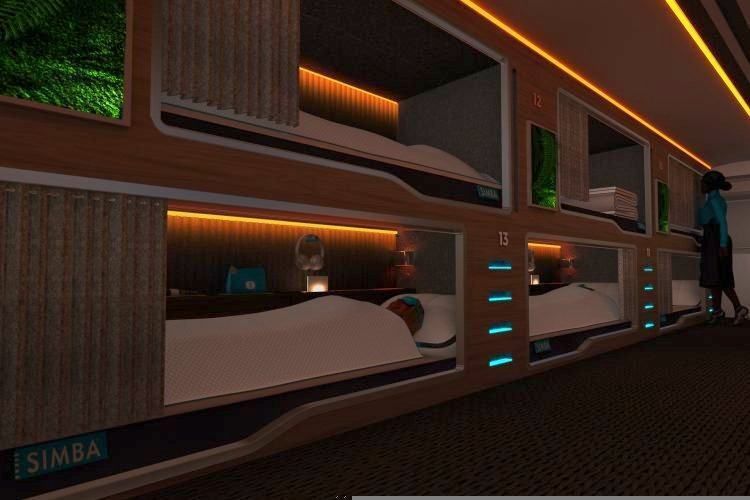 The bus has been in development for four months, with Surrey-based Andersson-Wood architects working on its design. It features 14 discreet futuristic, sound insulated, sleeping pods have recessed sanitised shoe drawers & coat storage, and a recessed amber light-therapy system as orange wavelengths are the most conducive to sleep.
Each booth will also offer "a choice of soothing scent infusions, recognized by aromatherapists for their sleep-inducing or hangover-busting properties. Unlimited free mineral water, with coffee and specially-selected smoothies will also be available, with individual revitalizer kits containing Vitamin C and liver-cleansing Milk Thistle". Naturally the bedding is by Simba.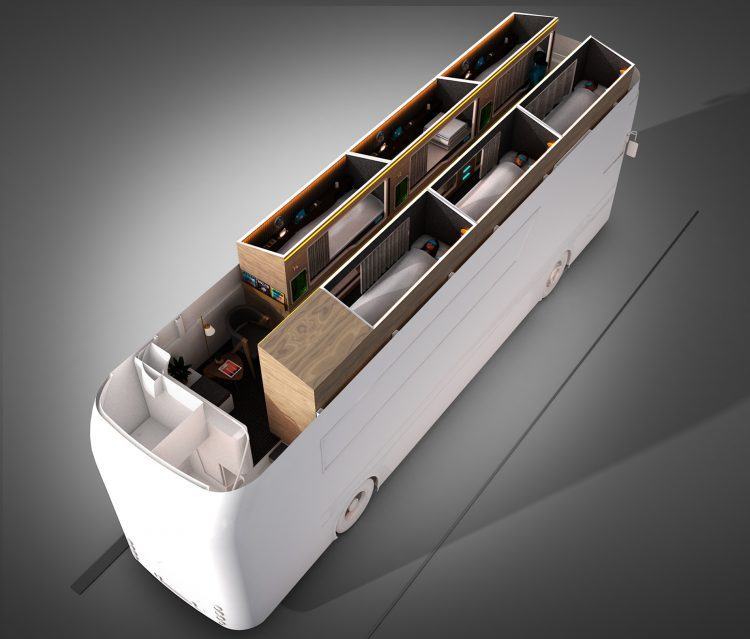 The bus will have USB chargers and WiFi, as well as a storage system for valuables, and the design also features a striking vertical forest integrating air purifying and calming plants.
Simba plan to operate it on eight routes across four UK cities in Autumn 2018. Special software will enable passengers to tap in their stop when they board so stewards know when to wake them up.
And one interesting twist: Simba is also in talks with a food delivery service to provide an advanced on-board system that will cleverly track your route, so you and your takeaway arrive home at the same time.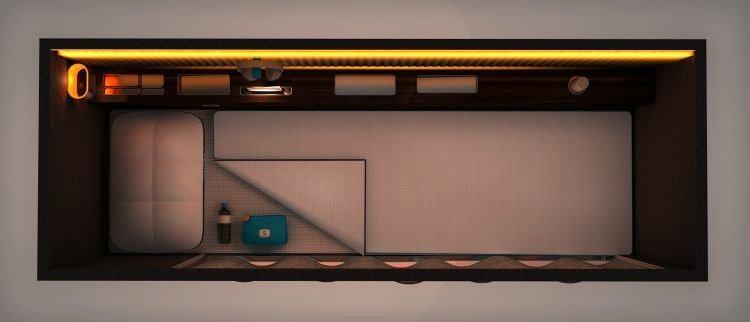 It'll be interesting to see if this project actually sees the light of day… or doesn't, so to speak! I'm not entirely convinced it is a serious project and not a publicity stunt. No matter if it's the latter; I like the design, especially the jungle air purifier. Though I can't help thinking that the effect of all those therapy lights, scent infusions and liver-cleaning smoothies may result in Harry Potter style hallucinations!
[amazon_link asins='0821351486,3658204591,B01JXTCM1I,B06XZ2DSMH,B004OT8HRQ' template='ProductCarousel' store='mechtraveller-21′ marketplace='UK' link_id='034b2c72-e1c3-11e7-a357-cb06c0604645′]
(Photos: Courtesy Simba/SWNS Digital)