It seems almost inconceivable that the United States Army doesn't have a national museum!
Everyone else has one. The Marines have one, the Air Force has one, the Navy has one… hell, even Navy Aviation and US Army Aviation have them! Most countries have one. I've been to the Swedish Army Museum recently and to our own British Army Museum – newly redesigned and upgraded.
But not the U.S. Army.
Why the Army doesn't have one is a story we may never get to the bottom of, but moves are now well underway to build one, and it's looking pretty impressive already.
Work began in September last year on a 40-acre site at Fort Belvoir in Virginia, a half-hour drive from Washington DC, and is well underway.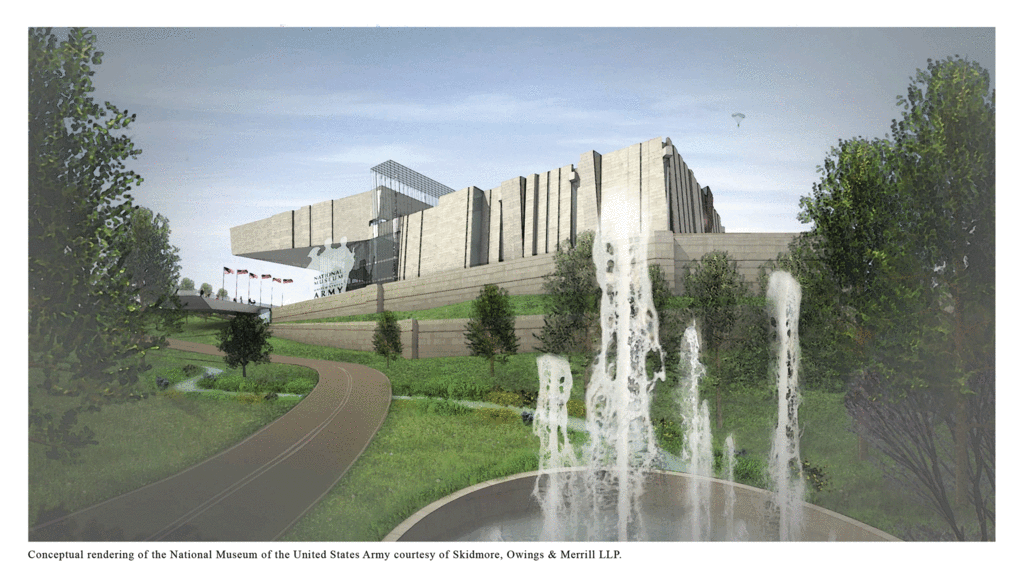 When the National Museum of the United States Army opens in late 2019 it will chronicle the history of the Army since its formation in 1775 (including not only the regular Army, but also the Army Reserves and the Army National Guard), and its role in society.
Last week saw the installation of a couple of the museum's larger and heavier future exhibits. On Tuesday it was an M3 Bradley APC, and on Thursday a Sherman tank was lifted into place. Not just any Sherman tank. This one 'Cobra King' has a pretty impressive WW2 history in the vanguard of the forces liberating Europe. Most significantly she was the first tank to break through to the besieged 101st Airborne Division at Bastogne.
The museum building itself will feature three main galleries — Soldier Stories, Fighting for the Nation, and Army and Society. The Fighting for the Nation Gallery will be broken down into six sub-galleries that cover a different periods in the Army's history, starting with the Revolutionary War and ending with the most recent wars in Iraq and Afghanistan.
The outside grounds of the museum campus will include a memorial garden, amphitheater, parade ground and trail with space to accommodate ceremonies, re-enactments, reunions, lectures and educational programs.
The National Army Museum will be owned and operated by the U.S. Army and will be free to visit. You can see more details about the construction and development of the museum at the Army Historical Foundation (AHF) website.
UPDATE:
(28/08/2019) The U.S. Army has announced that the National Museum of the United States Army will open to the public on June 4, 2020.
(15/10/2020) It didn't happen. COVID-19 got in the way. But they have just announced a new opening date: 11 Nov 2020 – Veterans Day. There will be a live streamed opening ceremony details (url) for which will be posted on the museum website. Visits will need to be in timed slots pre-booked online.