The massive 57-kilometre Gotthard Base Tunnel (GBT) in the Swiss Alps is finally opening this weekend after 17 years of construction.
From Sunday 11 December, train passengers will be able to speed between northern & southern Switzerland in 17 minutes, cutting the overall cross-border journey time from Milan to Zurich, for example, from 4 hours and 3 minutes to 3 hours and 33 minutes.
Why is it called the Base Tunnel?
Because there already is a Gotthard tunnel halfway up the mountain. The 'panoramic' route twists & turns its way through dramatic mountain scenery up to the original 15km Gotthard tunnel built in 1882. (This route will continue to be served hourly by a RegioExpress connected to inter-city trains in Erstfeld, Bellinzona and Lugano.)
The new dual-track tunnel travels through the base of the Gotthard massif at a maximum depth of 2300 metres, making it longer and deeper than any other train tunnel in the world.
Fifty-seven kilometres is a long way – will it be safe?
Like Eurotunnel (50km), the Gotthard Base Tunnel has two directionally separated single track tubes. However, unlike Eurotunnel there isn't a third 'service' tunnel between them.
The GBT tubes are connected by cross passages located every 325 metres. Tunnel operators, Swiss Federal Railways (SBB), say that: In an emergency these would serve as rapidly accessible evacuation routes into the other tube. At the one-third-way points of the tunnel at Faido and Sedrun, emergency-stop stations in both tubes are connected to the parallel tube through six connection tunnels. The way to these tunnels is indicated by signs, emergency lights, and handrails. In the event of evacuation, trained railway personnel will provide assistance. Overpressure ensures that the air remains smoke free. Fans provide fresh air in the emergency stop stations; hot fumes are sucked out through extraction openings. Travellers can then be collected in the opposite tube by an evacuation train.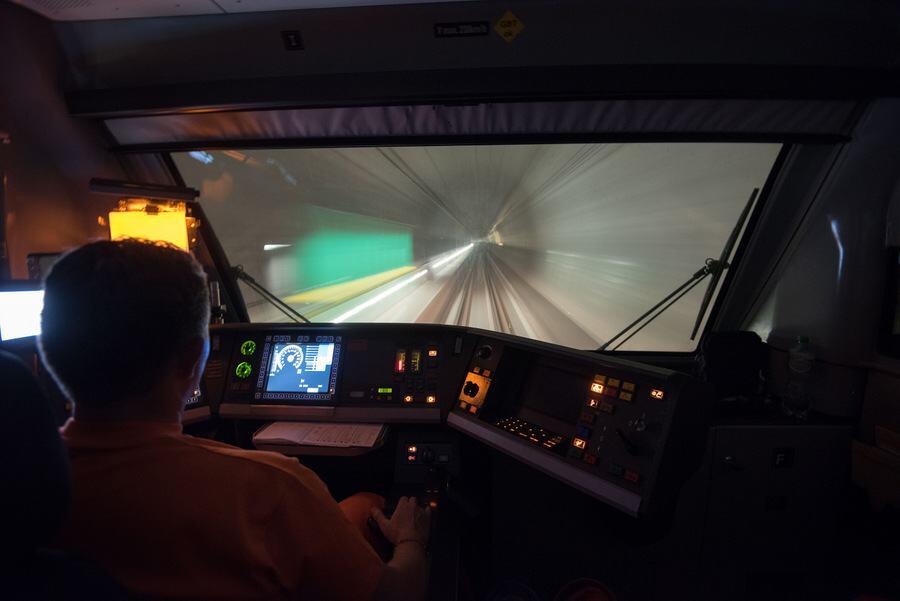 What's to admire?
There's lots to admire about this huge infrastructure project, but what I'm always amazed at with long tunnels is the precision navigation. As with most modern tunnels they dug from both ends using state of the art Tunnel Boring Machines (TBMs), and met on 15 October 2010, approximately 30 km from the south portal and 27 km from the north portal. After all that distance, the horizontal deviation was just 8 cm and the vertical deviation, 1 cm!! One of the most precise breakthroughs in the history of tunnel construction.